Alexi White loved walking around Grounds, all the nice people she met and the cooler weather – at least in relation to her hometown of Sugar Land, Texas. But the biggest thing that drew her to the University of Virginia was the American studies program.
Since childhood, White – whose mother is a schoolteacher – remembers being interested in a wide array of topics pertaining to American literature, history, society and culture.
So when she found out during the Hoos Internship Accelerator interview process that she might have a chance to work on an episode for the PBS "American Masters" digital series about Kitty O'Neil – a Hollywood stuntwoman and race car driver known as "the fastest woman in the world" – she got excited.
The episode on the late O'Neil, who was deaf, is part of a series that explores the cultural contributions of people with disabilities and how they transformed America.
UVA alumna and disability rights activist Amanda Upson, who in 2018 produced the spy thriller "Magnum Opus," produced the episode, which has a working title of "American Masters – Renegades: Kitty O'Neil."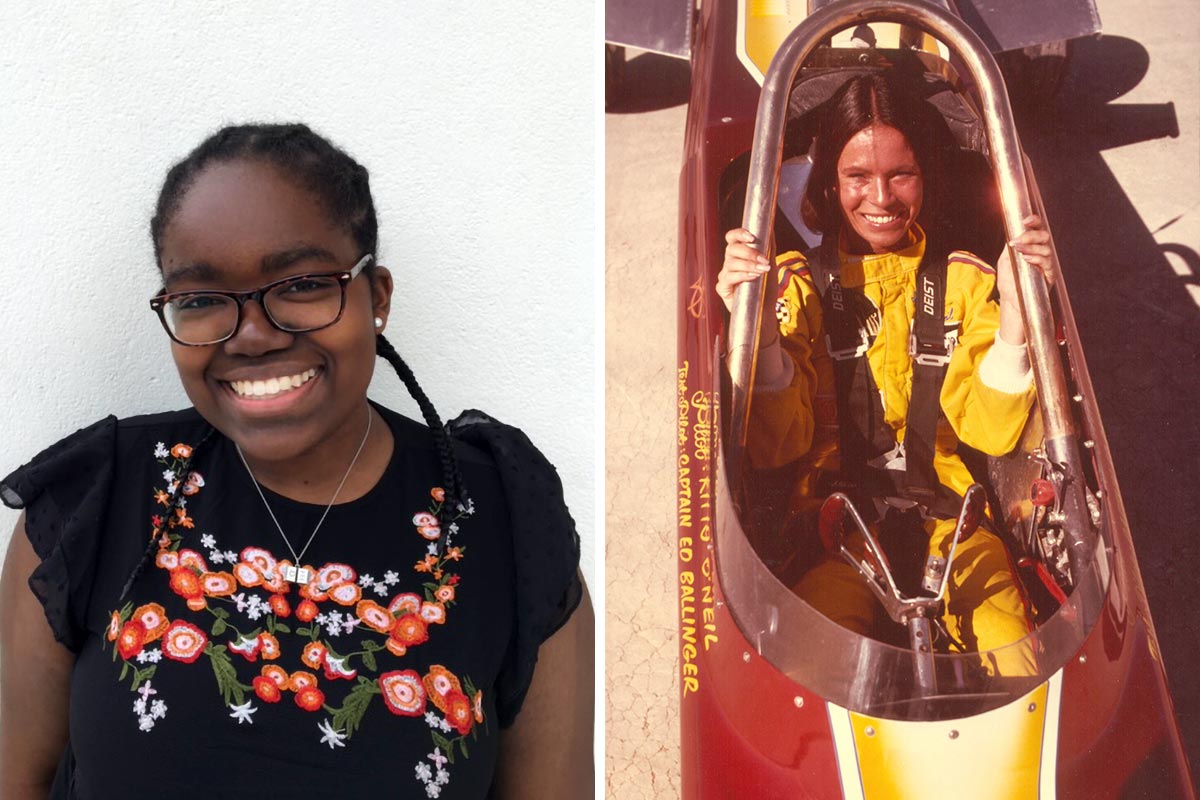 Fourth-year student Alexi White, left, interned for a pilot episode of a new digital series from PBS' "American Masters" that focused on former Hollywood stuntwoman Kitty O'Neil. (Contributed photo)
"I was attracted to the project because it was a chance to tell stories about people who had contributed greatly to society, but been left out of the popular narrative," Upson said.
With open captions, onscreen American Sign Language interpretation, audio description, and complete closed captions that are accurate and synched, the series sets new accessibility standards, according to Upson.
Upson said White was an "integral" member of the production team.
"Alexi was entrusted with a lot of responsibility, including pitching her successful marketing and communication plan, drafting press releases and preparing deliverables," Upson said.
UVA Today caught up with White, a fourth-year student who is majoring in American studies and minoring in global studies in education and in history, to learn more about how her eight-week internship went.
Q. Can you tell UVA Today readers a little bit about Kitty O'Neil and some of the challenges that she had to overcome as a deaf female working in Hollywood?
A. Kitty O'Neil was a daredevil, speed racer and stuntwoman. She set land and water speed records. As a stuntwoman, she was involved in many productions, such as jumping 127 feet for the TV show "Wonder Woman."
As a deaf female working in Hollywood, one challenge that Ms. O'Neil had to overcome was communicating with others, which she did by reading lips and speaking, which her mother had taught her as a child. But, her deafness was part of her identity, and it allowed her to focus better on the work she was doing without outside distractions.
Q. In the episode, Kitty is described as an "unsung hero of the time." When you think about her, what inspires you the most?
A. What inspires me most about Kitty is that she was so versatile. She originally wanted to be an Olympic diver, but when she got hurt from a bad dive, she had to change her goals. So, she got into speed racing and stunt work.
I also really admire that she knew what she wanted to do with her life, and then just went and did it. There are so many career options available these days that it can kind of seem overwhelming, but Kitty knew that she wanted to be involved with something fast, and found multiple ways to do it. In general, I think she can also be considered an "unsung hero" because for some of her work, like the stunts she did, viewers thought that it was the character doing it, not her. 
The above version of the film contains open captions. For the version of the film containing audio description and American Sign Language, please click here.
Q: What were some of your day-to-day responsibilities during production and things you learned this summer?
A. During this internship, I did many tasks related to production, like making a clip log, making sure interview transcripts were correct, looking at an edit decision list, creating press materials, and working on a column script. I also did a lot of archival research, such as searching for some of the pictures we used in the video, and contacting people to use their images.
In addition, I thought of some possible social media campaign ideas, since I am interested in marketing. I also learned about ensuring that media is accessible to people with disabilities, which was something I did not think of often before this internship. Overall, I knew nothing about production before this summer, so everything I completed was a learning experience for me! I never knew this much work went into making media ready to air. 
Q. What was the overall experience like? Is this a career you might want to explore after you graduate?
A. The overall experience was really great! I knew nothing about production before this summer, but now I am really interested in it and might like to explore it after graduation. Some of the tasks could be a little tedious, like checking timecodes for when people spoke, but it was also interesting.
Q. Is there anything else you'd like to add?
A. The episode about Kitty O'Neil is just a pilot for an overall series about amazing Americans who also had a disability, so if the series gets picked up, look out for more episodes focusing on other amazing people that you might not know about! I would also encourage students to get involved in the Hoos Internship Accelerator if they offer it again. It is a really awesome program.
Upson said UVA Today readers can help shape the series by taking this survey.
Article Information
August 10, 2021
/content/new-pbs-series-focuses-disabled-people-who-have-transformed-america