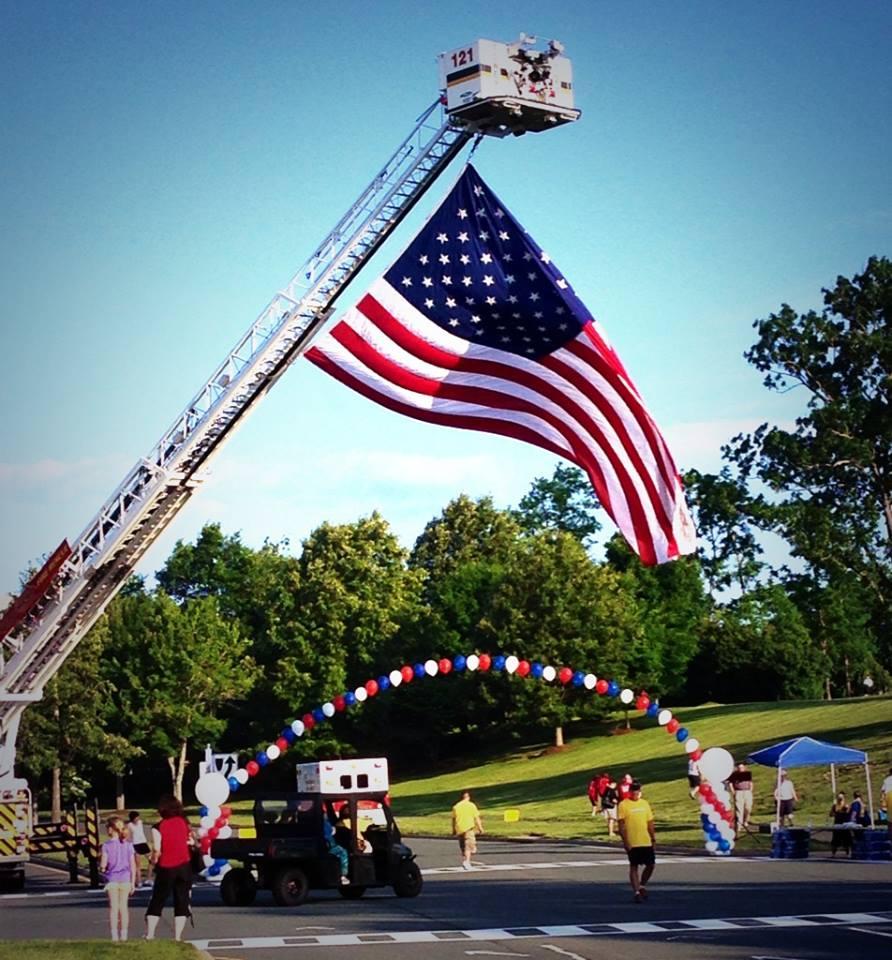 The University of Virginia Foundation, with the support of the Charlottesville Track Club, raised $110,000 for its third annual "4 the Wounded 5K" to help American servicemen and women.
More than 1,400 runners made their way to the University of Virginia Research Park on June 1 to run the five-kilometer, all-terrain race benefitting the Wounded Warrior Project, which provides assistance to veterans who have been injured in Afghanistan and Iraq.
All of the race proceeds went directly toward the Wounded Warrior Project.
"It is one of the most inspiring races I have ever run," said Amy Bouton, professor of microbiology and associate dean of graduate and medical scientist programs in the School of Medicine, who ran the race with her husband and graduate biomedical sciences students Michael Gutknecht, Allison Batties, Kristen Ruby and Debi Luzader.
"Members of my lab and I have run the race since its inception three years ago. … The huge flag hanging from the fire truck each year reminds each of us in a very personal way how grateful we are to the service men and women who have sacrificed for us.  
"For my husband and I, the race gives us an opportunity to honor the memory of our cherished friend, Adam Fargo," a U.S. Army corporal who died in 2006 during combat in Iraq. "Adam was the best friend of our oldest son, Matt, but he was also close to our entire family. The race always reminds us of him, as well as the many other young men and women who have sacrificed so much of themselves for the rest of us." 
Race day opened with the national anthem and a message from Wounded Warrior Project spokesperson Mary Tallouzi. Afterward, the starting gun fired and runners were off, with the option of running a pavement-only path or diverting to a trail path after the race's first mile. 
James O'Brien was the first to pass under a huge U.S. flag hanging high over the finish line, clocking in at 17 minutes, 19 seconds. Vanessa Schnable led the women with a time of 20:28.
Major race sponsor ACAC Wellness and Fitness Center took first place for the fastest team trophy.
Elisabeth Christian, the outreach associate in U.Va.'s Office of Community Relations, was a member of the Word of Mouth team that finished third. She said "runners were motivated and humbled after hearing personal stories of how the Wounded Warrior Project assists military families deal with heartache, shattered dreams and struggling with new life challenges."
The activities also included a children's fun run, DJ entertainment, an expo featuring technologies developed by Charlottesville-area companies supporting soldier safety, and food and beverages.
The U.Va. Foundation, under the direction of chief of staff Deborah van Eersel and marketing assistant Katie Murphy, created the race three years ago.
"We wanted to hold a major event in the park and support a worthy cause that would speak to many in our community," van Eersel said. "Many of the corporate partners in our research park are federal contractors supporting the intelligence-gathering activities taking place at Rivanna Station, which directly support our military troops around the world – particularly in the recent Iraq and Afghanistan wars."
In three years' time, the race has nearly doubled. In 2011. "We identified a 5K course, planned for 250-person turnout and set a fundraising goal of $25,000," van Eersel said. "We were dumbfounded when we tripled our goals." More than 750 racers participated and $76,500 was raised.
All totaled, the race has raised nearly $280,000 for the Wounded Warrior Project in its first three years.
"We have also seen a broadening of support from corporate sponsors who are not necessarily associated with the federal contractor or military world," van Eersel said. "So many of us have family and friends who served in the wars following 9-11 and who have come home wounded both physically and emotionally. The Wounded Warrior Project has a terrific reputation for helping so many."
To aid the transition back to civilian life, the Wounded Warrior Project provides programs and services like counseling, peer mentoring, education and career training, outdoor retreats and family assistance to tens of thousands of soldiers who have been injured in the wars in Afghanistan and Iraq, many suffering traumatic brain injuries, amputations and severe burns.
Plans are already in the works for the next race, set for June 7, 2014.
For information on the Wounded Warrior Project, visit www.woundedwarriorproject.org or call 877-832-6997.
The University of Virginia Foundation develops research parks as part of its mission to support the University. The U.Va. Research Park provides an important venue for University-industry collaborations to occur and for students to experience business internships. The parks also support regional economic development.
— by Lauren Jones
Media Contact
Assistant Director of University News and Chief Copy Editor, UVA Today Office of University Communications
danh@virginia.edu 434-924-6857