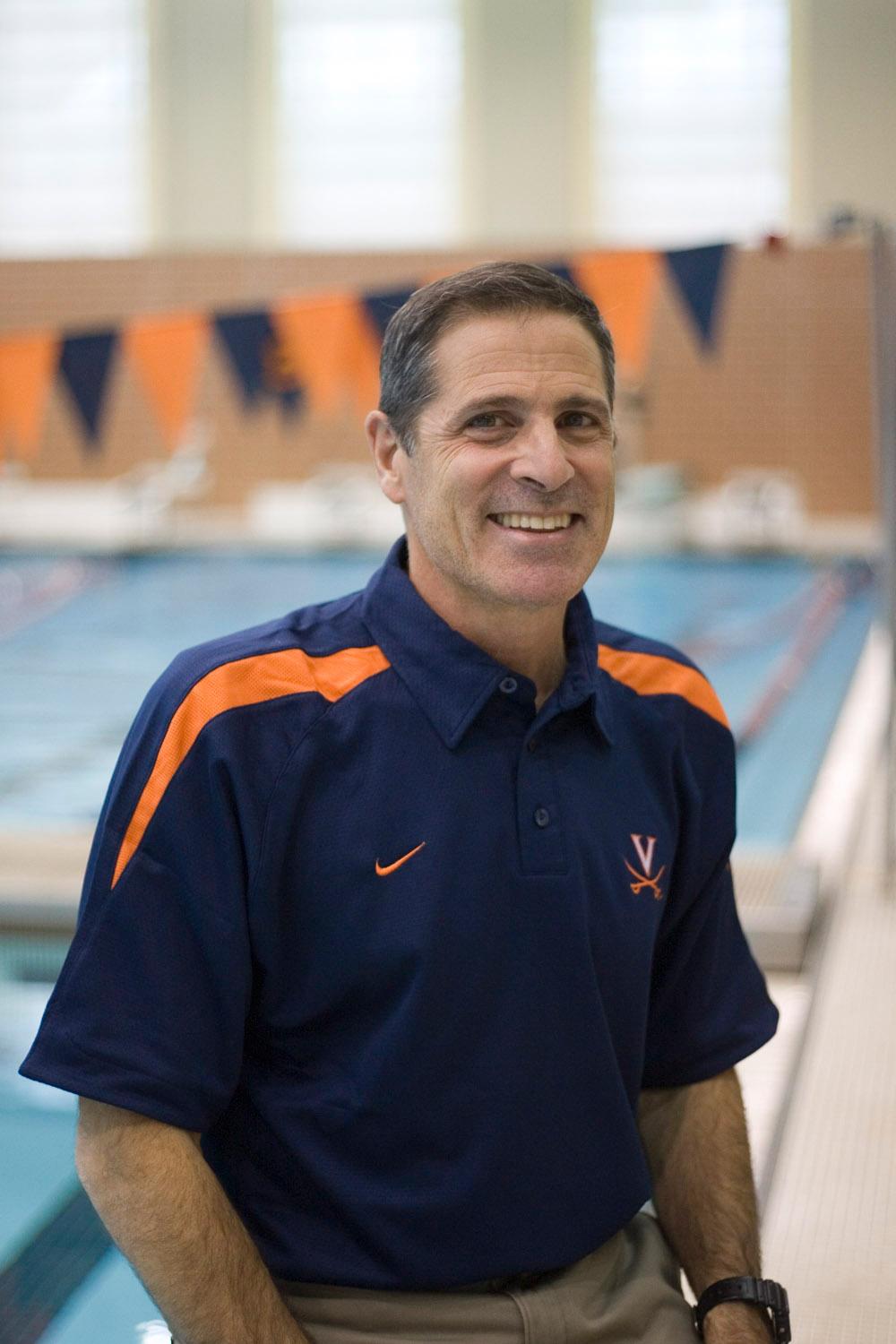 Dec. 11, 2006 -- Three decades ago, Mark Bernardino first took the plunge as University of Virginia swimming and diving coach. Since then, he has hardly had time to catch his breath.
Known as a tireless worker, a relentless perfectionist and a tremendous motivator, the "old-school coach," as one current member of the team refers to him, pushes his swimmers to succeed through smart training and hard work.
And they have. The 22-time winner of the ACC Coach of the Year Award has coached more than 100 All-Americans at Virginia, including Olympic medalists and world championship finalists. Under Bernardino's leadership, the women's swimming and diving team has won five ACC titles and the men's team has won nine ACC championships, including eight in the past eight years, a school record.
"He is one of the most respected people on the coaching staff at U.Va.," said Debbie Ryan, the U.Va. women's basketball coach and Bernardino's longtime friend and colleague. "He sets the bar very high."
Bernardino is proud of his swimmers, but reticent to talk about himself. He turned down repeated requests for an interview for this article.
But as the head coach of the consistently successful U.Va. swimming and diving program for more than 28 years, there's a lot the Pennsylvania native could brag about.
As a student-athlete at U.Va. in the early 1970s, Bernardino set six school swimming records, qualified for three NCAA championship meets and for the 1972 Olympic trials. He was named the 1974 U.Va. Male Athlete of the Year for his accomplishments as a swimmer and graduated with a bachelor's degree from the McIntire School of Commerce in 1974.
After a short stint as a sales representative for Procter & Gamble, he returned to Virginia in 1976 to serve as assistant swimming coach. He earned a master's degree in counseling from the Curry School of Education in 1978 and the same year was named head coach — an office he still holds.
Bernardino clearly enjoys his job. "Most of my memories are of Mark getting so excited and pumped or passionate about a set" — a practice routine of laps and exercises — "that he would go off in a rant," said Jessica Lewis, a third-year economics major and a member of the women's team. "He just gets excited about swimming."
Doak Finch, one of the team's assistant coaches who also swam for U.Va. under Bernardino, describes his co-worker and mentor as a "fiery Italian" who attracts people, himself included, to the U.Va. swimming program with his energy.
"Every year he's wanted the same thing," said Stefan Hirniak, a fourth-year sociology major and one of the captains of the men's squad, who also swims for the Canadian national team. "No matter if it was in the beginning of his career when he was at the bottom of the ACC or now that he's won eight straight ACC championships, the goal is still to make everybody swim better than they ever have in their lives."
Bernardino cares deeply about swimming and swimming well, but his involvement with his team doesn't stop with their turns and their times. "He is a very involved coach," said Ryan. "He cares about his athletes as people."
Finch recalled how nervous he was before the 200-meter butterfly event at the 2000 Olympic trials. Bernardino handed Finch a note with some encouraging words, which helped him relax. "His ability to read people is absolutely amazing," Finch said.  
Something of a father figure, Bernardino counsels swimmers on their personal problems, and away from the pool insists they make academics a priority. And they have.
The women's team has earned College Swimming Coaches Association of America All-Academic team honors for 15 consecutive years, while the men's team has received the same award 12 times in the same period. To qualify, teams must have a minimum 2.80 grade point average. In 2006, the U.Va. women finished with a 3.32 GPA, and the men with a 3.05.
The good habits instilled in Virginia swimmers — in athletics, academics and their personal lives — help them achieve success in all walks of life after they graduate, said athletics director Craig Littlepage.
"No [other athletic] program at the University produces [so many] people who have had that type of success over such a long period of time," he said.
Bernardino's swimmers recognize and appreciate their coach's positive influence. "It really shows in the number of alumni who keep in touch with him," Finch said.
Of course, there's more to life than just swimming laps at the Aquatic & Fitness Center. With swimmers expected to participate in nine intensive practices each week, Bernardino knows it's important for the team to relax and enjoy each other's company. He schedules team-building activities, including retreats at the beginning of the year, Friday night dinners and occasional Saturday night festivities.
"He emphasizes the team," said Lewis. "It helps me swim faster, knowing that I'm swimming not just for myself but for the other people on my team. I would describe us as a family."
Littlepage also attributes Bernardino's success to his experience running a competitive program in a demanding environment. "He's been around the University, Virginia athletics and ACC competition for a long time, so he knows the territory," Littlepage said. At the same time, he doesn't let the challenges he faces get the better of him. "He is very much a Virginia gentleman," Littlepage said.
Bernardino may not be the kind of coach who likes to make waves, but clearly his teams are making a big splash.