Social media bios are often littered with trivial information, or can come across as self-indulgent or trying too hard to be clever. In many cases, they tell you everything and nothing about a person – all in the same breath.
That's what makes Olivia Pavco-Giaccia's so refreshing.
There are no humble brags about her time as a cellist in the Yale University Symphony Orchestra, or her time spent in the White House working under former Vice President, and now President-elect, Joe Biden, or her success in Hollywood as a producer and host.
Just her truths: "Lover of science and all things girl power," reads Pavco-Giaccia's Instagram bio.
There's no doubt about that.
Since she was a teenager, Pavco-Giaccia has sought and found innovative ways to help women through her affinity for science.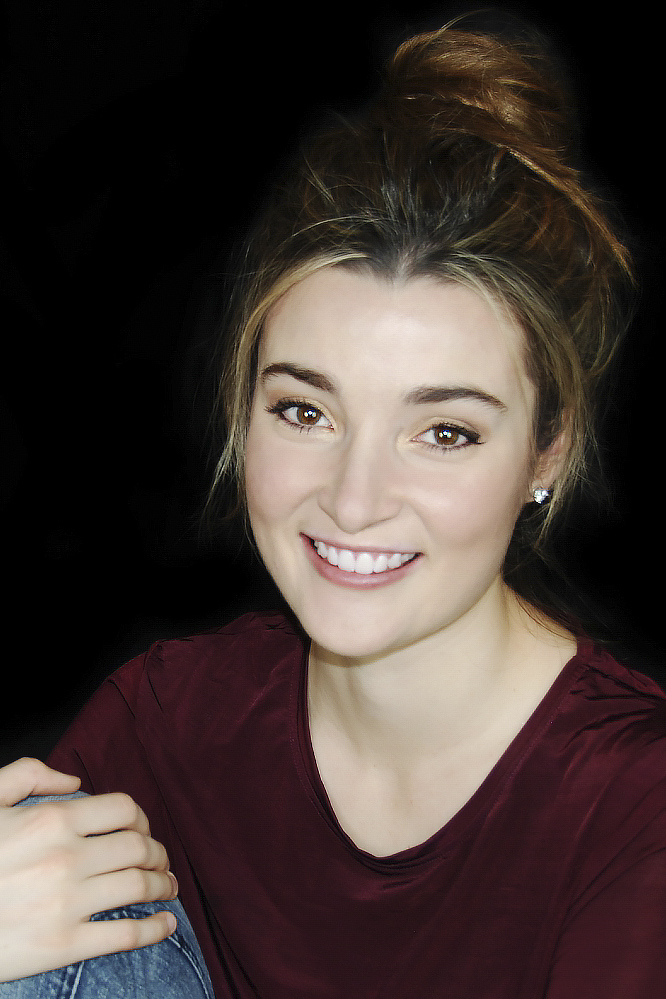 Pavco-Giaccia has been involved with the National Girls Collaborative Project since she was a teen. (Contributed photo)
"When I was younger, I didn't have any female science role models to look up to in my family or on TV, so I never pictured myself as a scientist. Then I took an awesome science class in the seventh grade, and realized that science was just another way to be intellectually curious," she said. "I was lucky that I had some great female science teachers."
Now Pavco-Giaccia, a first-year MBA student in the University of Virginia's Darden School of Business and recipient of a Jefferson Fellowship –  she was selected as the Goodwin/Hardie Family Jefferson Fellow – wants to inspire a new generation of young girls through science.
The Washington, D.C., native and Yale alumna is hoping her Darden experience can help build on the success she has already had as a content producer and host, including science-focused shows with leading entertainment groups such as Conde Nast, New York Times Digital, and Discovery.
Following in the footsteps of her aunt, Luanne Pavco – whom she describes as an "incredible role model" and whose Darden graduation she attended as a toddler – Pavco-Giaccia said she was drawn to Darden's "rigorous" academic environment and case method learning approach.
The daughter of two lawyers, she grew up in a close-knit family, convinced that she wanted to someday be a concert cellist – until Denise Reitz, her high school science teacher, changed everything. Looking back, Pavco-Giaccia excitedly recalled a class project in which students spent a year trying to figure out why fungus was growing on a nearby tree.
"I had this misconception of science as something you memorize from a textbook or learn from a classroom whiteboard," Pavco-Giaccia said. "But in reality, science is the study of the world – it's everything around us. It's going outside and looking at the stars at night and wondering how they got there.
"That ability to look at science through the lens of the real world is what inspired me to fall in love with it."
Reitz encouraged Pavco-Giaccia (who continued to play the cello) to pursue science endeavors outside of school, which led to Pavco-Giaccia connecting with Karen Peterson, the CEO of the National Girls Collaborative Project, after she did a search for "girls and science" on the internet.
Peterson invited Pavco-Giaccia to be a student panelist at an event in D.C., and the rest was history.
"She was the star of that panel," Peterson recalled. "All of the girls were amazing, but she stood out. She was very poised and articulate.
"She said something and all of the adults in the room went like, 'Oh.' She was such a leader."
Pavco-Giaccia has remained involved with the National Girls Collaborative Project – an organization committed to informing and encouraging girls to pursue careers in science, technology, engineering and mathematics – ever since. She currently volunteers as the organization's director of engagement and innovation and serves on two of its boards, one of which she created in 2017.
Pavco-Giaccia became further interested in working in the STEM space after she was one of the only women to participate in a science internship at Stanford University the summer of her junior year in high school.
"Coming from a family of feminists, I wanted to do something about it," Pavco-Giaccia said.
She started a blog to encourage girls in STEM. In one entry, Pavco-Giaccia posted a photo of a pair of "sparkly" homemade lab goggles she had made and was subsequently flooded with questions from girls around the country asking her where they could get a pair.
As a freshman at Yale, Pavco-Giaccia used the idea for the goggles to become the youngest-ever fellow in Yale's Entrepreneurial Institute, beating out Yale School of Management and other graduate-level students to win the organization's final pitch competition. She was founder and CEO of LabCandy, a company whose mission was to encourage young women in STEM.
"I came in thinking I was making a physical product, but as I spent more time conducting customer interviews and understanding more about what it was behind these products that appealed to young women and girls, I realized that what I was really building was stories," said Pavco-Giaccia, who selected as one of Glamour Magazine's "Top Ten College Women" for her work in the STEM space. "I was creating this character of a young female scientist who was bright and vivacious – the antithesis of what most people picture when they close their eyes and picture a scientist. Most people picture Albert Einstein in a while lab coat, and what we were creating were these bright, vibrant, colorful, relatable, interesting young women."
The realization led to the creation of an award-winning children's book that accompanied the goggles. The book featured female characters who went on adventures and solved problems using science experiments, then encouraged young readers to recreate the experiments at home.
A Kickstarter campaign reached its funding goal in just three days and put LabCandy in the hands of children around the world.
At the same time she was working on LabCandy, Pavco-Giaccia studied cognitive science.
"I'm interested in exploring how the world works, and in particular how the human mind and brain works – why is it that we believe what we believe?" Pavco-Giaccia said. "In my undergraduate studies, I wanted to understand these fundamental questions of, 'What does it mean to be conscious?' 'What is identity?' I wanted to explore all these big metaphysical questions – and it was great. I really enjoyed it. It was a wonderful major."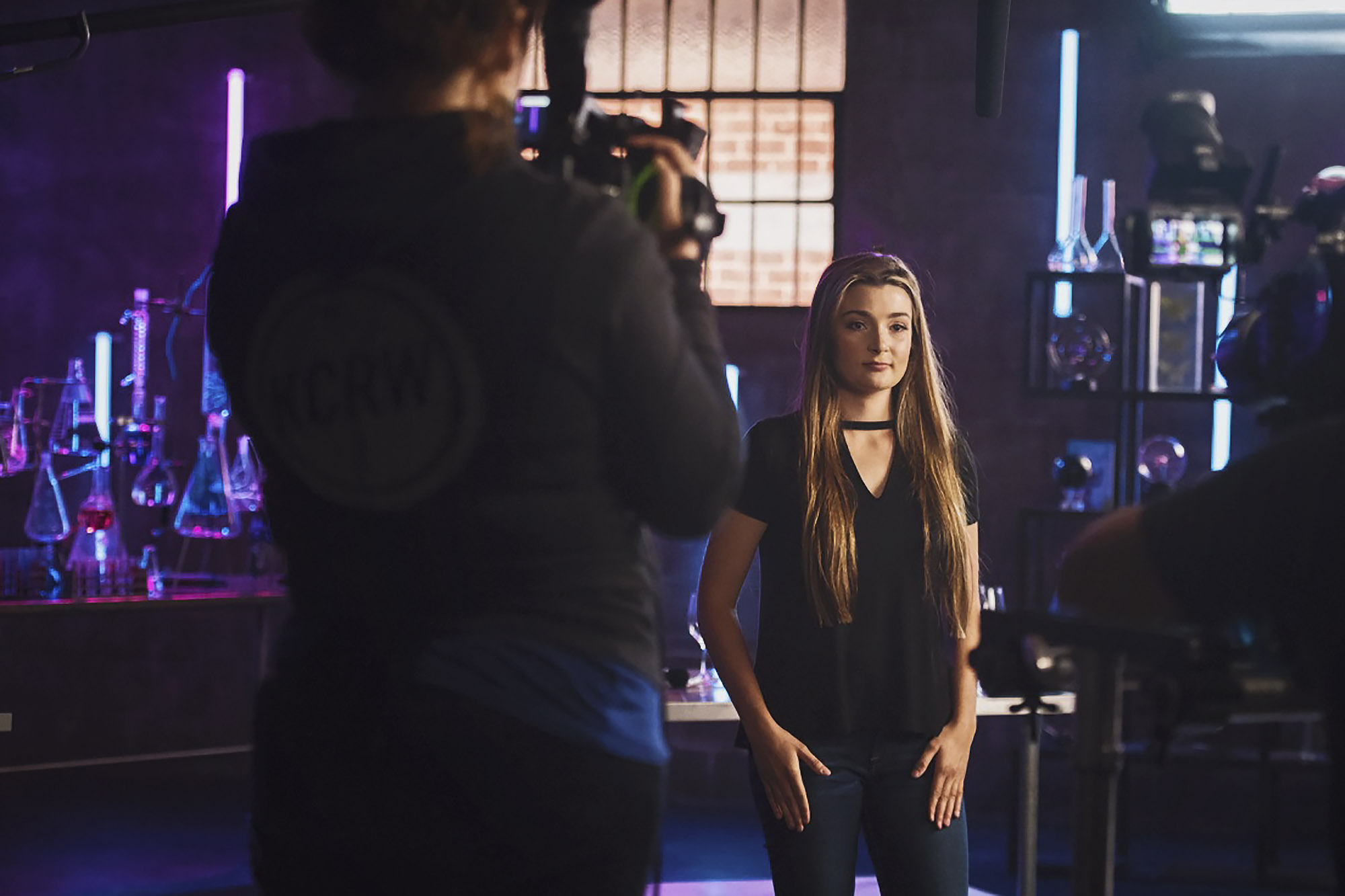 In 2017, Discovery honored Pavco-Giaccia for her work by naming her a "Science Super Hero." (Contributed photo)
Her senior year at Yale, Pavco-Giaccia wrote her thesis on gender based implicit bias in STEM fields, research that would later be published. After graduating with honors in 2016, Pavco-Giaccia was selected as a finalist for the Rhodes Scholarship, and worked at the White House on then-Vice President Biden's Violence Against Women team.
"I met a lot of incredibly brave, powerful survivors who were generous enough to share their personal experiences with us. Their stories were deeply inspiring, and better enabled us to think through our policies and formulate plans of action," Pavco-Giaccia said.
She then traveled the country conducting science and innovation workshops for young women and girls. During that time, she started a YouTube channel so that pupils could stay in touch.
The channel caught the attention of a production company in Los Angeles. Pavco-Giaccia subsequently pitched an idea for "Pop Experiment," a digital series geared toward girls ages 9 to 12, that wound up being purchased by Facebook Watch, a video-on-demand service operated by Facebook. The series consisted of five 15 to 20-minute episodes over a three-month span.
"It was an incredible learning experience," said Pavco-Giaccia, who moved to Los Angeles for the project. "I went from never having been on a set before to leading a cast of 15 folks. It wasn't huge, in comparison to Hollywood standards, but for me at the time, it was new territory.
"When I first came on set, I didn't know the difference between a gaffer and a showrunner. But I loved it. I loved getting to work on every piece of it – writing the scripts, hosting the series, producing the series, marketing the series and analyzing the user data. I really enjoyed the whole adventure and learned a lot from it. It was the launching point that allowed me to begin my career in educational science media."
Pavco-Giaccia was proud of the show.
"If you look online at educational science media, there's a lot out there, but not a lot that is really geared toward women, particularly young women," she said. "There's actually a lot of pushback in the industry from network executives who said, 'We can't create a science show for girls because girls don't watch science shows. Nobody will watch it.'
"So it was pretty exciting when Facebook was willing to step up and let us make something that was really for the audience we wanted to reach."
Pavco-Giaccia went on to do other shows, including her most recent series called "How Close Are We?" that she hosted for Seeker Media. The show examined the timelines for solving various science-related issues, such as renewable plastics.
In 2017, Discovery honored Pavco-Giaccia for her work by naming her a "Science Super Hero."
Peterson said she has been just that in her time at the National Girls Collaborative Project. "She's just been invaluable," the CEO said. "She's very skilled at, very politely, pointing out gaps and needs.
"The thing about Olivia is that she has so many amazing ideas – and she knows how to activate and execute them."
After COVID-19 hit last March, Pavco-Giaccia moved back to D.C. before starting at Darden in the fall.
"I wanted my MBA because as much as I loved pitching and executing on creative concepts for others, I really wanted to have more control over how and what types of stories are told," she said, "and I wanted an MBA to be better equipped for the business-related roles that make those types of decisions."
Pavco-Giaccia has enjoyed her time in Charlottesville. Ever the pioneer, she recently rented a cello from Music and Arts with the idea of starting a rock group with fellow Darden students (at Yale she was in an all-cello rock band).
When she has finished at Darden, Pavco-Giaccia –an avid horseback rider and member of the UVA Club Riding Team– said she looks forward to finding new ways to create positive change, but that she will definitely be staying close to her National Girls Collaborative Project roots.
"It's shaped me significantly in terms of who I am and the causes that I care about," she said.
Article Information
December 1, 2020
/content/orchestra-business-white-house-hollywood-science-drives-darden-dynamo