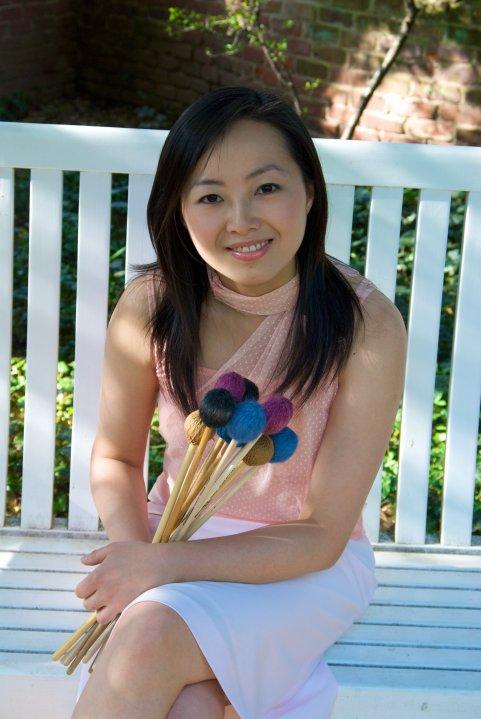 The University of Virginia's McIntire Department of Music presents the third concert of the U.Va. Chamber Music Series on Nov. 4 at 8 p.m. in Old Cabell Hall. Percussionist I-Jen Fang will perform works by U.Va. composer Judith Shatin, Toshi Ichiyanagi, Keiko Abe and more.
Fang will play both marimba and vibraphone on the popular Chick Corea tune "La Fiesta," with Robert Jospé on drumset. U.Va. violin faculty Daniel Sender will join Fang on a violin and marimba duet to round out a program that merges tradition with innovation.
Fang joined U.Va.'s music faculty in 2005 and became principal timpanist and percussionist of the Charlottesville & University Symphony Orchestra.
Born in Taipei, Taiwan, she began her musical education at age 6 taking piano lessons. Taking up percussion at the age of 9, she came to the United States at age 15 to pursue a Bachelor of Fine Arts in percussion performance at Carnegie Mellon University in Pittsburgh. Later, she received a Master of Music from Northwestern University and a Doctor of Musical Arts from the University of North Texas, where she served as a teaching fellow. Her principal mentors include Tim Adams, Michael Burritt, Christopher Deane, Mark Ford, Paul Rennick, Robert Schietroma, Ed Smith and Ed Soph.
As a percussionist, Fang has performed or recorded with artists such as Abe, William Cahn, Christopher Deane, Mark Ford, Mike Mainieri, Michael Spiro, Nanik Wenton and Nyoman Wenton. She was a guest marimba soloist with the Taiwan Youth Orchestra in Austria, France, Hungary, Romania and South Africa, and has performed as a soloist with the Carnegie Mellon Philharmonic in Carnegie Music Hall in Pittsburgh. She was also the featured marimba soloist with the Charlottesville and University Symphony Orchestra during the 2006-07 season.
As a pianist, she is a past winner of the Pittsburgh Concert Society Young Artist Competition.
Tickets for this concert are $15 ($8 for students at the door, but free for U.Va. students who reserve in advance and for those under 18). Tickets can be purchased by calling the Arts Box Office at 434-924-3376 or by clicking here.
The Chamber Music Series is supported by the George F. and Marion E. Jones Endowed Lectureship Fund.
For information. call the McIntire Department of Music at 434-924-3052.