We are now more than a month into the fight against COVID-19, and people across the University of Virginia and Central Virginia are contributing in many different ways.
Many are finding ways to support health care workers, from generous donations of protective equipment or meals to heartfelt messages of support. Others are working to support small businesses or bring people together in new ways. And of course, the doctors, nurses, residents and hospital staff at UVA Health are working as hard as they can to prepare, care for patients and conduct research that can help reduce the toll of this deadly pandemic.
For the fifth week in a row, University photographer Sanjay Suchak has worked to document as much as he can. This week, he focused his camera on members of the community who are working together to save lives, continue education and lift spirits around UVA and Charlottesville.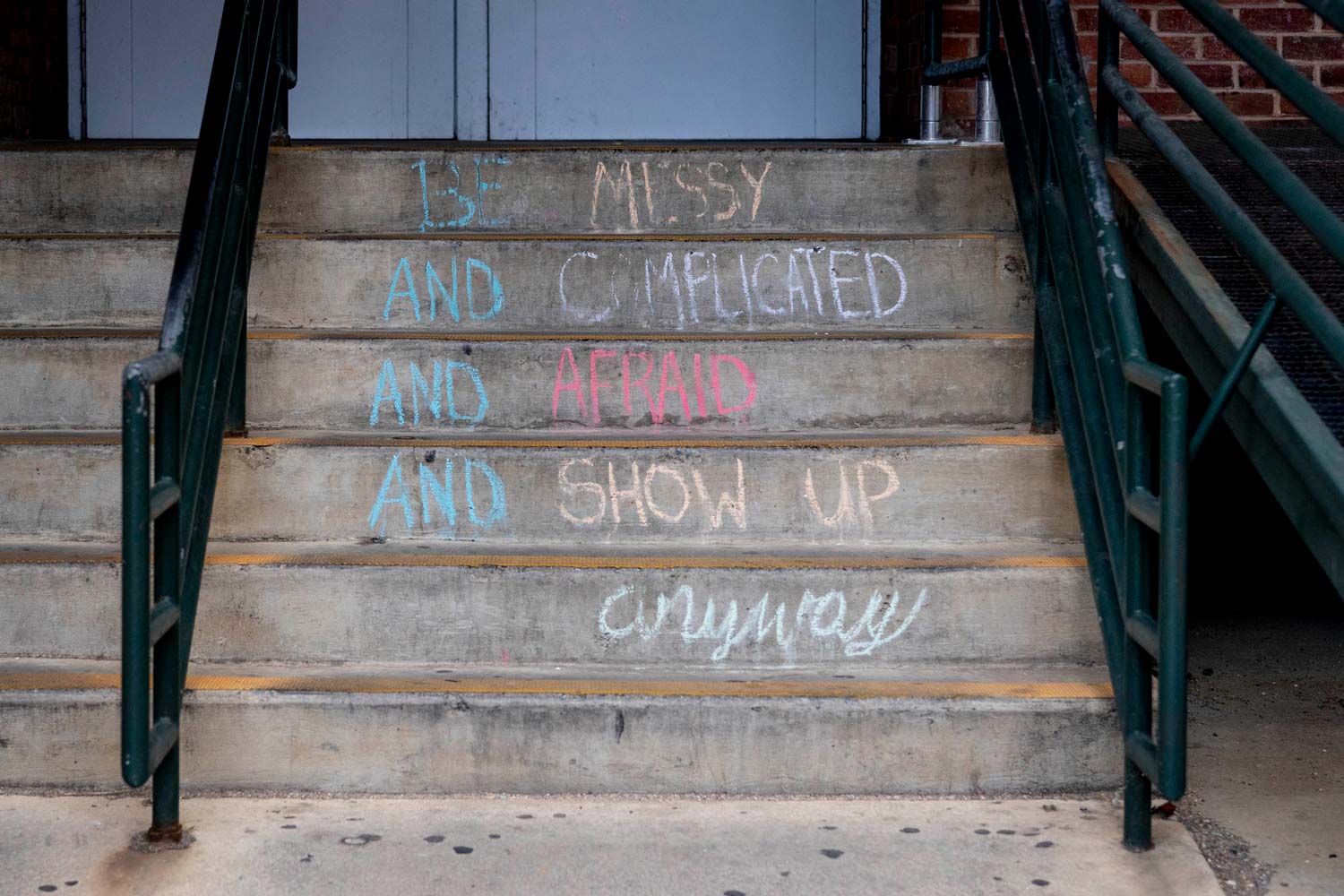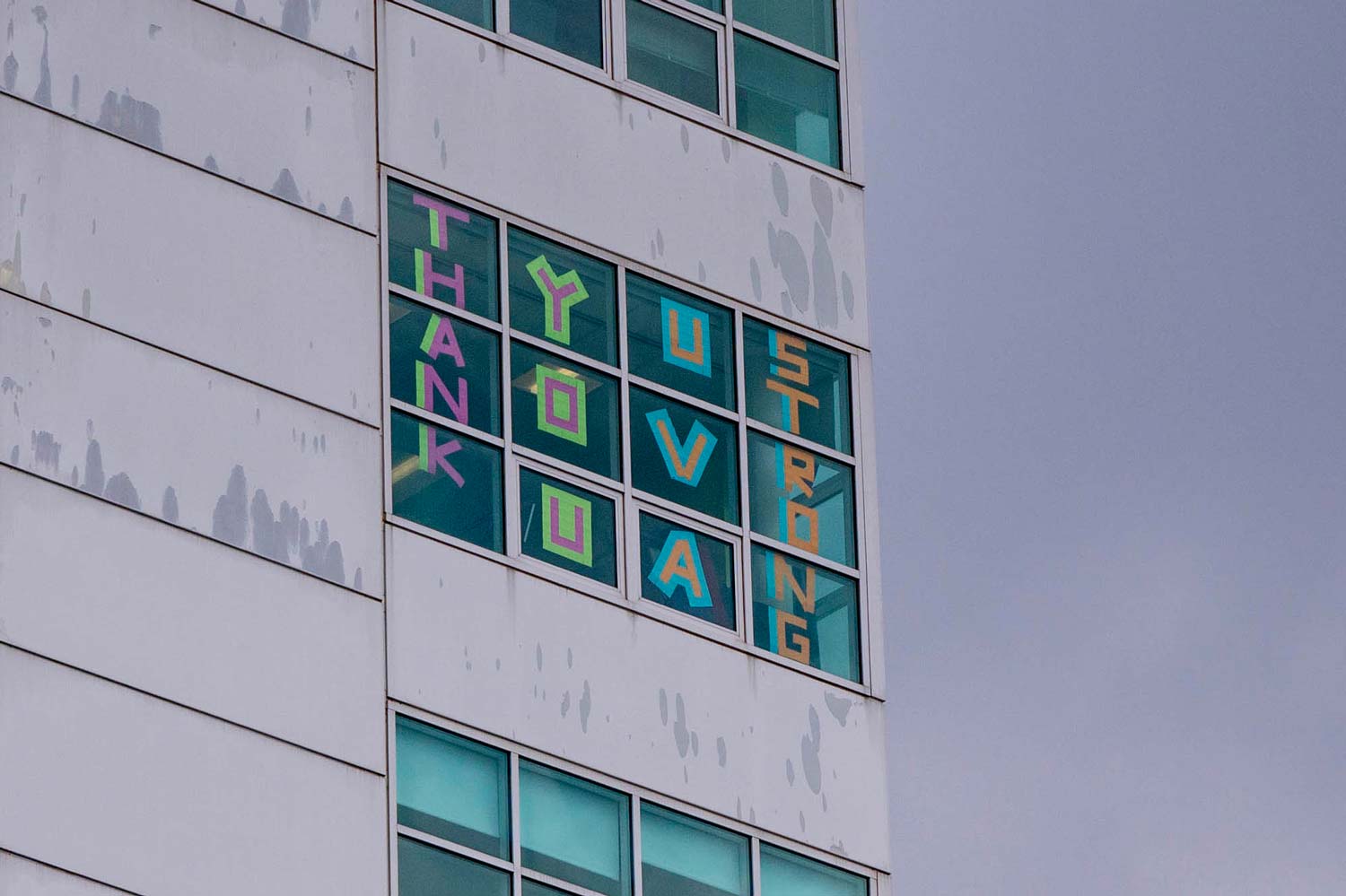 Chalk messages adorn the walkways at hospital entrances. In an upper-floor window, someone has written with paper, "Thank You, UVA Strong."
Leadership Anywhere
President Jim Ryan participates in a Zoom meeting with his leadership team from his home office at Carr's Hill. From this upstairs room, he spends many hours conducting the business that used to be done face-to-face.
Community Generosity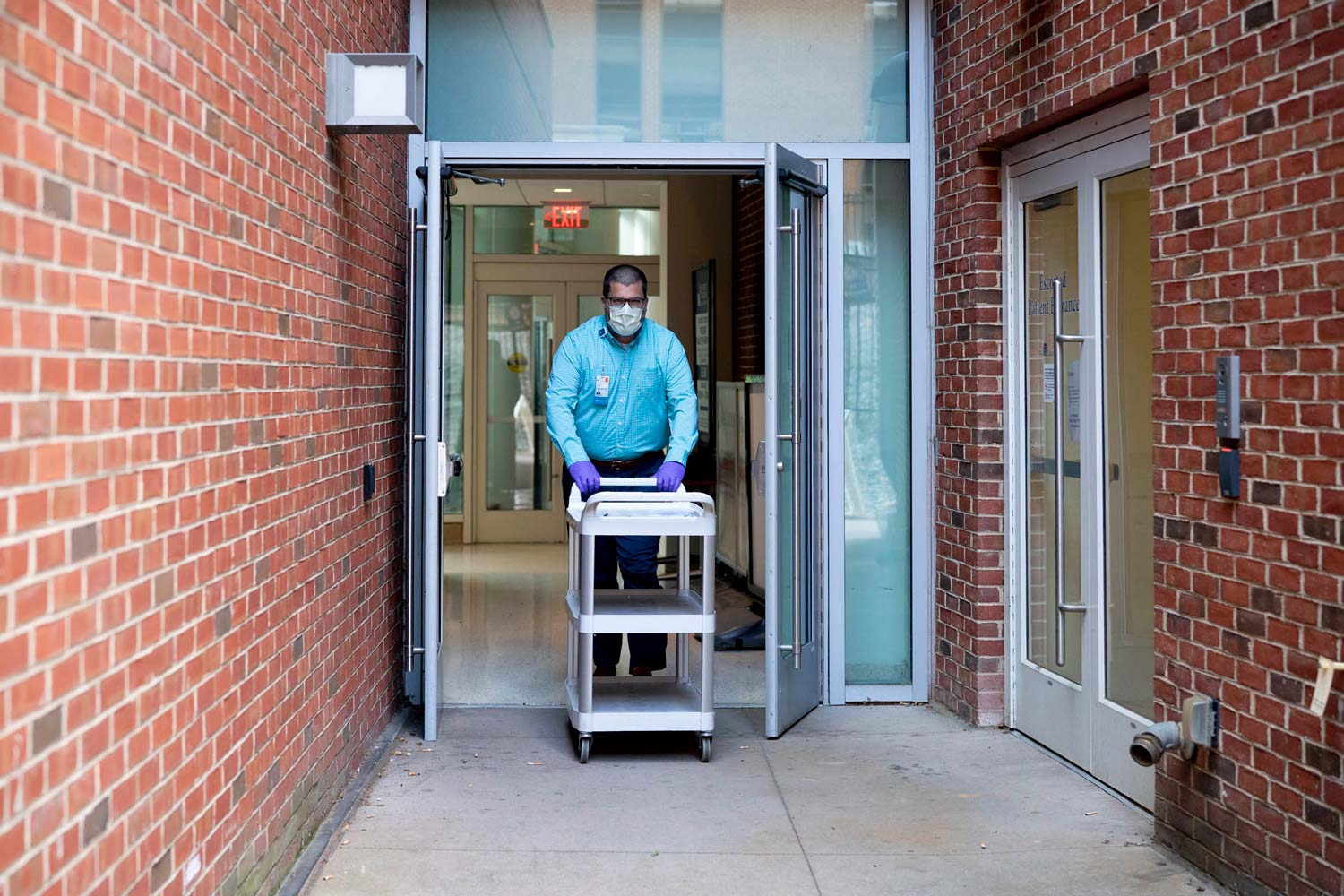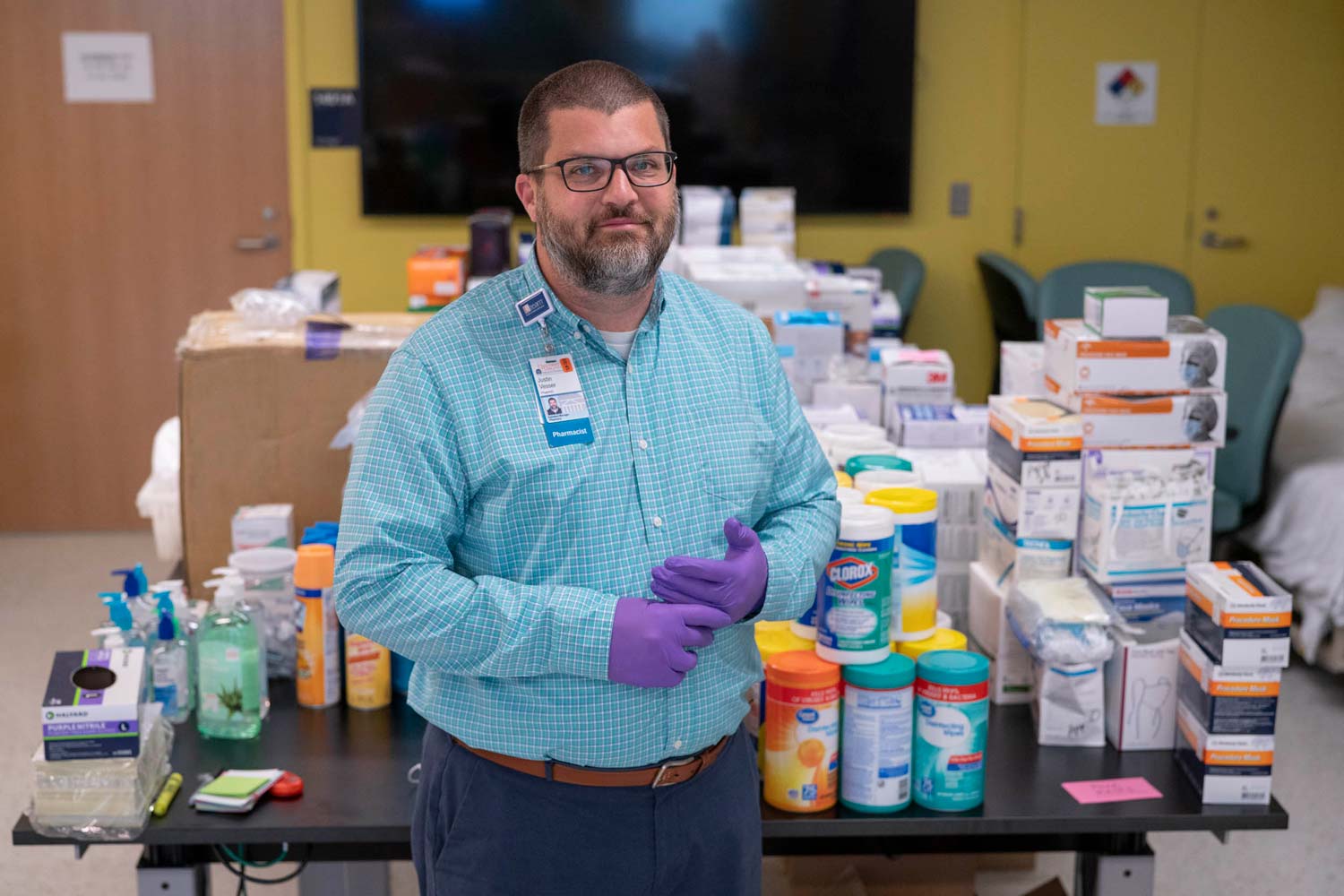 Justin Vesser, an assistant manager of UVA pharmacy services, accepts personal protective equipment donations from Dr. James Stone, who works in the UVA Radiology Department. UVA is collecting donations of PPE and cleaning supplies from members of the community if they have them around. Of particular interest are N95 respirator masks, surgical masks and disinfecting wipes. Below, Vesser poses with the donations he and his team have already collected.
End of Shift
Ben Heltzel, an RN clinician, poses in front of the home he shares with his wife, Eli, who is also a nurse, after finishing a 12-hour shift rotating into the new COVID-19 ward. Ben, who normally works in the Surgical Trauma ICU, left his shift feeling hopeful about his colleagues' ability to fight this pandemic and care for those who contract the virus in the community.
Protection Through Innovation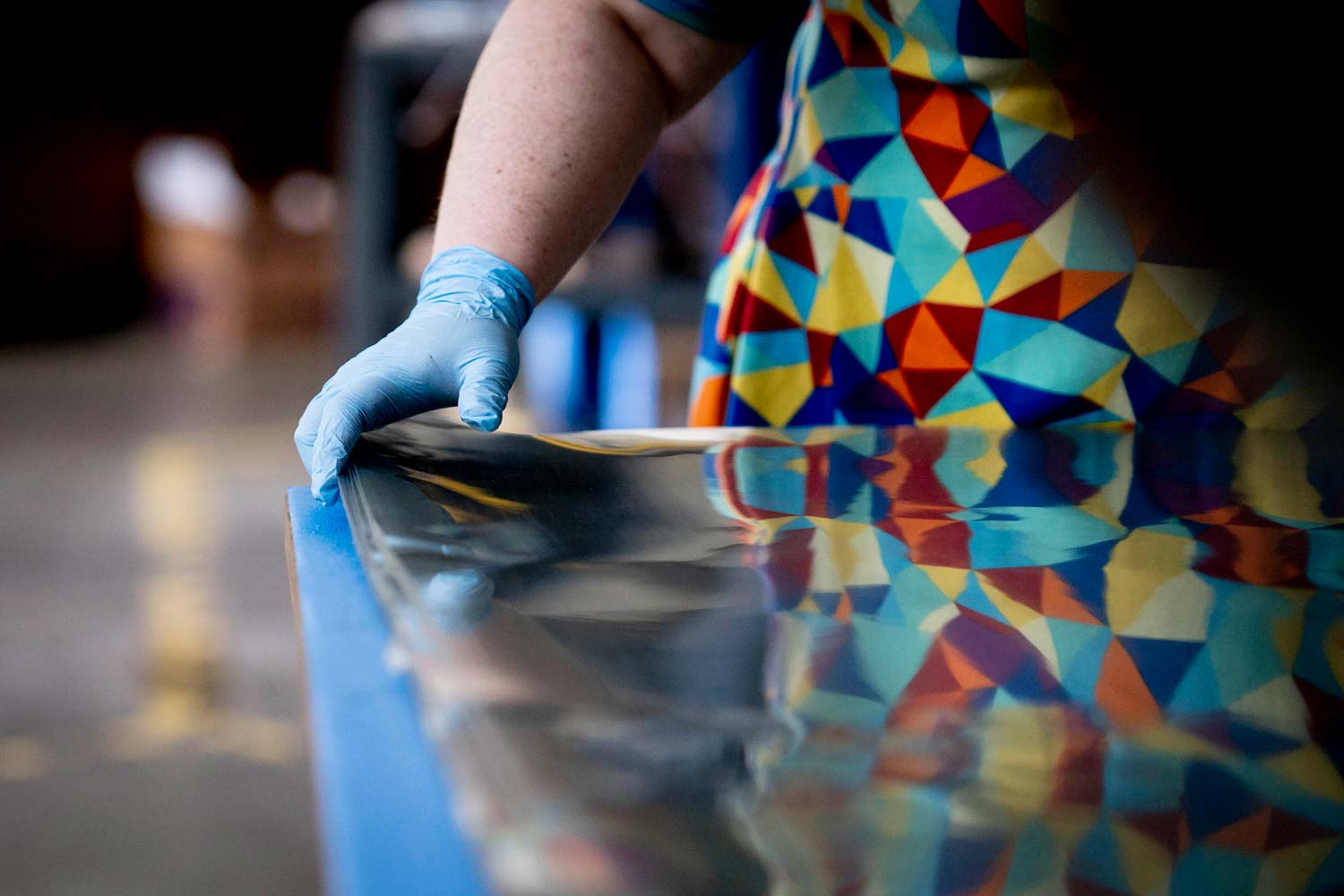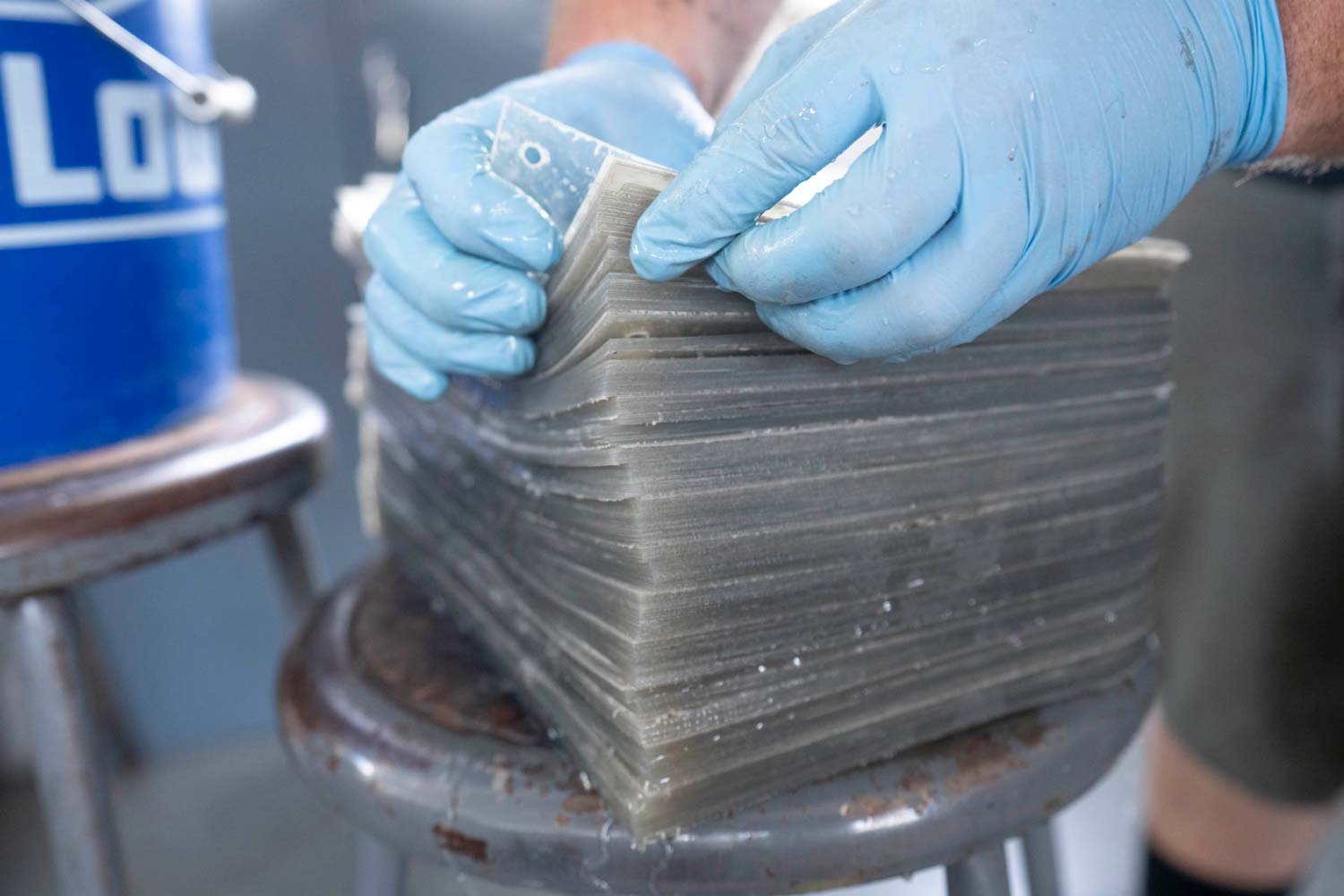 Sebring Smith, shop supervisor for the Lacy Hall Experiential Learning Center at UVA's School of Engineering and Applied Science, pulls a stack of freshly cut face masks from the water jet in Lacy Hall. Smith, Melissa Goldman and Trevor Kemp from the School of Architecture have devised a system to cut 360 masks in 15 minutes using the water jet. (Read more about how staff and faculty across Grounds are getting creative to make critical supplies.)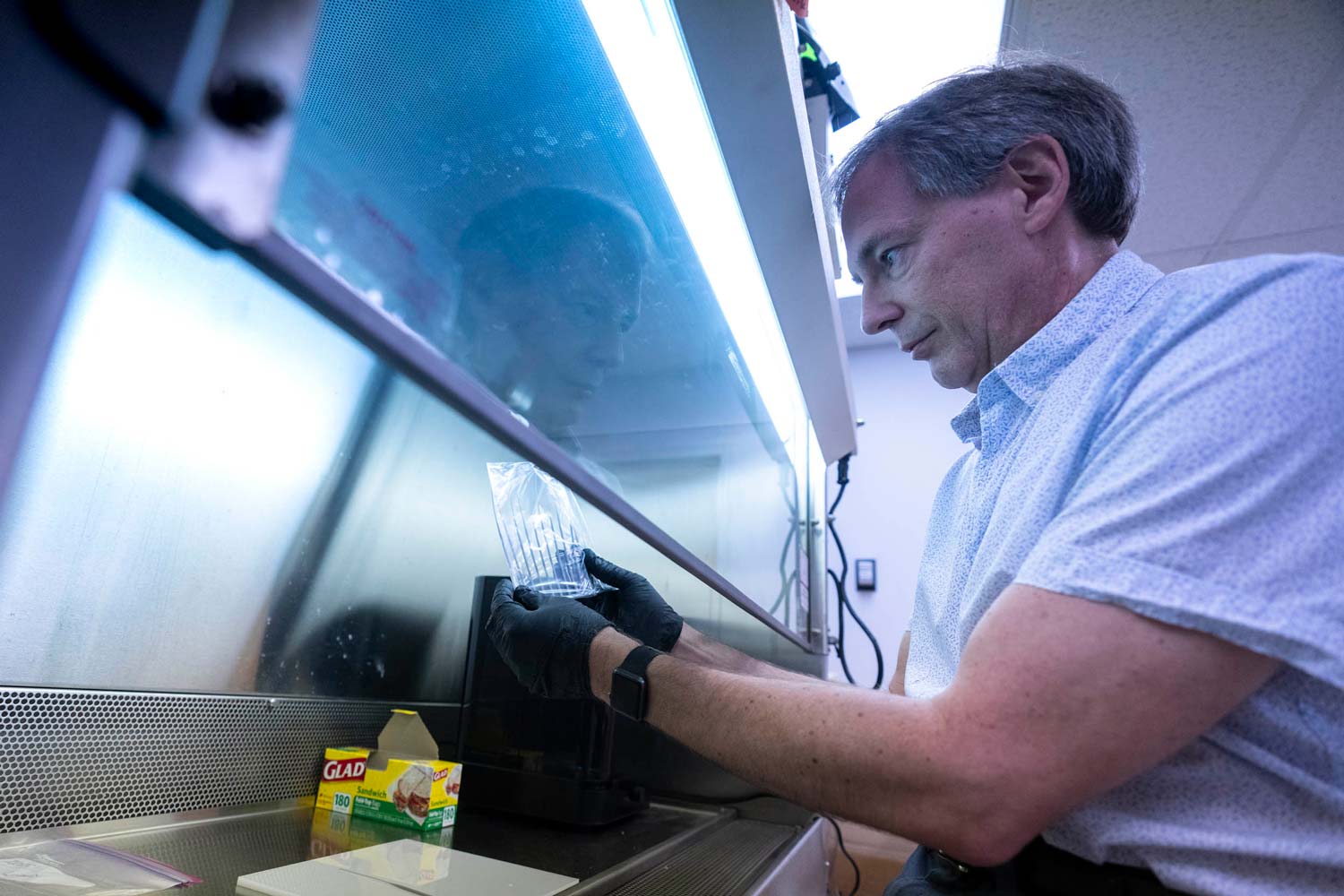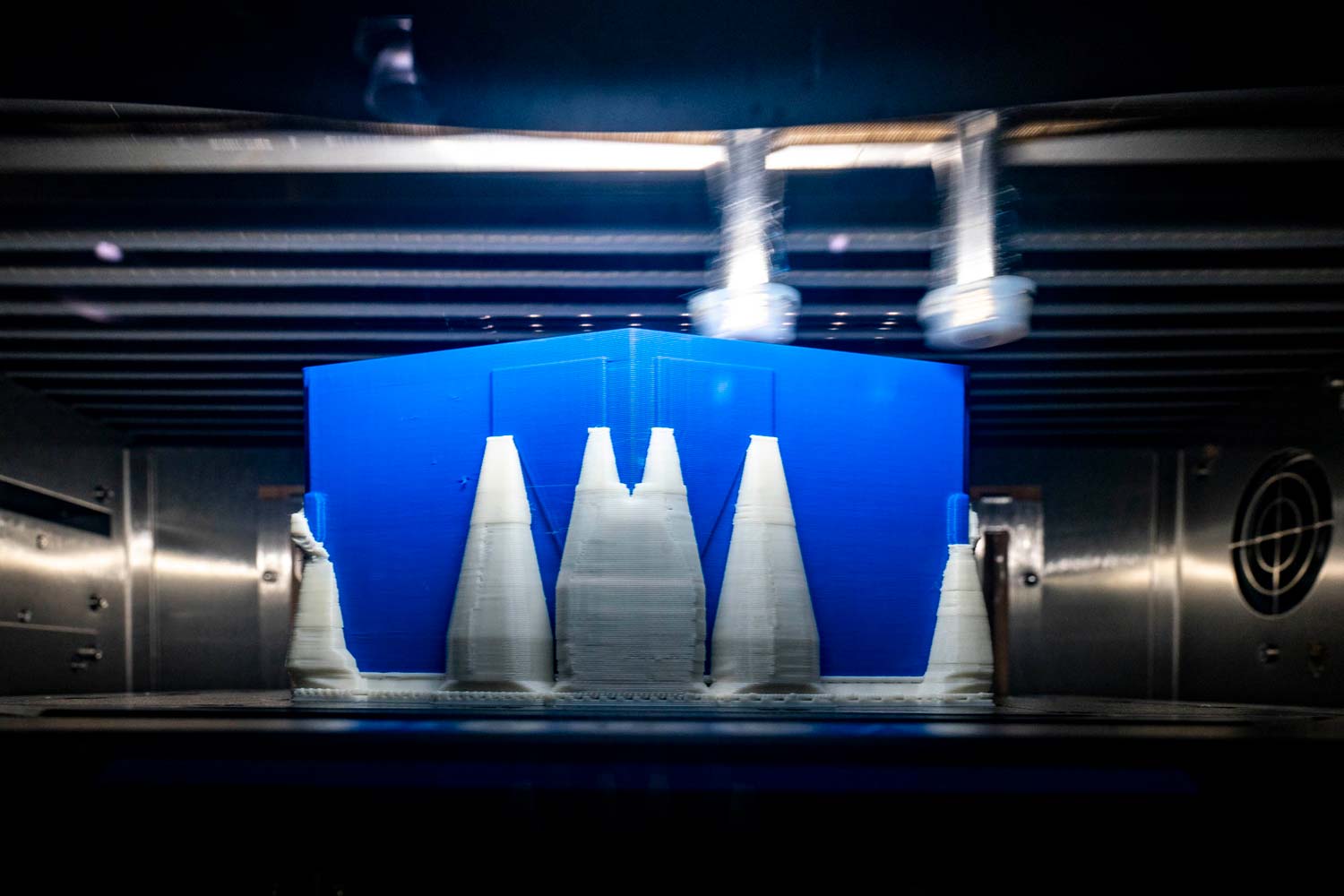 Elsewhere at UVA Engineering, Gavin Garner, associate professor and director of the Department of Mechanical and Aerospace Engineering's Master of Engineering program, has designed and manufactured his own respirator that uses HVAC filtration to protect health care workers. William Guilford, assistant dean for undergraduate education and associate professor of biomedical engineering, turned his skills toward 3-D printing nasal testing swabs for COVID-19.
Critical Response
UVA Health's Pegasus helicopter flies low over the Lawn after taking off from the UVA Medical Center.
Show of Support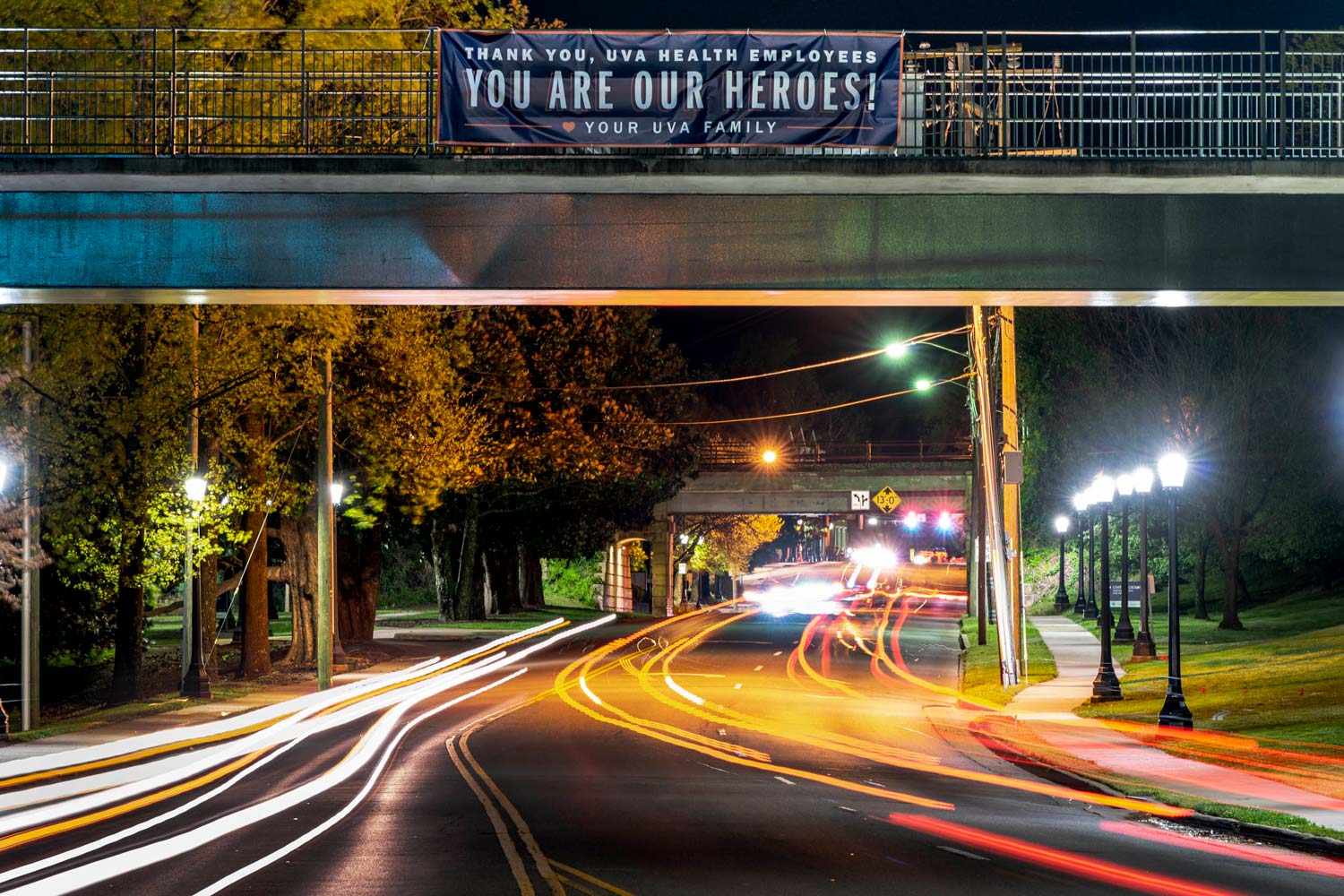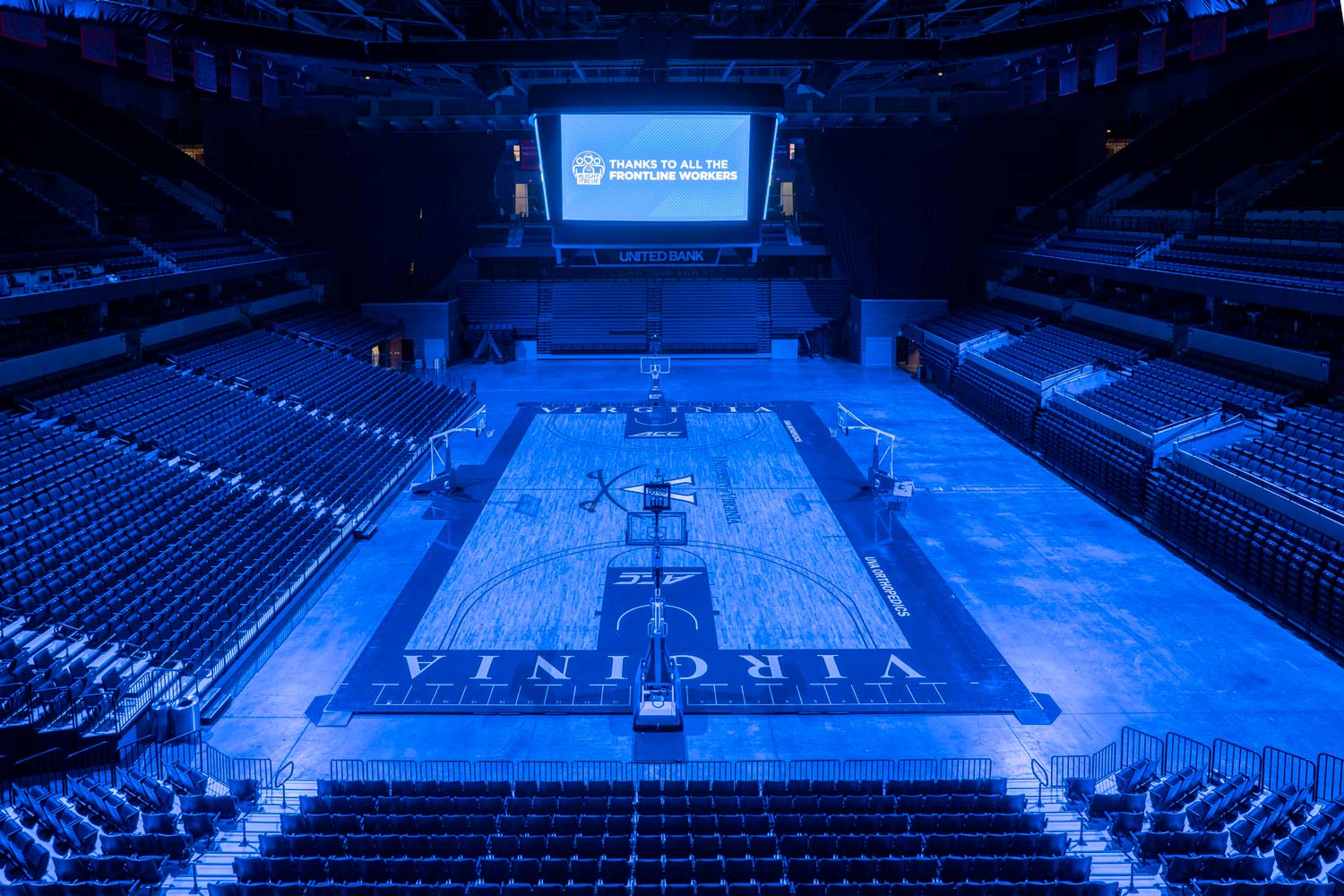 In a show of support for health care workers, the University hung banners across bridges on Grounds offering thanks from fellow UVA employees. Here, the bridge across Emmett Street is seen in a long exposure of passing cars. John Paul Jones Arena participated in the "Light it Blue" event Friday, part of a national tribute to front-line workers. Zach Sloman, the booking and marketing manager for JPJ, came in and set up the scoreboard so that the arena's windows would glow blue.
Feeding the Front Line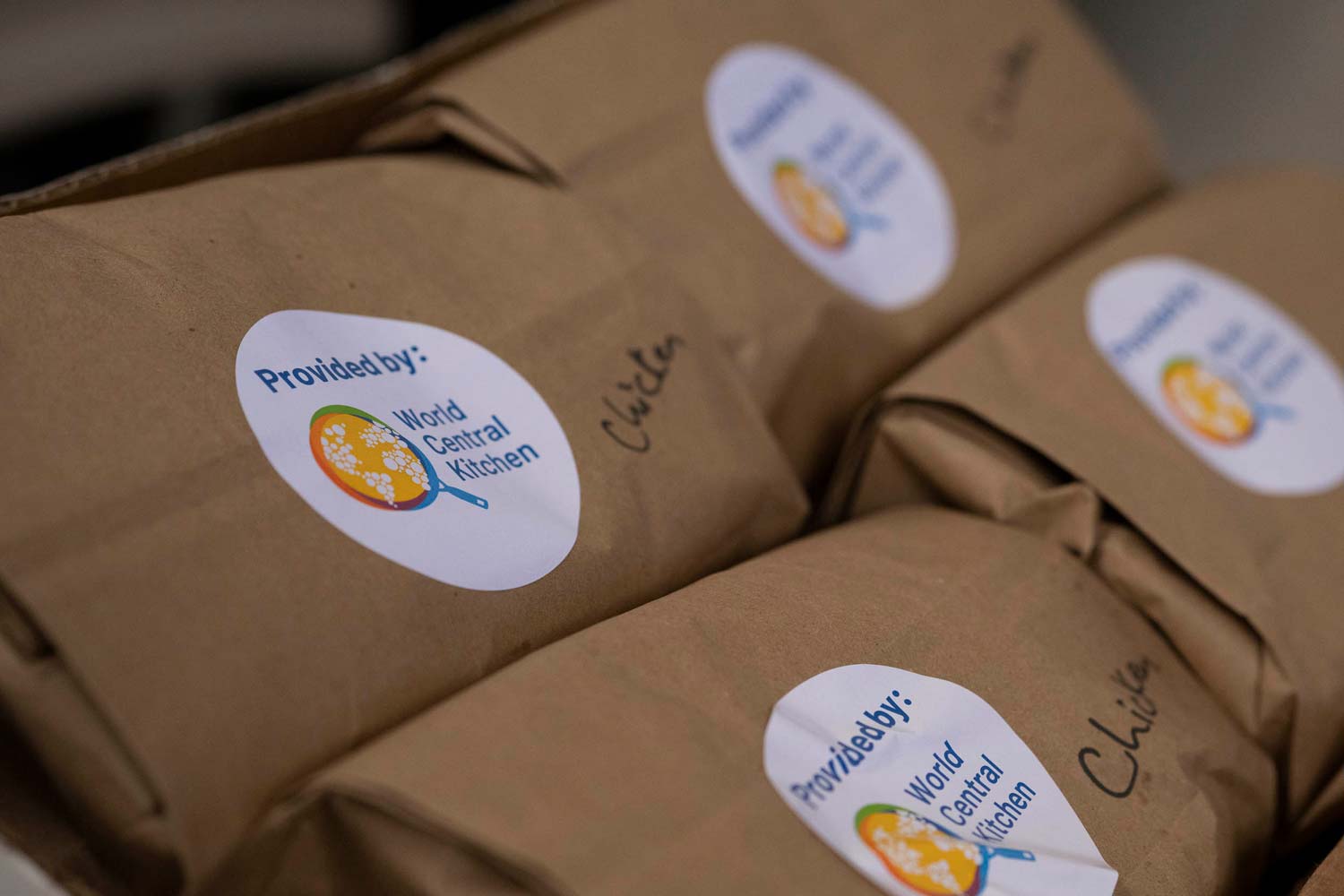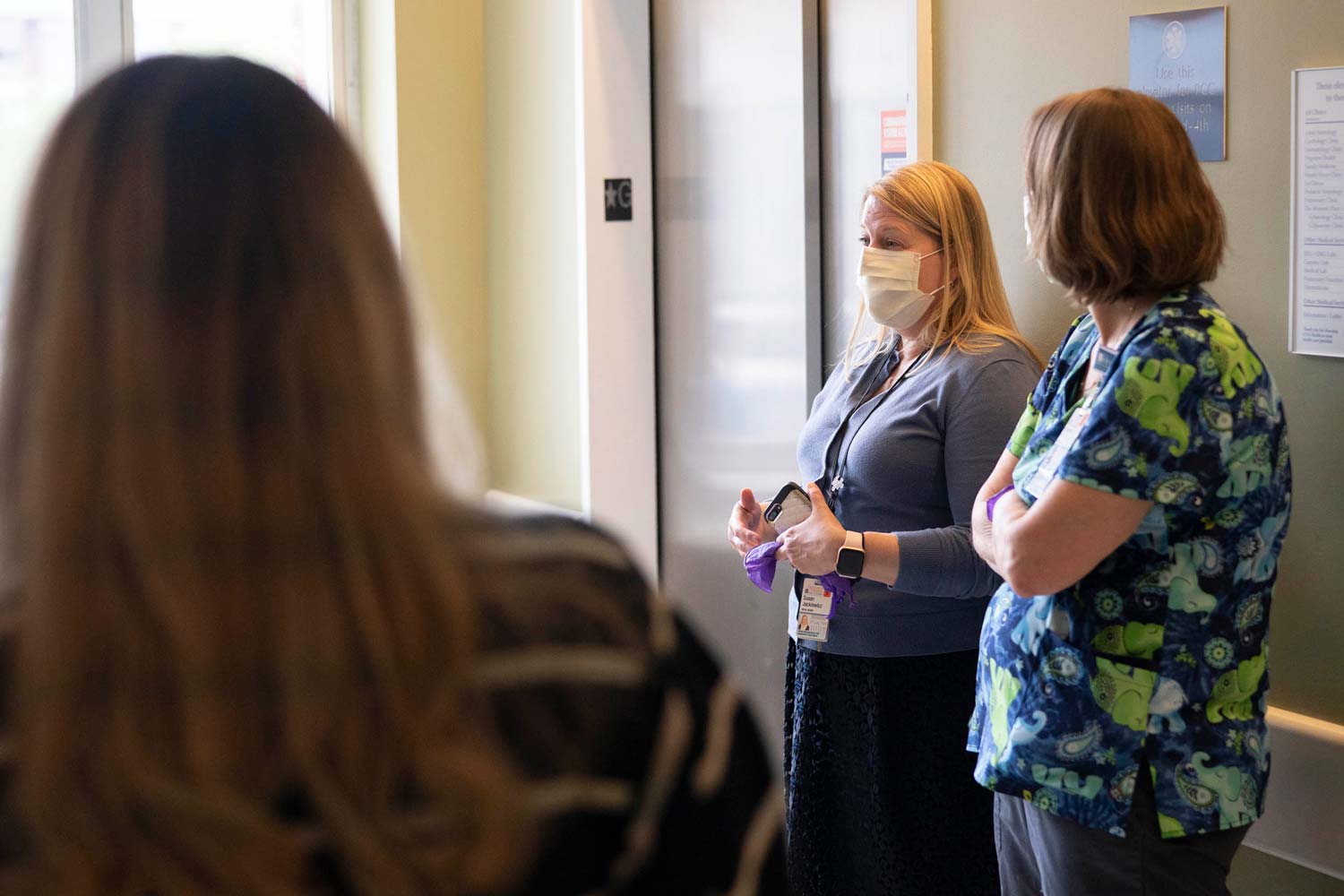 Local leaders teamed up with World Central Kitchen, a nonprofit started by chef Jose Andres, to donate meals on Friday to feed hospital staff at lunch and dinner. The donation is part of a larger effort to feed first responders, which organizers hope to expand to include other communities in need.
Hunter Smith, the owner of Champion Brewery and Brasserie Saison in Charlottesville, unloaded the meals from the truck. Susan Jackiewicz, right, who normally works as the administrator for the Neurosciences and Behavioral Health Center, has stepped up to coordinate donations for front-line hospital workers.
This Is What Community Looks Like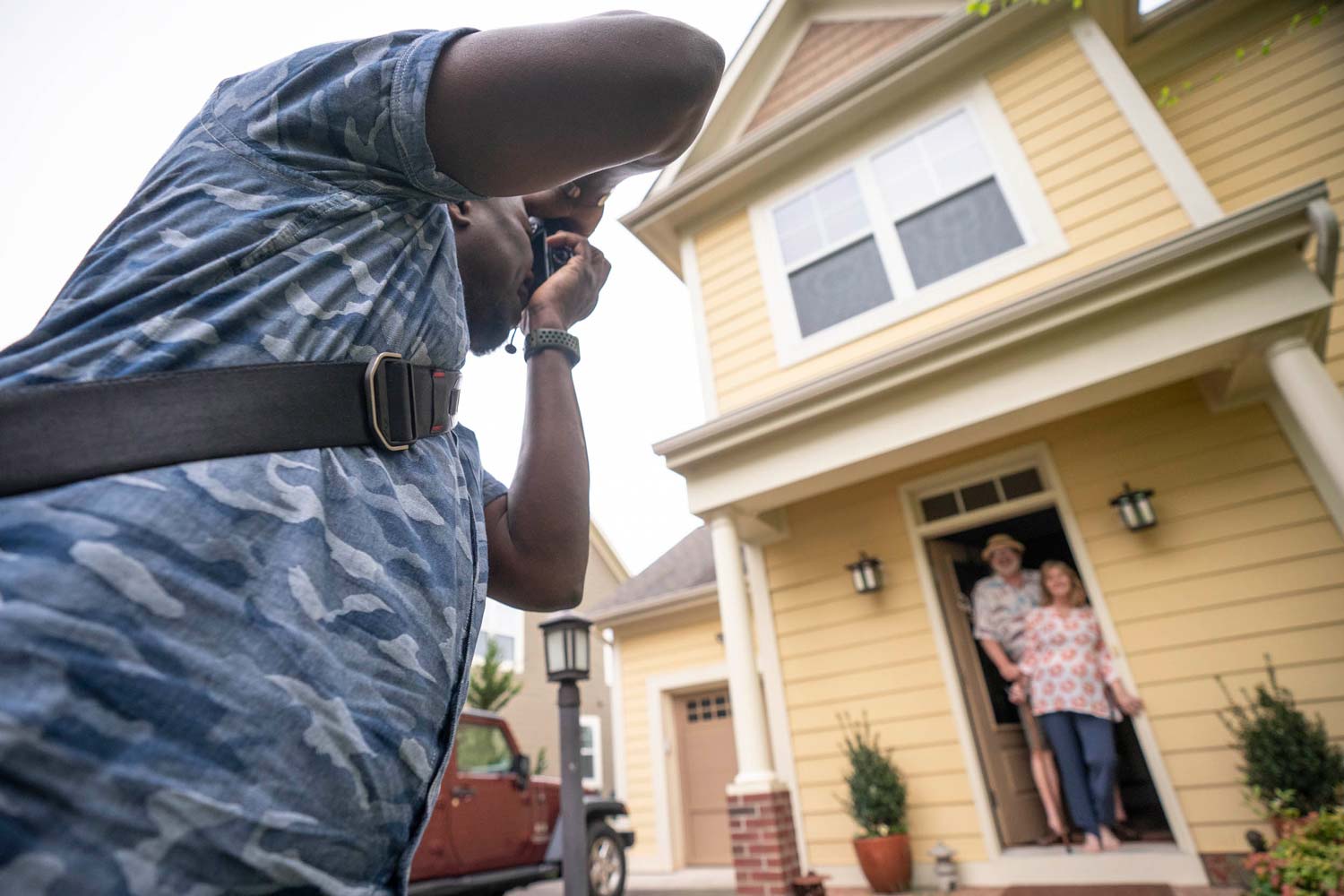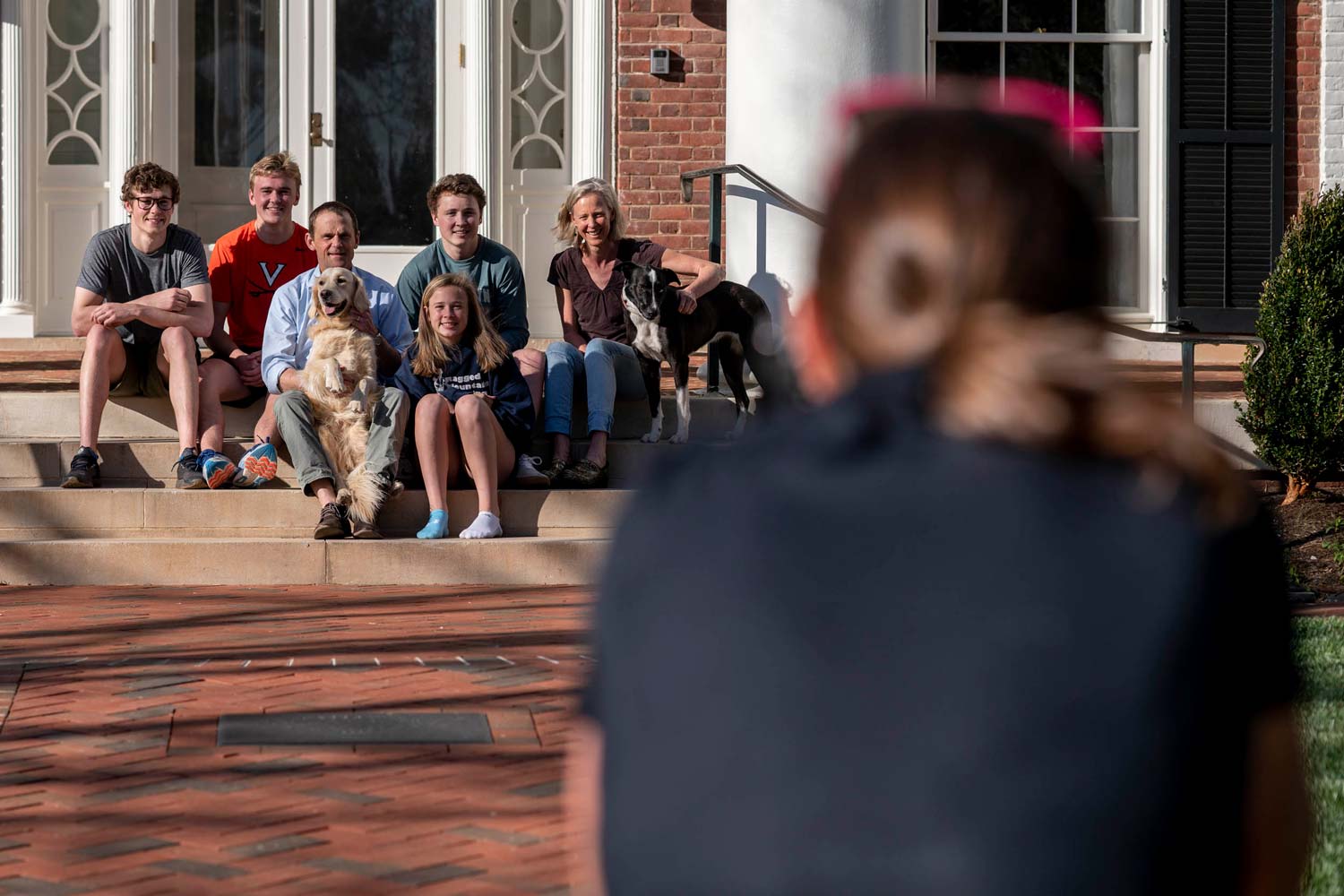 Eze Amos, a photographer who works in the digital production group at UVA's Albert and Shirley Small Special Collections Library, created "Charlottesville Porchtraits." Inspired by similar projects around the country, he is taking portraits to help raise money for the Charlottesville Emergency Relief Fund for Artists. Photographing – from a safe distance – more than 450 families posed on their front porches, the project has raised more than $15,000 so far.
Amos and four other photographers have offered their services on a sliding scale to take portraits in front of families' homes. Here, he is photographing David Gordon and Elke Zschaebitz at their home in Charlottesville. Another participating photographer, alumna Sarah Cramer Shields, photographs UVA President Jim Ryan and his family and dogs on the front porch of Carr's Hill. See more "Porchtraits" on Instagram.
A Break in the Fight
A UVA Health employee takes a break, leaning against lockers in the hospital.