From 9 to 5, Golara Haghtalab is a chemist, working with one of her former University of Virginia professors at the Charlottesville-based molecular chemistry company BrightSpec.
After work, however, the chemist devotes most of her waking hours to art.
Since graduating from UVA in 2017, Haghtalab has immersed herself in the Charlottesville art community. She has participated in numerous shows and launched her first solo exhibition, "Who Is Your RGB Self?" during this week's Tom Tom Founders Festival.
The exhibition – focused on red, green and blue light, or RGB – combines several of Haghtalab's many interests. It features elements of dance and traditional art, including two colorful hummingbird paintings that Haghtalab created, alongside CDs and recycled materials and more high-tech elements that interplay red, green and blue light and even render some of the exhibition in augmented reality.
Check out the photos below for more about Haghtalab and her new exhibition at The Bridge Progressive Arts Initiative, which will run through the month of April.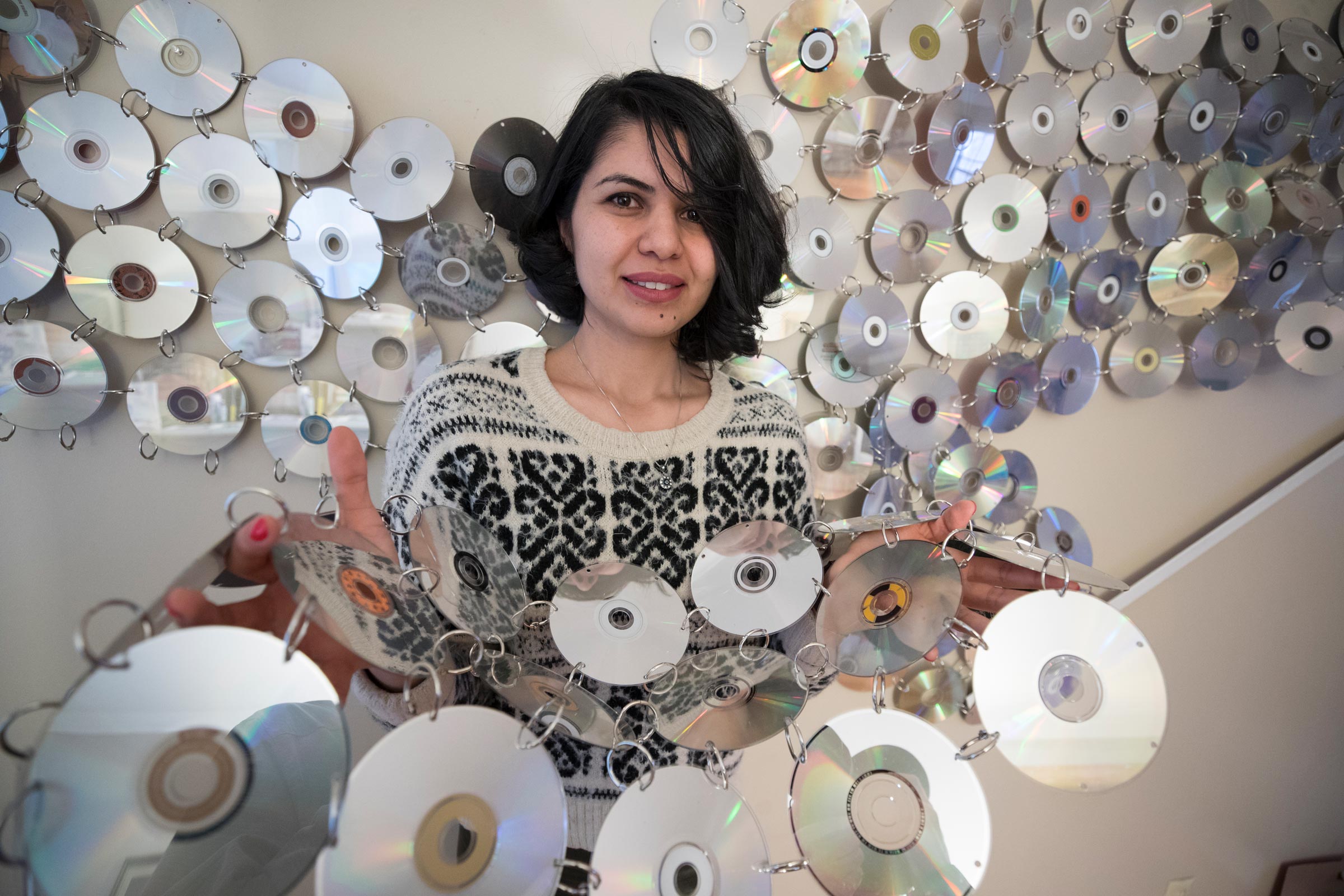 At 21, Haghtalab relocated with her family from Iran, where she was in her final year of architecture school. She spent two years at Piedmont Virginia Community College before enrolling at UVA and ultimately graduating with dual degrees in chemistry and studio art.
Now 27, she had not planned on staying in Charlottesville after graduation, but the job offer from BrightSpec changed her mind. The company, whose co-founders and advisory board include several UVA graduates and professors, provides industrial and academic researchers with spectrometry technology that can identify and analyze components in complex chemical mixtures.
"It's a small company so I am exposed to many different things, which is something I really wanted," she said. "I work as a chemist, a product designer, a sales and communications person … and I am constantly in touch with my executive bosses, which is a great source of mentorship."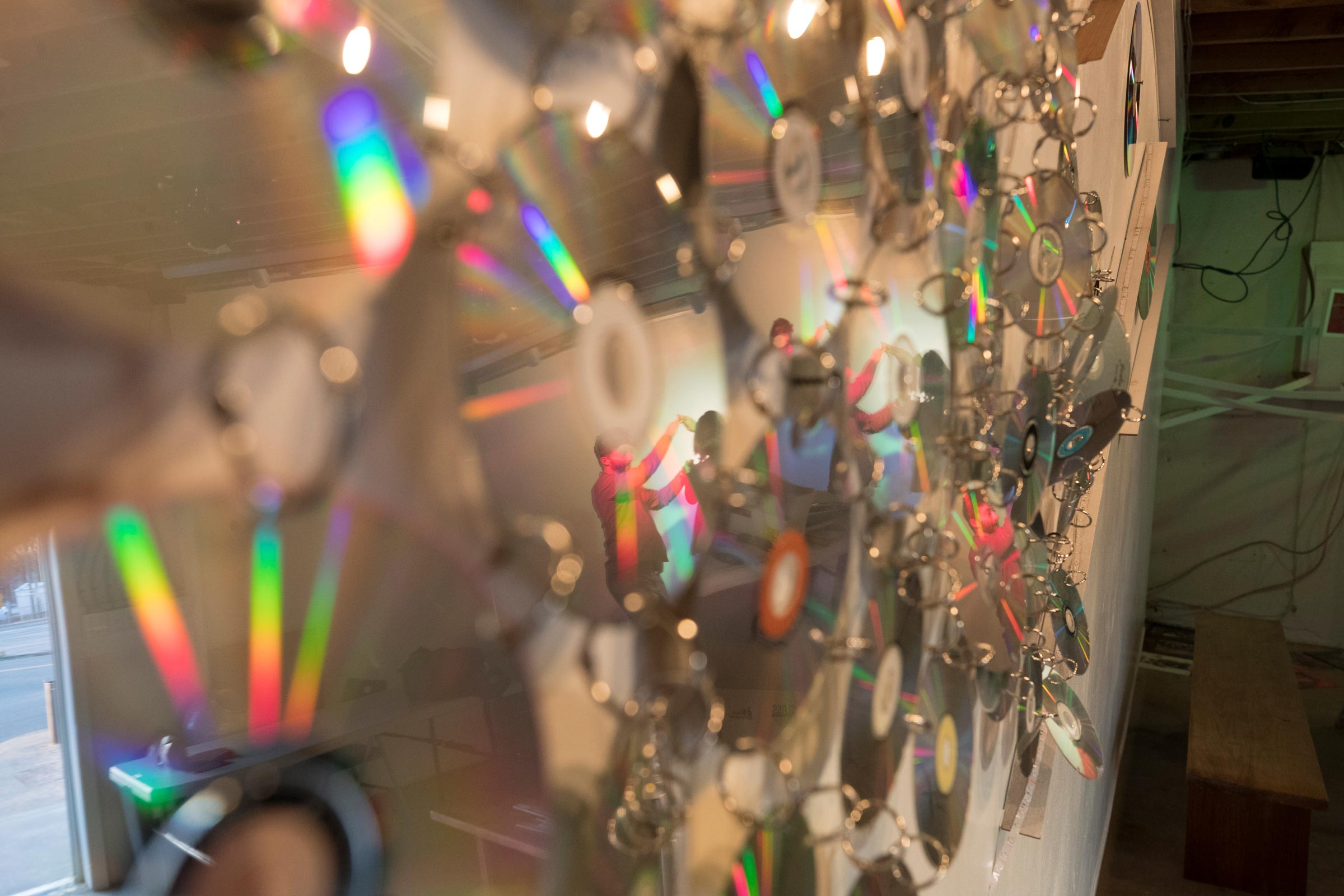 She was also increasingly drawn into the local entrepreneurship and arts communities.  The exhibition includes several recycled materials donated by the community, like these CDs reflecting red, green and blue light.
In addition to her art, Haghtalab, who was involved with the HackCville entrepreneurship club as a student, volunteers for the Charlottesville Angel Network, a group of more than 50 independent investors supporting promising startups in the Charlottesville area.
"I have learned a lot about entrepreneurship and what investors are looking for in a business," said Haghtalab.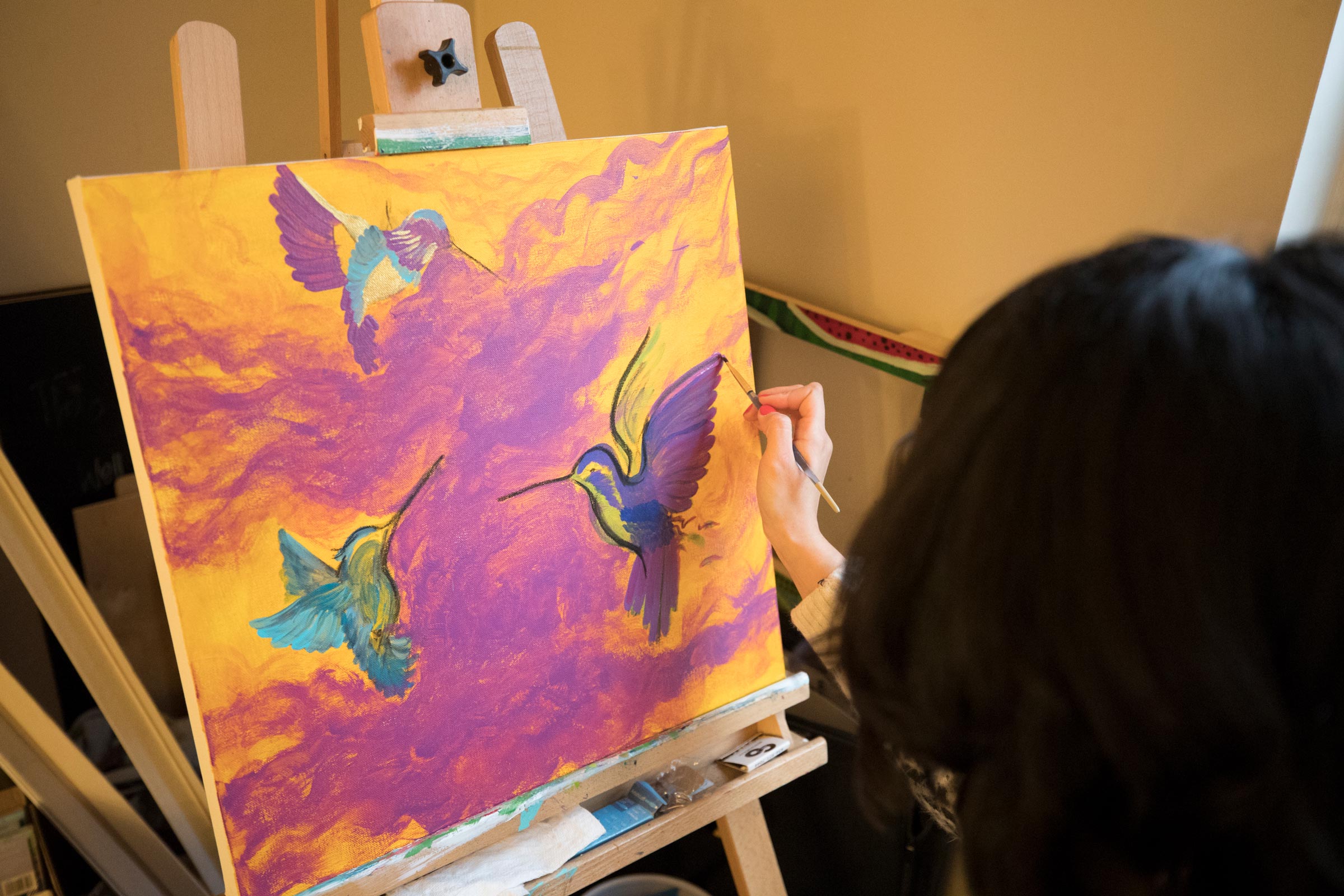 She has also connected with numerous other artists and art organizations in and around Charlottesville, which she said helped her expand her repertoire to include both paintings like this one and less traditional art.
"I got a lot more involved in the arts here, and learned about many organizations I did not know about," she said. "I was able to grow my support system and do art along with my job, which I am not sure would have been possible if I had moved somewhere else."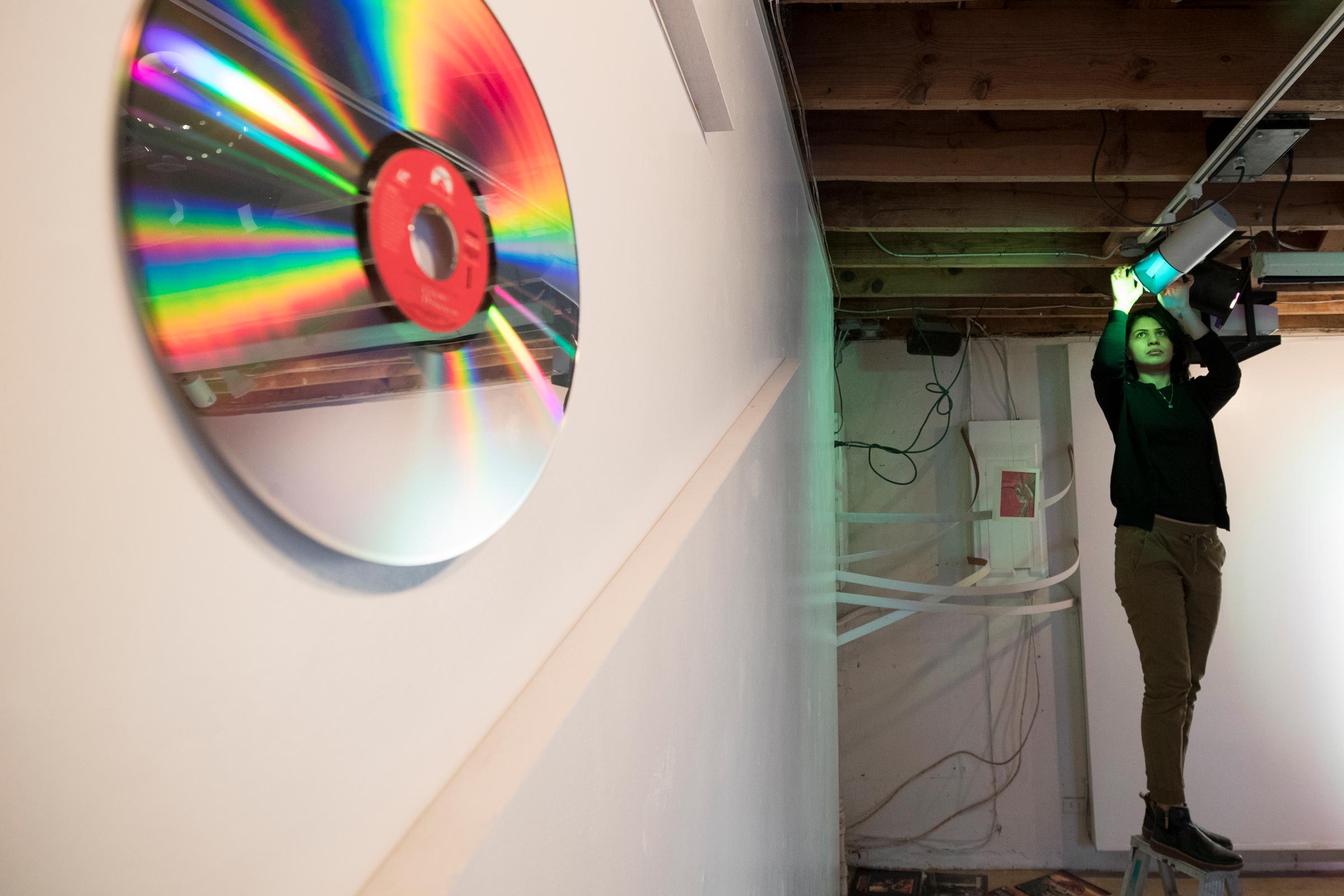 Haghtalab credits this wide-ranging community for helping with her new show. Numerous volunteers worked with her to plan and set up the exhibition, including several of her former UVA professors, who offered advice on the concept, and even her former orientation leader, who was one of the dancers in the exhibition.
Many of the materials – from the iridescent CDs on the wall to donated windows and wood – came from community members eager to help.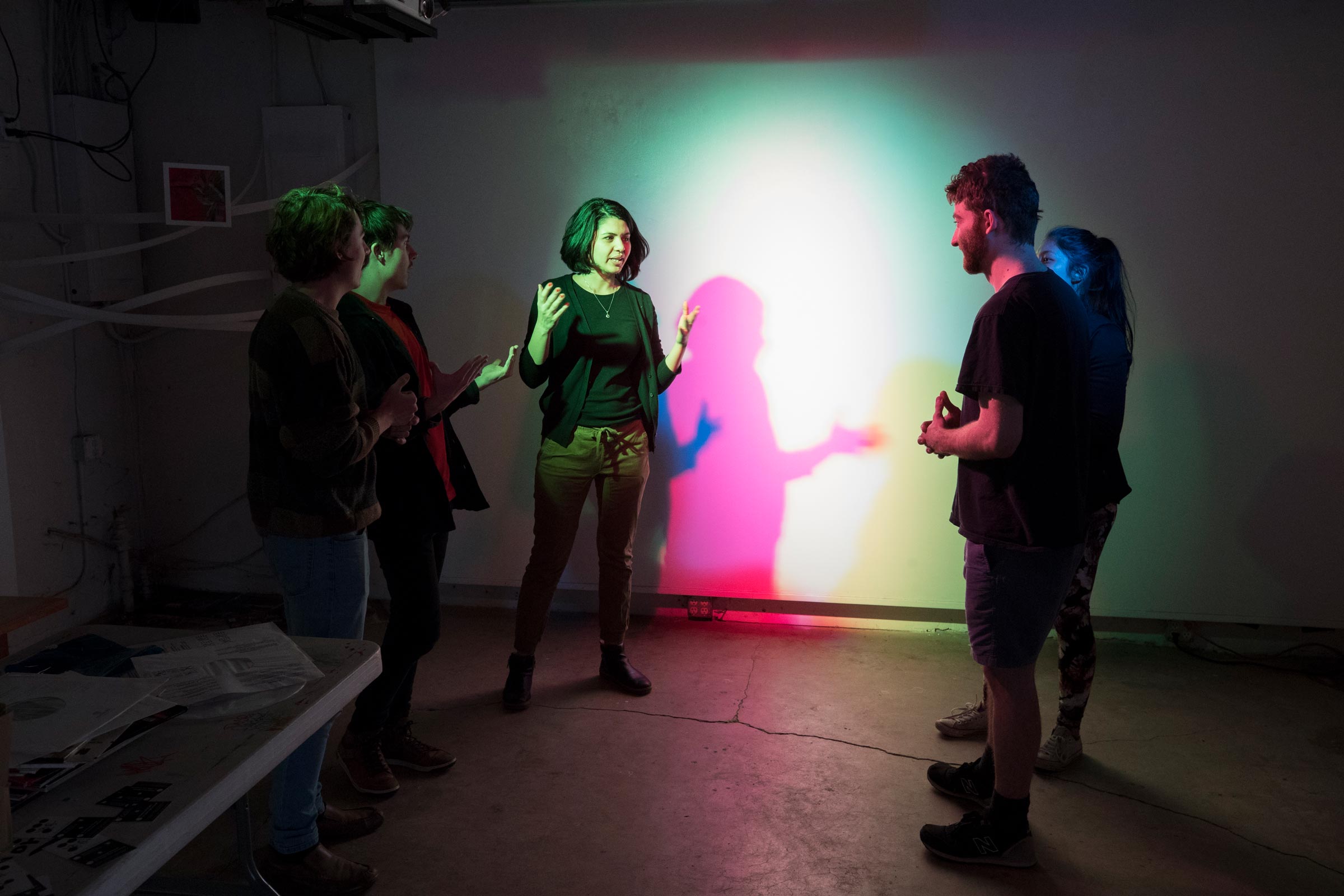 Haghtalab, center, talks with some of the volunteers who helped her set up the exhibition.
"To finally have this in the gallery required a lot of people to work with each other," she said. "It really is a work of community."
Haghtalab spent about a month preparing the exhibition after she was selected as an artist-in-residence for the Tom Tom Festival, which will conclude Sunday. Most nights after work, she either put together pieces in her home studio or worked at The Bridge, making her vision come to life.
Haghtalab said she wanted to create "poetic spaces."
"I want to make people feel something," she said. "In this case, I am trying to use technology and related material to create a miniature landscape in a closed space."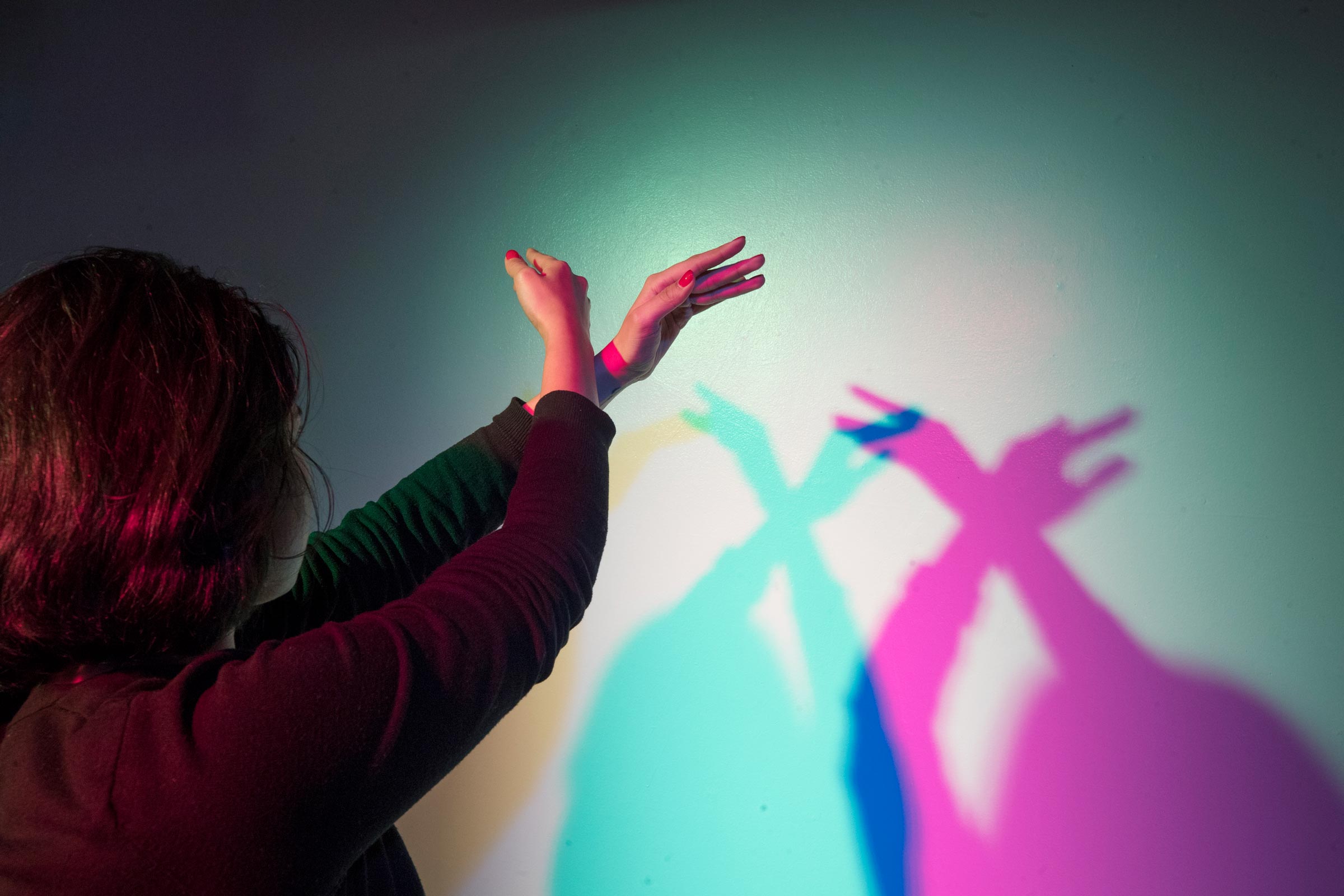 On one wall, red,- green- and blue-colored lights project different colored shadows as dancers and visitors move through the space. The shadows merge and change color whenever two individual shadows overlap.
"When your shadows intersect, a new color is created," Haghtalab said. "It shows people that we need each other, that when we are together we become more innovative and creative."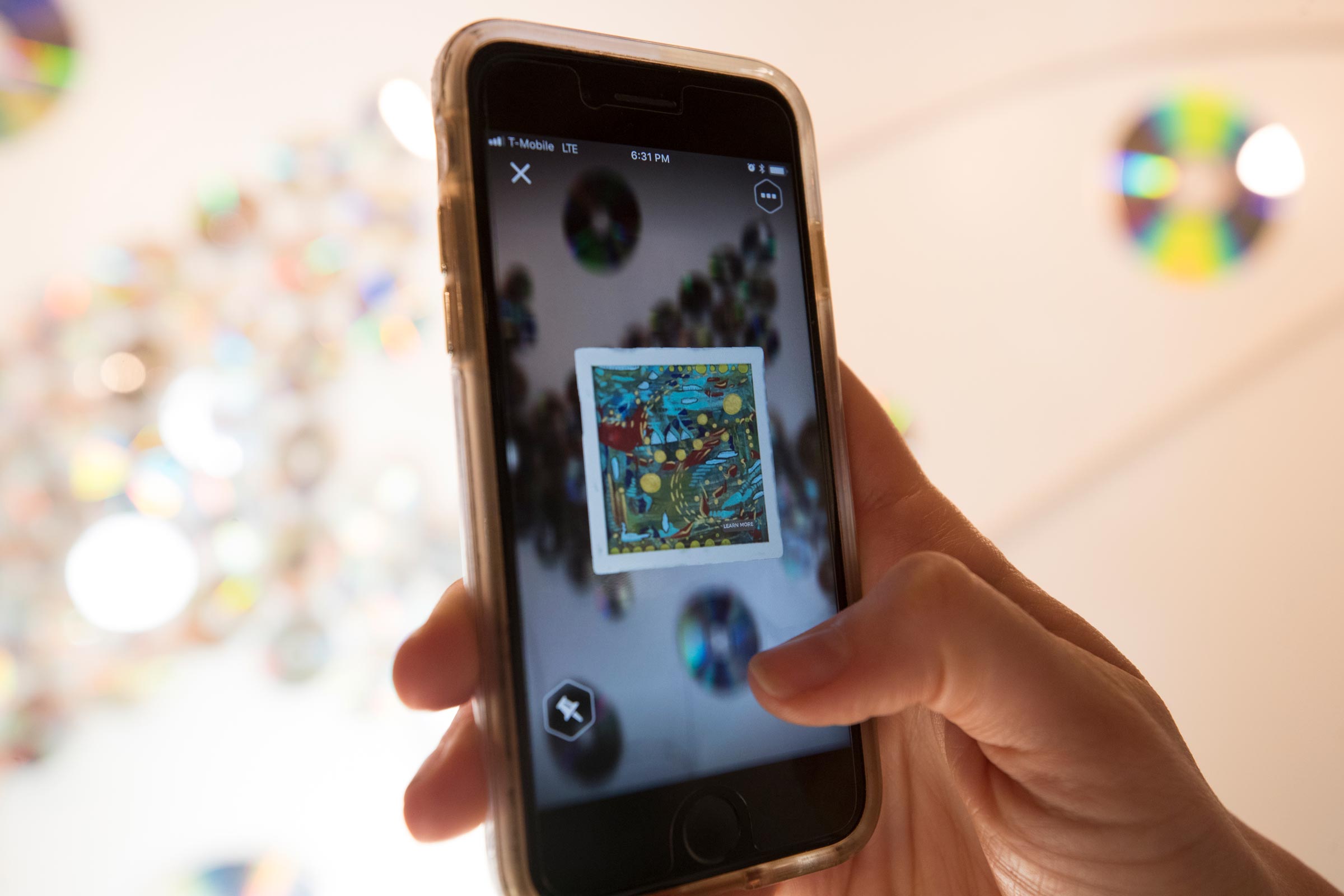 Other corners house several of Haghtalab's colorful paintings, done with a hummingbird motif. Viewers can see them in person; but they also can download an augmented reality app to get a virtual version of the painting on their phone and project it onto any wall or surface, as shown here.
Other components of the exhibition include CDs, water-filled jars and windows artfully arranged to capture and reflect red, blue or green light, separately or all at once.
Seeing her exhibition come to life, all while continuing her work as a chemist, has been extremely gratifying, Haghtalab said.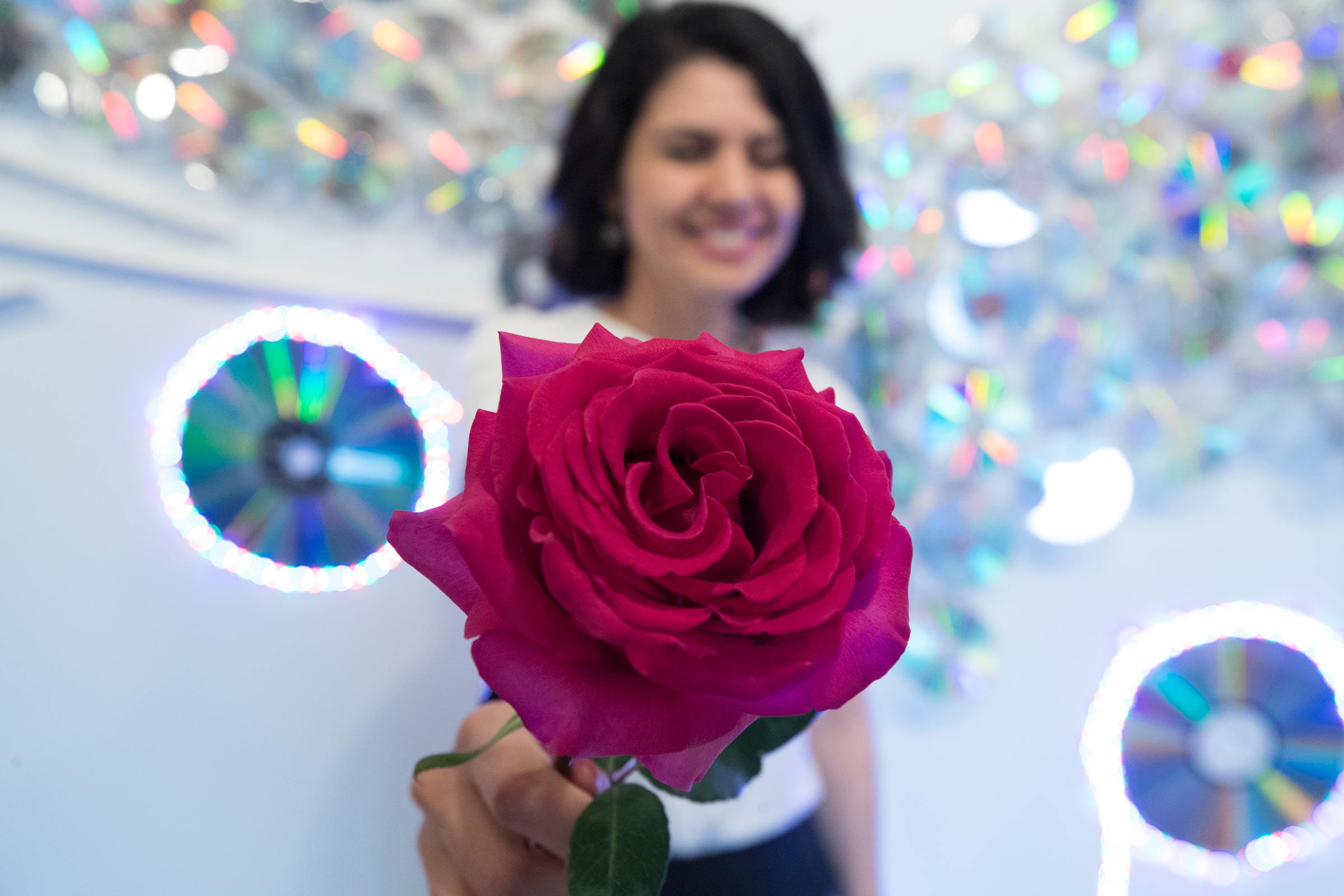 "I've somehow bonded with Charlottesville in a very unique way," she said. "I've come to the conclusion that it's great that I stayed, that apparently this place has much more to offer. Now, I am taking it all in."
Media Contact
Article Information
April 11, 2018
/content/photos-uva-grad-debuts-her-first-solo-show-during-tom-tom-festival