When Kurien Thomas was a high school student in Fairfax, he would frequently learn of family members, friends and other people in his community who were suffering from depression, anxiety and a host of other mental health issues.
For Thomas, the toughest part was witnessing their feelings of helplessness.
"Thinking about mental health treatment or even thinking about going to a therapist was not necessarily in the mix," said Thomas, now a student at the University of Virginia.
That didn't sit well with Thomas.
So when Thomas was an senior at Robinson Secondary School, he and four students from other schools in the area – who had been connected through a Junior Achievement social entrepreneurship program – created a business called "Pick-Me-Up."
In the venture, the students sold "mental health kits" – which included things like adult coloring books and stress putty – to high schools. With funding assistance from family and friends, "Pick-Me-Up" was profitable and went on to win various social entrepreneurship awards.
When students on the team went their separate ways after high school, it seemed like "Pick-Me-Up" might be coming to an end. But two years after getting to UVA, Thomas and fellow student Sasha Duckworth, a Pick-Me-Up co-founder, relaunched the concept. They wound up taking second place and winning $6,000 at last year's American Evolution Innovator's Cup competition at the Tom Tom Festival, and subsequently earned a spot in Darden School of Business' VentureLab incubator program.
But when COVID-19 caused schools to shut down and supply chains worldwide to be interrupted, Pick-Me-Up had difficulties manufacturing and selling their mental health kits.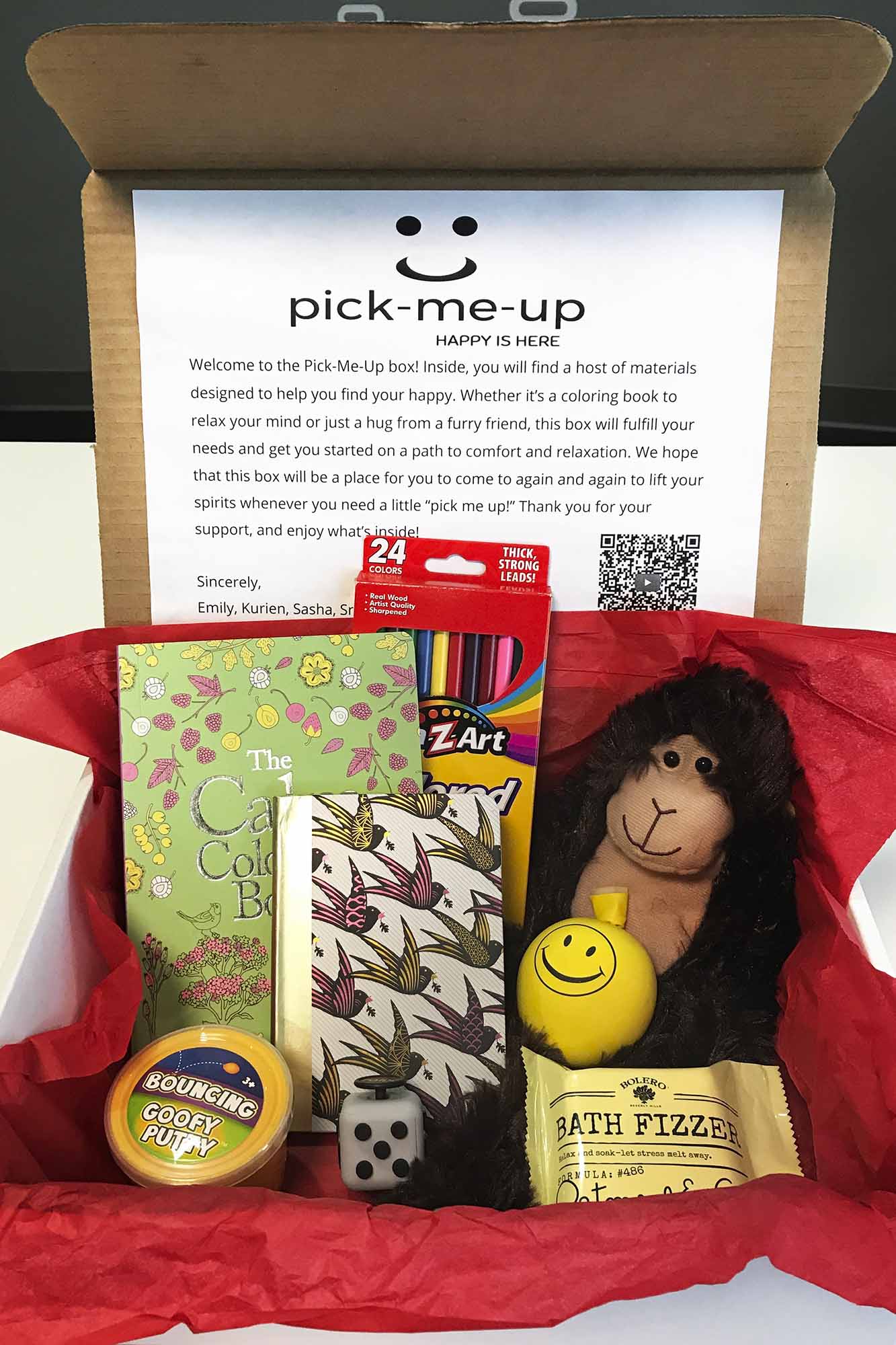 Pick-Me-Up's original business concept revolved around the distribution of these "mental health kits." (Contributed photo)
After talking with experts in the mental health and mindfulness spaces, including Leslie Hubbard of UVA's Contemplative Science Center, Duckworth and Thomas decided the boxes were no longer feasible and pivoted to a concept focused on helping build client-therapist relationships.
The biggest advancement has been the development of a website and SMS-based chatbot that checks in with users throughout the day, helping them track their emotions and giving them a space where they can record their thoughts.
"These texts will be transformed into data insights which will help you take note of your emotions, see how you are progressing, and draw attention to any concerning and/or exciting trends when it comes to your mental state," said Duckworth, a fourth-year foreign affairs major from Falls Church. "We can also send over all this information to your therapist, psychiatrist or other mental health specialist, if you see one, which can make conversations more intentional and meaningful.
"It's quick, it's responsive, it's accessible, it gives people an opportunity to check in with themselves, and it aids in client-therapist relationships that may otherwise be hampered in the sudden switch to online or teletherapy."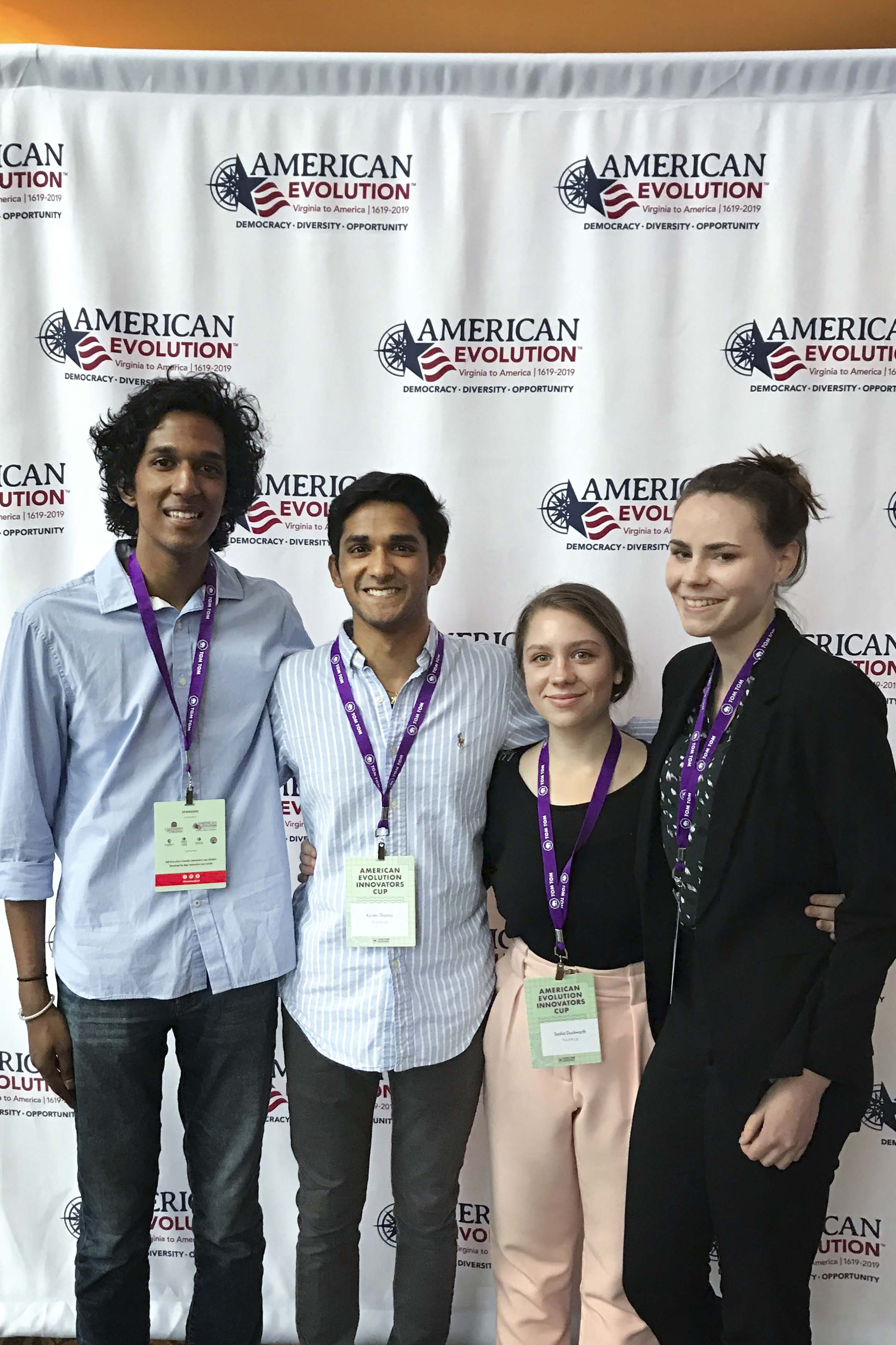 When they were in high school, Kurien Thomas, second from left, and Sasha Duckworth, second from right, started Pick-Me-Up. (Contributed photo)
Another Pick-Me-Up feature is a virtual support group in which users gather over the Zoom videoconference platform. "People get to talk about their struggles and what they're going through with people who are going through the same thing," said Thomas, a fourth-year student studying public policy in the Frank Batten School of Leadership and Public Policy and minoring in social entrepreneurship.
As students continue to deal with circumstances brought on by the pandemic, Duckworth believes Pick-Me-Up can be particularly helpful.
"One thing we've heard and read about consistently has been the threat of long-term negative psychological effects of COVID-19, whether it is loneliness from extended periods of social isolation, grief from losing a loved one or general trauma from experiencing such an intense, once-in-a-lifetime event," Duckworth said. "This – coupled with the fact that almost all health care has been moved online or into a virtual space – requires us to develop new, innovative ways to ensure that mental health care can rise to the challenge and assist anyone who is in need."
Throughout Pick-Me-Up's development process, Thomas said his biggest mentors have been Laura Toscano, Batten's associate director of social entrepreneurship, and Christine Mahoney, a professor of public policy and politics at Batten.
Duckworth said the team's experience in VentureLab has also been valuable. "We've gained important insights into our team dynamic, our individual strengths, our product and how to run a business and help others in a time of crisis," she said.
Long-term, Thomas and Duckworth said their hope is to create a global support network that places as much emphasis on human connection as possible.
"Our emotional tracking system is just the beginning," Duckworth said. "We see Pick-Me-Up growing to be a diversified, multi-pronged company that addresses many facets of mental health issues."
Thomas added, "Ultimately, we want mental health resources to be provided to people at a low barrier, especially for students who are hesitant to even seek help in the first place."
Article Information
September 1, 2020
/content/pick-me-mental-health-platform-aims-help-students-and-others-need