Even though University of Virginia's China Office Director Justin O'Jack had never before played table tennis, he knew that this invitation to a ping-pong match could not be missed. The match was to commemorate the 50th anniversary of the United States table tennis team's visit to China in April 1971.
The tour, which came to be known as "ping-pong diplomacy" by the American press, was seen as an important step toward thawing relations between China and the United States.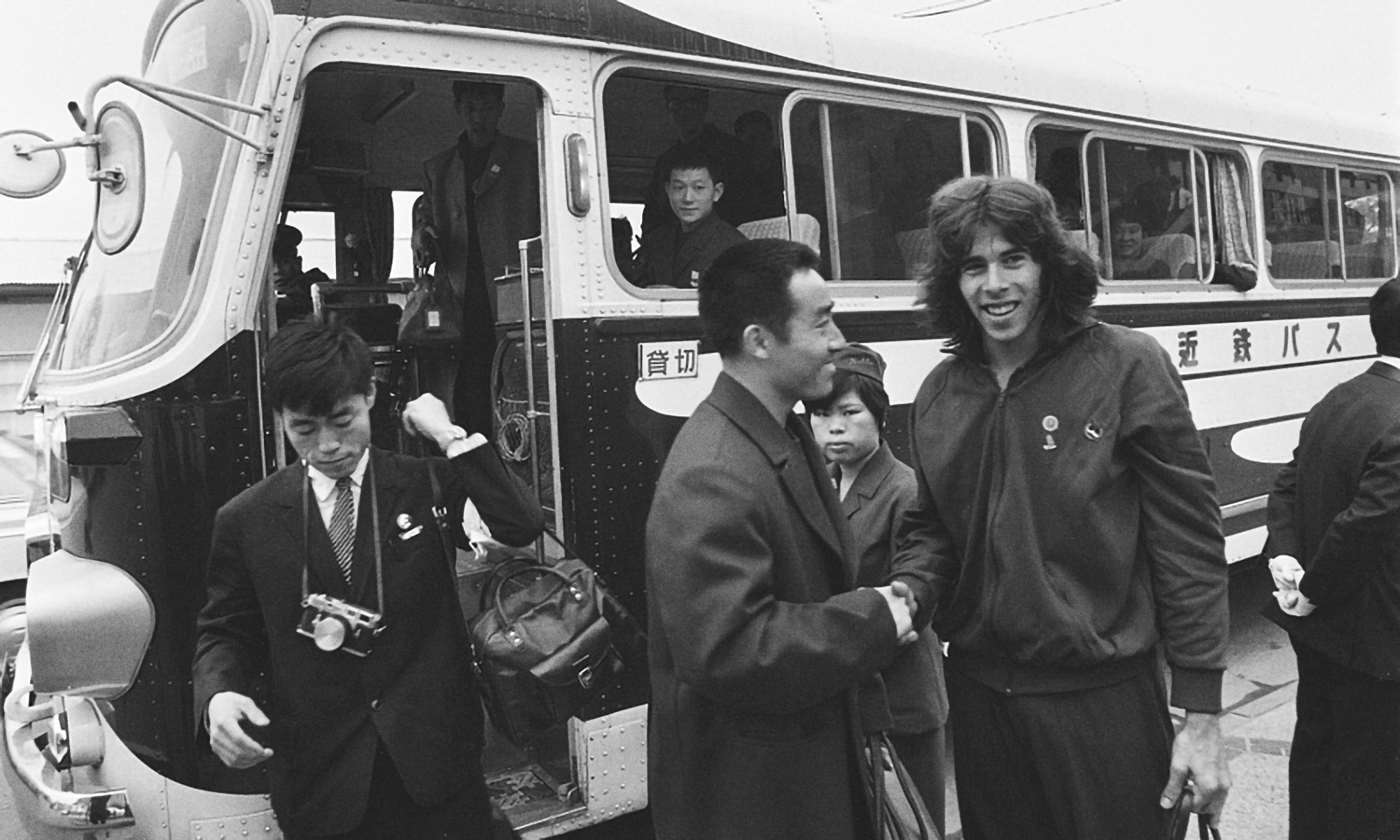 American table tennis player Glenn Cowen, right, and three-time world champion Zhuang Zedong of China after meeting on a bus ride in Japan, 1971. (Contributed photo)
"It's important to note the huge impact it has had on U.S. higher education as well," said O'Jack, who arrived at UVA in 2013 to create and run UVA's China Office, which opened in 2015. "The visit by the American team paved the way for normalization of bilateral relations, which in turn opened doors to the first large number of students from the People's Republic of China."
It all goes back to a chance encounter between a Chinese and an American table tennis player in April 1971, during the 31st World Table Tennis Championships in Japan. A young American table tennis player named Glenn Cowen, having missed his team's shuttle bus after a practice session, was given a ride back to his hotel on the Chinese team's bus. This was during a period when there were no diplomatic channels of communication between Washington and Beijing and no formal economic relations between the U.S. and China.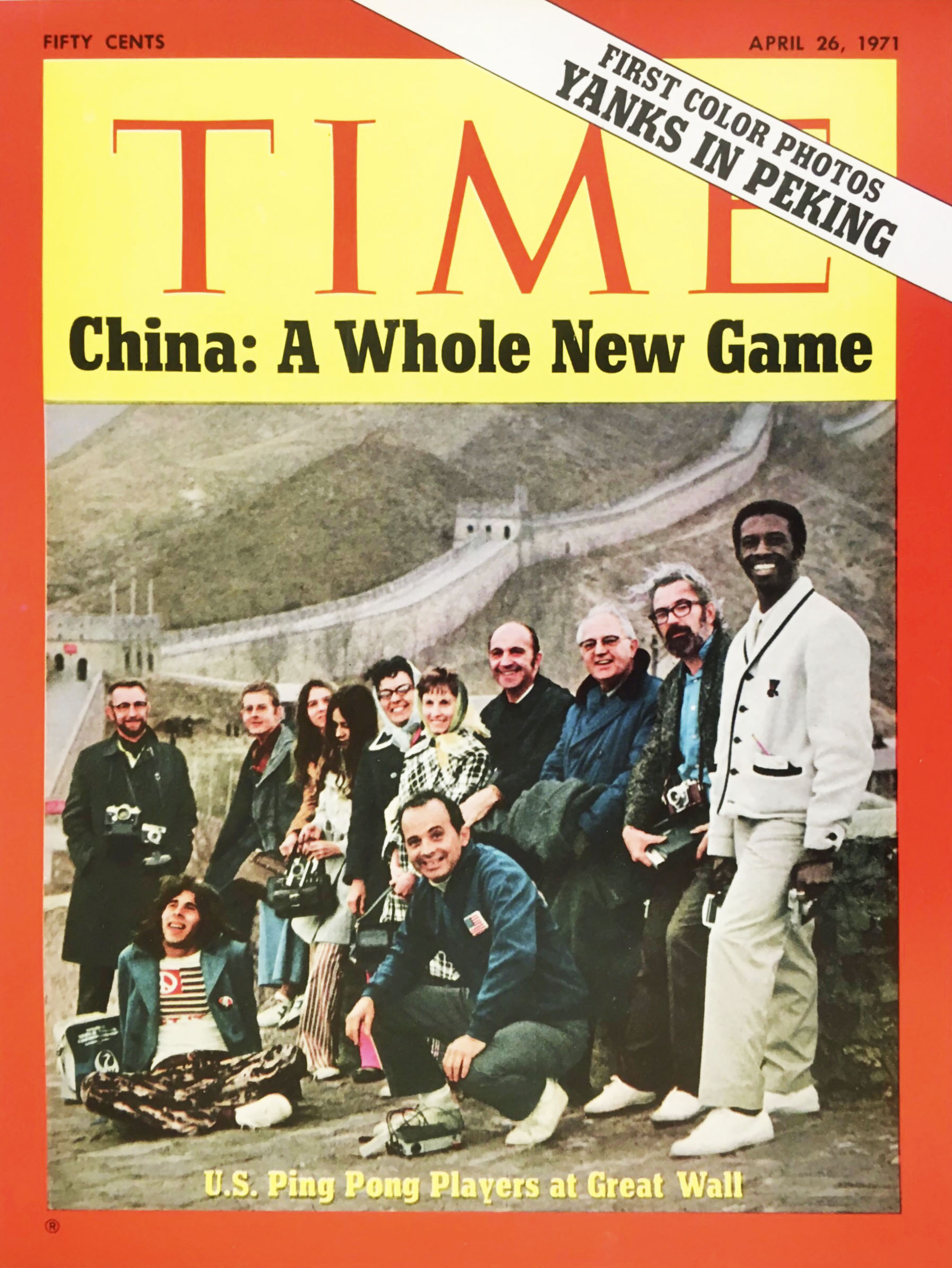 U.S. table tennis players in China on the cover of Time magazine, 1971. (Contributed image)
The first 10 minutes of the ride were reportedly tense and quiet. Then, a Chinese table tennis player – and three-time world champion – Zhuang Zedong, got up and introduced himself to the 19-year-old student from Santa Monica College. Zhuang gave Cowen a silkscreen tapestry of Mt. Huang, saying to him through an interpreter: "Although the U.S. government is unfriendly to China, the American people are friends of the Chinese. I give you this to mark the friendship from Chinese people to the American people."
The next day, Cowen searched Nagoya, Japan for a suitably symbolic gift to reciprocate and settled on a T-shirt with a red, white and blue flag with the peace sign and the words, "Let It Be," the title song from the famous Beatles album released the year before.
Pictures of the gift exchange between these two unlikely friends from estranged countries was carried by newspapers around the world. Two days later, the American team received a surprise invitation for an all-expenses-paid visit to China, and four days after that, on April 10, a delegation of 15 Americans, including nine table tennis players, four officials and two spouses, walked across the bridge between Hong Kong and the mainland, becoming the first American delegation to visit the People's Republic of China. They toured the Great Wall and Summer Palace, met with China's premier in the Great Hall of the People, and played exhibition matches with Chinese teams in Beijing and Shanghai.
One year later, the Chinese table tennis team, led by Zhuang, toured the United States, landing in Detroit on April 12, 1972. They visited Ann Arbor, Williamsburg, Washington, New York, Memphis, Los Angeles, and the Bay Area, where they played matches with U.S. teams, and the Chinese delegation was received by the American president on the White House lawn.
Diplomatic ties between the two countries were formally established on Jan. 1, 1979, and during the academic year 1979-80, 1,000 students from China came to study in universities and colleges across the United States. Forty years later, more than 372,500 students from China studied in the U.S. during the last academic year, making it the top country of origin for international students in the United States.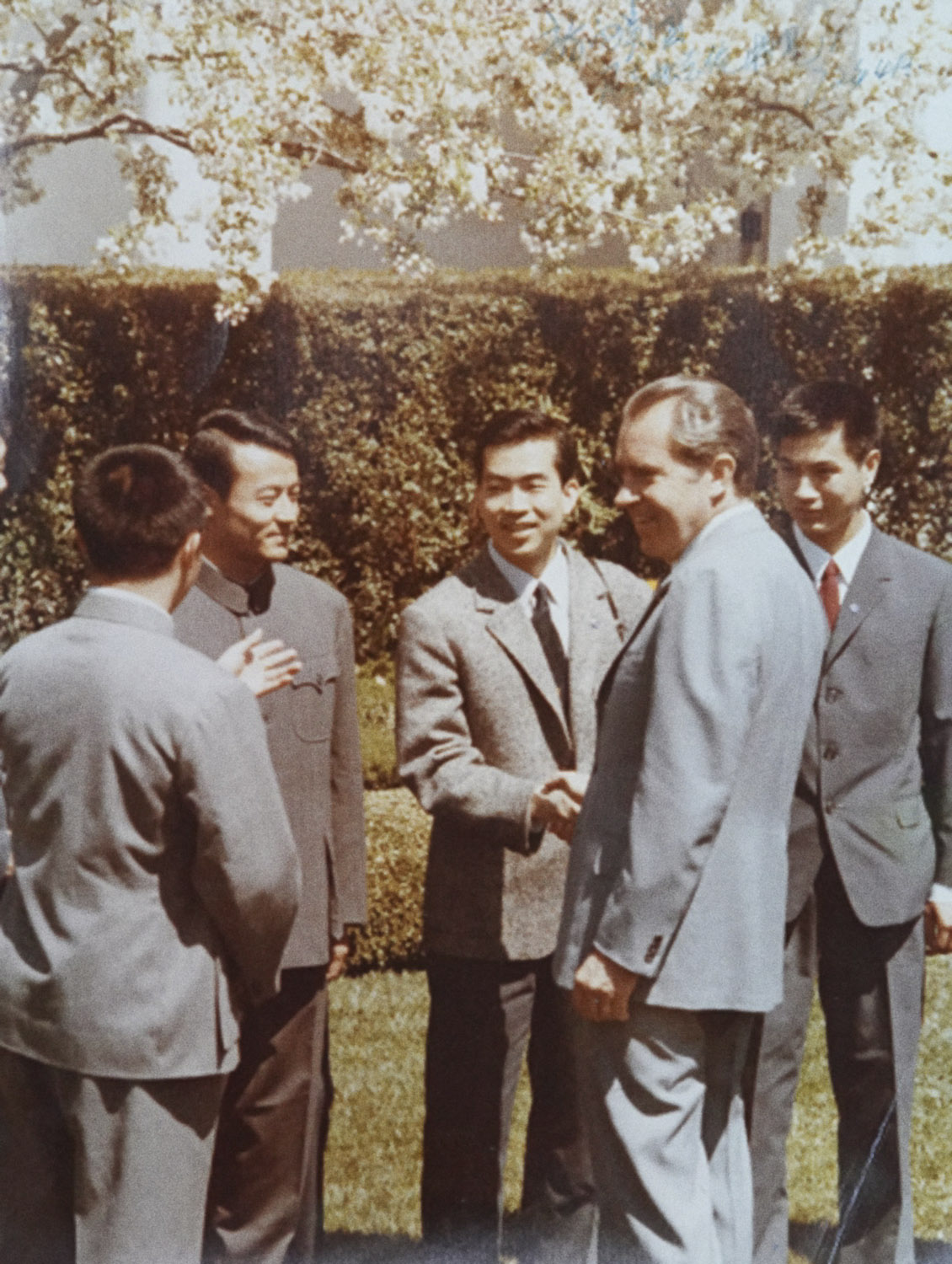 President Richard Nixon shakes hands with table tennis world champion Liang Geliang in Washington, 1972. (Contributed photo)
In April, a 20-day celebration in Shanghai commemorated the historic events, which included a friendly table-tennis match, hosted at the International Table Tennis Federation Museum, between four mixed teams of 12 American and 12 Chinese players. O'Jack, representing UVA, was one of the four team captains. Other American players included Jeffrey Lehman, vice chancellor and of NYU Shanghai, and Ker Gibbs, president of the American Chamber of Commerce in Shanghai. The friendship match was kicked off by a rally between U.S. Consul General James Heller and the vice president of the International Table Tennis Federation.
O'Jack also presented a paper looking at the role of international education in promoting U.S.-China cooperation at a conference titled "Looking Back and Forward: Challenges and Opportunities of China-U.S. Relations," in which he emphasized the deep relationship UVA enjoys with China, going back to 1894. The first international student to earn a B.A. degree from the University was a student from China, W.W. Yen (Class of 1900).
O'Jack says universities like UVA have a vital role to play in building bridges between the U.S. and China. "We can help lead the way out of the morass of pandemic-based racism and fear, and advance common interests," he said.
Media Contact
Article Information
May 6, 2021
/content/ping-pong-diplomacy-celebrating-legacy-chance-encounter