Their numbers are in decline but UVA researchers are seeking answers
The Bee Team – Better than the A Team," proclaims the t-shirt of Samantha Heitsch, a fourth year University of Virginia student, as she inspects a bumblebee hive at the University's Blandy Experimental Farm in Clarke County. Heitsch has spent her summer working on a bumblebee research experiment of her own design.
Under the mentorship of her advisor, environmental sciences professor T'ai Roulston, she is seeking to better understand bumblebee populations in urban and rural settings, and how these crucial pollinators may be affected by changing land-use patterns.
Studies show that some bumblebee populations may be down by as much as 90 percent during the last 15 years due to a range of factors – urbanization, pesticide use, changing climate and disease, including a particularly virulent fungus accidentally introduced from Europe.
Some bumblebee species are nearly extinct, others becoming rare. The common American bumblebee that Roulston and Heitsch are studying, Bombus pensylvanicus, is becoming less common. The researchers are looking to understand and then identify ways to reverse these declines.
"Bumblebees are important to the agriculture industry and therefore to our food security – so the health of their populations is important to us," Heitsch said. "They pollinate vegetable plants in home gardens, greenhouse plants, wildflowers, crops, and flowering plants in yards."
Bumblebees can carry half their body weight in nectar and pollen as they buzz about from plant to plant and back to their hives where they feed their young. About one third of the human food supply depends on pollination by insects, particularly bees, and about 70 percent of all flowering plants are dependent upon insects for reproduction.
Heitsch's "citizen science" project involved recruiting volunteers to host small bumblebee hives in their yards in the northern Virginia towns of Winchester, Front Royal, Leesburg, Sterling and Middleburg, and in rural locations, including Blandy Farm, a 700 acre natural setting for ecological experimentation. Though Heitsch needed only five urban yards and five rural sites for her study, she received offers of help from nearly 100 citizens.
"It was really wonderful that such a large number of people wanted to participate in the study, with an interest in protecting bees," she said.
Heitsch set out twenty starter hives, two per site, each with one queen and ten workers. She monitored the growth of the hives over the summer as the colonies matured to up to 100 bees. She compared the rate of growth of the colonies to see how they fared in the towns versus the countryside. This is an indicator of how readily the bees in the different settings are able to obtain food.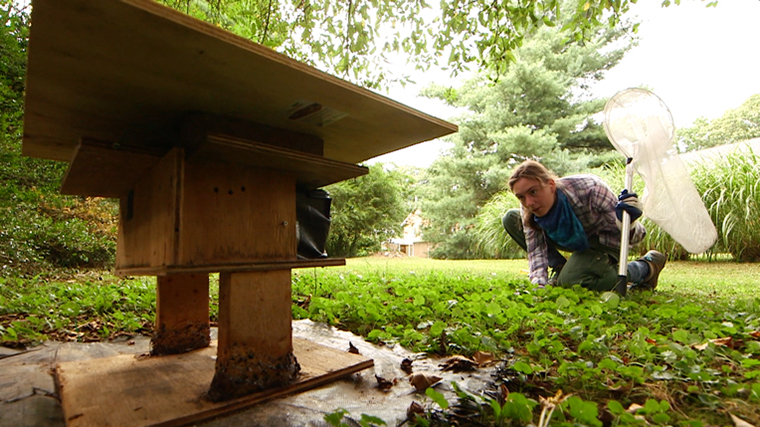 Some of the bees were fitted with miniature radio frequency identification tags that allowed the researchers to determine how frequently they foraged, how long it took them to find food, and how long they survived. In the summer, when farm fields begin drying from heat and lower rainfall, flower sources tend to dry up. But in towns, where people are watering flowering plants, bees may find reliable food sources to which they can continually return.
The study is ongoing, but preliminary findings suggest that home gardens and wildflowers in town can be very important food sources for bumblebees. In a number of the cases, colonies placed in urban settings appear to have performed as well as, if not better than, those placed in "ideal habitat" rural settings.
This was the second summer that Heitsch worked on bumblebees with Roulston. A double major in biology and environmental thought and practice, she earned grants this summer to continue the work as a Harrison Undergraduate Research Award winner and College Science Scholar. She got her start during her first summer through the National Science Foundation's Research Experiences for Undergraduates program. Heitsch plans to pursue a master's degree in environmental policy.
"I'm interested in finding ways to apply research knowledge to how we make laws to protect important species like bumblebees," she said.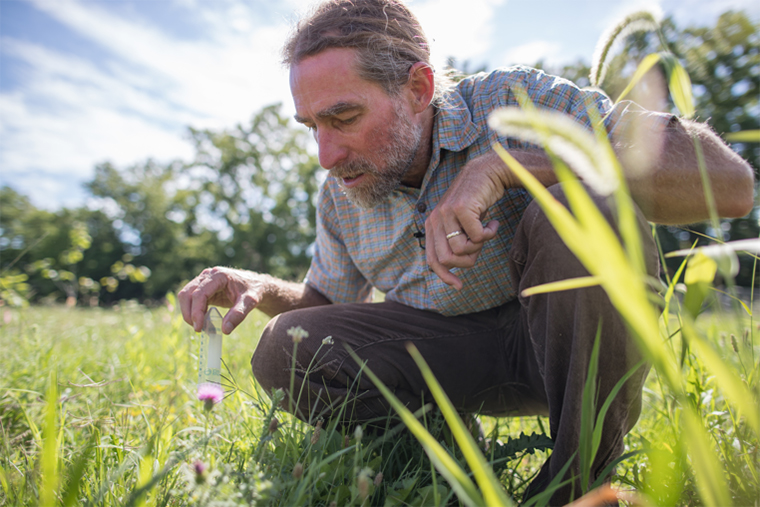 As bumble populations decline, Roulston has sought answers through a range of studies and surveys he has conducted over the summers. Two years ago he and a team of researchers from the Smithsonian Institution made a remarkable discovery while working in Sky Meadows State Park near Delaplane, Va. They were investigating the influence of land management on bee diversity.
During the survey, in which they collected and examined nearly 35,000 bees of 126 species from 17 sites in Virginia, they found a single rusty-patched bumblebee, a species once common that had precipitously declined, and had not been seen in the eastern United States in five years up to that time. Researchers feared it was headed toward extinction in the east, if not already there (the species is under consideration for inclusion in the Endangered Species Act).
In Roulston's more than 20 years of studying bees, he had never seen a living rusty-patched bumblebee. Nor has he since. But that single worker bee, found foraging among a field of flowers, gives hope. It means somewhere there still may be a colony, at least one, of a species once common but barely hanging on.
"If there are areas that still support the rusty patch bumblebee, we need to study what is special about those areas," Roulston said. "We depend on a lot of other species for our health and prosperity. We need to study the declining ones to understand what we are doing wrong, and the thriving ones to know how to keep them thriving. We depend on them, and they very much depend on us."