University of Virginia President James E. Ryan today announced the appointment of three senior executives.
M. Elizabeth "Liz" Magill has been named executive vice president and provost, Jennifer "J.J." Wagner Davis will serve as executive vice president and chief operating officer, and Alejandro "Alex" Hernandez will be dean of the School of Continuing and Professional Studies. UVA's Board of Visitors formally approved all three appointments earlier today.
"I'm grateful to Liz, J.J. and Alex for agreeing to take on these important new roles, and I am excited to get to work," Ryan said. "UVA has been mission-driven and outward-looking from the very beginning, serving a purpose larger than itself. All three of these leaders understand that mission, and I'm confident they will help this university continue to be a force for good in the world."
Ryan also expressed his appreciation to members of the three search committees charged with identifying candidates for each position.
M. Elizabeth "Liz" Magill, Executive Vice President and Provost
Magill is dean and Richard E. Lang Professor of Law at Stanford Law School, a position she has held since 2012. Before becoming Stanford Law School's 13th dean, Magill was on the faculty at UVA's School of Law for 15 years, serving most recently as vice dean, the Joseph Weintraub–Bank of America Distinguished Professor of Law and the Elizabeth D. and Richard A. Merrill Professor.
"Serving as provost at the University of Virginia is in many ways a dream come true for me," Magill said. "The University and Charlottesville communities always have been special for me and my family. I look forward to working with President Ryan, J.J. and our outstanding deans, faculty, staff and students as we forge ahead and continue the University's leading role in public higher education, research and service."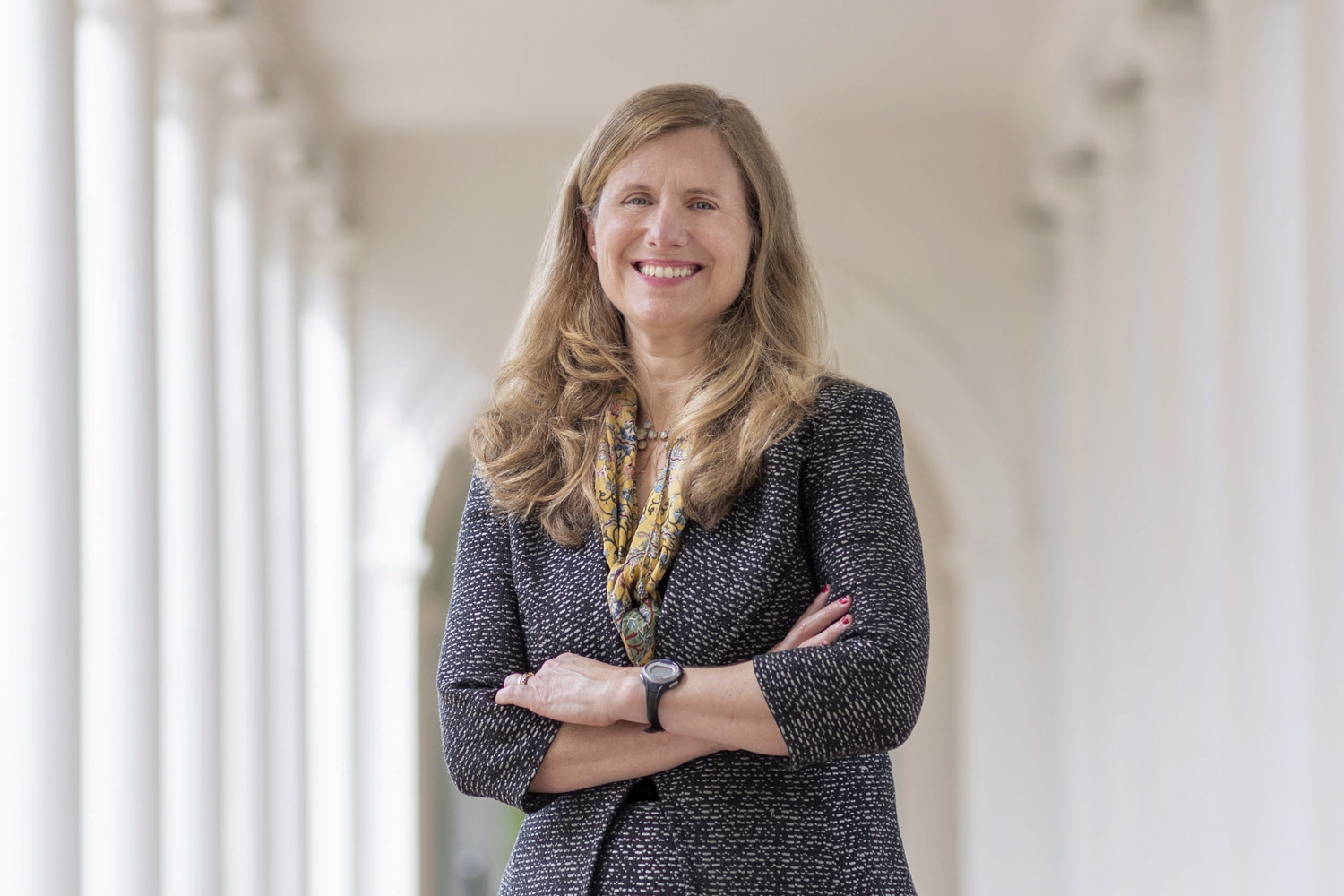 M. Elizabeth "Liz" Magill previously served on the faculty at UVA's School of Law, and joins UVA from Stanford University.
At Stanford, Magill established an innovative Law and Policy Lab, a set of classes allowing students to better understand policymaking by tackling real-life policy challenges for actual clients. She also launched the Global Initiative, which established a foundational course, "Going Global: Advising Clients in a Global Economy," along with classes that have an overseas component, taking students and faculty to China, Latin America, India and Europe. Magill also presided over the largest faculty revitalization at the law school in decades, hiring nearly 30 percent of the present faculty. At Stanford, she is known as a university citizen, leading and serving on several campus-wide and search committees in other schools.
Stanford University President Marc Tessier-Lavigne said, "Both Stanford Law School and Stanford University as a whole have benefited from Liz's sharp and strategic mind, her thoughtful decision-making rooted in institutional values, her relentless personal drive, and her care and concern for the wellbeing of everyone in the community. We are proud of her contributions to Stanford and of the innovations the law school has pursued under her leadership."     
"Liz Magill has led Stanford Law School to new heights of achievement and innovation," Stanford Provost Persis Drell said. "She also has been a true citizen of the university, working to support and advance our community as a whole. Liz's appointment at the University of Virginia recognizes her enormous talents, her effective leadership and her deep personal commitment to excellent scholarship and the highest-quality educational experience for students."
Magill is a distinguished scholar and teacher of administrative and constitutional law. A fellow of the American Academy of Arts and Sciences, she has been a visiting professor at Harvard Law School, held a fellowship in the Law and Public Affairs Program at Princeton University and was the Thomas Jefferson visiting professor at Downing College, Cambridge University. Early in her career, she worked in the U.S. Senate and was a law clerk for U.S. Supreme Court Justice Ruth Bader Ginsburg.
Reporting to Ryan, Magill will be the chief academic officer and second-in-command for the University. Working with the 11 academic deans and other senior University leaders, Magill will be responsible for advancing academic excellence at all levels of the University.
Magill will also be responsible for developing plans for academic programs, resource allocations and innovations in all programs. She will oversee faculty hiring for both teaching and research personnel, and the process by which faculty members and their departments or schools prepare for tenure and promotion reviews.
"Liz Magill will be an extraordinary provost for the University of Virginia," said Ian Baucom, Buckner W. Clay Dean of the College and Graduate School of Arts & Sciences and chair of the provost search committee. "She is widely recognized for her exceptional scholarship and leadership skills across the academy, and her strong familiarity with UVA will undoubtedly help her guide the academic enterprise to further heights of excellence."
Magill earned her bachelor's degree from Yale University and her law degree from the University of Virginia School of Law.
Magill will succeed Tom Katsouleas and plans to assume the position of provost in the summer of 2019.
Jennifer "J.J." Wagner Davis, Executive Vice President and Chief Operating Officer
Davis is senior vice president for finance and administration at George Mason University, a position she has held since 2013. Prior to that, she served as vice president for finance and administration at the University of Delaware.
"I am a firm believer in the transformative power of higher education and the University of Virginia's mission of excellence in education, research, patient care and service," Davis said. "This is an exciting time in the life of the University, and I am thrilled to be joining President Ryan, Liz and the UVA leadership team as we work together and serve our students, faculty, staff and the larger community."
At George Mason, Davis designed and implemented a comprehensive financial framework and plan in support of the university's strategic plan, resulting in bond rating upgrades. She also implemented key initiatives with faculty, staff and students to support long-term institutional value.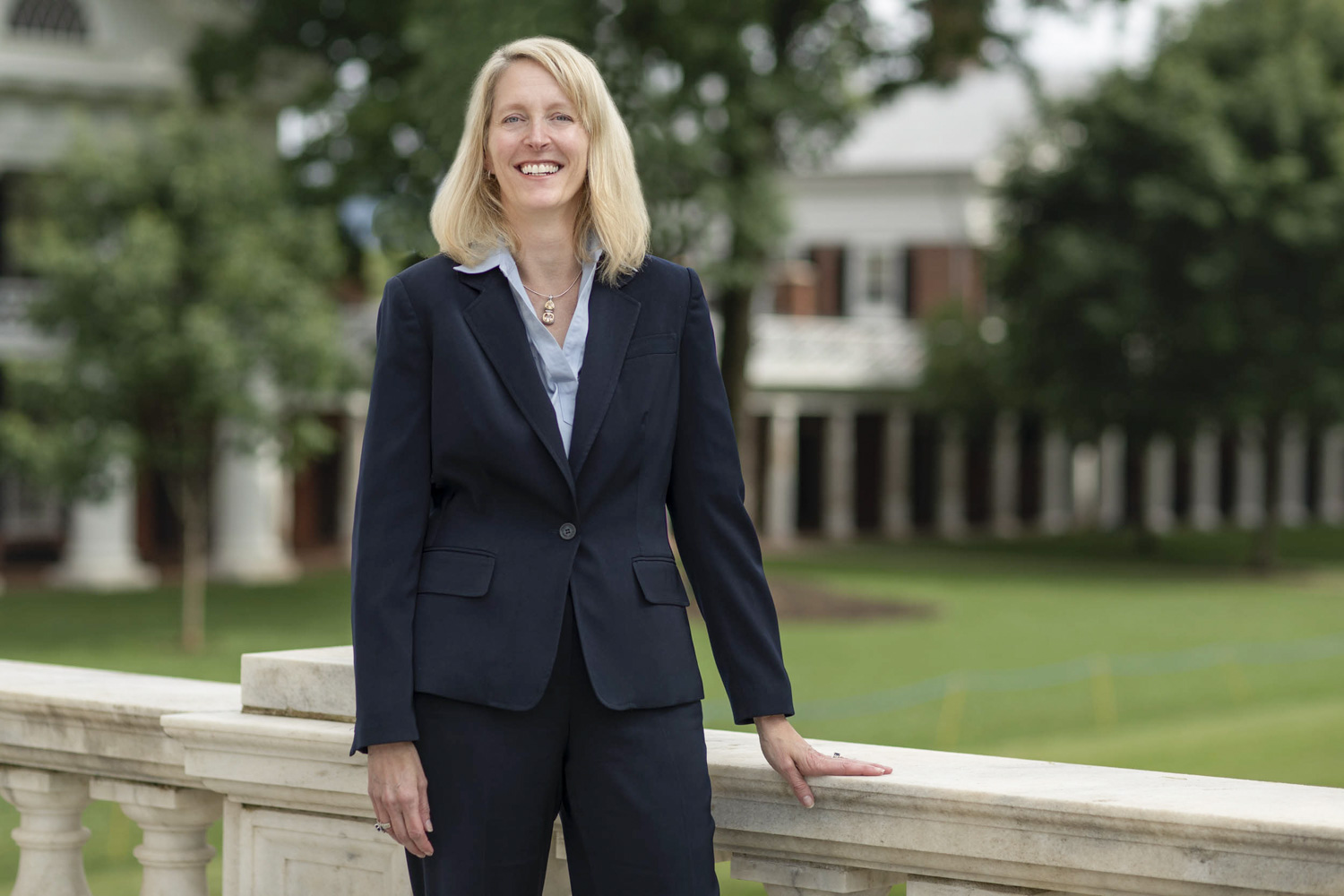 Jennifer "J.J." Wagner Davis has significant experience in higher education, including assignments at George Mason University and the University of Delaware.
George Mason University President Angel Cabrera said, "J.J. has played a critical role in the extraordinary growth in size and stature of George Mason University over the past few years and I am confident she will continue to do great things in her new position at the commonwealth's flagship university."
Before moving to higher education, Davis worked for the State of Delaware as budget director, deputy secretary of education, associate secretary of education for policy and administrative services, and most recently as the cabinet secretary-director of the Office of Management and Budget.
Reporting to Ryan and working in close concert with him, the provost, Executive Vice President for Health Affairs Dr. Rick Shannon and the Board of Visitors, Davis will be the University's chief administrative, business and operating officer. In conjunction with the provost and executive vice president for health affairs, Davis will oversee the University's financial and administrative functions, including human resources, university business operations, facilities, real estate, planning and project management, information technology, emergency preparedness and public safety, and economic development.
"The University of Virginia is very fortunate to have recruited J.J. as its next chief operating officer," said Robert Bruner, dean emeritus of the Darden Business School and chair of the COO search committee. "J.J. is a proven leader with long experience leading business operations at large and complex public universities and organizations. She espouses the deep academic purpose of UVA and can project our values into the best administrative practices of the 21st century."
Davis earned both her bachelor's degree in political science and her master's degree in policy analysis from Pennsylvania State University.
Davis was named International Women's Forum Fellow in 2008 and has received the Delaware Quality Award for OMB, Council of State Governments Innovation Leader for OMB, and the National Association of State Personnel Officers Award for Healthcare Innovation & New Human Resource Recruitment Systems. She serves as a director of the WSFS Corporation, a Delaware-based bank.
Davis will succeed Pat Hogan, who will step down from the position once Davis arrives on or before Jan 1.
Magill and Davis will be the first women to hold their respective positions at the University.
Alejandro "Alex" Hernandez, Dean of the School of Continuing and Professional Studies
Since 2010, Hernandez has been a partner at the Charter School Growth Fund, leading the nonprofit's Innovative Schools practice. In this role, he helped develop and deploy new K-12 learning models in public schools across the country. Hernandez brings to UVA his expertise in linking great instruction with educational technology, as well as years of experience expanding high-quality education programs.
"I am excited to join the University of Virginia and help bring its world-class education to adult learners across the commonwealth and beyond," Hernandez said. "The School of Continuing and Professional Studies creates opportunities for students throughout their lives, and I am honored to advance this important work."
A recognized advocate for public education, Hernandez writes frequently about the future of learning. His latest work focuses on promoting career readiness and increasing college access and success.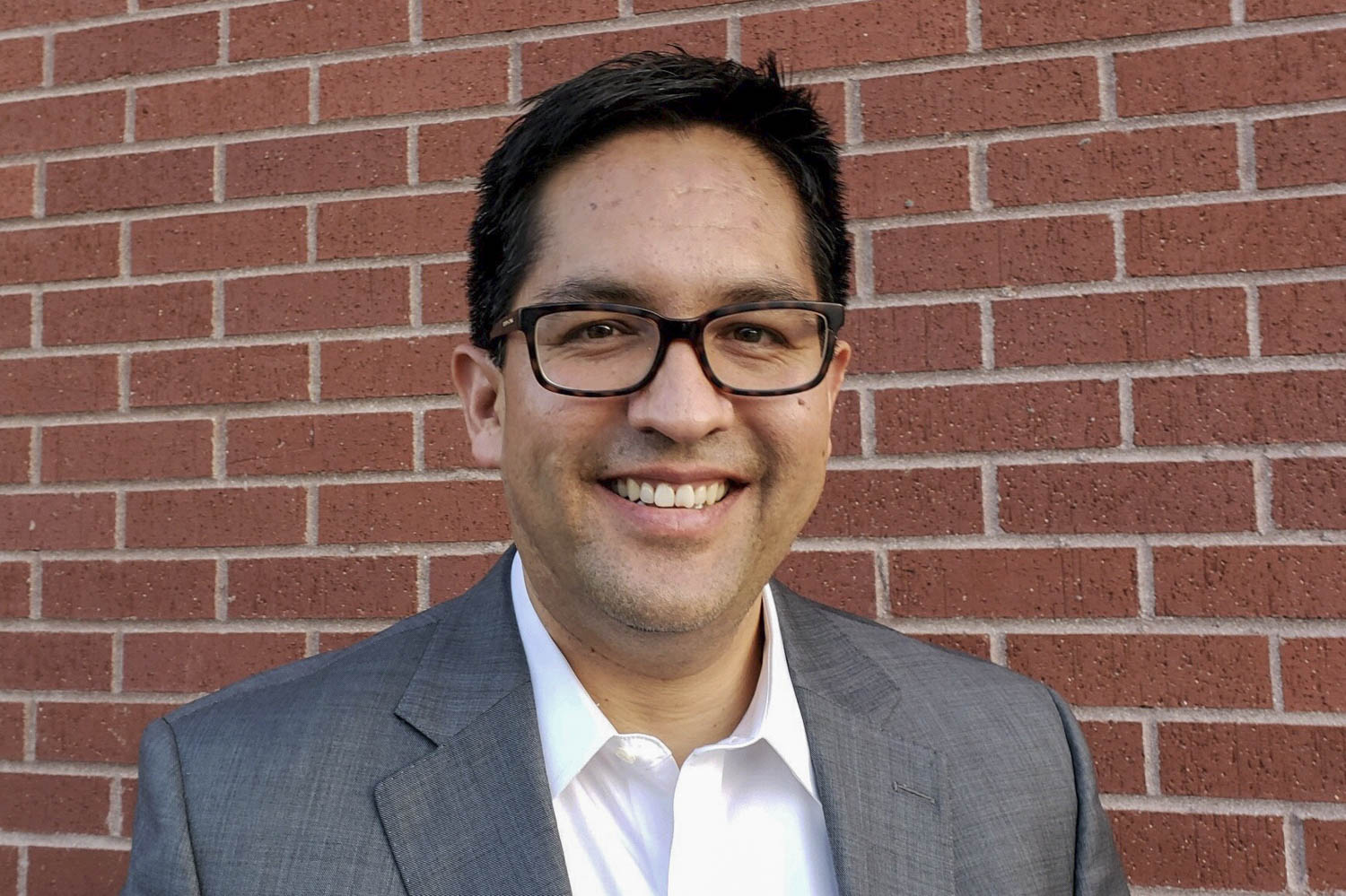 Alejandro "Alex" Hernandez is widely respected as an educator and innovator who links education and technology.
"Alex brings tremendous talent to the University. He's one of the foremost innovators and strategists in the education sector," said Andrew J. Rotherham, co-founder and partner at Bellwether Education Partners and a member of the board of directors for the Curry School of Education Foundation. "His knowledge of and commitment to public education at all levels make him a genuinely inspired choice for this role."
He is a former area superintendent at Aspire Public Schools, a leading K-12 public school system, where he managed schools in California's Central Valley. He also taught high school mathematics in South Los Angeles. Prior to his work in education, Hernandez worked in technology finance with Disney's venture capital arm, Steamboat Ventures, and J.P. Morgan.
"Alex's commitment to education, lifelong learning and innovation make him a fantastic choice to lead the School of Continuing and Professional Studies," said Dorrie Fontaine, dean of the School of Nursing and chair of the search committee. "He will be a wonderful colleague and will advance the school's mission in serving the University's adult learners."
Hernandez earned a bachelor's degree with honors in politics, philosophy and economics from Claremont McKenna College and an MBA and master's degree in education from Stanford University.
The School of Continuing and Professional Studies serves adult learners by providing access to educational experiences that blend academic scholarship with workplace relevance. The school offers two part-time bachelor's degree programs, 18 certificate programs, one post-baccalaureate/pre-med program and a variety of professional development courses and programs.
Hernandez succeeds Steve Laymon, who has served as interim dean of the school for the last three years. Laymon will return to his previous role in the school as associate dean. Hernandez's appointment is effective Sept. 10.
Article Information
August 3, 2018
/content/president-james-e-ryan-announces-new-senior-leadership-appointments