As of earlier this year, 65 million people around the globe have been displaced by violent conflict. That's the highest number since World War II. This isn't a new problem, but heavy media coverage of the crisis in Syria has forced the world to pay more attention to refugees of all nations.
"In spite of how terrible the Syrian crisis is, the small silver lining is that the international community is paying attention in a broader sense than just the aid organizations that were helping before," the University of Virginia's Christine Mahoney said. "Displacement is a major focus now. The UN and implementing partners and host governments are open to innovation in a way they haven't been before."
Mahoney is an associate professor of public policy and politics at the Frank Batten School of Leadership and Public Policy and director of Social Entrepreneurship at UVA, a program that creates opportunities for students to learn about social entrepreneurship both in and out of the classroom. She's spent the last seven years researching displacement crises around the world and hopes to use the wider public attention to find solutions.
In her new book, "Failure and Hope: Fighting for the Rights of the Forcibly Displaced," Mahoney chronicles the long-term challenges of displaced populations and offers a plan to improve their outcomes through social entrepreneurship.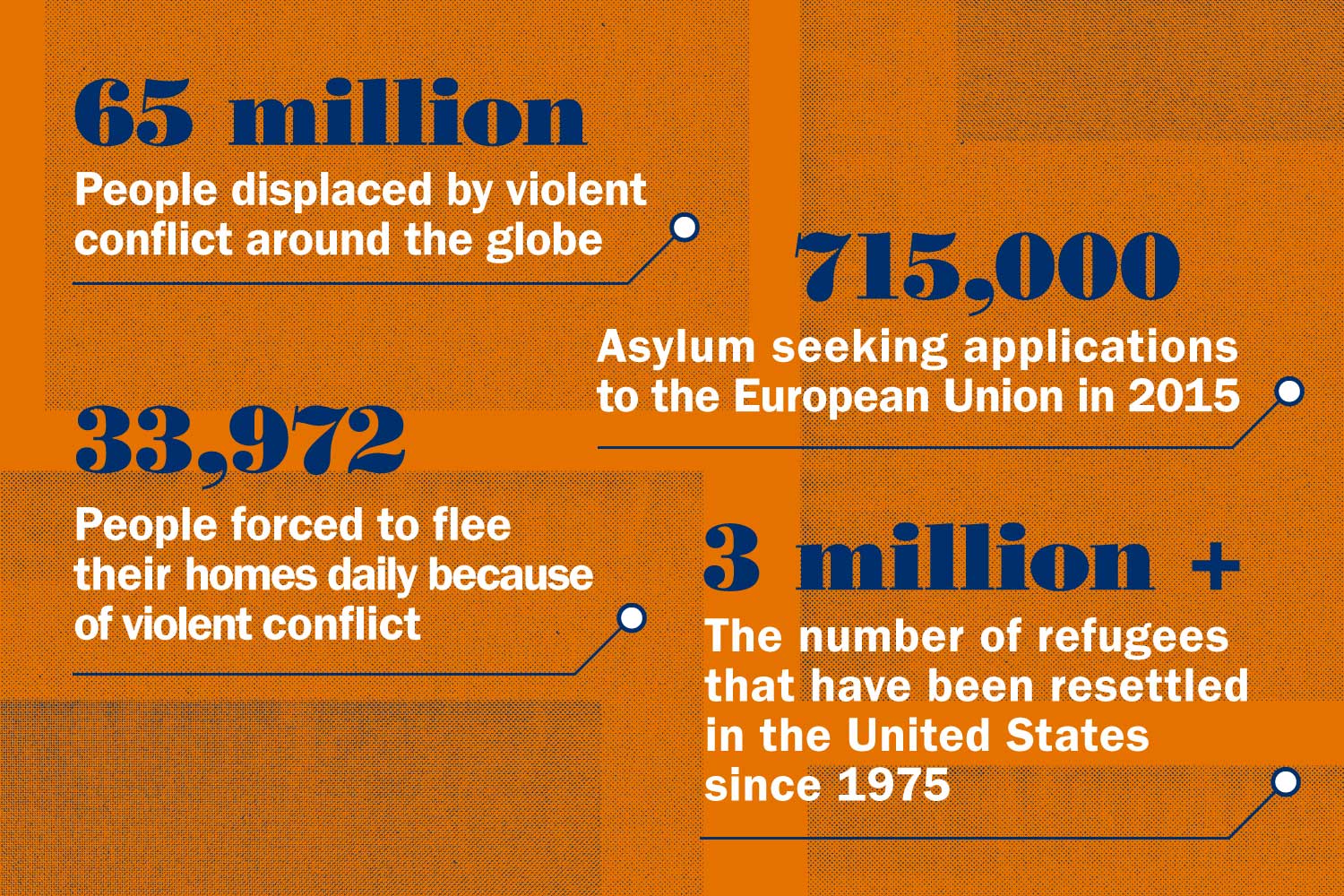 Refugee and internally displaced data as calculated by the Office of the United Nations High Commissioner for Refugees and the U.S. Department of State.
"In case after case, the international humanitarian response treats the problem as though it were temporary," she said. "It's just food and shelter with the idea that they'll be displaced for a couple weeks or months. But the problem is people are displaced for years or often decades."
This leaves refugees and internally displaced persons – those who have had to flee violence in one part of their country for temporary housing and safety in another – in a kind of permanent limbo. Often the governments and communities that host these displaced people are very suspicious of them and place extreme limits on their movement and ability to work. Mahoney saw this pattern over and over again as she interviewed aid workers and displaced persons in seven countries.
Her research took her to internal displacement camps for Colombians fleeing the paramilitary controlled zones in their country, northern Ugandans fleeing the terrorist Lord's Resistance Army, and those driven from their homes by conflict in Sri Lanka. She also conducted interviews in camps for Burmese refugees in Thailand, Bhutanese refugees in Nepal and Somali refugees in Kenya.
"The truth is that not all these people are going to be able to go home and they're not all going to get resettled," Mahoney said. "We're talking about 65 million people. On a good year, we resettle 60,000 to 90,000 people in the United States, and we resettle more people than any other country in the world on average."
Even when host countries are willing to allow a larger influx of refugees than usual, it is not enough. Mahoney points to examples in Europe where countries are struggling to provide the right level of support for newly arriving refugees. She said that even wealthy countries like Germany would never be able to shoulder the financial burden of helping all the refugees who would like to get in.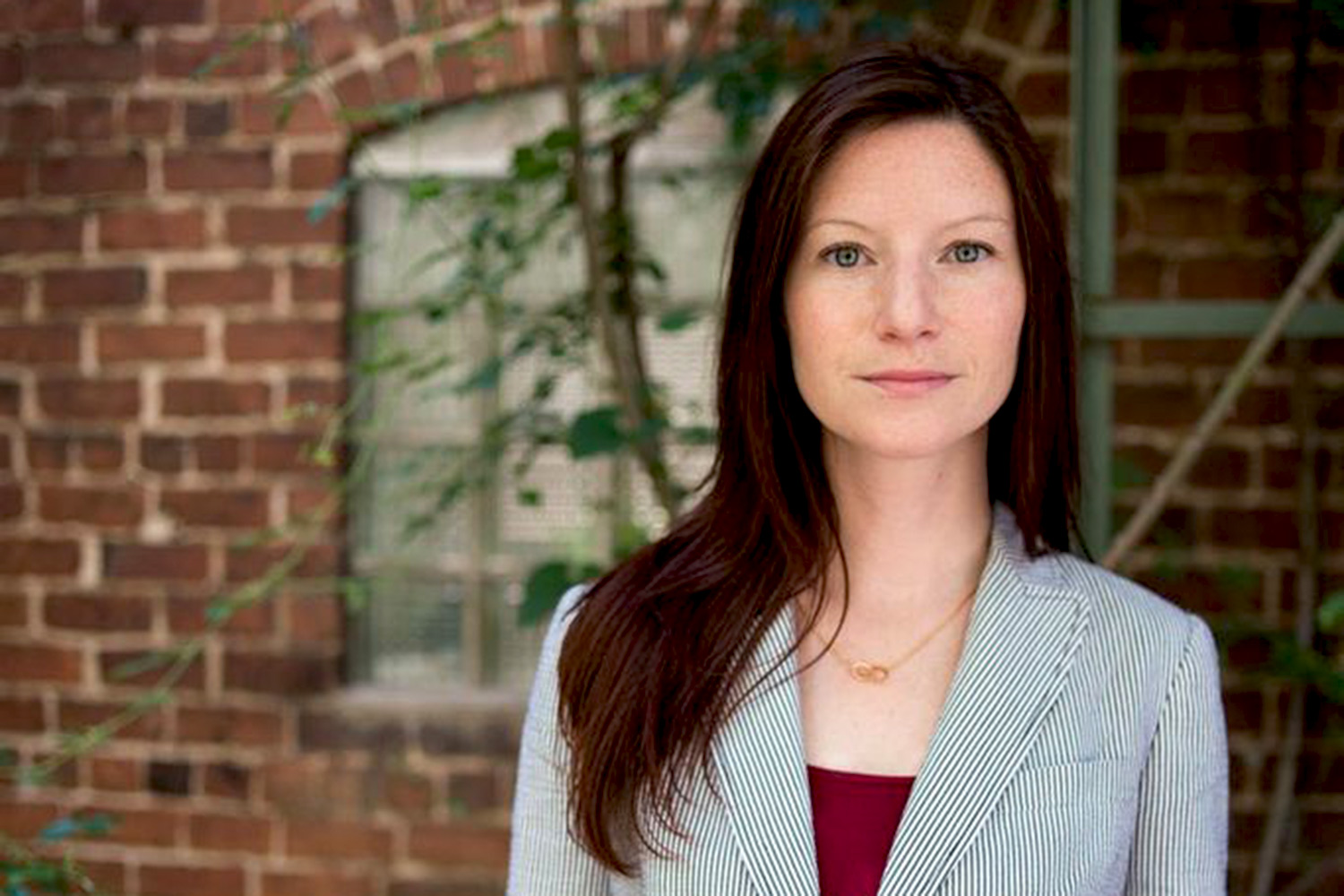 Christine Mahoney is an associate professor of public policy and politics at the Batten School and director of Social Entrepreneurship at UVA.
"The solution I'm putting forward in my book empowers refugees, strengthens local economies and doesn't require huge policy changes at the UN level before you see results," Mahoney said.
Merging her two areas of expertise in policy and social entrepreneurship, Mahoney proposes a micro-loan plan that allows refugees to thrive where they are and also benefits the economy of their local host governments. She envisions an impact investment fund that simultaneously invests in refugee and host community entrepreneurs.
This helps lessen local fears that refugees will simply be a burden on the local government or sharply increase job competition if they're allowed to work.
"This helps us start building bridges and peace between the host communities and the refugees," Mahoney said. "Often the refugees are seen as 'other,' and the host governments don't want them because they think of them as a burden who will take their jobs. Our goal is to change the economic reality so that refugees could be seen as a boon for the economy."
Mahoney is already taking steps to make her proposed solution a reality. She and her husband, entrepreneur and Social Entrepreneurship at UVA advisory board member John Kluge Jr., launched the Alight Fund this summer. It's a for-profit investment fund that offers micro-loans to refugee and host community entrepreneurs. Right now, they are gathering first round investors and searching for likely camps to serve as their first investment areas.
"You see these little shops popping up in the camps against all odds – mini restaurants, barbershops, bakeries – with access to almost no resources. So there are entrepreneurs there and they have the business acumen to be successful, but they don't have access to capital to scale their operations. That is where we want to start," Mahoney said.
With each investment, the fund will track repayment rates, entrepreneurs' overall profits, how much additional income they're able to bring to their households and what that means from a calorie count standpoint for feeding their kids. Entrepreneurs who stay on track with their repayments and are able to grow their business will be eligible for larger loans in the future.
"Usually there are about 14 people per household in a camp, so helping just one entrepreneur can have a broad reach," Mahoney said.
Find out more about the Alight Fund. For those interested in reading Mahoney's full account of the global displacement crisis, "Failure and Hope" is published by Cambridge University Press and is on sale now.
Article Information
August 9, 2016
/content/professor-plots-path-better-life-refugees