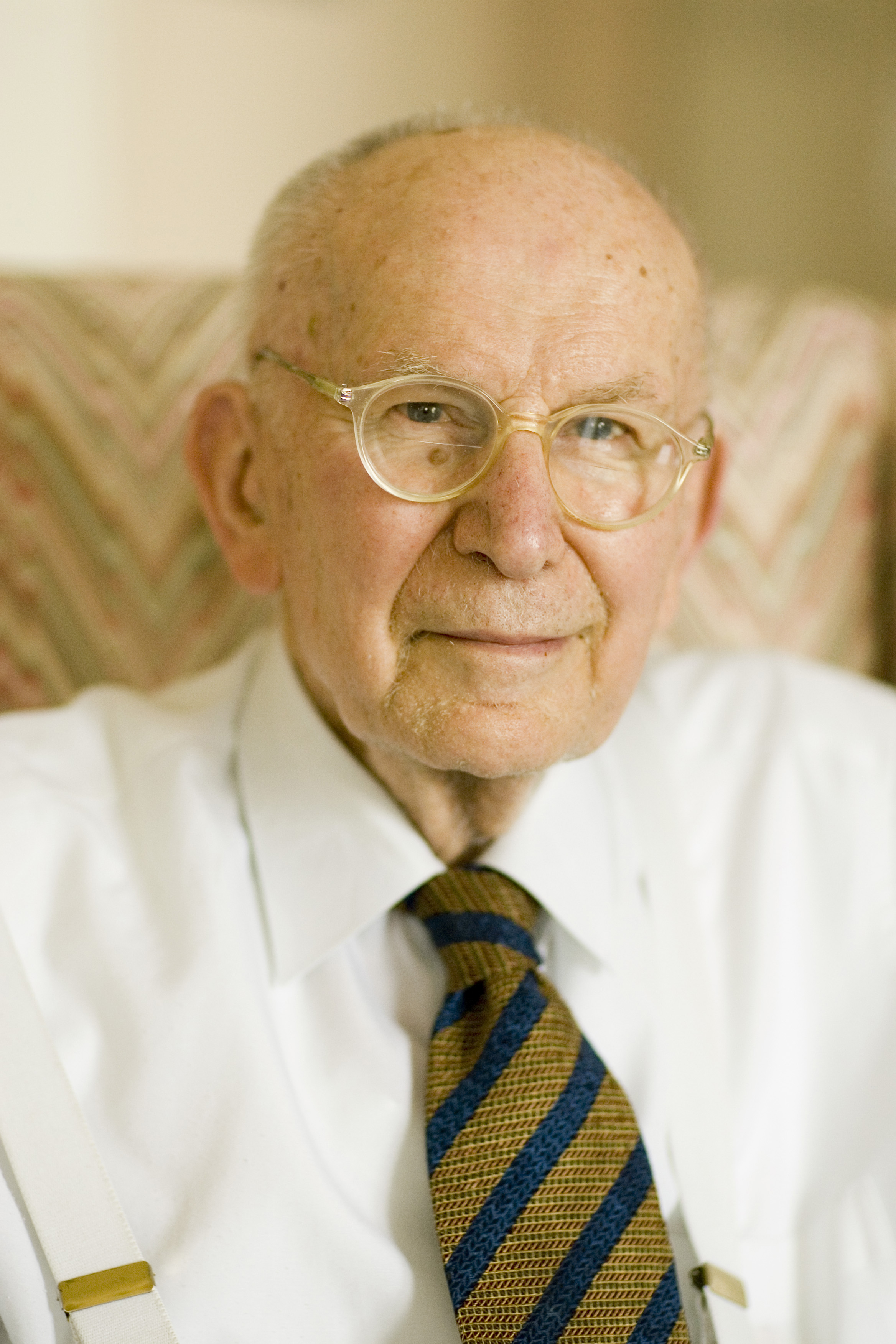 January 3, 2012 — Raymond C. Bice Jr., a University of Virginia professor who brought psychology alive for tens of thousands of students, died Dec. 22 at age 93 at Martha Jefferson Hospital.

He is survived by one brother and a host of nieces and nephews. The funeral will be held Jan. 20 at 1 p.m. in the U.Va. Chapel, followed by interment at Monticello Memorial Park on Thomas Jefferson Parkway. The family will receive visitors at the Colonnade Club beginning at 11 a.m. prior to the service. Bice's obituary appeared in Wednesday's Charlottesville Daily Progress.

As word spread via social media about Bice's death, former students honored him. A Twitter post from Khalilah Brown-Dean, a 1986 graduate in politics from the College of Arts & Sciences, was echoed by many: "RIP to one of the greatest professors U.Va. has ever known." Wrote another alumnus: "If they ever get around to building a Mount Rushmore of U.Va. greats, Ray Bice would be on it!"

During a 50-year career at U.Va., Bice charmed psychology students with his inventive "Bice devices," entertained standing-room-only audiences with tales of the old University and held several key administrative posts. He retired in 1998 at age 80 after serving as U.Va.'s history officer.

An inventor and self-described tinkerer, Bice developed a device for every lecture in his "Bice Psych" course because he believed "a demonstration is worth a thousand words." One of the most famous was the "electronic pseudophone," concocted from a pair of rubber plungers and headphones, which demonstrated how the brain localizes sound by altering the location from which noise seems to originate. As he described it: "It's what would happen if you could place your right ear on the left side of your head."

He said in his 1980 Valedictory Address that when he uses the devices in his teaching, "I always feel that Mr. Jefferson would approve."

Bice's 500-seat lecture at times had a waiting list of more than 100 students, some of whom sent flowers, poems and other treats to attempt to gain entrance to his course. In addition to being a popular teacher, he was an administrative jack-of-all-trades, holding titles such as associate dean in the College of Arts & Sciences (1958-1969), assistant to the president (1969-1990), secretary to the Rector and Board of Visitors (1969-1990) and University history officer (1991-1998).

"No one committed more of himself to the University than Ray Bice," said Leonard W. Sandridge, former executive vice president and chief operating officer. "Alumni returning to the University would inevitably ask about Mr. Bice and recall him as a favorite professor."

Bice was born July 26, 1918, in La Crosse, Wis., the eldest of four children. His father was a World War I veteran who went on to be a builder and politician, eventually becoming a Wisconsin state senator. His mother was a teacher.

He earned bachelor's, master's and doctorate degrees from the University of Wisconsin, Madison, and his research interests were psychophysiology, aviation safety and communication. He served as a Navy ensign in World War II.

In 1948, he was lured to U.Va. by Frank Geldard, then chair of psychology, who had taught for a summer at Bice's alma mater. "Once I saw the Grounds, it was love at first sight," Bice said.

He was married for nine years to Zula Mae Baber, a nursing professor whom he met when she summoned him to discuss male students sneaking into all-female nursing residence halls. At the time, Bice was wearing one of his many administrative hats as director of housing for the male residence halls. In 1966, Baber and Bice exchanged vows in the University Chapel. Mrs. Bice died in 1975.

For his service to the University community, Bice was recognized with many awards. He received U.Va's highest honor, the Thomas Jefferson Award, in 1978, and the Algernon Sydney Sullivan Award in 1997. Other honors included the IMP faculty award, the Raven Award, Alumni Association Distinguished Professor Award, Alumni Association Distinguished Service Award and honorary membership in the Jefferson Literary and Debating Society. In 1997, U.Va. named a student apartment building on Brandon Avenue for the Bices.

One of his inventions, a transducer that converted electrical signals into vibrations that can be felt on the skin, earned him the honorary key to the city of Pensacola, Fla., in 1995. Patented in 1961, the technology enabled the creation of a vest for pilots that transmits visual information through touch that can be used to fly a plane even if the pilot is unable to see. The vest was developed at the University of Western Florida in Pensacola, home of a major Navy base.

Jeanne Bailes, who recently retired as clerk to the Board of Visitors, worked with Bice for more than 20 years. "He was the finest, most extraordinary man," she said. "He just couldn't do enough for others. He was a great teacher, a great administrator, a great leader. And he was beloved by so, so many people. ... He's a great friend."
Article Information
January 03, 2012
https://news.virginia.edu/content/psychology-professor-raymond-bice-uva-great-dies-93