As coworkers in Carruthers Hall, Alyssa Sellick, Jacquelyn Haney and Emillie Cobarrubias are used to working on a team that helps several of the University of Virginia's graduate schools keep track of admissions.
But on Wednesday afternoon, the trio found themselves teaming up for a different cause.
At Sutherland Middle School in Albemarle County, the UVA employees were getting rid of some unruly parking lot weeds and repairing picnic tables as part of the Thomas Jefferson Area United Way's annual Laurence E. Richardson Day of Caring.
On the surface, it may not have seemed like a big deal. But it was, according to Sutherland's associate principal, Art Stow.
"The whole idea is to improve our outdoor learning spaces," Stow said, "and we're very excited to have the community supporting us."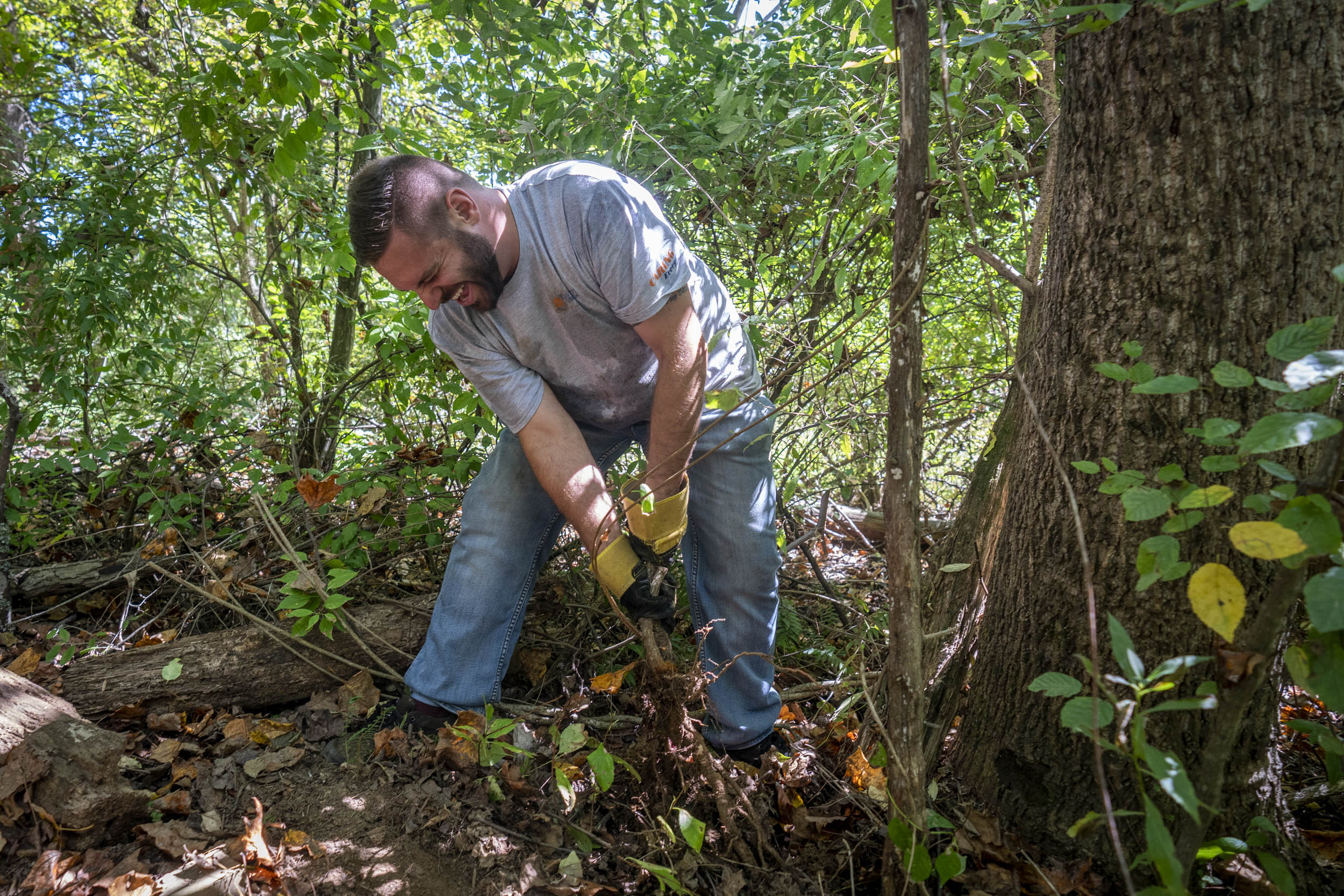 UVA employees, including video producer Vinny Varsalona (here removing invasive vines at the Ivy Creek Natural Area) worked at several locations. (Photo by Sanjay Suchak, University Communications)

Judging from the smiles on their faces, the UVA workers seemed to be loving the break from their daily routines – and the chance to give back.
"It's really cool," Sellick said, "because you know the teachers and everyone in the school are so busy and have so much on their plate already. Just to come out and help things look a little prettier is nice.
"And we don't do a whole lot of manual labor in the central admission office," Sellick said, grinning, "so getting out and having the chance to sort of garden with your coworkers and friends is fun."
Big kudos to everyone at @UVA who participated in today's #DayofCaring, including the President's Office who landscaped Burley Middle School (@burleybears) this morning. Dare I say, thank you very mulch. pic.twitter.com/YC6gLNCkRT

— Jim Ryan (@presjimryan) September 25, 2019
The team was one of more than 100 such groups from UVA deployed in and around Charlottesville in conjunction with the annual Day of Caring, which invites employers to share their employees for a day of community service.
At Burley Middle School, members of the Office of the President took part in a landscaping project.
At the Discovery Museum on the Downton Mall, UVA Library staff members painted.
And at a storage center off Rio Road, a team of six UVA student-athletes – football players Bryce Perkins, Dajuan Moore, Perris Jones and Tanner Cowley, golfer Sky Sload and swimmer Henry Schutte – helped pack books for a children's reading program.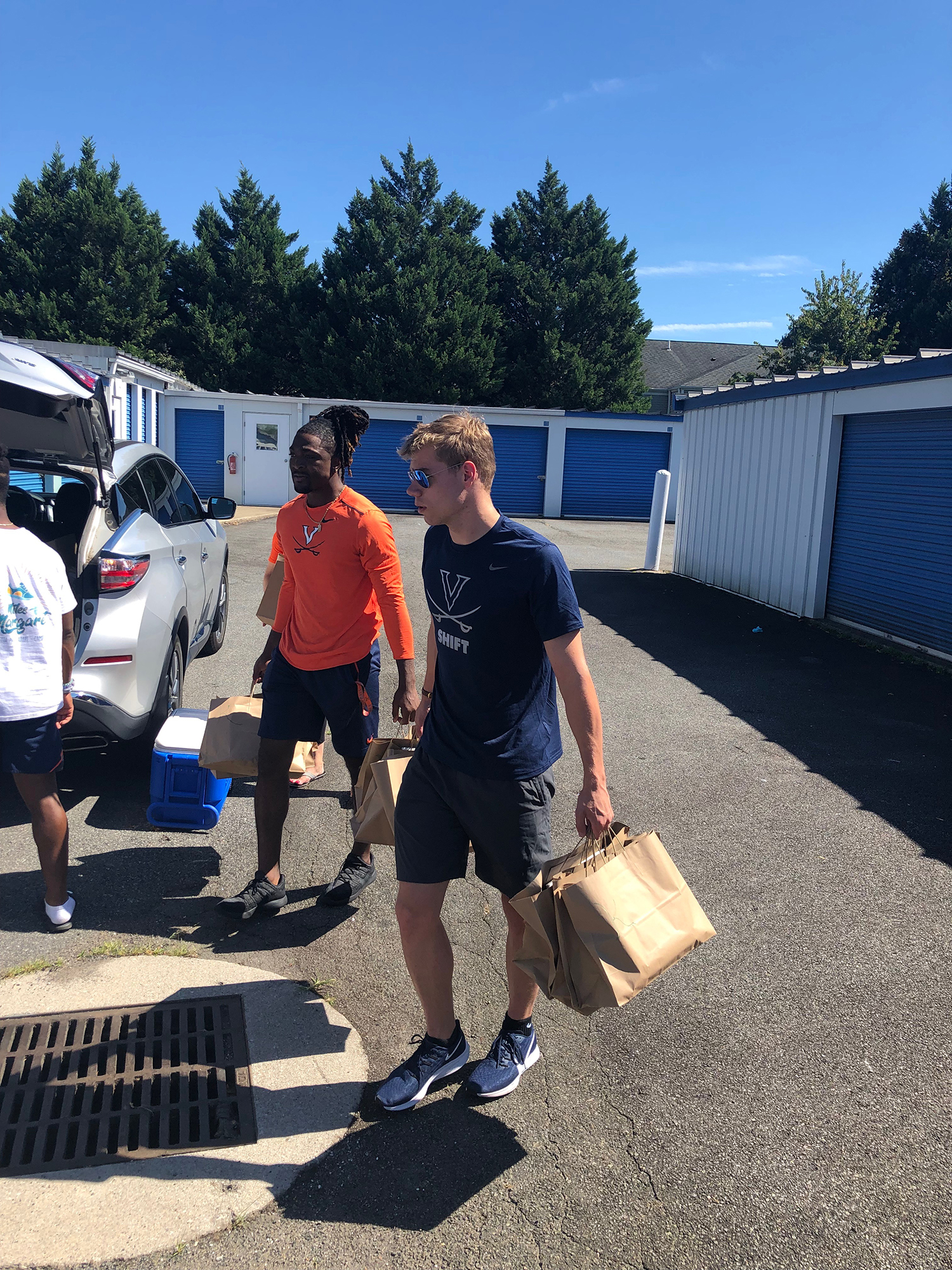 UVA quarterback Bryce Perkins, left, and swimmer Henry Schutte carry bags of books earmarked for kids into a storage unit. (Photo by Whitelaw Reid, University Communications)
"Education for the kids is so important and it's always good to give back," Perkins said. "We may never even get to interact with some kids, but I know things like this will do good things for kids and they'll really appreciate it."
Barbara Hutchinson, the United Way's vice president for community impact, couldn't believe that just three days before the Cavaliers' big football game against Notre Dame, the players – including the team's starting quarterback – were taking time out of their day to pitch in.
"It's pretty amazing," Hutchinson said. "The athletes helped us unload 10,000 books in the winter, and have come back today to help us move and organize 600 bags so that we're prepared to hand them out during Christmas time. They're going to children in our community, many of whom have never had a new book. We're hoping to help them on their way to a successful life, and we are very excited and thankful that the athletes were willing to take time and help us."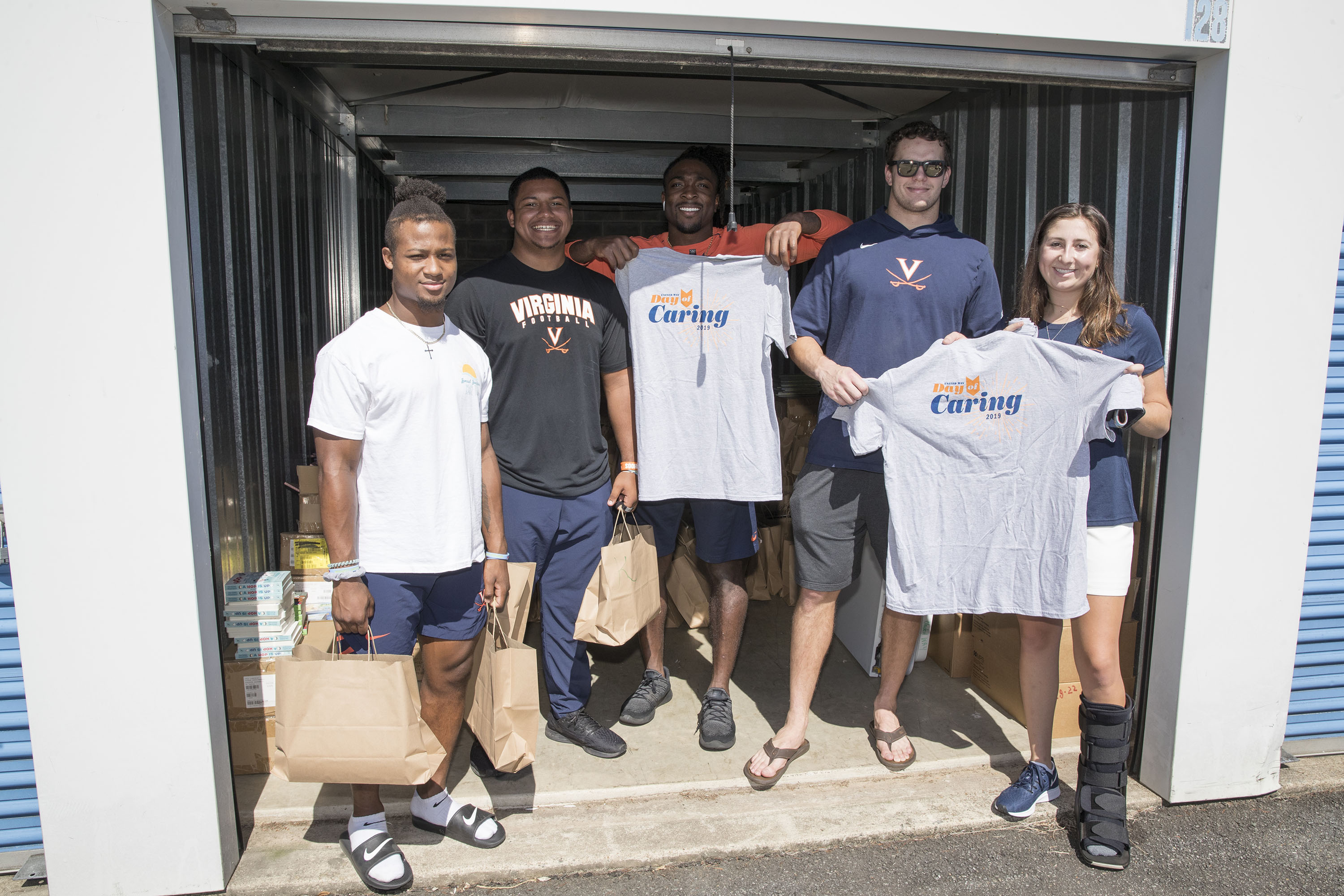 From left to right, football players Perris Jones, Dejuan Moore, Bryce Perkins and Tanner Cowley, and golfer Sky Sload helped pack books for local children. (Photo by Dan Addison, University Communications)

A short distance from the storage center, two other football players, Joe Reed and Ben Hogg, helped weed and mulch at a senior center.
Not every team had to leave Grounds – or even their office – to make an impact.
One such squad was a group of employees from UVA Orthopedic Surgery, who wrote letters to deployed service members.
In all, more than 1,000 UVA employees assisted with about 100 separate projects, as they have been doing since 1992, the first year of the community-wide Day of Caring.
Mary Andrews, program operations and special projects manager at the Darden School of Business, helped out at the Charlottesville-Albemarle SPCA, and the cats seemed pleased. (Photos by Dan Addison, University Communications)
Article Information
September 25, 2019
/content/pulling-weeds-packing-books-writing-letters-uva-chips-day-caring