You likely know about The Stonewall Inn, home of the 1969 riots that marked a key turning point in the modern fight for gay rights in the United States.
However, you might not know about the hundreds of other places in New York City that have played an important role in LGBTQ history, from one of America's oldest gay bars, Julius,' to grim sites like the street corner where Julio Rivera was murdered in a 1990 hate crime that sparked the first Queens Pride Parade.
Uncovering and recognizing those sites is the biggest and most rewarding part of Amanda Davis's job.
Davis, who graduated in 2004 from the University of Virginia School of Architecture, recently was named to the National Trust for Historic Preservation's "40 Under 40: People Saving Places" list. She is the project manager for the NYC LGBT Historic Sites Project, founded in 2015 by architectural historians Andrew Dolkart, Ken Lustbader and Jay Shockley to educate residents and tourists about LGBTQ history in New York City.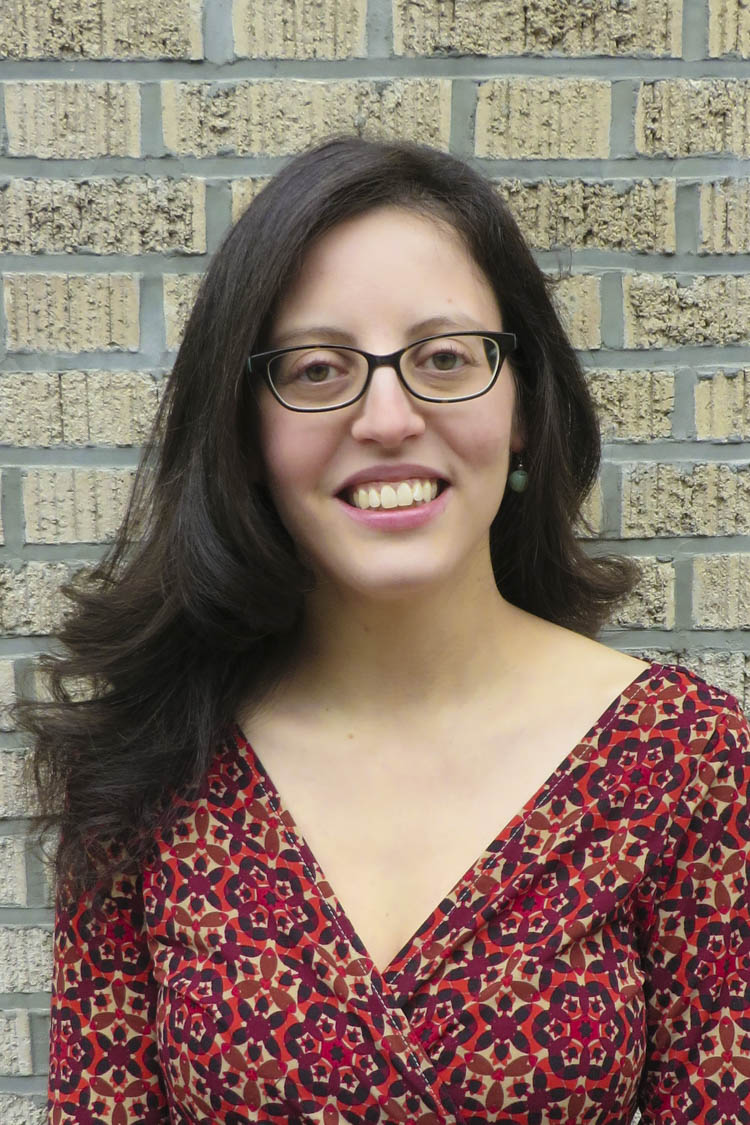 Davis graduated from UVA in 2004 with a degree in architectural history. (Contributed photo)
Together with the founders, Davis – the project's only full-time employee – finds and researches sites, adds them to the project's interactive map and prepares nominations for the National Register of Historic Places, which is the federal government's honorary list of historic places around the country deemed significant to American history.
We caught up with her earlier in June – recently designated as "Pride Month" in New York City – to learn more about her work.
Q. When did you first become interested in architectural history?
A. In some ways, it was a happy accident. I had not decided what I wanted to major in and I needed another class to take during the second semester of my first year. Scrolling through the course catalogue, I happened upon [former architectural history lecturer] Camille Wells' class, "Thomas Jefferson, Architect."
It was fascinating. I loved learning about history through the built environment, and I transferred into the School of Architecture the next year to study architectural history.
Q. How did you get involved in the NYC LGBT Historic Sites Project?
A. I was working as an architectural historian for a nonprofit in Greenwich Village when I heard about the project manager opening. One of the founders was my professor in graduate school at Columbia [University], and another was a former coworker. I thought it was a great opportunity to work on history that had not really been explored.
Within the field of historic preservation, I knew of only a few LGBTQ projects in California at that time. The LGBTQ community is such a big part of New York, but so much of its history has not been discovered. I wanted to be part of bringing that history to light.
Q. What kind of day-to-day work does that mission require?
A. There is a lot of archival research and sleuthing. I lead survey efforts to identify and research sites, relying on historical documentation, reports from the New York City Landmarks Preservation Commission, public library archives and other sources.
We also hold a lot of public events, reaching out to various groups around the city to tell them about what we are learning and also get ideas from them about sites we should research.
Once I have the research, I work on updating our website and interactive map and also nominate sites for honorary recognition by the state or federal government or for official protection at the local level by the NYC Landmarks Preservation Commission. A grant we received from the National Park Service requires us to write seven nominations for the National Register of Historic Places; we have completed five so far.
Q. How many sites have you explored so far?
A. We launched our new website last year with information on about 100 sites. Now, we have prioritized about 350 additional sites for further research and recognition. It's a pretty diverse list, representing different boroughs, ethnic groups and time periods from the 17th century to the year 2000.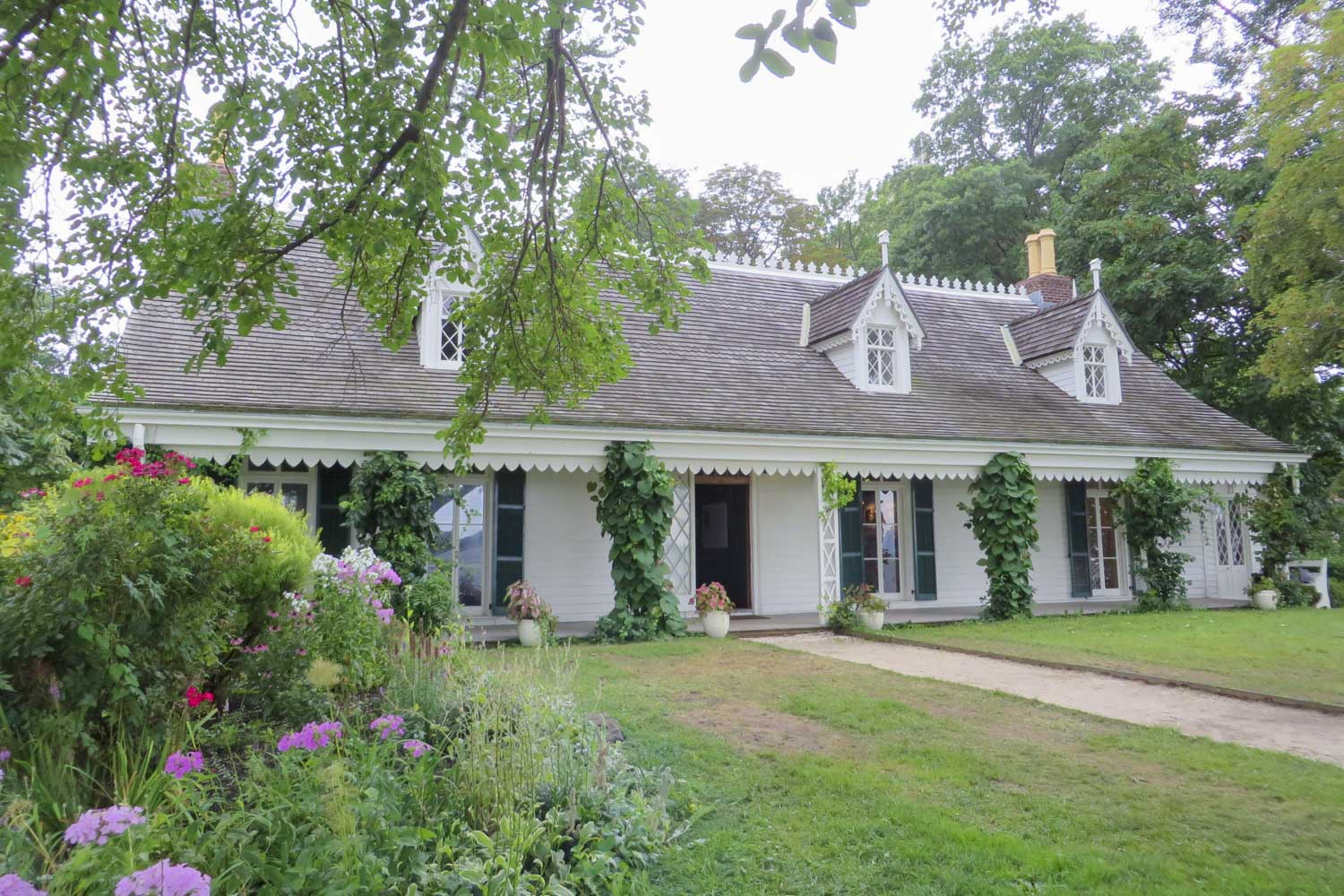 Photographer Alice Austen's Staten Island home is now a museum and one of many sites the project has won recognition for. (Photo by Amanda Davis)
Q. If you were to pick a few sites for someone visiting New York to discover, what would they be?
A. A lot of people know about The Stonewall Inn, but there are so many other sites that can tell us a lot about LGBTQ history and about members of the gay community who have positively impacted New York City and American culture.
There are other historic bars like Julius,' near Stonewall, where four gay rights activists from the Mattachine Society conducted a "sip-in" in 1966, modeled after the sit-ins happening in the civil rights movement. They wanted to bring attention to the discrimination that gay men and lesbians faced in bars.
There is a great house museum, the Alice Austen House on Staten Island, where we recently worked with staff to add LGBTQ history to the narrative the museum portrays. Austen, a celebrated turn-of-the-20th-century photographer, had lived with her partner of 53 years, Gertrude Tate, but until recently Gertrude was erased from the narrative.
I also loved working on the National Register of Historic Places nomination for Caffe Cino, the birthplace of off-off-Broadway and a pioneer in the development of gay theater at a time when depicting homosexuality on stage was illegal.
Another interesting and poignant site is the corner where Julio Rivera, a gay Latino man, was murdered in Jackson Heights in 1990. That crime really galvanized both the Latino and the gay communities in Queens and eventually inspired the Queens Pride Parade, which began in 1993.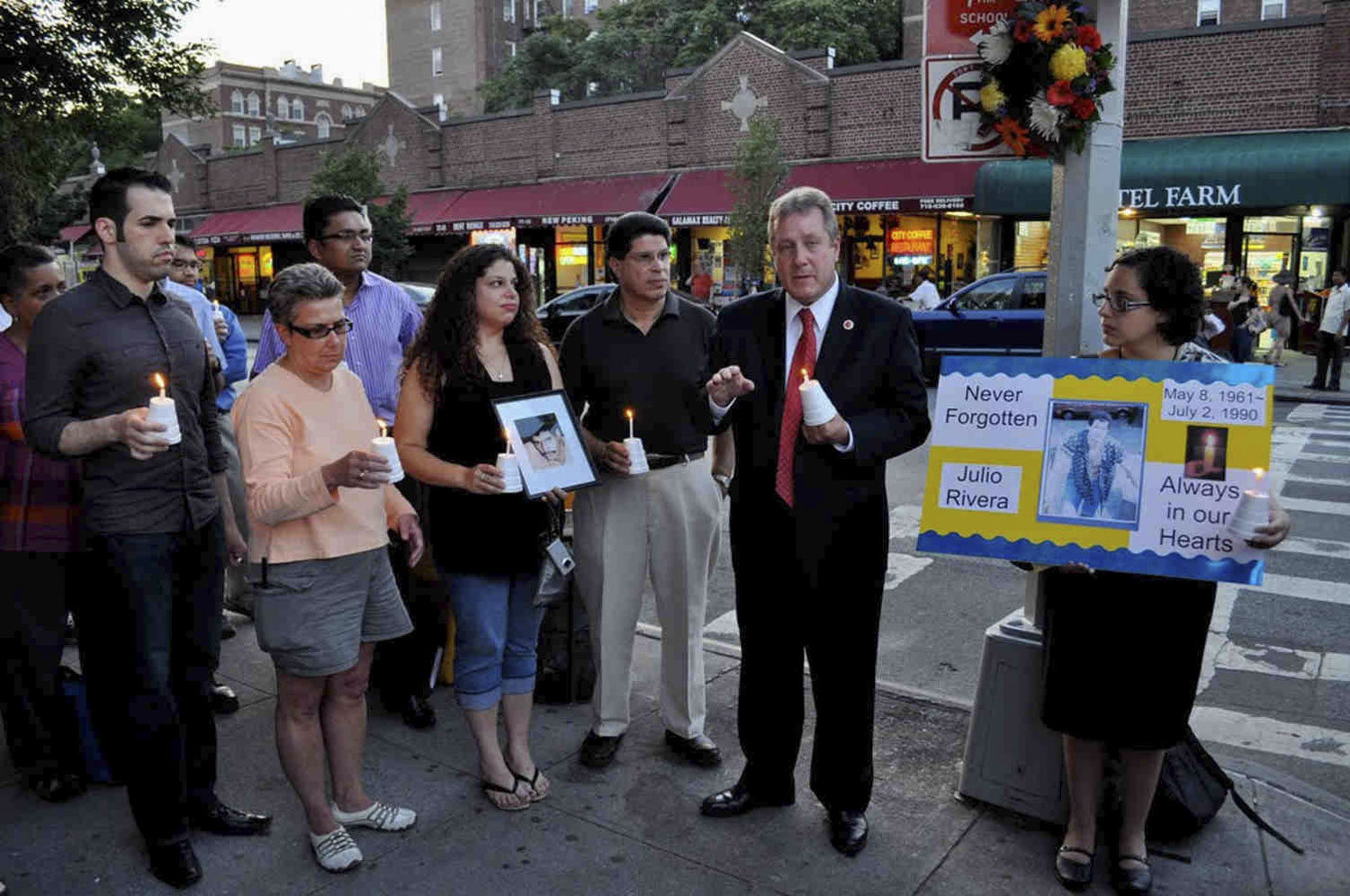 Julio Rivera's friends and family gathered with City Council Member Daniel Dromm on the 20th anniversary of his murder in July 2010. (Contributed photo)
Q. What do you find most rewarding about the work you do?
A. It has been amazing to see how people respond to the project and how far it has come. We held a workshop for public schoolteachers last week who were very enthusiastic about using our site in their classrooms. We also give historic tours to young people; on a recent tour one teen told me that she thought she was alone until she learned about some of this history.
It's amazing to see – time and again – how the information can impact people.
Q. Anything else to add?
A. We are always adding more places and have a suggestion form on our website where anyone can submit historic sites they feel should be included on our map. I would love to hear from people.
Media Contact
Article Information
June 21, 2018
/content/qa-alumna-amanda-davis-mission-save-nycs-lgbtq-landmarks