Lucy Bassett has focused her nonprofit work and recent research on the U.S.-Mexico border crisis, specifically a makeshift refugee camp in Matamoros, Mexico, a sprawling compound of improvised shelters separated from Texas by just a few yards of dirt and the Rio Grande.
As it happens, Matamoros is also the subject of a Bruce Springsteen song, "Matamoros Banks."
Last month, the singer used his considerable spotlight to highlight – and donate to – the work that Bassett, an associate professor of practice in the University of Virginia's Frank Batten School of Leadership and Public Policy, and her colleagues are doing through the Charlottesville-based nonprofit Project Adelante. Springsteen heard about Project Adelante through UVA Miller Center Director and CEO William Antholis with the support of politics and public policy professor David Leblang, who has been working with scholars across Grounds on immigration issues.
The singer's call came as the number of refugees at the camp increased, following a recent White House policy requiring asylum-seekers to stay in Mexico for the duration of their immigration proceedings. This is in contrast to a previous practice where people were able to wait in the United States, often in safer conditions.
Project Adelante seeks to provide support for families & youth by bringing together professionals across disciplines to evaluate & address the range of needs to effectively respond to the crisis in Matamoros. More info: https://t.co/wh6eRCZSPr pic.twitter.com/ZYbxwTDG5s

— Bruce Springsteen (@springsteen) December 23, 2019
As a professor of practice, Bassett combines teaching with public policy work outside of UVA, mostly on child-focused humanitarian programming. Prior to coming to UVA, she worked at the World Bank as an education and social protection specialist for 10 years, and has also worked at UNICEF, the World Food Programme, Save the Children and the international Food Policy Research Institute.
Bassett co-founded Project Adelante with lawyer Kristin Clarens and Rev. Isaac Collins, lead pastor at Charlottesville's Wesley Memorial United Methodist Church. The nonprofit aims to raise awareness, conduct research and contribute to solutions to humanitarian issues at the border, especially helping the thousands of children who are waiting for their families' asylum applications to be processed.
The project works closely with the UVA Humanitarian Collaborative, which is funded by the Ruth Young Endowment through Batten's Center for Global Inquiry + Innovation and the University's Strategic Investment Fund. The Humanitarian Collaborative supports collaboration among faculty, practitioners and students on research and policy addressing humanitarian challenges.
We caught up with Bassett to learn more about her work.
Q. How did Project Adelante get started?
A. Most of my work in international development has focused on children, and I became interested in how the U.S.-Mexico border crisis is affecting the children caught up in it. I met Kristin [Clarens], a lawyer who has worked with unaccompanied minors being held in border detention centers, and Isaac, who had also been working on the border, and we started to collaborate and bring in other partners.
Project Adelante was born, and since then I have been to the border twice [most recently in January]. Some of my partners have been going for months. Together, we want to tell the story of conditions on the border and support change.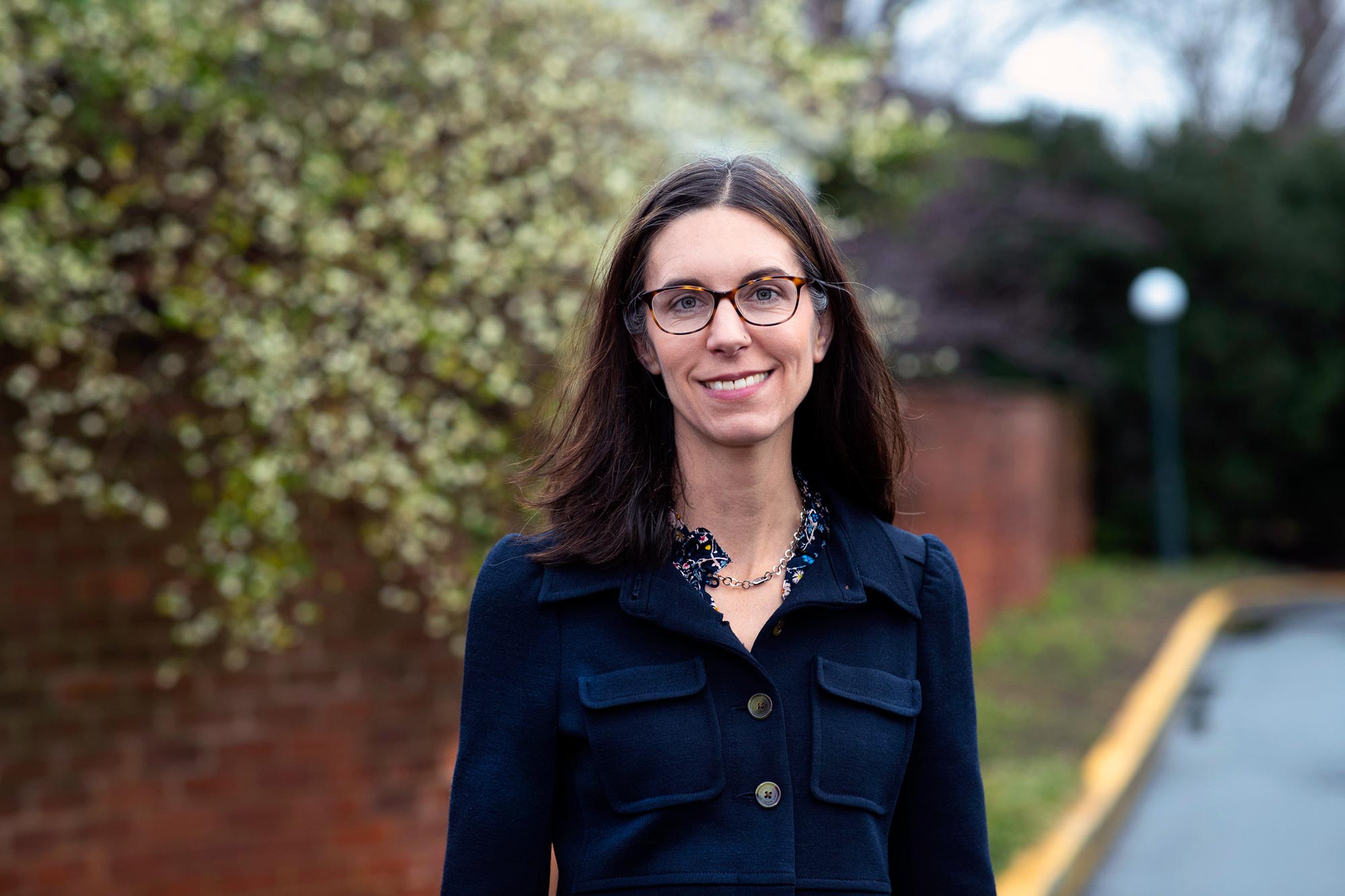 Lucy Bassett is an associate professor of practice in UVA's Frank Batten School of Leadership and Public Policy, where she focuses on humanitarian issues. (Photo by Dan Addison, University Communications)
Q. What stood out to you on your most recent trip?
A. The Matamoros camp is right across the [Brownsville & Matamoros] International Bridge connecting Mexico and Texas – basically from Grounds to the Corner, as I tell my students. It is not centrally run by any one government or agency. There are NGOs working there, and the Mexican government has provided some resources, but they do not want it to be permanent and so it is very makeshift.
There are about 3,000 asylum-seekers living there right now, mostly in tents along the Rio Grande riverbank. There is a really steep decline into the river and a pretty strong current, both dangerous for kids and those who cannot swim.
When I went in January, there were about 30 porta-potties for 3,000 people (an improvement over November when there were only five for about 2,000 people). The tents are mostly camping tents that we would use for a weekend getaway – woefully insufficient for withstanding lots of wind and rain over many months. NGOs are bringing in food, but some families do not have enough; people told us about their kids going to bed hungry.
Safety is the biggest concern. The state of Tamaulipas, where Matamoros is located, is currently under a "do not travel" advisory by the U.S. State Department. This ranking is the same level as Afghanistan, Syria and Iran, for example. Matamoros is largely controlled by cartels, and kidnapping, assault, rape and extortion are regular occurrences. Many people in the camp have fled this violence at home, and now they are experiencing it again.
Q. How has Bruce Springsteen's publicity and support helped your efforts?
A. Bruce cares a lot about what is going on at the border and he both donated and, equally important, ignited this social media blitz about Project Adelante and the importance of investing in and calling out what is happening at the border.
Since then, we have seen a big uptick of interest, attention and funding. It has been really powerful.
Q. What are you addressing in your research?
A. [Associate professor of nursing] Kathryn Laughon and I designed a study to look at the experience of families and children in Matamoros. Kathryn, a forensic nurse and expert in gender-based violence, is focusing on gender-based violence and safety for women, and I am looking at children's experiences with consideration for how these will impact their brain development, learning and growth.
This study is the first of its kind in Matamoros, and we plan to share with NGOs and other partners working on the ground there and elsewhere along the border, to help develop more systemic solutions that can address families' needs. We also hope the study will help to generate support to help children in these situations.
We spent more of our last trip conducting structured interviews with parents to get an overall picture of life at the camp and gather specific stories that we can use to raise awareness. 
Q. What did you hear when talking to families?
A. Parents are crushed because their children are suffering from the poor living conditions and are missing out on getting an education. They want their children to be in school, to have a healthy diet, to be healthy, but those things can be hard to come by at the camp.
In most cases, the children are not being forcibly separated from their families, but we have seen a lot of cases of parents sending young kids across the border on their own because that is the only way for them to cross under current U.S. policy. One big question is what we can do to support parents and help keep those kids with them, because that relationship is so critical to children's development.
Q. How does your work at the camp influence your academic work, and vice-versa?
A. As a professor of practice, I aim to bridge the divide between practice and academia. I teach a class, "Children in Crisis at the U.S.-Mexico Border," with both graduate and undergraduate students. I use Matamoros as a case study, giving them updates from my visits there and assigning group projects that encourage students to focus on real-time analysis and solutions. For example, we looked at how people in spontaneous settlements in Greece educate children at low cost, and my students wrote up recommendations for Matamoros based on that research.
Students have told me over and over again that they want to study immigration, because it is one of the most important issues of their time. Anyone who goes on to lead in public policy, in law, in business and many other fields will have to reckon with it in some way.
Media Contact
Article Information
February 20, 2020
/content/qa-bruce-springsteen-spotlights-professors-nonprofit-work-border