University of Virginia golfer Britney Mangan has long been interested in the law. and she got to experience it firsthand this summer at the Florida Supreme Court.
Mangan, a second-year student from Orlando, compiled eight top-five and 13 top-10 finishes in junior golf tournaments prior to arriving at UVA. She is ready to make an impact after redshirting last year; in the meantime, she took part in Florida State University's Donald J. Weidner Summer for Undergraduates Program at the College of Law.
Students in the program attended two law classes each day and visited the Florida Supreme Court twice, meeting with Justice Alan Lawson and later taking part in a mock trial.
Mangan – whose father is a baseball scout and mother is a systems engineer – said the experience made her seriously consider a legal career.
UVA Today caught up with her to hear more about her experience – and her first hole-in-one.
Q. What interests you about the law?
A. I've always been interested in the sports and entertainment side of law. In this program, we did more of the political and government side, which was also interesting. We met a lot of local lawyers and people who had graduated from the program and from FSU and we heard about their jobs and experiences. There's such a variety of jobs out there.
Q. What was it like to visit the Florida Supreme Court?
A. It was really awesome. We had two different types of law classes every day and then about once a week we'd go to the Florida State Capitol building or the Supreme Court. When we went to the Supreme Court, we met with Justice Alan Lawson. He explained what he does and how he kind of got into the field. Seeing that side of things was really cool.
When we went back to the Supreme Court again, we did a mock trial. Some of us were the judges, some of us were the attorneys. I was on the jury. I never did a mock trial in high school, so it was really cool to act everything out in a real courtroom, argue points and kind of see how everything goes down.
The case involved a student who was suing a school. It was a real case and we weren't allowed to know the results. We just had to argue the sides and then let the jury decide.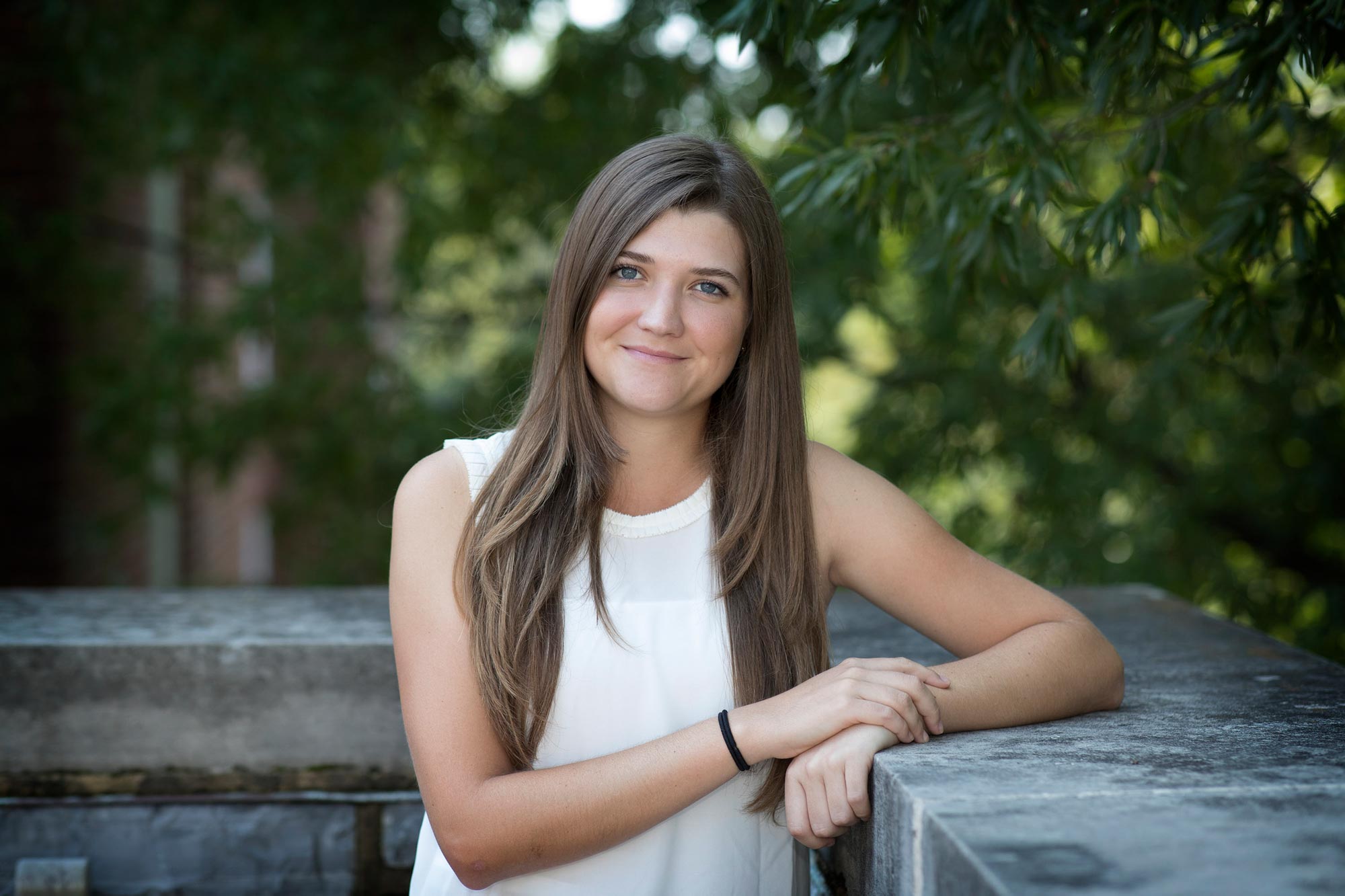 Britney Mangan is hoping to break into the Cavaliers' lineup this season. (Photo by Dan Addison, University Communications)
Q. What else did you learn?
A. One of our classes was legal writing. It was definitely a different style of writing with very specific terms. We also took a class studying past cases. Even though the program wasn't for class credit, there was still a lot of homework and reading to do.
At the end, we had to deliver our own arguments about a real incident that occurred on a plane in which a passenger kept getting up and going in the cockpit. I had to take the side arguing for the passenger. Other students had to defend the airline and the flight attendants. We had to write our own arguments and give an eight-minute speech.
I had never done anything like that before. After doing it, I felt really accomplished and way more comfortable in doing something like that.
Q. Seems like trying to defend the passenger would be tough. How did you do it?
A. The statute violated was 49 U.S.C. & 46504 – interfering with flight crew members and attendants. The passenger walked up to the cockpit three times asking if he could access his luggage below the plane.
I found evidence, such as his compliance with directions and [lack of] use of weapons. There also weren't any flight attendants on the small plane, so I argued he had no way of communicating with anyone other than the pilots.
The other side argued for the U.S. and found evidence that the passenger interfered with the safety of the flight because he distracted the pilots.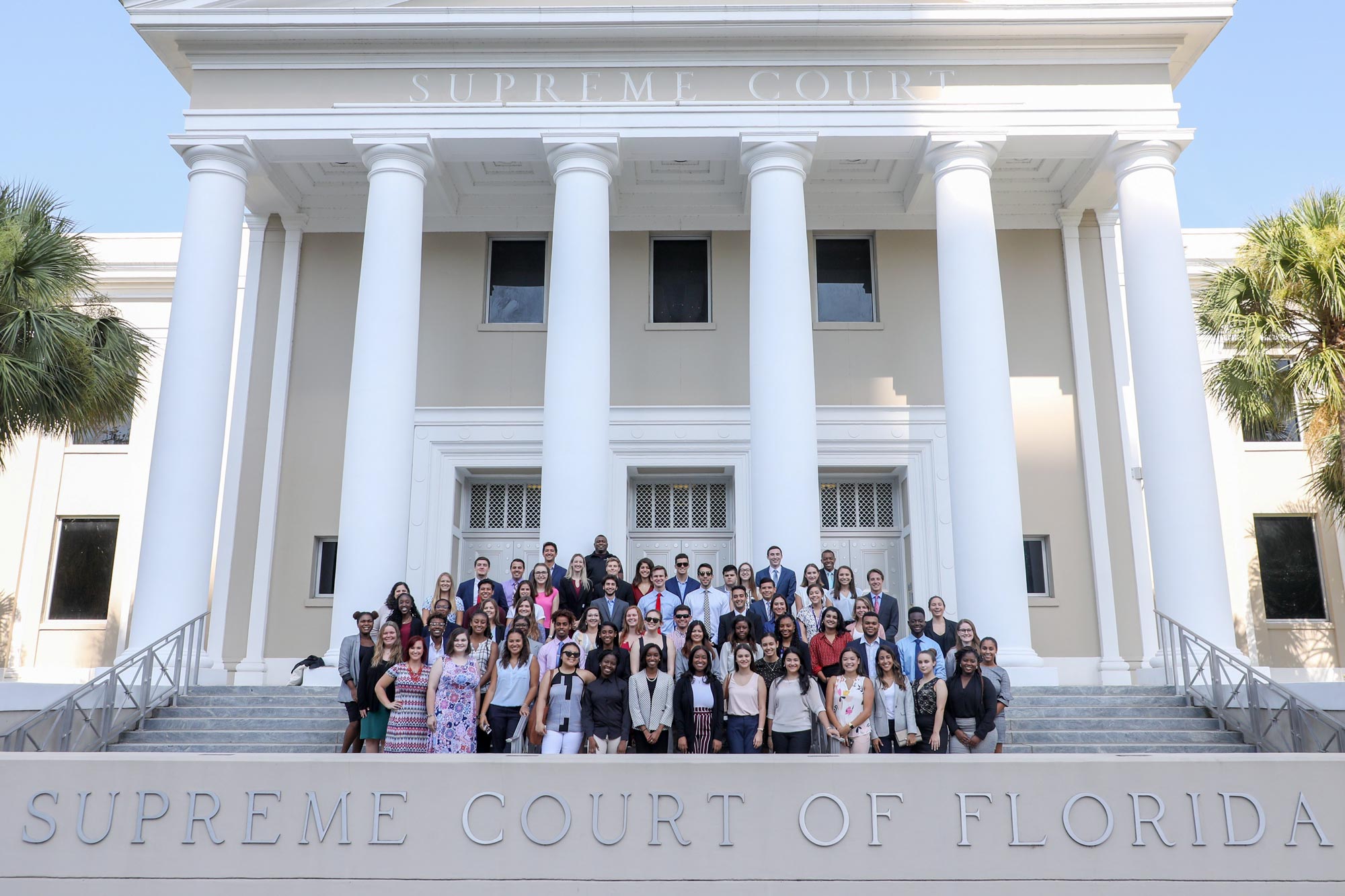 One of golfer Britney Mangan's summer assignments was defending an airline passenger. (Photo courtesy Florida State University College of Law)
Q. How did you get into golf?
A. I started when I was 5 or 6 because my sister, parents and grandparents played. It was kind of just a family thing. My sister played at Florida State, graduated last year and is now a graduate student in global commerce in [the] McIntire [School of Commerce] here at UVA.
Q. In 2016, you had your first hole-in-one. What was that like?
A. I was playing in a junior tournament in Florida. The hole was pretty hilly, so I didn't actually see it go in. But after I hit it, I heard my mom cheering and kind of figured it had gone in. It was pretty exciting!
Q. How has the new golf facility helped the UVA program?
A. When it started getting cold in November, you couldn't really practice. Now you can practice every day. In the winter, we open up the garage doors and can hit out into the snow, and there are also other practice areas inside the building for when it's really cold. We have locker rooms and a player lounge, and I think it brings the team together more because we have a space we can all come to. It's definitely made a huge difference.
Article Information
October 4, 2019
/content/qa-uva-golfer-takes-deep-dive-legal-world