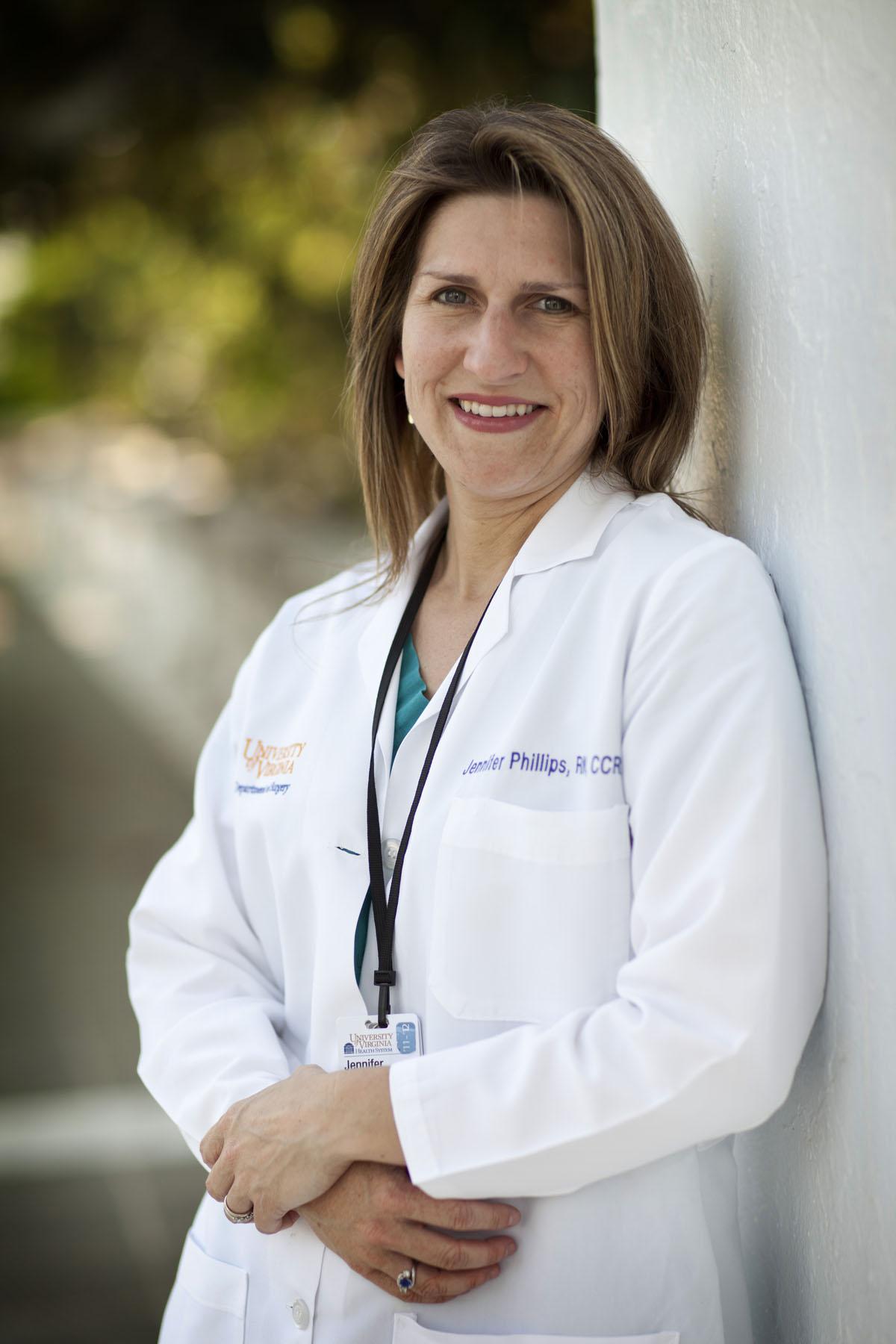 UVA Today is highlighting the winners of the 2012 Leonard W. Sandridge Outstanding Contribution Awards, the highest U.Va. honor staff receive for their dedicated service to the University. Today: Jennifer Phillips of U.Va.'s School of Medicine. To see all of the stories, click here
May 15, 2012 — Jennifer Phillips has a special touch. From helping with research protocols and data collection to building relationships with colleagues and patients, she works tirelessly to make everyone's life easier. The clinical research coordinator in the Department of Surgery at the University of Virginia School of Medicine, Phillips has handled all aspects of clinical research trials for more than 10 years.
She especially shines with patients. "She spends a significant amount of extra time with the patients and their families explaining in great detail the clinical trial, how it may help them, as well as how it is intended to help others suffering from human disease," said Dr. David R. Jones, a professor of surgery, vice chair of clinical affairs and quality, and chief of the Division of Thoracic and Cardiovascular Surgery.
Her caring ways engender a lasting bond and many patients keep in touch years later to share something new happening in their lives.
Jones added that Phillips' can-do approach "affects others in the clinics and has helped build a culture of positivity and 'patient first' that is remarkable."
Dr. Christopher A. Moslaluk, David Harrison Teaching Professor of Pathology and principal investigator for the Lung Cancer Biospecimen Resource Network, said Phillips has worked "tirelessly, including weekends and after hours, to help us create this resource from scratch." Her contributions have included developing data-collection forms, helping create biospecimen collection kits, recruiting subjects and helping obtain specimens for basic and transitional research.
Phillips also "goes the extra mile to support the needs of patients, team members within the research community and the staff," Moslaluk said. "She can be counted on to listen to what the needs of others are first – and respond to those needs above her own."
Sandra Burke, Phillips' direct supervisor, said the mission of the Department of Surgery is "whatever it takes."
"Jenny 'lives' that mission – and is a role model for her peers in her example," she said
Patients value Phillips' gentle guidance and informative follow-up; residents and fellows come to her for assistance navigating the clinical research system; and staff count on her support and encouragement to make their research successful.
"As the University seeks to strengthen our organizational alignment so that our research/education/clinical care goals mesh, Jenny is an example of an employee who embodies that in her everyday walk," Burke said.
Moskaluk summed it up: "Jenny is a role model for what makes U.Va. great."
– by Jane Ford