Resilience in the Time of COVID-19: How UVA Nursing Adapted
It was Saturday evening before his shift in the emergency department at UVA Health, and Billy Burris, who graduated from the University of Virginia's School of Nursing a year ago, was thinking about his coronavirus bag.
In it, he'd have "extra scrubs, some extra clothes," he figured aloud as he made the roughly mile-long walk to work along Charlottesville's largely deserted streets on a beautiful spring day. "If I get exposed, I'd make plans to spend the night with some of my other exposed co-workers, and text my roommate that he'd have to go stay with his parents in Virginia Beach."
It was the latest attempt to assemble a plan in what had become a dramatic, un-plannable month. During the previous three pages on the calendar, the novel coronavirus had swept across Asia, then Europe, sickening hundreds of thousands before it arrived in the United States and rapidly spidered across the country. On this penultimate day in March, Maryland was the latest state to issue a stay-at-home directive, something Virginia's 8.5 million residents had already been doing for more than a week. Congress had just ratified a $2 trillion stimulus plan to provide relief from the flattened economy. A record-setting 13 million Americans had filed for unemployment.
The virus's toll had already been immense. By mid-April, more than 550,000 Americans had contracted the virus that causes COVID-19, and nearly 22,000 were dead. New York – now walled off from much of the outside world – accounted for nearly half of the nation's deaths, while newer hotspots in Louisiana, Michigan and Massachusetts were experiencing more cases.
Burris – who had already served a 14-day quarantine in his apartment after his mid-February trip to the Netherlands had come to a screeching halt – was back on night shifts in the ER at UVA Health. His significant other, a non-citizen, couldn't return to the U.S., and local friends working in restaurants and in retail were furloughed, and worried sick about how they'd pay May's rent.
Burris himself was acclimating to other changes the coronavirus had brought. The ER smelled a bit like tequila, he said, thanks to a donation of hand sanitizer from a local distillery. Protocols had expanded. Coworkers were on edge. And things that had been simple, pre-pandemic, now required careful consideration and extra steps.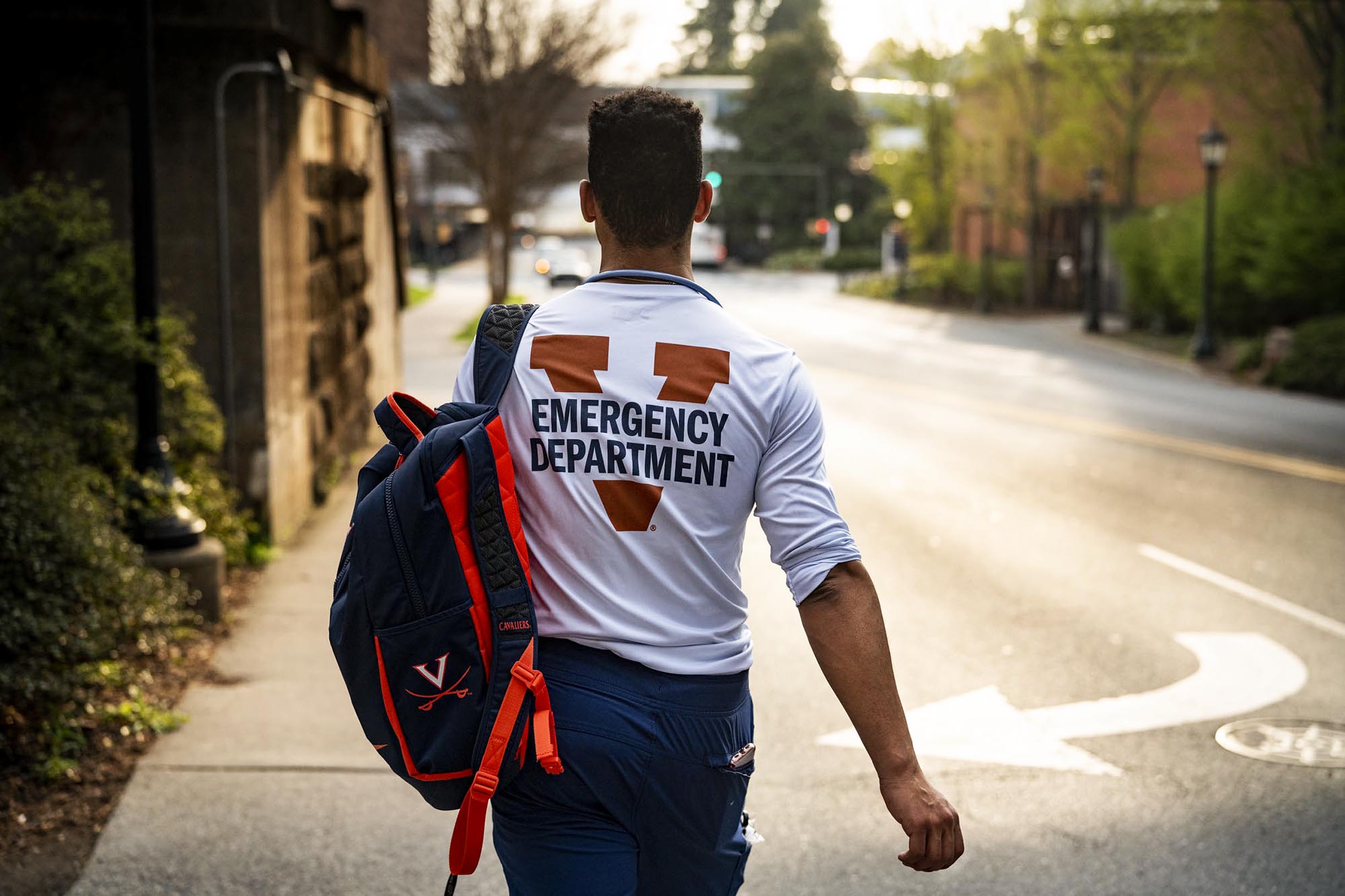 Billy Burris, who graduated from the School of Nursing a year ago and works in UVA Health's ER now, keeps a coronavirus bag packed with extra clothes and extra scrubs. (Photo by Sanjay Suchak, University Communications)
By early April, anyone arriving to UVA Health's ER exhibiting COVID-19 symptoms – including headache, nausea, diarrhea, chills, as well as fever, cough, aches, sore throat and runny nose – required care from clinicians outfitted in full protective gear. Although the ER's overall patient count was as low as Burris had ever seen it, the new protocols took extra time and getting used to, and complicated every interaction. If you suited up and then forgot an instrument outside a patient's room, Burris said, it could be hard to get a colleague to lend you a hand because everyone else was busy, too.
"Sometimes it feels like everyone else is in a room," Burris said, "and we're all trying to get someone to hand us something."
Even with the break in patient numbers, those who did arrive at the ER were more gravely ill than before, and Burris felt uneasy about what he was sure was coming: a storm of sick people in increasingly dire need.
It made him recall driving cross-country from Virginia to Oklahoma with his twin brother several years back. 
"The landscape is so open there, so flat, you can see a thunderstorm from miles away, and you can hear it, too," he said. "You're not there yet, you're 20 to 30 minutes away, but you can see those storm cells. You know it's going to be bad. You know it's coming.
"That's what this is like."
'More Eager Than Fearful'
Nursing students are quickly emerging into a profession that is on the front lines of the COVID-19 pandemic. That fact has not, by and large, made them wonder why they chose nursing so much as it's reinforced why they have.
"It's definitely made me want to become a nurse even more," said third-year student Martha Peterson, who left Grounds March 19 when the University announced dorms would close, and has been at her parents' home near Baltimore ever since. "All this has also given me a greater appreciation of nursing, too. If it's for the greater good, and helps people survive, the risks are really worth it."
For those in the class of 2020, however – many of whom graduated early and are eligible to take the NCLEX licensing exam in Virginia early, due to a fast-tracking of their graduation status – the itch to get to practice is keen, even as the fear of unknowns looms large.
That's true for Kiani "Kiki" Hudgens, who just graduated with her bachelor's in nursing and has worked throughout her time at UVA as a patient tech, first in a nursing home and, for the last two years, at UVA Health. Hudgens, from Orange, was disappointed when her fourth-year practicum at Mary Washington Hospital was cancelled, but said the part-time work tempered her fears by keeping her busy, even though it'd forced her to remain apart from her family, many of whom live locally.
The work had also given her a vantage point on both the severity of COVID-19 and the expansive, systems-wide protocol changes that have taken place to deal with and plan for it.
"Now that I've seen a COVID patient, it really makes me realize how serious the situation is."

- Kiki Hudgens
"It's interesting being on the front lines, and learning," said Hudgens, who begins work in June as a labor and delivery nurse at INOVA Hospital in Fairfax. "Working around COVID has made me more comfortable; I would've been fearful otherwise. That 'What am I getting myself into' feeling? I kind of know now and feel more eager than fearful."
"I'd be lying if I said I felt super brave," said fourth-year Tyler Gaedecke, who begins work in mid-June at VCU Health's pediatric intensive care unit, the hospital where he's worked as a nursing assistant on an adult surgical unit for the last year. "But I do think that I feel more needed than ever, more necessary. There are some who're asking, 'Did we sign up for this?' which will be a big debate for years in the particular generation of nurses I'm a part of, and that's a complicated question, but I'm definitely ready to get out there."
Even apart from their fears, students say the abrupt losses they've experienced – of their college days, of friendships cut short, of ceremonies missed and worries compounded – are painful. But some, like Hudgens, say that [they] appreciate the care with which faculty delivered the difficult news, pieces of which often came incrementally. Nursing faculty took care, she said, to virtually gather students to address the changes, assuage their concerns as best as they could, and continuously offer support and solace.
"It's not always about academics here," Hudgens said. "It's making sure we're OK, which makes coming to terms with all of this a bit easier. And now that I've seen a COVID patient, it really makes me realize how serious the situation is, and why everything is being cancelled. It's for everyone's safety, so I understand that part of it, too."
'Fulfillment of a Promise, and a Reminder'
So how does a school renowned for being close-knit, caring and an exemplar of a healthy work environment evolve in an era of when physical distancing and remote learning are the new normal? And how might it care for students, faculty, staff – even its alumni – while also being strict in its enforcement of the rules?
Days into the pandemic, the Compassionate Care Initiative led the way. Before COVID-19, the team offered multiple drop-in sessions most days of a regular battery of yoga, art, meditation, retreats and other activities. Pivoting in the week after UVA closed, the Compassionate Care Initiative held its first virtual drop-in session – Zoom office hours with Kenny, the therapy dog, a session led by mental health nursing professor Edie Barbero – and the following week transitioned other live drop-ins to the same platform.
"In light of the crisis and all the emotions it stirred, getting these offerings running online was critical," said Lili Powell, the Maria and John Kluge Endowed Chair in Compassionate Care and interim director, who, with assistant director Hannah Crosby, migrated Compassionate Care Initiative offerings into the virtual realm. "Their transition online was fulfillment of our promise, and a reminder: resilience matters."
The initiative quickly transformed its website into a hub for compassionate care, posting live, virtual drop-in classes in yoga, guided meditation, even t'ai chi, while also featuring information for health care workers in Stress First Aid, a peer support system championed by nursing professor Richard Westphal. It also deepened its alliance with the UVA Mindfulness Center, which, through the Compassionate Care Initiative, now offers daily "mindful pauses" and strengthened its ties to the Center for Appreciative Practice, UVA Health and the University as a whole.
Nursing faculty, like assistant professor Natalie May and professor Julie Haizlip, wrote and circulated essays about the power of positivity, and encouraged their students to tame their stress through self-expression – even assigning COVID-related haiku.
An Important Time
For many students, including fourth-year Meredith Bond, COVID-19 has taken something away even as it's given back something else, especially for nurses like her on the cusp of practice.
Living on the Lawn "was a once-in-a-lifetime opportunity," said Bond, originally from Atlanta. "I never imagined that I'd be able to open up my door to such a historic piece of land, especially in the morning before clinicals, maybe before the sun is even up, or on a mid-70s day.
"I think this is such an important time for us to be going into the nursing field, and taking that initiative to be leaders," Bond said before leaving the Grounds. "The school has taught us so much about resilience in the past 3.75 years, and that's something that everyone needs right now, and we know so much about it. Not every nursing school has that. That's something we have, and can take into the field, and demonstrate through our practice."
Article Information
May 26, 2020
/content/resilience-time-covid-19-how-uva-nursing-adapted