Editor's note: This article was originally published July 7, 2015.
When most college students discuss their first job experiences, they usually hark back to things like waiting tables, keeping an eye on swimmers in the deep end or helping manage young campers.
LeiLei Secor is a little different. A rising second-year student at the University of Virginia, she's been her own boss since age 16, and she's made more than $100,000 doing it.
In the summer of 2012, Secor started Designed By Lei, an online shop on Etsy (an e-commerce hosting site focused on handmade and vintage items) that sells custom jewelry. What started as a way to earn some extra cash soon became a thriving business.
The Hagaman, New York native operates the company completely on her own, personally handling all the jewelry making, marketing efforts and order fulfillment. As a high school senior in 2014, she earned the National Federation of Independent Businesses' Young Entrepreneur Award and decided to continue her business when she entered U.Va.'s College of Arts & Sciences that fall.
While carefully juggling classes and time spent fulfilling orders, Secor had her most successful year to date. She's spent the summer further expanding her store, going beyond Etsy for the first time to launch her own website, designedbylei.com.
UVA Today recently caught up with Secor to talk a little business.
Q. What made you decide to start Designed By Lei when you were 16?
A. I was looking for a summer job and every place I applied to either didn't get back to me or wasn't hiring, so I thought, "What if I sell jewelry online?" Once I had that idea I really liked it because it's so flexible and I could carry on throughout the school year.
Q. What brought you to U.Va.?
A. When I was first looking at colleges, I was interested in business and I really liked U.Va.'s program. Once I visited for Days on the Lawn, I fell in love with the atmosphere. I'd like to eventually apply to the Commerce School or double major in economics and foreign affairs.
Q. How did you first get the idea for DesignedbyLei? Did you have any prior experience?
A. I made jewelry when I was young and I mostly made just basic friendship bracelets, but during my 10th-grade spring break I taught myself how to do macramé beaded bracelets. It was really something that I enjoyed doing and I thought I could try it as a business.
I opened my shop on July 27, 2012 and listed my bracelets first, but I found that I wasn't really getting any views, so I started looking for other things I could make instead. Looking on Etsy, I saw that wire jewelry was really a trend so I taught myself more about how to make it.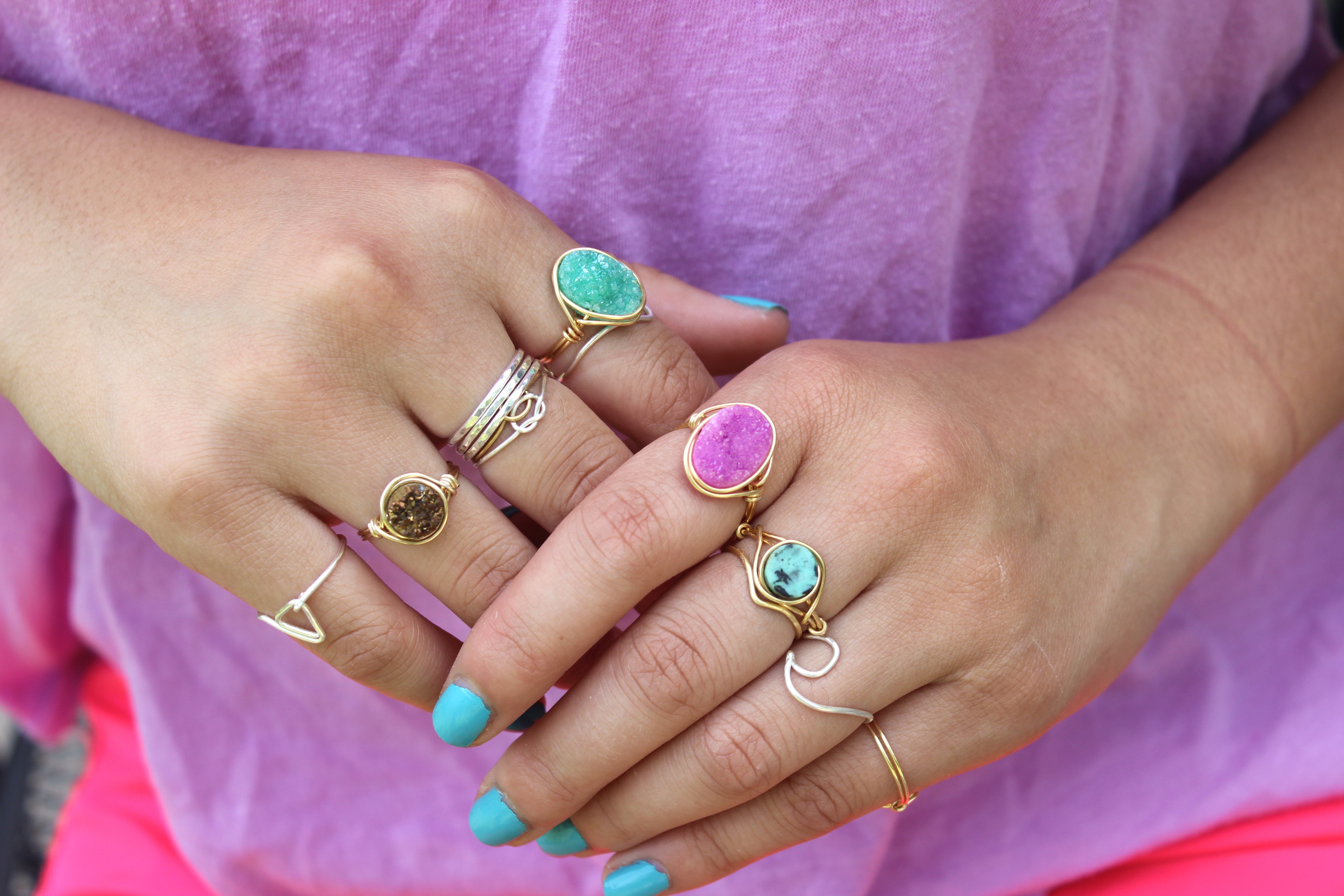 Secor's primary business is custom-made wire rings, but she has recently expanded her shop to include a new line of necklaces.

Q. How do you stand out among the thousands of other retailers selling jewelry on Etsy?
A. I really focus on the smaller details. I like to take a lot of time and make sure that my pictures are something that will catch someone's eye when they are scrolling through hundreds of items. Another important aspect I learned was search engine optimization;  SEO can really make or break your Etsy store because if you're not found in the search engine, you don't get any traffic. I also spent a lot of time promoting myself on social media when I was first starting out.
I was really successful on Wanelo [a digital mall that helps users discover and buy products online] when I was first starting. I use Facebook and Pinterest and I just recently started my Instagram again. I've also been on Tumblr too. One of my 'love' rings has been reblogged more than 50,000 times.
Q. What's the most surprising thing you've discovered about running your own business?
A. How fast everything goes. When I was 16 and just starting, I had no idea what to expect, how fast it would pick up, or how quickly I would have to adapt to the volume of orders and change the way I did things so I could fulfill all of them.
Q. Have any of your studies on Grounds helped you improve your business?
A. I took the class "How Business Works" with Professor [Robert] Kemp [Raymond W. Breeden Senior Research Professor for the McIntire School of Commerce] in the fall and I learned a lot of things there that I want to apply to my business. Formally learning about the different aspects of business and business processes helped me tweak some of my own. I learned about really creating value for the customer. Now I try to focus more on the customer's experience and try to get back to them on time, even though it's hard to do that during finals and midterms.
Q. How do you balance business with your academic career?
A. If someone emails or contacts me, I try to get back to them right away rather than waiting. When I make the jewelry, I try to think of it as any other job and set aside specific hours a week. On days when I'm really pressed for time, I think of ways to do two things at once, like playing class-related YouTube videos or digital flashcards in the background while I make jewelry. Even though making jewelry is job, it can also be a nice break from the stresses of schoolwork.
Q. What are your average sales per week?
A. Over the past three years, my average number of orders was 63 per week. But during the holidays – which I count as Black Friday to Christmas – my average goes up to about 115. During that time last year, I did 460 orders in four weeks, which was also right around finals, so that was a really interesting time for me.
Q. Any advice for other budding student entrepreneurs?
A. One of the most important things is to really do your research and utilize all the resources available to you. I spent a lot of time online reading everything I could about this business. You need to spend the time and really take advantage of all the opportunities already provided to you.
Q. What are your future plans for DesignedByLei?
A. I've been working a lot this summer to try to expand my product line by adding necklaces and things like that and further promoting my website. So hopefully I'll start seeing more sales outside of Etsy.
Q. Do you see yourself continuing the business after college?
A. Definitely. I'd like to continue it after college. Designed By Lei is my creative outlet.
I like making jewelry and all the work I do online and taking the pictures. It's fun for me.
Article Information
January 6, 2016
/content/second-year-student-runs-100k-jewelry-empire