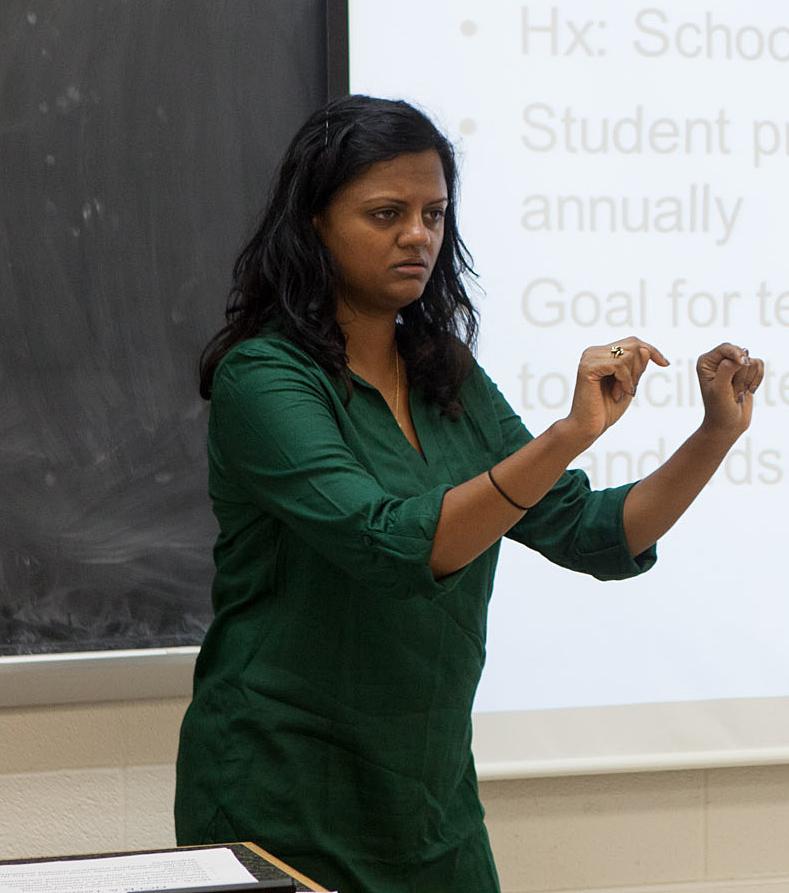 No one ever determined why Shilpa Hanumantha and her younger sister were born deaf to hearing parents. A native of Bengaluru, India, she attended a school for the deaf, but her parents moved the family to the United States when she was 6 years old to seek a better education for their daughters.
She received most of her education in the Fairfax County Public Schools. She earned her bachelor's degree in biology from George Mason University and her master's and Ph.D. in clinical psychology from Gallaudet University, the premier institution of liberal education and career development for deaf and hard-of-hearing students.
After finishing her Ph.D. in 2008, she worked as a post-doctoral fellow at Gallaudet's Visual Language and Visual Learning Center, where she researched, reviewed and sought to improve psychological assessment tools commonly used for deaf children.
Hanumantha's journey has now brought her to the American Sign Language Program in the University of Virginia's College of Arts & Sciences, where she is a full-time lecturer in courses in intermediate sign language and psychology and deaf people.
Associate professor of English Christopher Krentz, who directs the ASL Program and is also deaf, said, "We are glad to have Shilpa Hanumantha in the ASL Program at U.Va. She diversifies our curriculum and our faculty, and with her warm, engaging personality puts people at ease." As far as he knows, they are the only two deaf faculty members at U.Va., besides several part-time lecturers who teach in the ASL Program.
Hanumantha, in a recent interview through interpreter Laurie Shaffer, pointed out that there is a lot of diversity within the deaf community. Though she and Krentz have deafness in common, they have had very different lives, she said.
Her first language is English, albeit unspoken. Hanumantha first learned "cued speech," a visual communication system in which mouth movements of speech are combined with hand signals. By presenting spoken sounds with visual signals, cued speech helps integrate the senses to avoid confusion. It provides a basis for learning to read and for learning lip reading.
In high school, she learned her second language: American Sign Language, developed by Thomas Hopkins Gallaudet and other educators in the 19th century. Like other languages, its grammar and syntax are distinct from any oral language. There are regional dialects of ASL, and several other sign languages in Europe and other countries.
In her course on psychology and deaf people, she explores the development of identity and what it means to grow up as a deaf person.
"There are a great deal of psychological aspects from infancy to adulthood," she said. A few of the questions include, "Are the parents deaf or hearing? What's the child's  education? What's the environment?"
She uses ASL at all times when teaching, she said. "For my psychology course, I have two ASL interpreters who voice for me and sign to me what the students are saying in class.
"I'm enjoying being with students, and they're getting used to me being so animated," Hanumantha said.
Her students say they're enjoying her, too.
Miranda Hogan and Mallory Woolridge are third-year students majoring in psychology, both hearing, who've always been interested in ASL, they said.
Hogan is pursuing a master's of teaching degree in special education in the Curry School of Education and thinks learning the language will be useful in her career, she said.
"Since most of the class understands ASL now, class is more about refining our skills, and Shilpa is very encouraging of our signing. She tells us that we shouldn't be shy and we just have to practice. I feel like I'm getting to know my classmates really well," Hogan said.
Woolridge said Hanumantha is a great addition to the ASL staff at U.Va. "She is someone who I respect a ton, and I have learned a lot this semester from her. She makes class fun and informational at the same time, and I think that is very important."
Hanumantha has served on the boards of several non-profit organizations within the deaf community, including Deaf Women United. She said she feels invested in helping cultivate the deaf community at U.Va. and in Charlottesville, especially in attracting more deaf professionals here.
Media Contact
University News Associate Office of University Communications
anneb@virginia.edu (434) 924-6861