Lisa Speidel's phone was blowing up during the University of Virginia football team's win over Florida State on Saturday night at Scott Stadium – and it had nothing to do with the Cavaliers' awesome performance.
Rather, it had everything to do with hers.
Late in the first half, the play-by-play announcer on the ACC Network explained that, as part of the College Football Playoff Foundation's "Extra Yard for Teacher's Week" – an annual celebration honoring great teachers across the country – UVA quarterback Bryce Perkins had a special message.
A pre-recorded video clip with Perkins then popped onto the screen.
"I want to give a shout-out to all the teachers out there – with a special shout-out to my women and gender studies teacher Lisa Speidel," Perkins said. "It's definitely one of the best classes I've taken since I've been in college. It definitely changed me as a person and I'm really appreciative."
Speidel is an assistant professor in UVA's Department of Women, Gender & Sexuality who has worked in the Charlottesville community for 26 years in multiple positions, including in outreach education at the Sexual Assault Resource Agency (SARA) and working directly with sexual assault peer education groups.
Speidel's current work and research focuses on examining the roles of masculinity, healthy sexuality, gender-based violence and the intersection of racism and other forms of systematic oppression.
On Monday, UVA Today caught up with Speidel.
Q. Were you surprised at Bryce's "shout-out"?
A. Very much so! I didn't know anything about it. I was shocked. I was at a concert in Harrisonburg to hear a rock band called the Supersuckers and my phone just started blowing up. It was pretty fascinating since I wasn't actually watching the game and didn't know what was going on.
The biggest shock was I heard from a friend whom I had lost contact with 30 years ago. I got an email from her in the middle of this show and it was very emotional. I was very moved by it. It was totally unexpected.
Q. What has been the response since?
A. So many of my colleagues, in response to the shout-out, were like, this is so awesome, but what makes it even cooler is that it's involving a women, gender and sexuality course. We don't typically think of men being involved in those courses. But guys are wanting to learn. They want to question things.
One such class is my "Men and Masculinities" class. That's always very interesting. People are always like, "How come you get so many men in this class?" I think we don't create enough spaces for men to question the pressures and expectations of masculinity, what that feels like and how there could be struggles with that.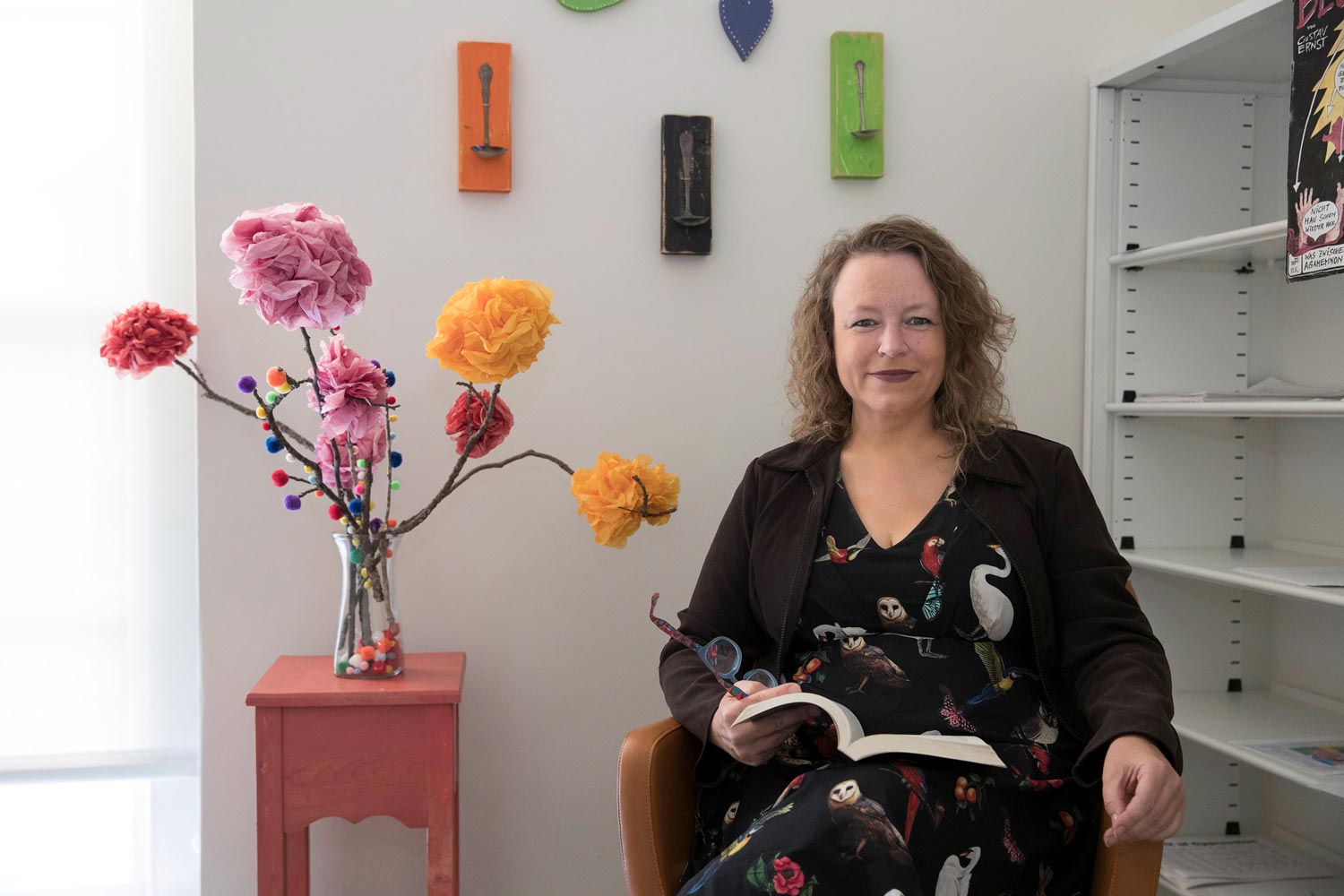 Lisa Speidel is an assistant professor in UVA's Department of Women, Gender & Sexuality. (Photo by Dan Addison, University Communications)
Q. The course that Bryce alluded to – can you give us a brief synopsis of it? How long have you been teaching and what are its objectives?
A. The class he was in was called "Human Sexualities." I've been teaching it for four years. It's really about challenging our perceptions of sexuality and misinformation that we've grown up with. One of the most common statements students share in their reflective writing is, "I thought I knew everything, and I knew nothing."
Students think about themselves and what role sexuality really plays and how we can promote healthy sexuality and have more respectful interactions with each other and understand consent.
Q. What is Bryce like as a student?
A. He's very engaged, interactive and super present with the content. He's a critical thinker, really questioning.
I think we have a tendency to stereotype athletes. They can get a bad rap within the academic realm, historically. It's just really cool to have these guys so engaged and really questioning things.
Q.  Can you tell us a little about your new book, "The Edge of Sex: Navigating a Sexually Confusing Culture from the Margins," that is coming out in December?
A. It's actually an anthology that was motivated by my students in the Human Sexualities course. They do a lot of reflective writing and I was so moved by their stories – what struggles they're going through, their courage, their resilience. There are just a lot of people who feel really excluded in this conversation around sexuality. Our sex education in this country is pretty bad and people come into adulthood without very much information. This was created as a platform for all of those unheard voices. There are lots of different perspectives.
Q. You've taught women's self-defense courses in the community and as a credit-based course at UVA and you're now in the process of developing a new self-defense program that focuses on acquaintance assault. Is that a much bigger problem than people realize?
A. It's estimated that 85 to 90% of assaults are being done by someone known to the victim. Traditional safety tips focus a lot on avoidance techniques, like don't go here, don't do this. We often don't learn skills on how to respond to certain situations. A lot of the techniques out there are what we would call very "stranger-focused."
Listening to people's stories, everything is about somebody who they knew and their choices not being respected or whatever the dynamic is. So we're trying to build on practical skills that are needed in the majority of the situations. What do you do if you're on a couch? That's very different. We've created a whole program where we bring in actual couches and practice all these techniques on couches. It's called REAL (Resistance, Empowerment, Awareness and Life Skills) Self-Defense for Women.
"[Bryce] is very engaged, interactive and super present with the content. He's a critical thinker, really questioning."

- Lisa Speidel
Q. In regard to issues on Grounds pertaining to women, gender and sexuality, what kinds of progress have you seen over your two-plus decades in the community, and how much more work needs to be done?
A. I think what I've definitely seen is a change in normalizing the conversation around it. We are a lot less silent. We've got a lot more people involved in the conversation, a lot more men involved in the conversation instead of it just being a "women's issue." This is something that's important for everybody. Everybody has gender. Everybody has sexuality. I've definitely seen improved alliances between men and women. There's been a shift, culturally, in that way.
I think we have a ways to go, but where I've really seen change in class is watching peers questioning each other or saying, "Hey, why are you using that language or putting that group down?"
I think it's really important to approach it as an issue for everybody.
Q. In the wake of Bryce's shout-out, you're probably going to need to go to a few games now, right?
A. Yes [laughing]. A friend of mine who has season tickets said, "You're going with me!" So I am going to go to a home game soon.
Article Information
September 16, 2019
/content/shout-out-uva-quarterback-bryce-perkins-shocked-uva-professor