Fourteen years ago, Dr. Mohan Nadkarni started a course designed to give first-year University of Virginia medical school students some real-world experience outside of the hospital setting.
Today, the course – "Social Issues in Medicine" – also known as SIM, has morphed into something much greater.  In just one year, SIM was transformed into a project-oriented partnership focused on outcomes in the community, from schools to clinics to the Albemarle-Charlottesville Regional Jail.
All 156 students in the course were placed in groups at 27 community health and human services agencies and schools around Charlottesville and surrounding areas, serving at-risk populations and performing more than 4,000 hours of service.
The partnerships – and accompanying projects – ran the gamut.
One involved assisting Hospice of the Piedmont with a bereavement day camp for kids and their families.
Another was through the UVA Children's Fitness Clinic, aimed at curtailing childhood obesity in three area schools, and a project at the Legal Aid Justice Center, advocating for community members faced with legal issues.
One project was geared toward health education for inmates at the Albemarle-Charlottesville Regional Jail.
"Many individuals from the inmate population that we serve have not had adequate healthcare," said Olivia Dillon, the jail's director of programs. "Whether that be due to inability to pay, anxiety of the initial seeking of treatment or embarrassment, or even putting their care on the backburner.
"That is where the efforts of the Social Issues in Medicine course students come in. The students selected to complete their hours at the jail are able to give basic health lessons on oral hygiene, general self-care, mental health care, STDs, and even dietary needs in the form of a weekly one-hour class. That hour gives the inmates the ability to understand how their bodies work and gain the confidence they need to seek treatment."
The best part about the Social Issues in Medicine class as a whole is that it will benefit community members and first-year medical students alike for years to come.
At least, that's the hope according to Nadkarni.
UVA Today caught up with him this week to learn more.
Q. Can you tell us about a couple project outcomes you were particularly pleased with?
A. I think the hours speak volumes: over 4,000 hours of directed service-learning was provided out in the community by our medical students. It's tough to pick one or two projects; all of our partner agencies do such great work to help improve the lives of the people in our community.
However, one that comes to mind right now is our students' work at City Schoolyard Garden, a new placement for us this year. City Schoolyard Garden manages eight organic schoolyard gardens and provides experiential garden programming for over 3,500 children and their families. It wasn't the most glamorous placement, but the students got it. They recognized the "fruits of their labor" and really bonded as a group and with the staff and volunteers at City Schoolyard Garden.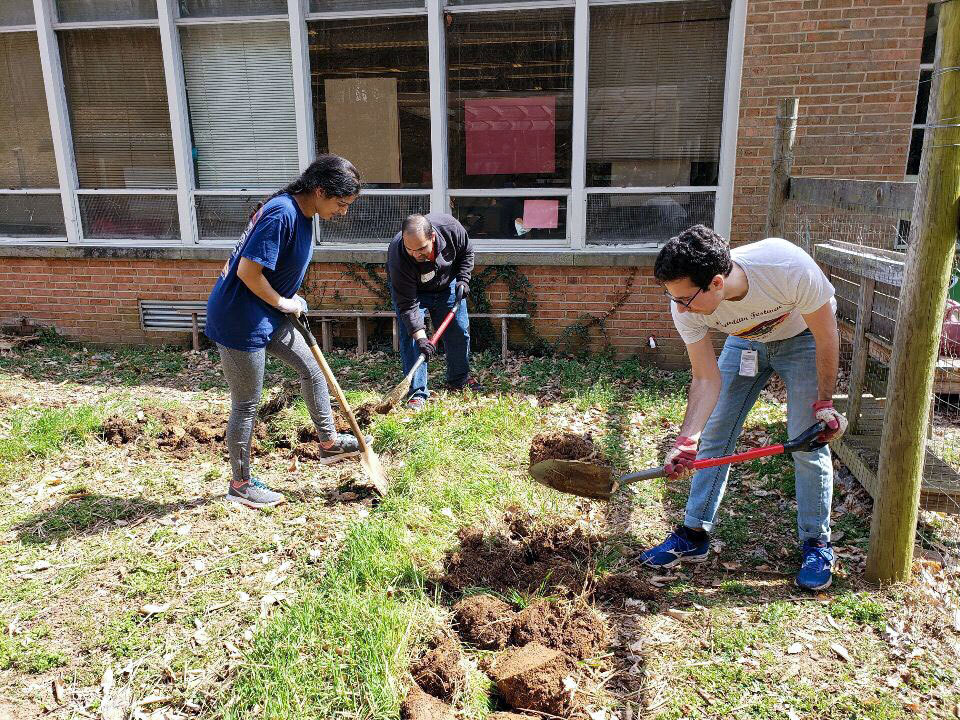 UVA School of Medicine students Jasmine Malhi, Naveen Kotha, and Elias Ayoub take part in the City Schoolyard Garden project. (Contributed photo)
Our students worked in the Greenbrier Elementary School garden and helped prepare 25,600 nutritious and fresh snacks for distribution in all nine Charlottesville public schools. The snacks they prepared were part of the Harvest of the Month program, educating children about seasonal vegetables and fruits. "From the garden, in the classroom, on the plate" is how they describe it.   
I was also particularly pleased with some of the groups that recognized a need and took the initiative to make an intervention. For example, medical students placed at the Boys & Girls Club Southwood created bilingual math and reading worksheets in areas where the children struggled most, and students at The Salvation Army provided a health screening in collaboration with the Virginia Wellness Initiative.
It's also noteworthy to mention that a significant number of our students continue serving at the sites. I just learned recently that an MPH/MD student who is completing his final year of studies here still mentors the boy he was matched with during his service-learning experience five years ago!
Q. What was the impetus for expanding the program this year?
A. We really wanted the course to help the community achieve improved health outcomes connected to the MAPP2Health assessment for the Thomas Jefferson Health District [which serves Charlottesville and surrounding areas], while also enhancing the educational, service-learning component by utilizing groups of students working on outcome-oriented, relationship-based projects rather than individual placements at agencies.
MAPP stands for Mobilizing for Action through Planning and Partnerships, and it is a strategic framework used by communities across the country to engage agencies and community members to work together to review health indicators and qualitative data, identify resources and strengths, determine community health priorities, and plan for action around those priorities.
The four priority areas for our district include promoting healthy eating and active living, addressing mental health and substance use, reducing health disparities and improving access to care, and fostering a healthy and connected community for all ages.
Q. Why do you feel this course can be so valuable?
A. This course enables medical students to gain insights into the social determinants of health that have a major impact on medical outcomes, while providing firsthand experience out in the community. I believe it highlights the importance of doctors addressing social needs and nurtures an ethic of service early on in the medical school training experience. 
Q. Do you have any other takeaways from how the course went or things you hope to incorporate in the future?
A. We hope to incorporate longitudinal projects that can be ongoing from year to year and foster a real partnership between community agencies and the School of Medicine.
Article Information
June 20, 2019
/content/social-issues-medicine-course-brings-med-students-schools-clinics-jails