As the son of a Cuban father and Colombian mother, Emilio Alonso didn't think he would fit in at the University of Virginia. So much so that – despite having been admitted – he had all but scratched UVA off his college list.
But then his Uncle Leo got into his ear.
"He was like, 'It's a great school. You can't pass up this opportunity,'" Alonso said. "So I kind of went reluctantly."
However, Alonso did a 180-degree turn as soon as he got to summer orientation.
"I just met the most incredible people, who, to this day, I'm pretty much best friends with," said Alonso, a first-generation college student. "We instantly connected, and it really opened me up to being more open-minded about things.
"Coming to UVA was the best decision I ever made."
But Uncle Leo, whom Alonso had relied on for guidance even before his father Manuel  died in a 2002 car accident – wasn't done providing wisdom.
Shortly after Alonso graduated from UVA's McIntire School of Commerce in 2003, it was Leo Alonso, his father's brother, who directed him toward starting what has been a successful career in real estate settlements. Emilio Alonso, who lives with his wife, Ampi, and their three sons in Fairfax, has been the co-owner of Elite Settlements LLC in Silver Spring, Maryland, for the last 17 years.
And it was just a few years after he got the company off the ground when Uncle Leo, whose daughter has Down syndrome, got Emilio involved with Special Olympics. Leo had been coaching children with intellectual and developmental disabilities at a George Mason University program called "Mason LIFE."
"I thought I would just help out for a season or something like that," Emilio Alonso said. "I wasn't planning on doing it as long as I have, but it's been incredibly rewarding and a lot of fun. The kids are great, it keeps me in shape and I've learned that I really have a passion for coaching.
"Honestly, if I could do it all again, that's probably the route I would go. It's incredibly rewarding and I love the challenge of basically trying to get the right combination of guys to play above their level. It's not always about having the best talent. It's often about chemistry."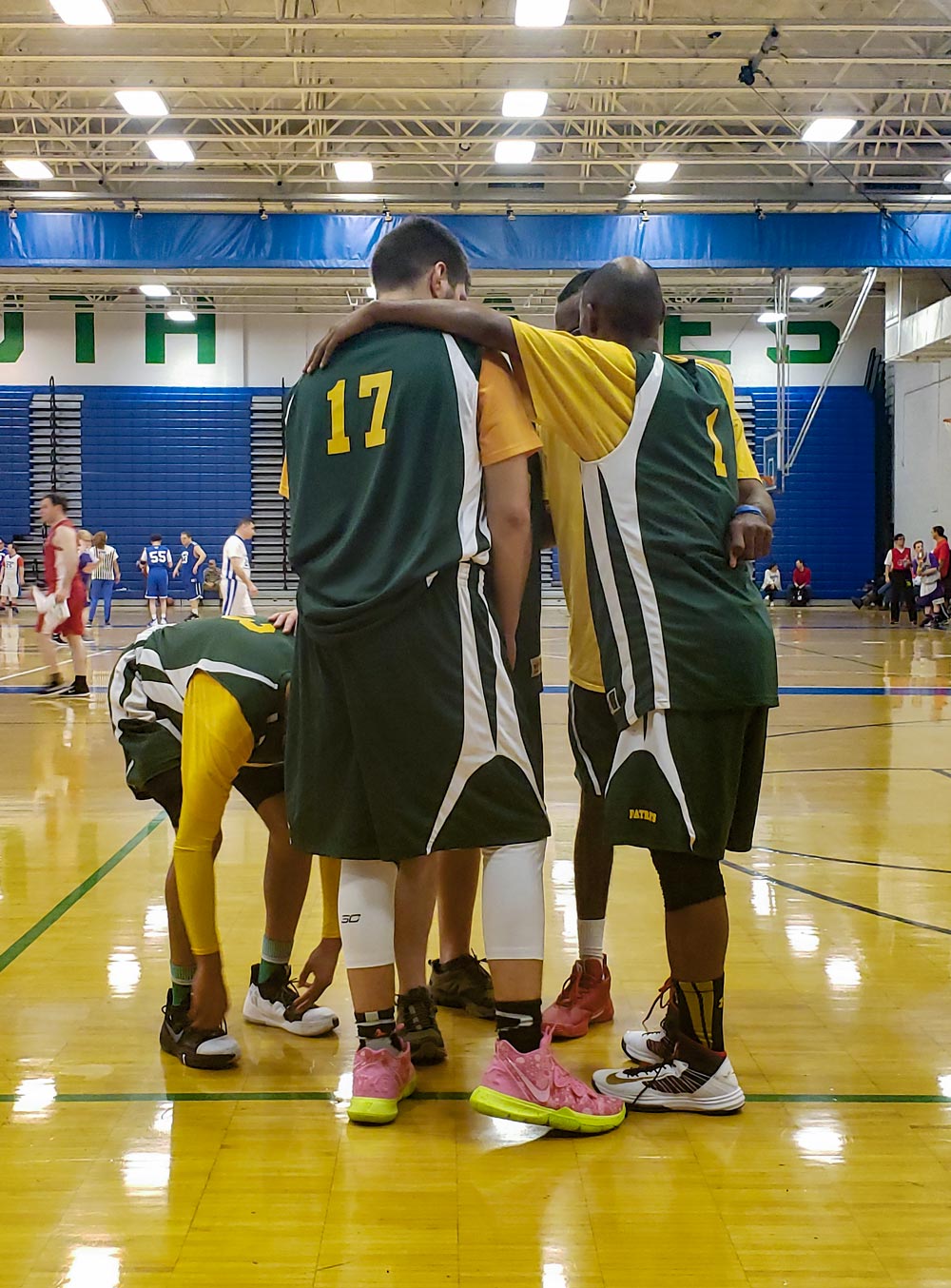 Special Olympian Chris Carter is the product of a George Mason University program called "Mason LIFE." (Photo courtesy of Special Olympics)
About eight years ago, Alonso – who played basketball at Paul VI Catholic High School in Fairfax – met Special Olympian Chris Carter through Mason LIFE. He first coached Carter in soccer before becoming his basketball coach.
In 2016, Alonso coached Carter and others to a Division 1 gold medal at the Special Olympic state games.
Last year, when Carter's parents told Alonso of their plans to nominate their son for the 2020 NBA Cares Special Olympics Unified Basketball Game, part of NBA All-Star Weekend in Chicago, Alonso immediately offered his assistance.
"I realized he was the perfect candidate," Alonso said. "They wanted somebody who was high-caliber, and he's just so knowledgeable and passionate about the game. He's good at making everybody else a better player, always trying to bring up his whole team, rather than just saying, 'Hey, give me the ball, I'm going to score all the points.'
"And his personality is just infectious. When you see him, you know that he loves life, loves basketball and is just a great person in general. I was like, 'The NBA would love him.'"
Alonso enlisted two of his friends – one of whom, Jahan Hardy, had attended UVA and was working at a Los Angeles television station – to help make a video of Carter to submit to the selection committee.
The result was as impressive as any NBA production.
"When Chris' mom saw it, she immediately booked their flights to Chicago," said Alonso, with a laugh. "She was that confident."
Carter was indeed one of 12 Special Olympians chosen.
On Friday night in Chicago, he'll team with former NBA stars like Horace Grant and Toni Kukoč against a squad featuring Muggsy Bogues, Dikembe Mutombo and others. The game also will include several players from the WNBA.
Alonso can't wait to see Carter in action. "Words can't express how I proud I am of him," he said. "This will be a once-in-a-lifetime experience for him, a dream come true."
Carter practiced on Thursday in Chicago in preparation for the five-on-five, full-court game that precedes the NBA's Celebrity Game.
A big University of North Carolina fan, Carter, 30, said he is looking forward to meeting several of his NBA heroes, including former Tar Heel James Worthy.
Sadly, he won't get to meet his favorite all-time player, former Los Angeles Lakers star Kobe Bryant, who recently died in a helicopter accident.
"Kobe was my man," Carter said. "I just loved his passion – not just for the game of basketball, but for life.
"We were seeing him in that second phase of his life, which was being a 'girl dad.'"
Despite the fact he'll be playing in front of thousands of people, as well as a worldwide audience tuned into a live stream on the NBA Cares Facebook page, Carter said he won't be nervous.
"When that ball jumps," Carter said, "it will be just like a regular pick-up game."
If he should have butterflies, Alonso will be right there with him on the sidelines. Carter said he always takes solace in that.
"He's been like a second dad to me," he said. "He always wants the best for his athletes."
That's not to say the pair saw eye-to-eye right from the get-go. Alonso's coaching style, which he said he honed from fiery high school coach Tim Holmberg – as well as from some of his favorite management courses at McIntire – took some time for Carter to get used to.
"When I first met him," Carter said, "I thought we were going to collide."
Looking back on his own childhood, Alonso said he often felt that way with Uncle Leo.
"He was always tough on me," Alonso said, "but sometimes you need that growing up."
Alonso said his late father; his mother, Elena Andrews; and her husband, Greg, instilled similar principles in him.
"My mother worked two jobs to raise my brother and me. My father was always helping others before he helped himself. And my stepfather always supported me and helps take care or my kids to this day," Alonso said. "They've always kept me grounded."
Article Information
February 13, 2020
/content/special-olympian-living-his-basketball-dream-help-uva-alumnus