A University of Virginia student-athlete has been nursing a strained hamstring and is anxious to return to game action. She seems to be moving well in practice. Confidence is high. Imaging results look good.
But how does anybody – the doctors, the athletic trainers, the coaches – truly know if she is physically ready?
Jay Hertel believes the answer is at our fingertips.
For the last couple of years, the Joe Gieck Professor of Sports Medicine in UVA's Curry School of Education and Human Development and two kinesiology Ph.D. students, Alexandra DeJong and Natalie Kupperman, have been examining data from sensors worn by Cavalier student-athletes in basketball, volleyball and cross country.
In today's sports world, many people are interested in how the digital technology can improve performance – running faster, jumping higher, working out longer – but Hertel is interested in it from a sports medicine perspective.
"I think there is so much data that's being generated that is relevant to injury-risk factors and injury recovery," said Hertel, who is an athletic trainer and holds appointments in the Curry School's Department of Kinesiology and the School of Medicine's Department of Orthopedic Surgery. "That's my goal in engaging with the various coaching staffs who have chosen to invest in this type of technology.
"What I really want to be able to do is demonstrate that it has benefits not just toward improving sports performance, but also improving sports safety from an injury prevention and a safe-return-to-play-after-injury standpoint."
Hertel's work dovetails with a pan-University project in which the Department of Athletics is partnering with a faculty in a number of departments – including kinesiologists, statisticians and engineers – to promote the development of safer and more effective training and coaching methods through collaborative research and data collection.  
The project is designed to improve the health and safety of athletes, create competitive advantages for teams and individuals, and position UVA as a leader in sport science, athlete development and team performance.
Key members from each of the participating units have formed a committee that will process proposals from coaches, faculty, staff and/or student-athletes and assign teams of researchers, data scientists, statisticians and content experts to seek new levels of understanding, improved methods and competitive advantages. 
"Our hope," deputy athletics director Ted White said, "is that, collectively, we can have a positive impact on the health and well-being of athletes and teams everywhere – at every level."
About three years ago, Hertel began measuring the forces and motions in the lower bodies of UVA cross country and track team members – as well as runners in the Charlottesville community – by attaching commercially available sensors to their shoes.
After examining these biomechanical measures, Hertel could tell how hard runners were hitting the ground and with how much motion, among other things.
On one occasion, Hertel discovered that a runner who had been reporting heel pain had changed mechanics. "We could actually see that they were adjusting the position of their foot when it hit the ground," said Hertel, who never knows the identities of the athletes. "We call that foot-strike. The foot-strike position has been associated with increased injury risk in previous studies. That's something we wouldn't know if we weren't actually tracking it because athletic trainers can't personally follow distance runners on their runs the way we can be at a basketball practice where you can more easily observe, 'Oh, that player's limping.'
"This gives us an opportunity to actually track their steps."
Vin Lananna, UVA's new director of track and field and cross country, has had lots of experience working with academia to get the best use out of digital technology in previous coaching stops at Stanford University and the University of Oregon, and expects to do the same at UVA.
"What are the limits of the human body?" Lananna said. "You can measure what they report, clinically, against the objective information. That's the key – being able to blend the artistic side of coaching, where you say, 'Hey you look tired,' versus being able to actually measure it. Has their gait changed, are they running slower?
"Whatever workout you're doing, is it really accomplishing physiologically what you think it is accomplishing?"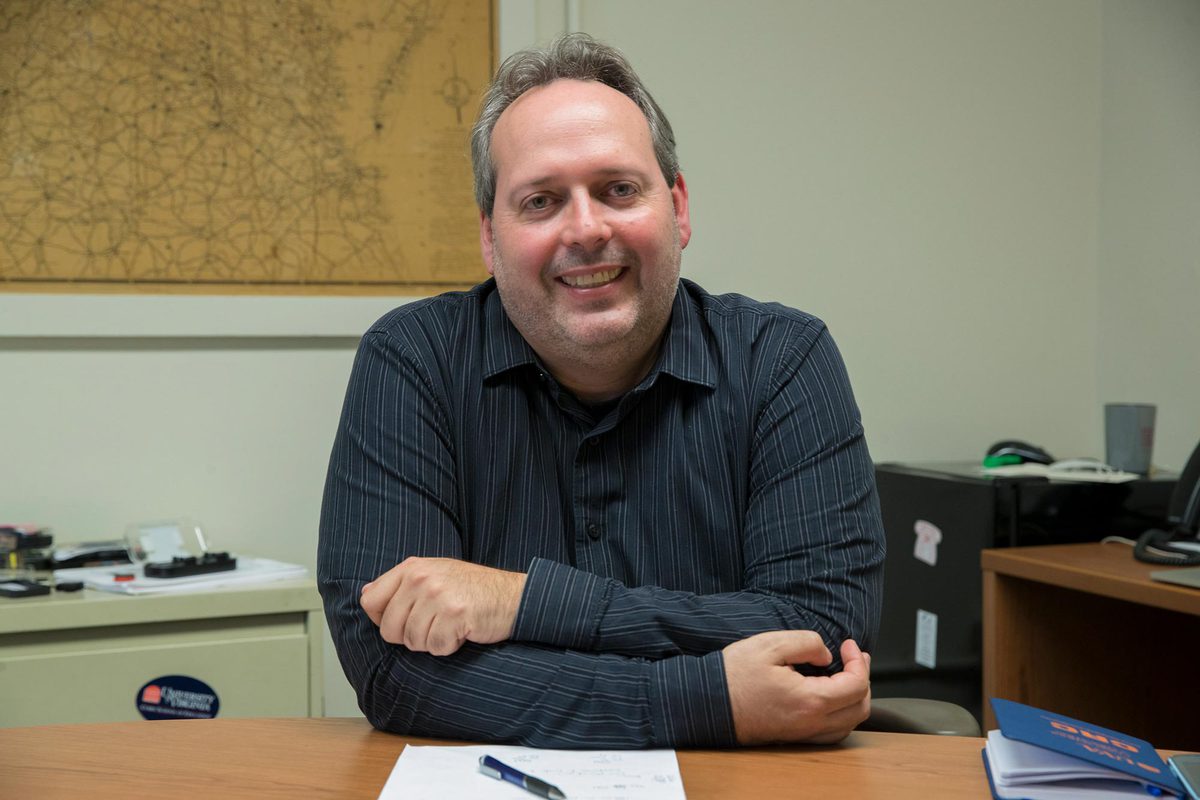 Jay Hertel extracts all kinds of biomechanical data from the sensors he attaches to runners' shoes. (Photo by Dan Addison, University Communications)
In addition to his work with the UVA teams, Hertel has had members of the Charlottesville running community wear the sensors in all kinds of races, from 5Ks through marathons. Frequently, he has been able to detect mechanical changes as runners tire, which can lead to injuries.
Hertel said one of the best things about today's wearable technology is that a baseline has been established and he is able to compare athletes' metrics over time as they relate to injuries.
"We already have the data from before they were hurt and know what their top velocity was and how often they reached that in practices and games," he said. "So we can actually build better rehabilitation programs that help them safely return.
"Our goals are to identify relationships between player workload – what the players are reporting in terms of how hard practices are and what their responses are in terms of fatigue and how sore they are and things like that – to injury risk."
For several years now, UVA men's basketball strength and conditioning coach Mike Curtis has utilized a measurement system, called Catapult, in which players wear a harness containing sensors around their torso. The system measures how quickly players start and stop, how high they jump and how far they move, among other things, during practices.
"He's been at the forefront of using sensors and doing continuous athlete monitoring," Hertel said. "Mike is using it on a daily basis to try and inform adjustments to practice intensity and things like that.
"What we're doing now is going backward and basically looking for patterns over longer periods of time. We're interested in things related to injury risk and overtraining."
The UVA volleyball team just began wearing Catapult this season. Head coach Aaron Smith said it has been helpful in determining player workload. The sensors have GPS and are so precise that they can tell him specific things about their movements, such as their number of jumps and how many times they went to the floor.
In the future, Smith said he hopes it will help him design practices and workouts.
"In today's world, the more information you can get, the better," he said. "As a coach, you have to be able to sort through what's the important stuff because there is so much at your fingertips with data analysis.
"But I think this can certainly help with preventing injuries, which we've had a number of this season."
Hertel's long-term goal is to create a repository for schools from all over country, as well as pro teams, to store and share their data.
"Right now, it's kind of every team for themselves," he said. "We know through science that larger sample sizes give us better pattern recognition ability.
"We're in communication with a school about sharing data. I'm hopeful that once we get that one, we'll then reach out to other schools. I think that really could help put us at the forefront of sports medicine research related to wearable sensors."
Article Information
November 8, 2019
/content/sports-medicine-professor-wants-uva-be-forefront-wearable-sensor-revolution