Currently, many health care team members are under great pressure to perform at work, to work more than usual, to care for increasingly sick patients, and to do all that while trying to stay safe and juggle family responsibilities. A recent article in Virginia Nursing Legacy Magazine, produced by the University of Virginia School of Nursing, details the stresses nurses are facing at UVA and beyond.
"There is a national conversation being held among nurses and clinicians about resiliency and burnout," said Jane Muir, a registered nurse who works in the UVA Emergency Department and also is a doctoral student in the School of Nursing. "The talk is about framing burnout or exhaustion at work as an individual issue or systemic issue. Integrating the research, we know that it's both: how clinicians cope in that moment and the systems supporting them."
While large issues loom with no easy or quick fix, the pressure can feel constricting. In the short term, team members have hope to address stress at the individual level. However, seeking help can seem overwhelming, take too much planning, be located too far away, and maybe taking care of yourself seems a little too … selfish?
Three nurses – who themselves are feeling the weight of the job's load – decided to do something to address some of these challenges. Muir; Jeanell Webb-Jones, registered nurse and hepatitis coordinator in UVA's Infectious Disease and Travelers Clinic; and Nancy Farish, a registered nurse in the Post-Anesthesia Care Unit, put their heads together and created a "resiliency toolkit" to be housed inside work areas.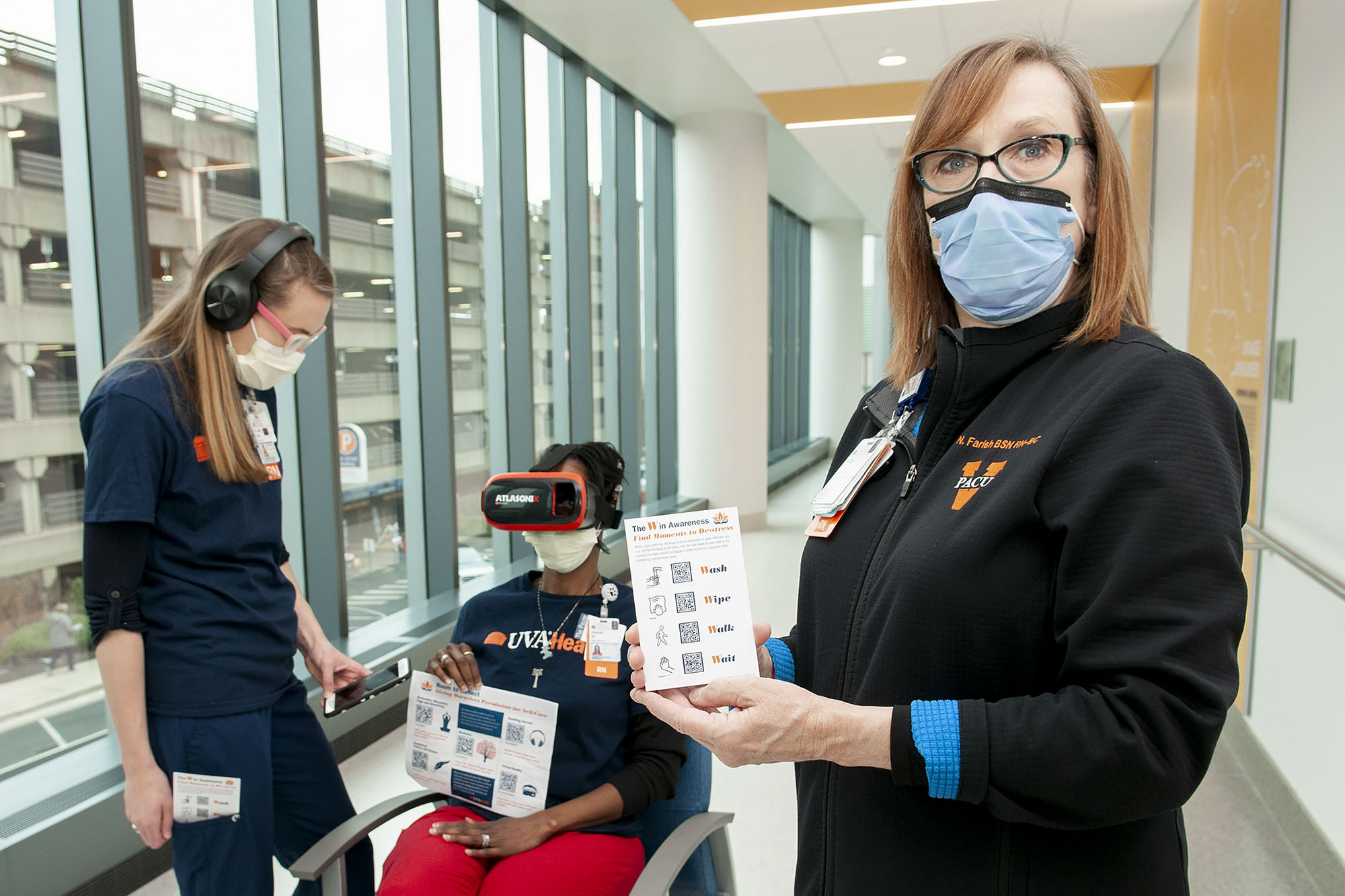 The toolkits include sound-deafening headphones, a sound machine, virtual reality goggles and pocket guides with QR codes linking to quick, in-the-moment mindfulness practices.
"This was nurse-driven and nurse-created because we wanted to help ourselves and our colleagues," Farish said.
The resiliency toolkit combines mobility, accessibility, ease of use, customization and technology to meet the needs of care teams on busy units. It's named "Room to Reflect," with the word "room" giving a nod to both the physical space – or lack thereof – required for the techniques and giving yourself permission for self-care.
"We really see this project as a blend between supporting nurses with these resiliency tools and also culturally making a change on health care units," Muir said. "It's breaking down the stigma of 'It's not OK to take care of myself in the moment,' to actually, 'Yes, I can, because my unit supports this, it's accessible, it's easy to move around, I don't have to go off the unit and risk being away from my patient for too long, and I don't have to risk leaving my colleagues on their own.'"
What's Inside the Toolkit
Inside the toolkit, there are sound-deafening headphones, a sound machine with varying settings such as white noise and ocean waves, virtual reality goggles, and a laminated poster and pocket guides with QR codes, which are the key to a personalized experience.
"Say I want to listen to a beach sound," Muir said. "I can put on my sound-deafening headphones and listen to the sound machine provided or scan a QR code and listen to the calming sound of nature or someone reading a poem or a story. You can scan another QR code and put on the virtual reality goggles and go to a beach scene or a forest. It's engaging the sensory aspects of relaxing and calming down. It works similar to meditation, finding ways to briefly settle down from overstimulating activities that we do in the workplace."
There are also several copies of the "Pocket Guide for Self-Care" inside the toolkit, which nurses can reference on the go.
"The pocket guide provides nurses mindfulness practices they can do in the moment, even while they are caring for their patients," Farish said.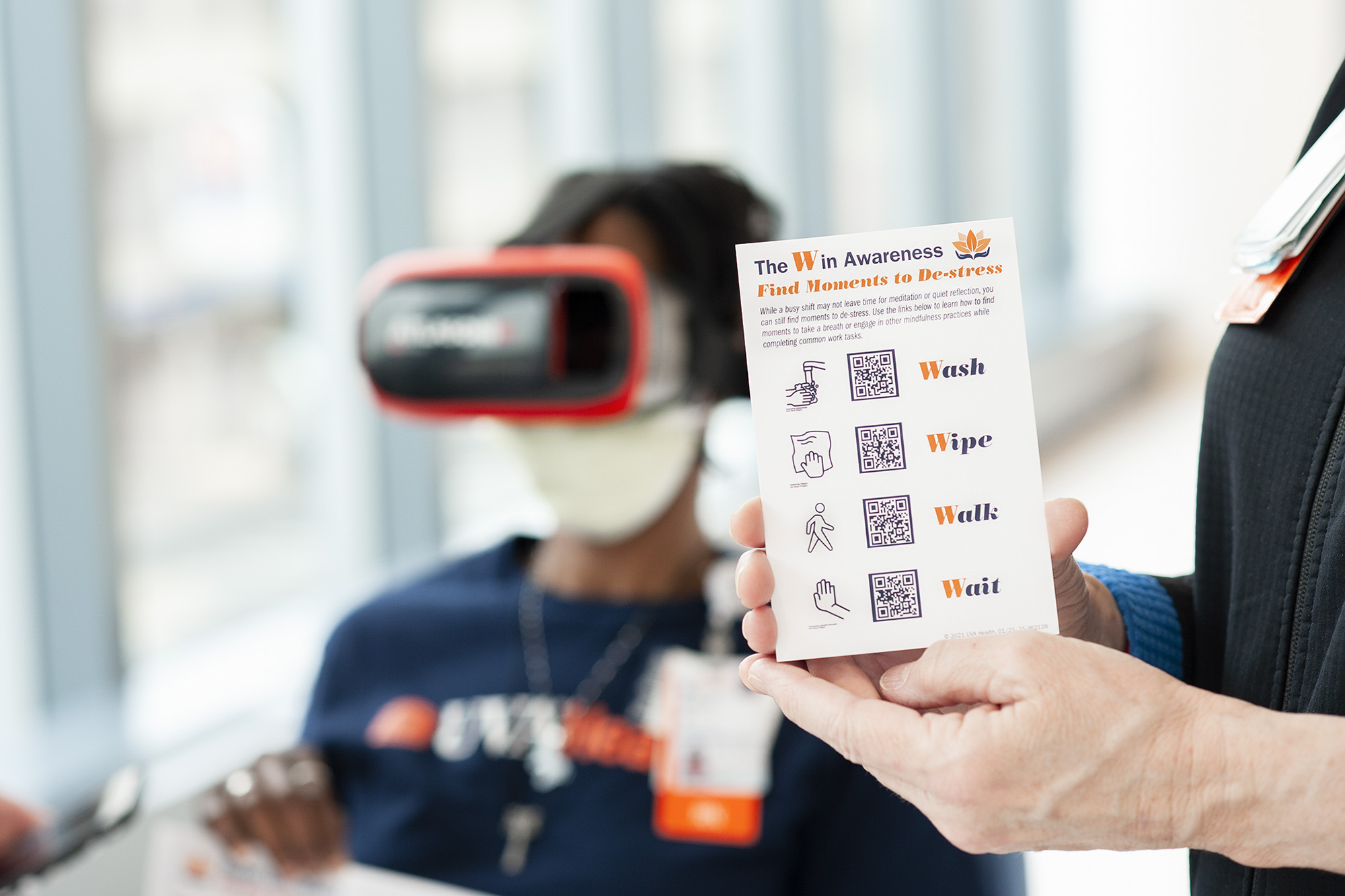 The Pocket Guide for Self-Care includes four activities care teams do every day – wash, wipe, walk and wait – and QR codes for suggested "active pauses" during each activity.
On the card, there are four activities care teams do every day, multiple times per day: wash, walk, wipe and wait. When someone scans the corresponding QR code with their phone, it directs them to suggestions for active pauses while doing the activity.
Handy pocket guides provide nurses with mini-escapes that can be performed simultaneously with common tasks, like wiping. "We're always wiping down counters, equipment, and coming in and out of a room," Farish said. "That's a transition. We're wiping down, we're letting go of what was, we're putting that in the trash, and we're beginning again with the next patient. And we can do that all day long when we're taking care of patients.
"Take one of the actions, like washing your hands, and then every time you wash your hands, think about one of those items on that list," Farish said. "For example, just breathe. When you're going to wash your hands, you can take that moment to breathe, and it can be really freeing. A lot of time when we're busy, we don't take deep breaths, and one deep breath is a game-changer.
"I had a challenging patient who required me to be with him constantly, but I could go to the sink to wash my hands. So, I kept going to the sink. It was a reboot, and it helped me get through that."
What Makes These Tools Different
UVA offers a plethora of resources to combat burnout and stress, but they can be hard to access for care providers who feel like they can't leave the bedside. The toolkit can be used in as little as two minutes, and because practices on the pocket guide are integrated into work activities, they don't need any allocated time.
"Do we have the time to sign up for meditation? To sign up for counseling? We really don't, to be honest," Webb-Jones said. "Nurses really don't have time, so to actually have a resource on your unit that can be used in the moment is just amazing,"
The Toolkit in Action
In March, the co-creators launched the toolkit in three areas: 3 East, the Infusion Center, and the PACU.
During the pilot, Muir, Webb-Jones and Farish will gather feedback, make improvements and continue rolling out the program to as many areas as possible.
"It's needed," Webb-Jones said. "I wish we already had it in place."
Article Information
June 25, 2021
/content/stress-and-demands-increase-three-nurses-set-out-create-traveling-escape