The long-running Broadway hit musical "Hamilton" is still creating waves around the world, and stars of the musical sensation are visiting the University of Virginia to share their experiences.
How did these stars and various other Broadway performers find their way to Charlottesville? The answer comes from third-year McIntire School of Commerce student Kristen Kelly.
Kelly founded her organization, "Broadway Talks Back," through her a cappella group, Hoos in the Stairwell. She invites professional Broadway performers from across the world to the University to interact directly with UVA students, Broadway fans and artists through a series of student Q&As and master classes.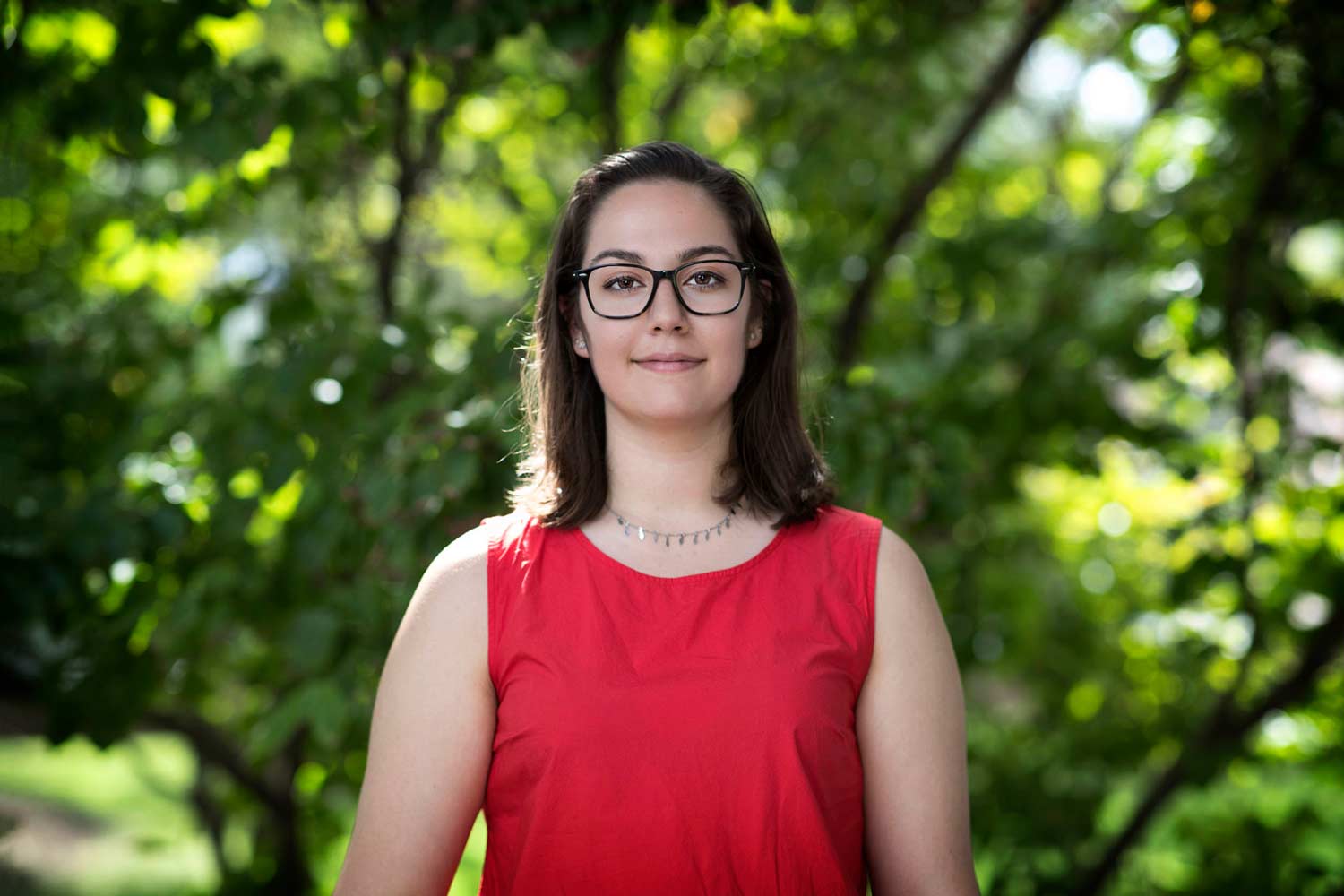 Kristen Kelly got the idea for her organization after meeting Broadway actors outside a theater in New York. (Photo by Dan Addison, University Communications)
Broadway Talks Back was founded in 2017 when Kelly and other Hoos in the Stairwell members attended a Broadway show. After she had the opportunity to speak to a few actors outside the theater, the idea was born.
"I knew that while I was really lucky to have those conversations, not everybody had the ability or the financial capability to go to New York," Kelly said. "I think that's definitely the Commerce School side of me, realizing UVA has [resources] we could use to make this experience possible for students on Grounds."
After reaching out to a few of the contacts she had made on that trip to New York City, Kelly arranged her first Skype session to bring Broadway stars to Grounds electronically. After the success of this event, she pursued funding to bring these stars to Charlottesville in person.
In only one year since its conception, Broadway Talks Back has hosted five Broadway performers on Grounds.
The performers Kelly invites to UVA are as enthusiastic about the program as the students. "I'm not so far removed from my own college years, so the opportunity to speak about my career so far with enthusiastic and informed college students was particularly exciting," said last year's guest, Henry Gottfried, an actor in the Broadway musical "Waitress." "I attended a liberal arts college and not a pre-professional training program, so I know firsthand that the chances to hear about ins and outs of the 'business' from relatable young(ish) people are rare and valuable."
On Sept. 30, Broadway Talks Back hosted "Hamilton" actress Solea Pfeiffer, who followed a visit earlier this year from fellow "Hamilton" actor Ryan Vasquez.
Pfeiffer told students about her experience playing Eliza Hamilton on the first national tour of "Hamilton," her career as a working actress and her biggest influences.
She also offered advice to UVA students hoping to follow in her footsteps; when asked how she overcame doubts about her career, she said, "I stopped talking about luck and really focused on the hard work I had put into my career."
Kelly has seen firsthand the positive impact of Broadway Talks Back. "The first thing is being able to give back to the UVA arts community," she said. "Being able to connect to the Broadway community and make a name for UVA within it has been really rewarding for me."
Bringing theater professionals to UVA benefits far more than Kelly alone. "Some of the emotional connections people have to these shows are really incredible," she said. "[Students] getting to meet their heroes is a very cool dynamic, and being the facilitator of that is absolutely wonderful."
Kelly hopes to continue this rewarding work long after graduation.
"There are moments when I realize how much of a difference it is making for people," she said. "For me, that's been really rewarding to see. All of this time and effort is actually making a difference."
Broadway Talks Back receives funding from the Vice Provost for the Arts, Vice President for Student Affairs, the Office for Diversity and Equity, the Office of the Dean of Students and College Council.
Article Information
October 5, 2018
/content/student-organization-attracts-broadway-stars-including-hamilton-lead