Even on a rainy Tuesday night, it's not unusual to hear music pumping through the speakers at Boylan Heights, a popular restaurant and bar across the street from the University of Virginia.
It is unusual, however, for that music to be entirely created, recorded and produced by a group of 14 students. 
They call themselves "Ext. 398" – a nod to the classroom, New Cabell Hall 398 (aka the "Rap Lab"), where they spent hours this semester working on their own rap tracks in music professor A.D. Carson's "Composing Mixtapes" course.
They presented their final exam on Tuesday night – not a test or a paper, but a 15-song mixtape they wrote, performed, recorded and produced as a class. The show was coordinated entirely by students, from the album itself to the food served. (No alcohol was served during the event.)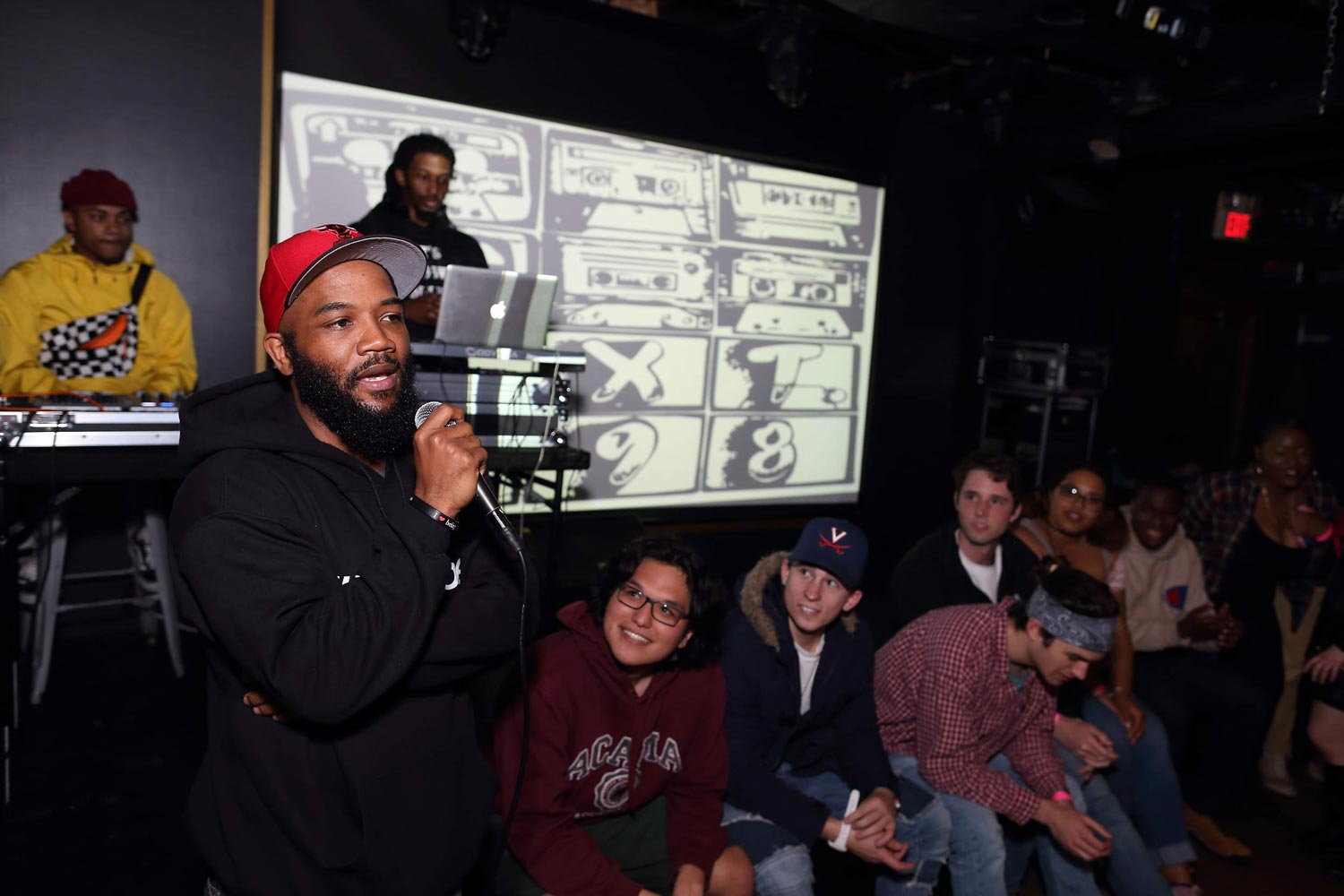 Carson addressed his students, gathered to the right, and the crowd before Tuesday night's performance. (Photo by Richard Dizon, University Communications)
"They have been working for the duration of the semester on this project, and many of them started not knowing each other or myself," Carson told the large crowd gathered Tuesday.
He turned to his students, assembled on stage as they waited for the guest DJ, DJ Double U, to play their mixtape.
"I am really, really impressed with the work that you have done, and I am really proud of the project you put together," Carson told them, prompting a chorus of "Aws" from the crowd.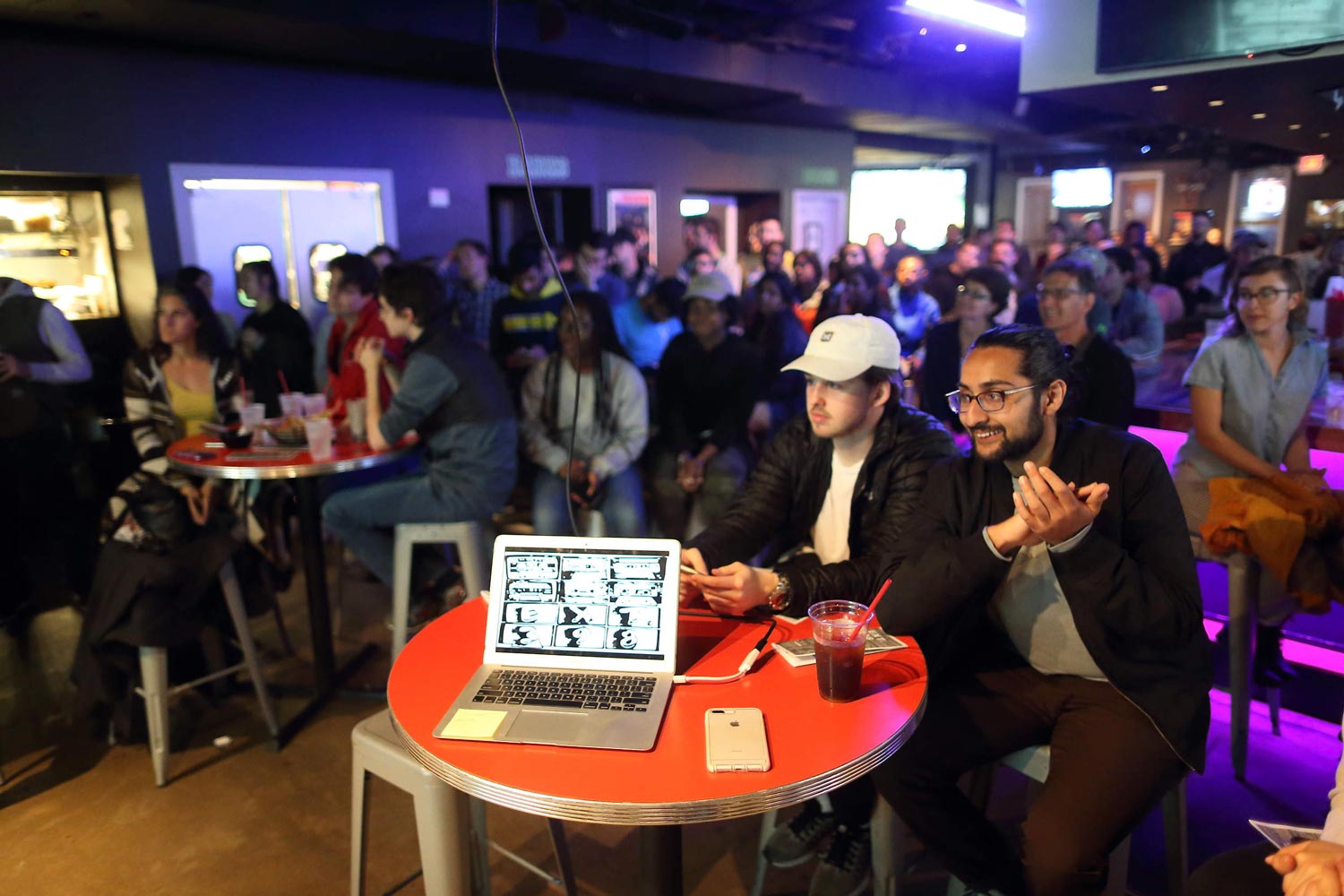 A large crowd of students and faculty members gathered at Boylan Heights Tuesday to listen to the mixtape the class put together. (Photo by Richard Dizon, University Communications)
Carson and his students spent the semester reading about and discussing the history of the mixtape, a musical genre that he characterizes as a collection of songs that, unlike an album, does not necessarily revolve around a particular theme.
Carson also brought in a guest artist-in-residence, rapper and producer Preme, who worked with students ahead of Tuesday's final event and attended the show.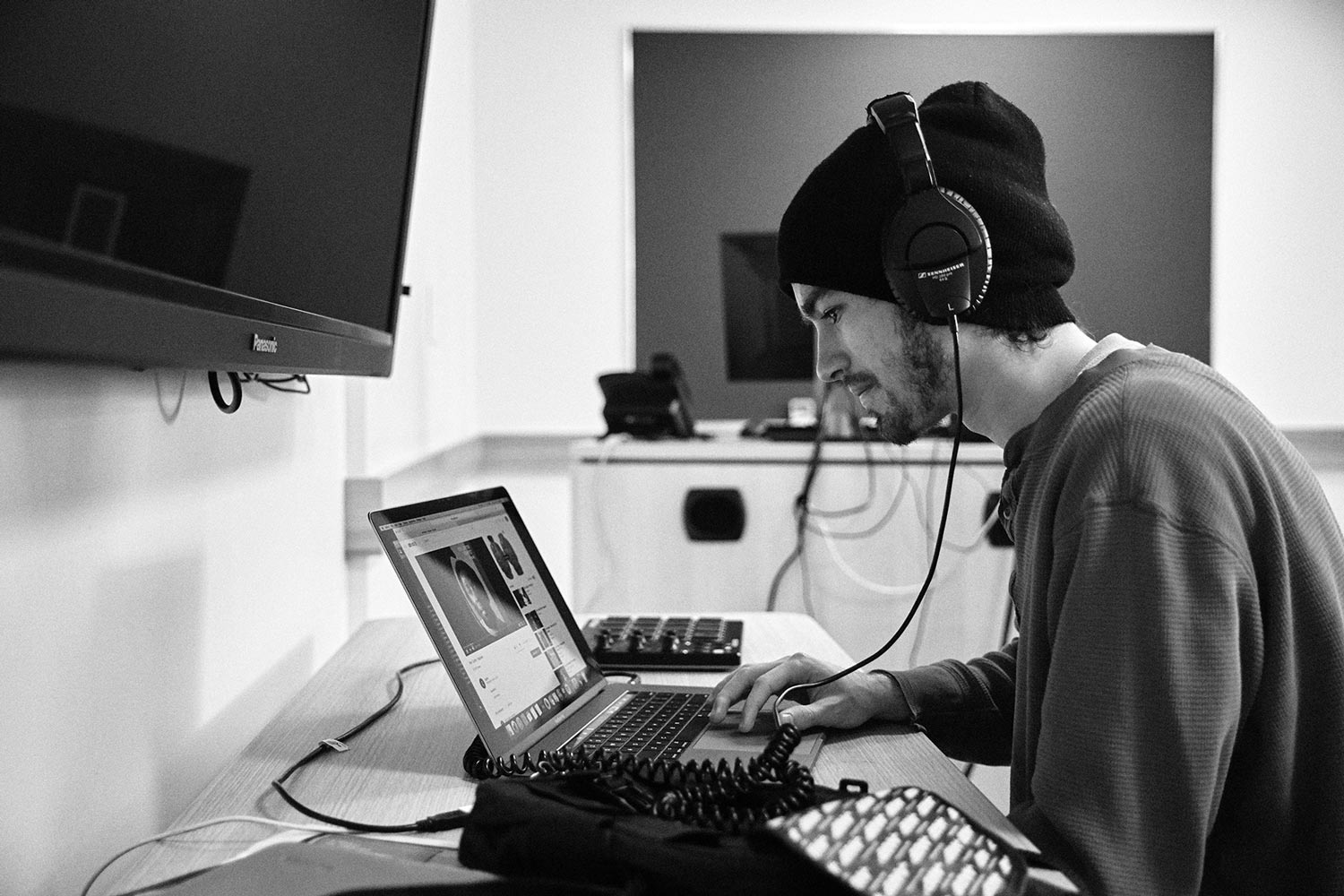 Third-year student Cal Ries and his classmates listened to and sampled a huge variety of music as they prepared their own tracks. (Photo by Miguel "MiG" Martinez)
Students said they loved the opportunity to share their thoughts with each other while making the mixtape and to learn from others with different perspectives.
"It's been really fun because everyone has a different background," fourth-year environmental sciences major Cole Dickerson said. "We've been able to be really honest with each other; it's a great atmosphere in class."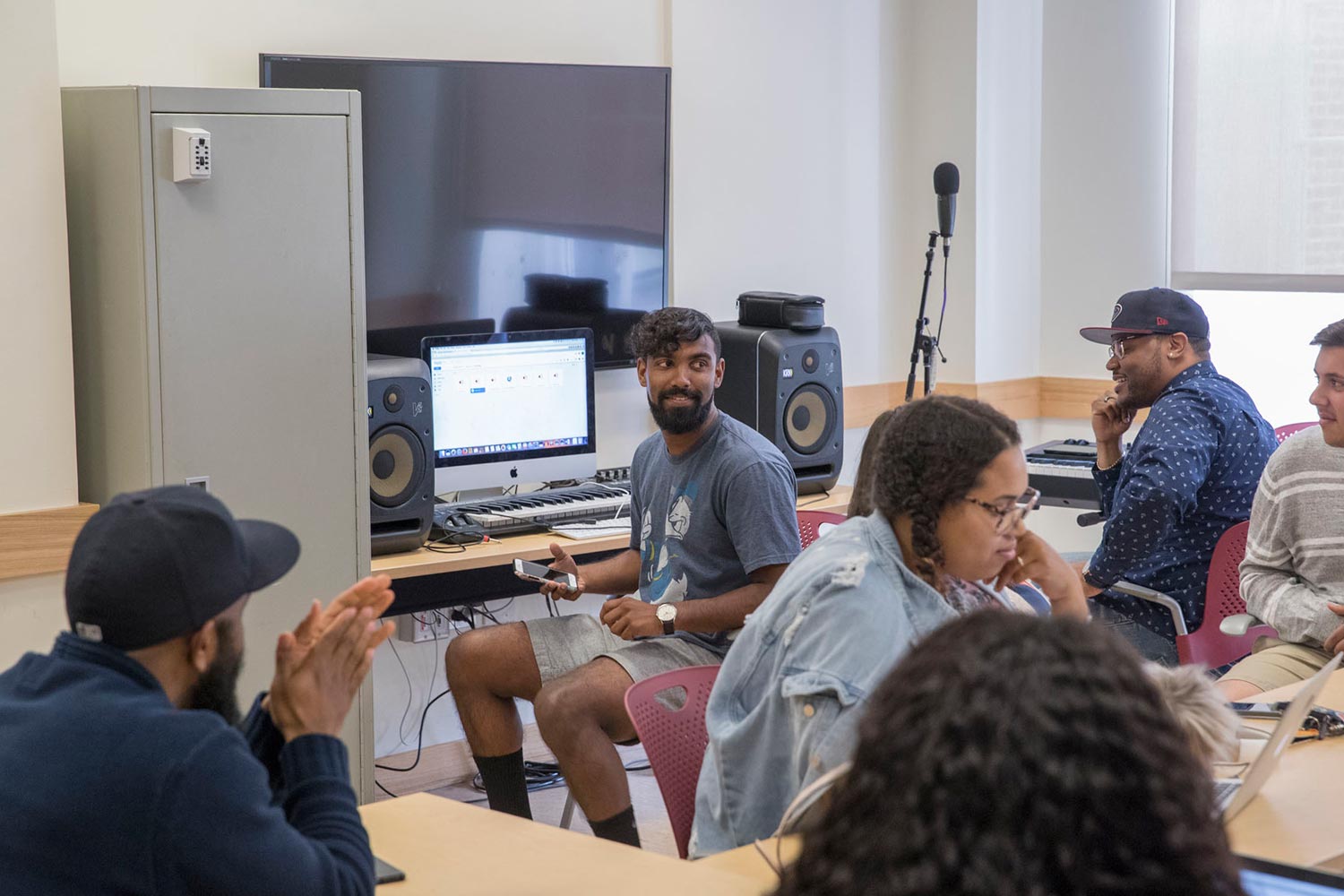 Some students in the class had extensive recording experience while others had none. (Photo by Dan Addison, University Communications)
Both in class and on stage, it was easy to see the rapport that the students have developed with each other and with Carson. In the class before the final show, one student told his classmates about his performance with UVA's Klezmer Ensemble last week – his first live vocal performance. Another introduced Carson to her friend, a high school senior who has been accepted at UVA and wants to double-major in music and biochemistry.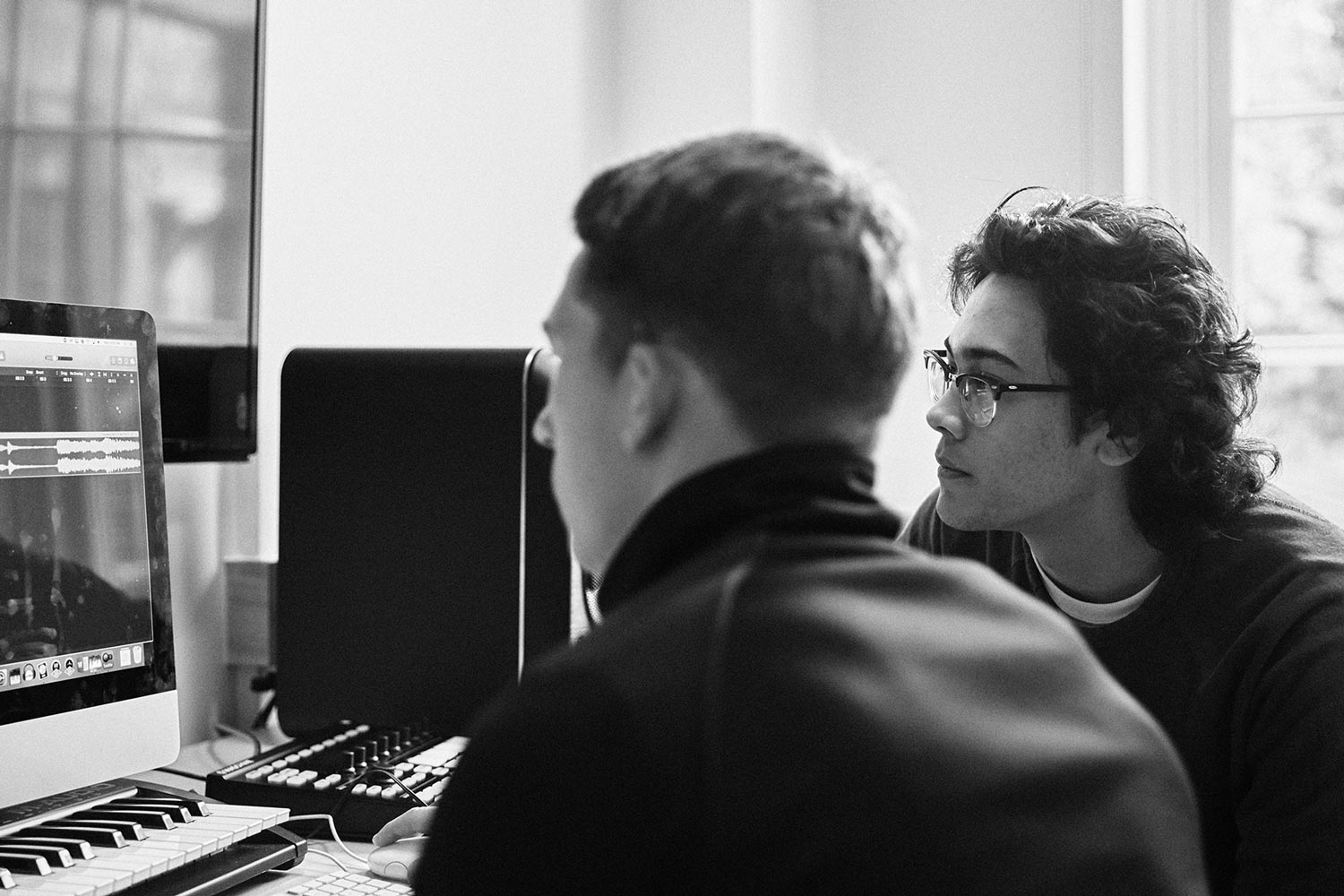 Students said they loved the collaborative nature of the class. (Photo by Miguel "MiG" Martinez)
In a Q&A session after the performance, students said over and over again that the collaborative atmosphere built their confidence and taught them a lot about themselves and their classmates.
"The collaborative process was really fun for me," one of the vocalists, third-year student Gabreilla Bambino, said. "It was a confidence-builder to have a group of people surrounding you that you knew would support you, even when you might suck."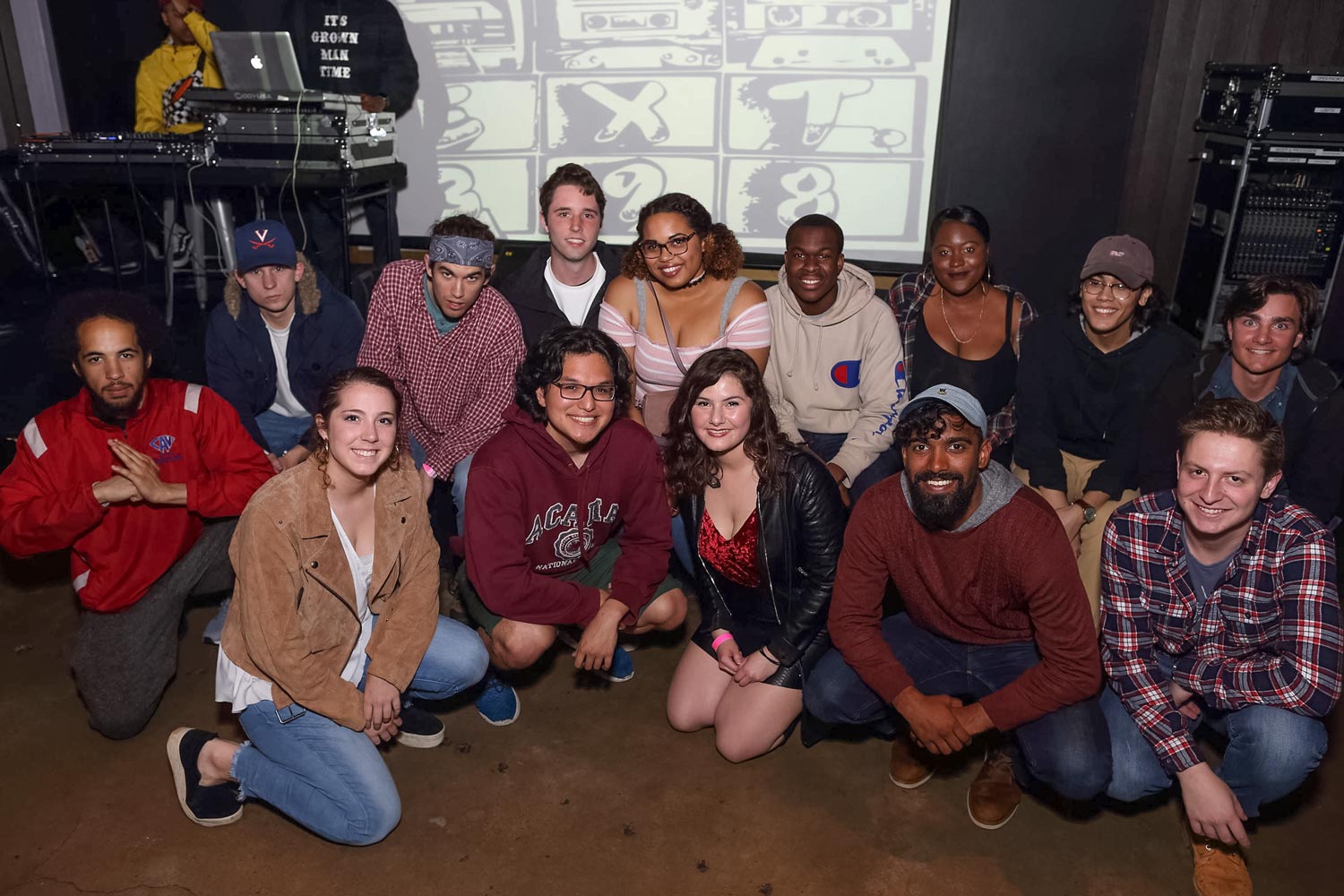 The class gathered on stage after Tuesday's debut. (Photo by Richard Dizon, University Communications)
Though her classmates quickly disputed Bambino's self-deprecating assessment, several freely admitted that they had come to the class with little experience. Some, like fourth-year student Bess Renn, were brand new to music production, with no recording experience at all. 
"I walked in with no background in producing music, singing or writing lyrics," Renn told the crowd during the Q&A session. "Everyone in the class really helped me. I definitely grew a lot and I am walking away with a lot of new skills."
Media Contact
Article Information
April 26, 2018
/content/students-debut-mixtape-straight-uvas-rap-lab-unusual-final-exam