Caroline Zukowsky stood nervously on the overhead track at Memorial Gymnasium, aiming a video camera at a University of Virginia volleyball game below. The UVA fourth-year wasn't totally sure what she was doing. She just knew that the camera cost $40,000 and she shouldn't drop it.
Zukowsky had come to UVA thinking she wanted to be a math teacher, but here she was playing a major role in an ACC Network Extra broadcast that was being produced in conjunction with ESPN.
And she wound up loving it.
"They would use my shot when I got a good one and it was like, 'Yes!'" Zukowsky recalled.
A few weeks later, Zukowsky found herself in front of the camera, holding an ESPN microphone and serving as a color commentator at a volleyball match.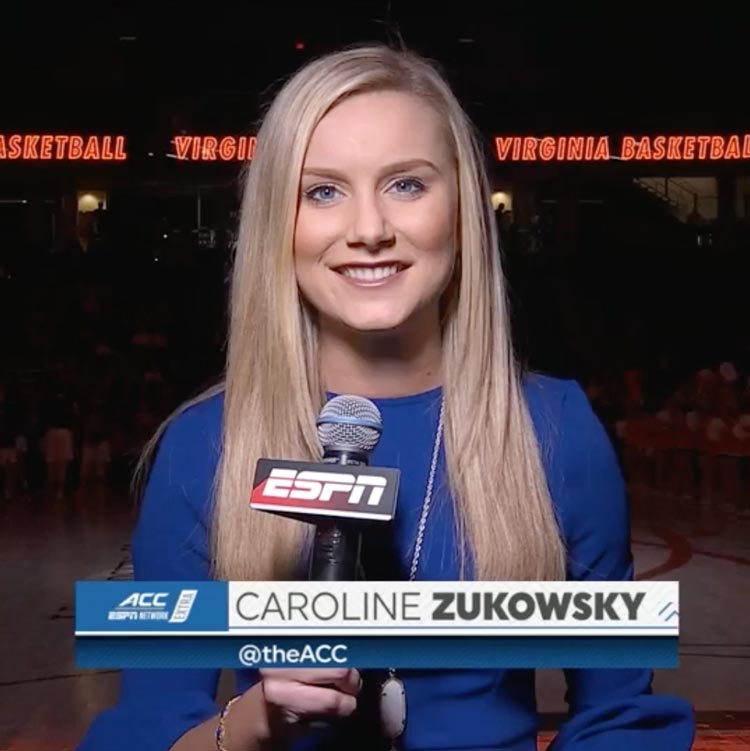 Experience gained in a media production class helped guide Caroline Zukowsky into an unexpected career choice.
A short time after that, she was working as a sideline reporter during a women's basketball game. 
So much for math.
Today, Zukowksy – a lifelong sports fan who wasn't sure a career in sports media was feasible – is a video production assistant for Major League Baseball's Arizona Diamondbacks.
A media studies class at Virginia – Sports Media Production – helped make it possible.
Now in its second semester, Sports Media Production takes place in dual environments. In weekly classroom sessions, media studies adjunct professor Anna Katherine Clay – who previously worked full-time for ESPN and still freelances for the network as well as other publications – teaches the art of storytelling through multiple media platforms.
Simultaneously, in collaboration with the athletics department, students learn how to produce live athletic events and edit feature stories, by shadowing UVA Video Services staffers Ryan Mahanes and Michael Szlamowicz around the John Paul Jones Arena production studio and at various games.
"The combination of educational discourse and context in the classroom with experiential learning in the field means that those who want to enter this industry are gaining valuable knowledge and experience, while having opportunities that many professionals have to work toward for several years," Clay said.
Mahanes, a 2003 UVA graduate, said he wishes there had been such opportunities in his day.
"These students have access to cutting-edge technology in the areas of live and post-production and will already have a great advantage when entering a professional field that is growing but still incredibly competitive," Mahanes said. "Simultaneously, video services can now have a pool of student workers that are trained in-house for a rapidly expanding schedule of live events."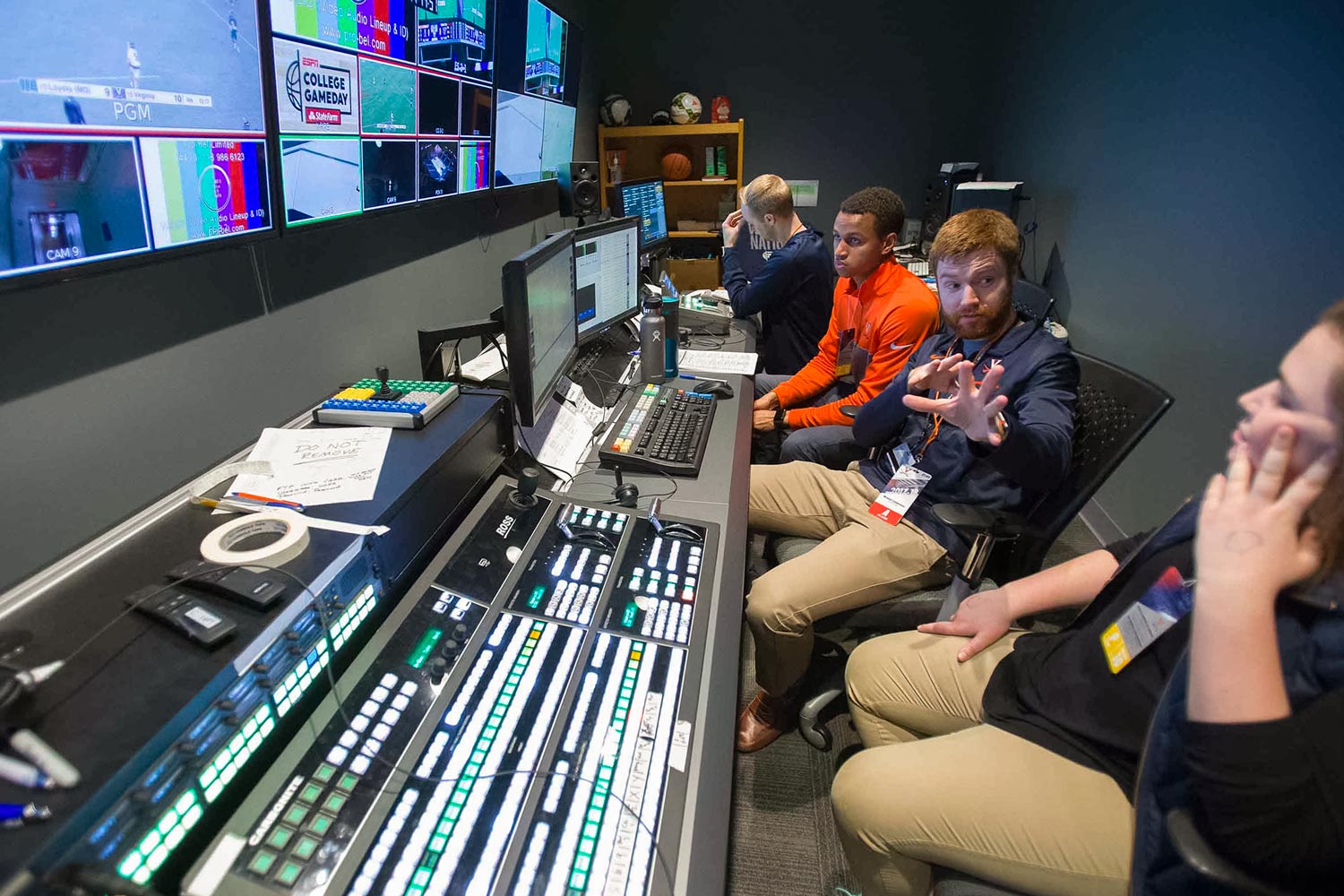 UVA Video Services senior producer Michael Szlamowicz, center, helps media production students learn about the John Paul Jones Arena production studio. (Richard Dizon, University Communications)
The catalyst for the class came in July 2016, when the ACC and ESPN announced the launching of the ACC Network. A month later, hundreds of exclusive live events started streaming through ESPN3, WatchESPN and the ESPN app, creating a need for students, such as Zukowsky.
UVA Senior Associate Athletics Director for External Affairs Todd Goodale said the partnership between the athletics and media studies departments has proven to be a win-win.
"It's a challenge for the athletics video services staff to produce more than 200 live events and countless video features each year," Goodale said. "The media studies students fulfill important roles for us and I hope we're providing learning and experiences that will help them launch a career in sports after graduation."
For a project aimed at teaching reporting and interviewing skills, Clay had students interview former UVA baseball star and current Washington Nationals pitcher Sean Doolittle inside the JPJ production studio. The resulting interview ran in several athletics video services features.
For a weekly assignment early in the semester, students were required to analyze the Super Bowl from both a production and feature story standpoint, writing a paper highlighting their observations and explaining what they would've done differently, if in charge of the broadcast.
For finals, students typically produce features for athletics-department produced shows such as the "Orange and Blue Report" and "Uncompromised Excellence." Last semester, as one of their culminating projects, the class recorded a group podcast in which they researched and then analyzed the political, social, gendered and financial motivations and ramifications of the Olympics, and discussed whether the Games as they exist today should continue.
Fourth-year Logan Carrington launched a show of his own called "The Hoo," which is focused on the UVA track and field team (of which he is a member).
Carrington has dreamed of being the host of ESPN's "SportsCenter" since he was a child.
"I can remember watching the late, great Stuart A. Scott with his catch phrases like, 'Gravy on a biscuit, it's all good' or 'Boo-yah!' and saying to myself I want to do that one day," he said.
When ESPN's "College GameDay" came to JPJ this season, Carrington and another student sat in a control room with Szlamowicz, who showed them the ins and outs of a graphics machine.
In preparing for that night's basketball broadcast against Virginia Tech, Szlamowicz punched "701" into a keypad, which resulted in team stats appearing on a monitor; another code brought up guard Kyle Guy's numbers.
"We want to entertain and inform the crowd as best we can," Szlamowicz told the students. "We want to make it fun and worthwhile for fans to come to the games."
That's now Zukowsky's mission in her job with the Diamondbacks. She interviews players and produces content for the Diamondbacks video board.
Zukowsky has certainly come a long way since her first production experience at Mem Gym.
"It was a little overwhelming at first," she said, with a laugh, "but being able to shadow them and learn about what they do was why I was able to get this job out here. It was crucial."
Article Information
February 26, 2018
/content/students-get-behind-camera-and-behind-scenes-sports-media-class