Throughout the fall, fourth-year University of Virginia student Hannah Koizumi and her peers on Student Council have kept one goal in mind: getting as many students as they can registered and ready to vote in the 2020 election.
"It's important that students make the connection between issues they care about and the importance of voting," said Koizumi, a Frank Batten School of Leadership and Public Policy student who chairs Student Council's Legislative Affairs committee, focused on civic engagement. "All roads lead back to voting."
Virginia's voter registration deadline is Tuesday; students can find more information about how to register here.
UVA was recently ranked as the No. 4 Top Voting Campus in the U.S. by investigative journalism site Who What Why, based on data from the 2016 election, including the percentage of student turnout, the number of on-campus polling places, voter registration drives, and other criteria. According to the site, 63.9% of the UVA student body turned out to vote in 2016.
Koizumi and her classmates in Student Council are hoping to sustain that turnout in the 2020 election. This semester, Student Council members have visited classrooms – both in-person and virtually – to promote voter registration and offer forms or links for students to register. They have set up tables on Grounds where small groups of students can learn more about voter registration; organized an ongoing competition between class councils to see which class can get the most students registered to vote; run a robust social media campaign; and distributed information about absentee voting and voting by mail, which is traditionally common on college campuses and might be more common this year because of the pandemic.
Student Council has also partnered with the University Democrats, College Republicans and HackCville to launch hoosvoting.com, which outlines how to register, and helps students find safely distanced rides to the registrars' offices and to the polls, and worked with the Center for Politics on a voter information page. University Democrats and College Republicans also have their own efforts raising awareness, promoting registration and holding virtual or physically distant small events for their members.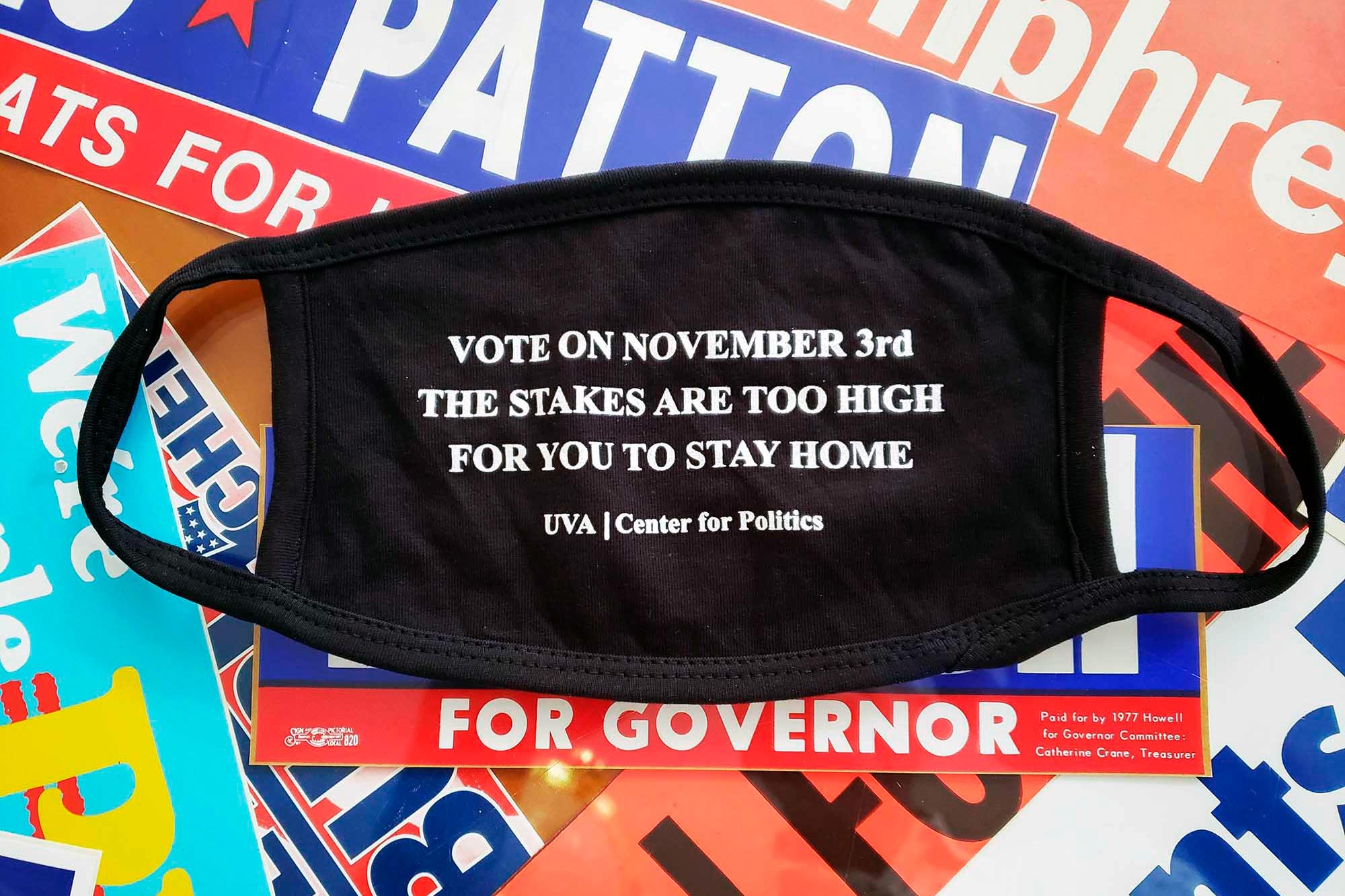 The Center for Politics created these masks, using a quote from President Lyndon B. Johnson's campaign, to encourage voters to safely cast their ballot. (Contributed photo)
The Center for Politics has been running a national social media campaign encouraging citizens to register and vote, including distributing more than 6,000 face masks with a slogan borrowed from President Lyndon B. Johnson's 1964 campaign: "The stakes are too high for you to stay home." (Some masks are still available; students can request one via the Center for Politics website.)
Center for Politics staff have also worked with both Koizumi and second-year student Ann Ashley Daniel in their role as fellows with the nonpartisan Campus Vote Project, which promotes voter registration at campuses across the country. Daniel is a WorkElections Fellow with the project, focused on recruiting student poll workers.
"Due to the COVID-19 pandemic and the fact that the majority of poll workers are usually over the age of 65, America is experiencing a nationwide poll worker shortage, which can lead to longer lines and fewer opportunities to socially distance at polling stations," Daniel said.
WorkElections fellows at campuses across the country are partnering with the Power the Polls initiative to recruit thousands of student poll workers. Daniel herself has reached out to clubs, classes and Greek organizations at UVA, and is translating informational materials into Spanish and working with fellows across Virginia to address areas with a particularly significant shortage of poll workers.
"It's been an incredibly rewarding experience to work for something I'm passionate about," she said.
Third-year student Esther Eriksson von Allmen is also focused on recruiting poll workers. She is a media intern at UVA's Weldon Cooper Center for Public Service and a volunteer for the Poll Hero Project, which recruits high school and college students to serve as poll workers for the general election.
So far, she has contacted about 400 people via social media to encourage them to work the polls, and the organization, founded by students at Princeton University, has logged more than 30,000 sign-ups. Eriksson von Allmen also recorded an episode for Weldon Cooper's podcast, "Intersections in Public Service," providing an overview of the steps citizens can take to vote and make sure their ballot is counted.
"It was from my work at Poll Hero that I felt inspired to talk about voting in Virginia," she said. "Certain areas in Virginia are still facing poll worker shortages, which is something I briefly discuss in the podcast. However, I wanted to speak about voting more broadly, in order to answer any small questions aspiring voters may have. Voting can be confusing, but this confusion should not dissuade us from engaging with democracy."
Media Contact
Article Information
October 9, 2020
/content/students-lead-efforts-register-voters-recruit-poll-workers-deadline-looms