The audience is seated, the lights dim, the curtain rises and the play begins.
It's a magical time for the audience members, but it represents the culmination of the seemingly endless rehearsals, production meetings and shop hours that go into turning words on a page into a well-oiled show on opening night.
At the Heritage Theater Festival, a summer tradition at the University of Virginia, we visited with a few UVA students who are working behind the scenes to bring the theater magic alive.
Lydia Modlin, Assistant Stage Manager
Modlin is a rising third-year student in the McIntire School of Commerce who previously worked in stage management for the Drama Department's recent production of "The Wolves," as well as for the Spectrum Theater and First Year Players student groups.
At Heritage this summer, she is serving as the assistant stage manager for both "Million Dollar Quartet" and "Steel Magnolias."
Lydia Modlin is a third-year student in the McIntire School of Commerce and hopes to pursue a career in arts management.
Q. How did you get into theater?
A. I used to do drama camps when I was a kid, and then in high school I took a technical theater class and did all of the lighting and stage managing there, too.
Q. What is an assistant stage manager?
A. We have our production stage manager, who is the head stage manager, and then there's me. [My] job is to keep track of everything that everyone does. Everyone communicates through us and we're in charge of keeping the schedule, running backstage, running the booth and the lights.
My stage manager will call the show, every light cue and sound cue and fly cue, and I'm backstage making sure the run crew is getting everything done and that there's no big problems and that the actors know what's going on.
During the rehearsal process, before we actually get on stage, we do most of the paperwork, like making all of the documents of props and set pieces and costumes and things the actors want and things the directors want. It's a lot of information all the time.
Q. What's it like being behind the scenes?
A. The people working with me, they know what I'm doing and what I'm helping with and how I'm making this production happen. But it is funny – the audience and people who have never seen shows or have only been to a couple, they don't even know what I am. I say, "I'm a stage manager," and they say, "What is that?" And that part is like, "Well, let me tell you." That gets old.
But I know that everybody behind the scenes knows what I'm bringing to it.
Q. What has it been like to work in a professional theater like Heritage?
A. It's really crazy. It's like a very well-oiled machine and I'm not used to that, because typically things are falling apart around my ears. It's a lot of fun to meet all these people because they're professionals and this is what they do, and for me, this is just my summer job.
They all have these crazy stories about all these different theaters and all these different things that happened and weird situations and crazy supervisors. Everybody is really nice and we're having a lot of fun.
George Pernick, Electrician
George Pernick is a rising fourth-year student majoring in foreign affairs and philosophy. He works as an electrician part-time during the school year for the UVA Drama Department's lighting shop, and is fulfilling that same role this summer in the festival.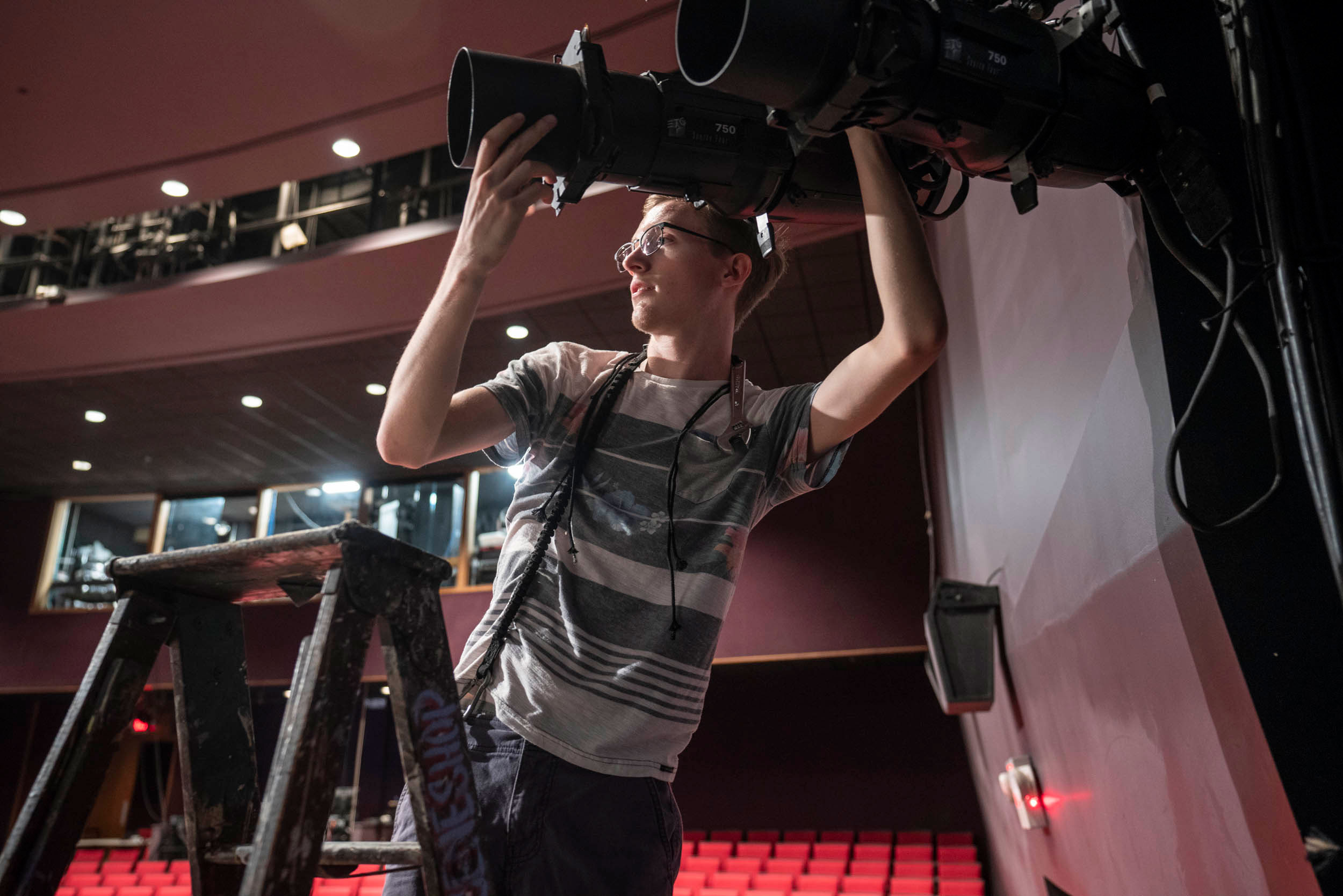 George Pernick is pursuing his hobby as an electrician for Heritage before he graduates in May.
Q. How did you get into theater?
A. My sister is the theater one in our family, and she's the one that sort of got me into it. I don't act so much, and so tech was always something that was enjoyable to me.
I'm doing Heritage more so that I can get my fix of it while I still have the time and ability to do so, [before I don't] have the time to devote to theater stuff anymore.
Q. What does an electrician do?
A. The first thing that we have to do is hang the shows and get them cabled. So a lot of our work is going into the spaces and working in the catwalks and, in the Culbreth [Theatre], flying in line sets, hanging lights and then cabling them in such a way that they're out of everyone's way [and] it looks neat. If it was just plugging it in, it'd be a lot easier.
The next-most time-consuming thing is troubleshooting things. Usually, anywhere from five to 15 [lights] won't work for some reason. It can take a while to fix those problems because it's not always obvious what's wrong with a light; it could be anything from a burnt-out lamp to a bad connection to a bad dimmer and depending on the circumstances, diagnosing the problem can be as or even more time-consuming than fixing it."
Q. What's it like being behind the scenes?
A. I like the community of it a lot because, at the end of the day, it's just kind of six of us working for 40 hours a week together, doing manual labor. There's a lot of friendship that gets built up. Within a week we were talking like we were best friends and it was a really great time.
I never really feel like I'm not recognized, so when we take our big company photos it never feels like I'm out of place among anyone else. I don't really care so much about getting an applause from the audience. It's enough to just be recognized by the people close to me, who I'm working with and the people who I'm helping stand on stage.
Taylor Parsons, Stitcher
Taylor Parsons is a rising fourth-year student majoring in drama and French. She works in the drama department's costume shop during the school year and has done costume work for other theaters.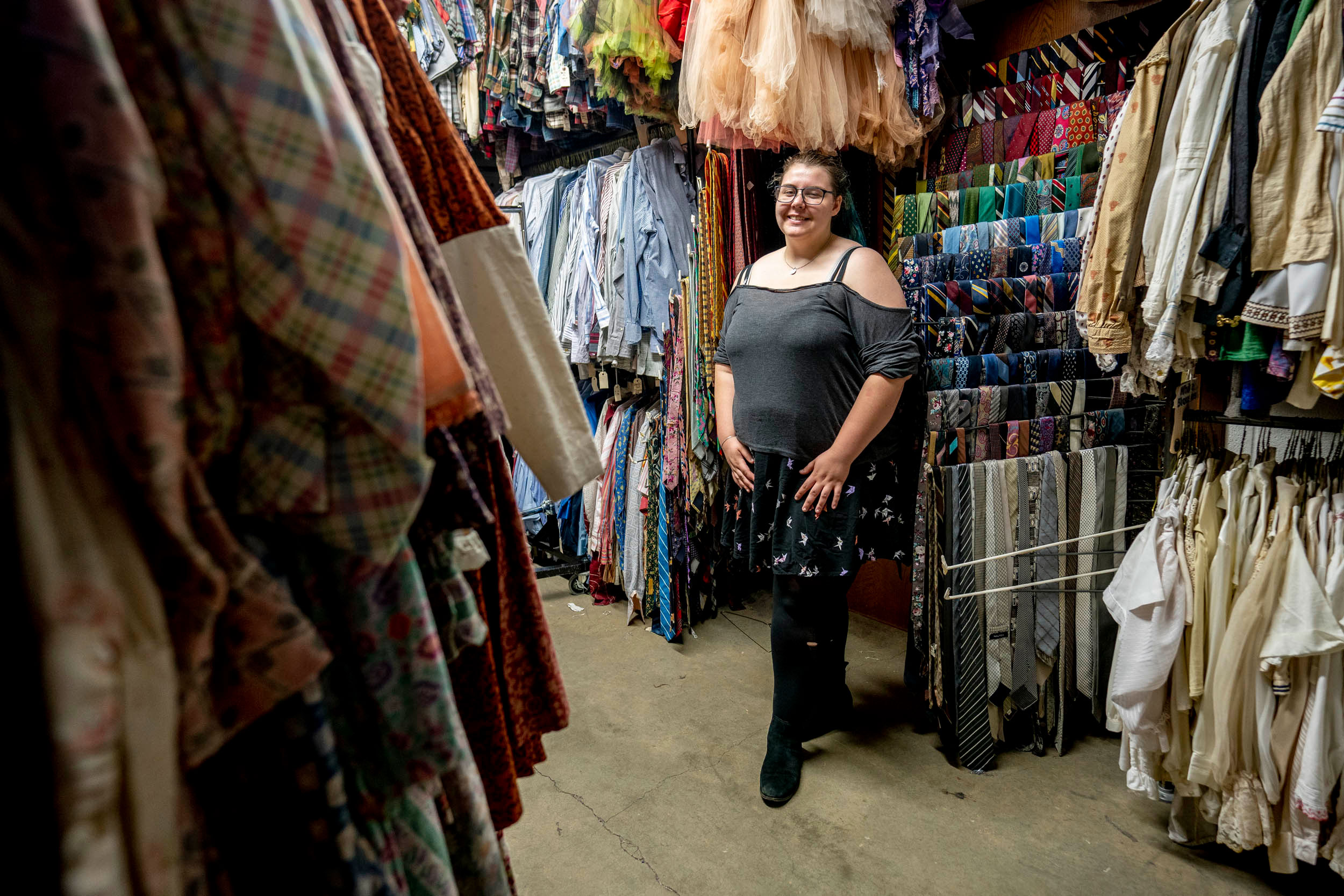 Fourth-year student Taylor Parsons loves the calm environment of the costume shop, where she creates costumes for all Heritage's summer shows.
Q. What are your main responsibilities in the costume shop?
A. I take the fabric pieces that the cutter/draper Heather Brown gives me and I sew them together.
Recently, I made a mockup of one of the costumes that we have to build from scratch and today [I] was working on several rental pieces we've gotten from other theaters that we're using.
I work in wardrobe for only two of [the shows] because we have to rotate the shop so we still have people stitching during the day because wardrobe takes the nights. I'm dressing "Million Dollar Quartet" and "Steel Magnolias."
Currently, I'm taking a pause on "Million Dollar Quartet" so I can stitch during the day for "Pride and Prejudice." There's just so many alterations to do.
Q. What's it like working behind the scenes?
A. I enjoy it because I like people, but I don't want to be in front of people. Then I can be like, "Yeah, guys, look, I did that." Instead of just being on stage wearing the stuff.
Overall, I think the best part is you get to just chat with people. Yes, there are times when you need to be more focused, but, overall, it's just very calm. Even when it is a frenzy, there's still a sense of comradery. I feel like the costume shop is a family because we have the dynamic of a family.
Q. What has it been like working at the professional level?
A. Honestly, it's amazing. Just the level of professionalism is incredible. A lot of times with academic theater, things slip or you don't have as experienced people working, or the actors you're working with might not be as serious about making sure everything is right. But with everyone I've worked with so far, they've been very on top of their game. We can joke around and be friends, but at the same time they're not missing a beat with getting their things in order.
I do feel like I have achieved a higher level than I was at before as far as my work and my attitude about work.
Jackson Key, Carpenter
Architecture major Jackson Key is a rising second-year student with four years of scenery experience under his belt. He works as a carpenter in the drama department's scene shop during the school year; at Heritage, he juggles building sets for all four summer shows.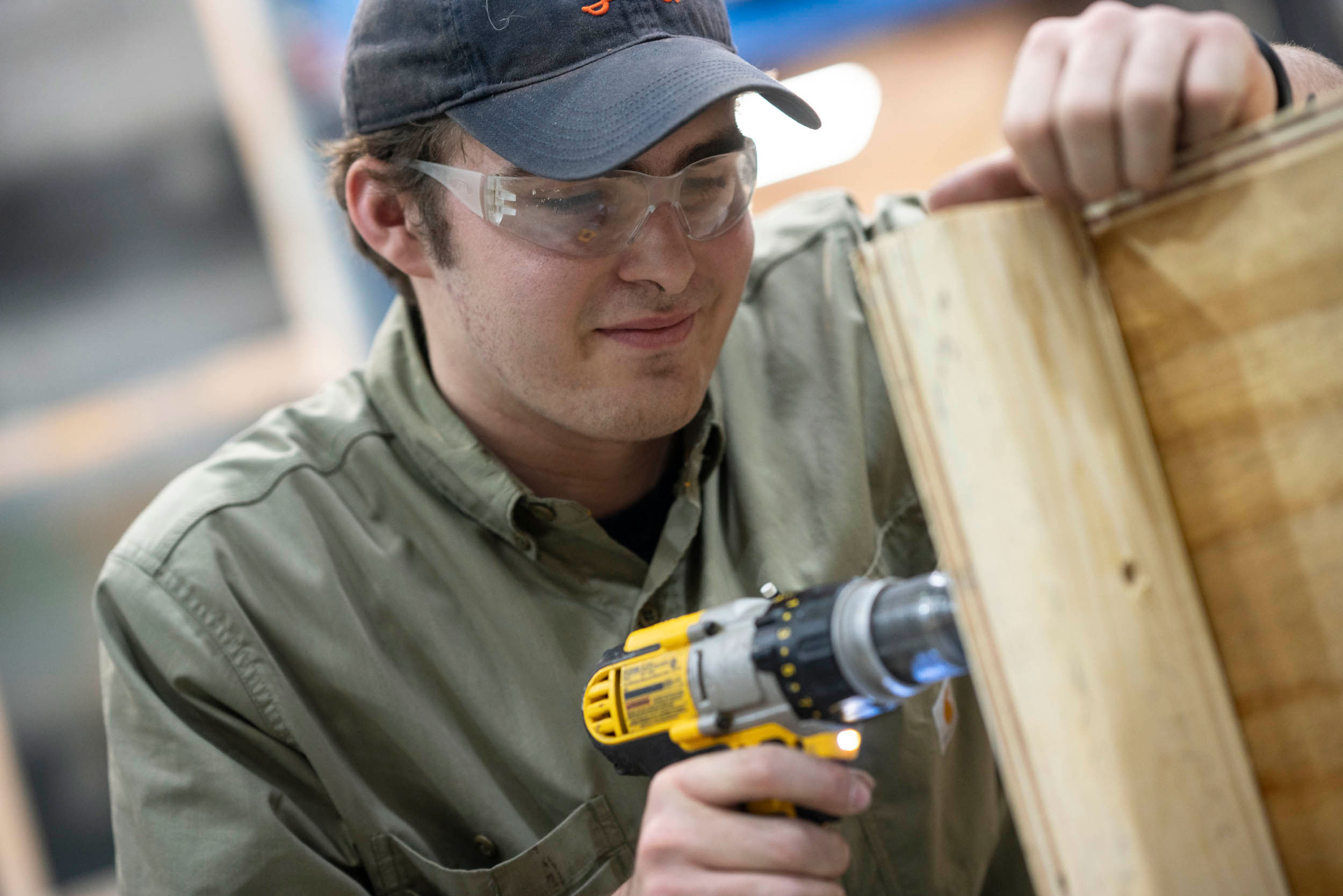 Jackson Key brings the magic of theater to life in the scene shop.
Q. What is the job description of a scenic carpenter?
A. My duties are to take technical direction drawings that have been created and build from those. I take whatever the drawing says and then I make it into reality.
[The drawings have] cut lists and information on it to be able to cut and fit and join all the pieces together. That's what I do a lot of the times. Then [my job is] also taking those pieces, once they've been built, and putting them in position on stage or rigging them.
Then, at the very end of it all, taking it all apart.
Q. What are the advantages of working at the professional level?
A. I really enjoy this because it is so much faster-paced. During the year, I work about the same number of hours per week that I do per day here. Obviously, with classes and things like that you can't just do this all the time, but here, it allows for a very intensive experience, which is good because you keep practicing.
Even if you're building similar things, every show is different and so it's very quick [and] it's very unique each time. There's something to that, that you don't walk into the day and think, "Oh, I'm gonna do this again." It's always something different and that's something that I really like about theater that you don't really encounter many other places.
Q. What's it like working behind the scenes?
A. I would say, a lot of times, people might recognize that some work goes into [building the set], but I don't think they recognize how much effort goes into it. At the same time, that's part of the magic of it. When someone goes into the same theater and it's totally different, that's part of a little bit of the magic that they don't fully understand how it all goes together.
I don't think they really notice as much, but at the same time, I don't really mind. At the end of the day, it's the work that matters and it speaks for itself or it doesn't. On a good day, it all works.
Come see all these students' work in action at the Heritage Theater Festival this summer. Click here for shows and times.
Media Contact
Article Information
July 24, 2019
/content/students-offer-backstage-stories-summers-heritage-theater-festival