Some January term courses at the University of Virginia enrolled more than 400 students. Some had 15. All challenged students to devote the term's two weeks, Jan. 4 through 15, to making the most of a virtual format instead of in-person. By a slew of accounts, the 100-plus courses provided exciting and lasting experiences for instructors and students alike.
Several courses covered topics that were "evolving in real time," as one professor put it, including threats to U.S. democracy and the threat from a new strain of the coronavirus.
Many aimed at helping students understand and analyze present challenges, whether they be tied to the pandemic, politics, climate change or inequality, said Dudley Doane, who directs J-Term, international, summer and special programs.
"I couldn't be prouder of our entire J-Term staff and all our faculty for developing this robust, innovative format and content on a short timeline," said Liz Magill, executive vice president and provost. "This year's J-Term showcases their creativity and dedication to providing a meaningful learning experience for our students."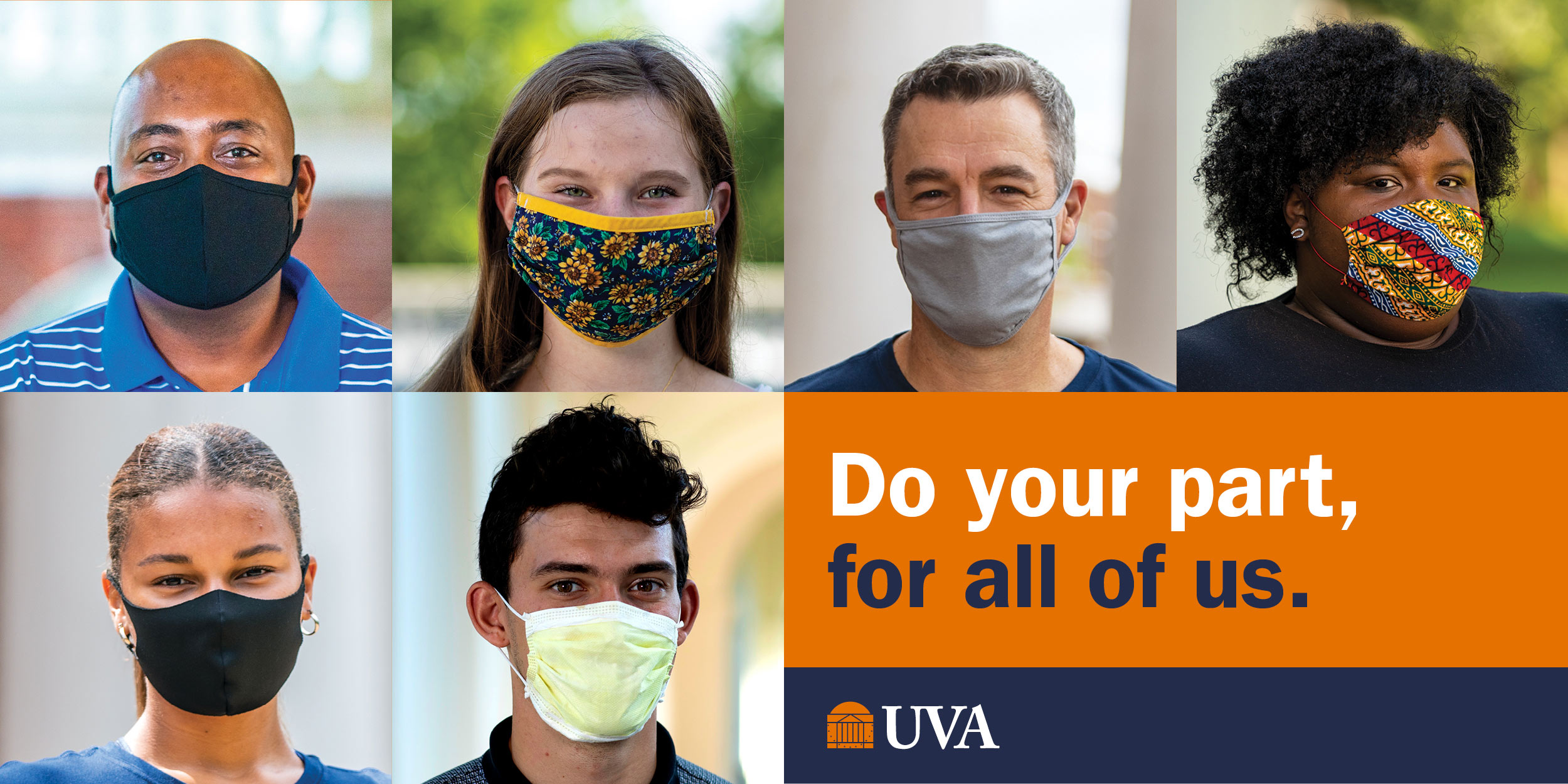 In their January term course, media studies professor Siva Vaidhyanathan and history professor Will Hitchcock tackled "Democracy in Danger," adding a course component to their podcast of the same name and their work for UVA's Democracy Initiative. The course couldn't have been timelier, with a new president coming into office on Jan. 20.
Some courses explored other broad subjects such as how we became human and got to where we are today, especially considering some of the global challenges facing humankind. Other courses focused more closely on a timeless topic, such as practicing leadership skills in the arena of athletics.
With large virtual lectures, professors turned to teams of teaching assistants, who usually led smaller groups in afternoon sessions. They also incorporated visiting speakers into their virtual classrooms, used the case-study method and assigned small-group projects.
Here are several examples of January term courses that made an impact on many students.
Global Advocacy, Democracy and Public Narrative
When English professor Stephen Parks and Serbian activist Srdja Popovic first planned the signature course, "Global Advocacy, Democracy and Public Narrative," they expected about 30 students in what was ostensibly a writing course. When close to 400 enrolled, they had to rethink a few things, but not the power of the written word and value of nonviolence.
And then the storming of the U.S. Capitol on Jan. 6 added a new example to contrast with peaceful protest, democratic principles and methods for addressing divisive issues.
Parks and Popovic had already planned to have a wide-ranging roster of guest speakers who are activists, including Andre Henry of Black Lives Matter; from Hong Kong, Johnson Yeung, former convener of the Civil Human Rights Front and secretary-general of the Hong Kong Federation of Students; Danielle Ayers, CEO of #MeToo in the U.S.; and Syrian Bassam Alahmad of Syrians for Truth and Justice, an organization he co-founded with Parks.
Among several roles over recent decades, Popovic was a leader of the organization Otpor! that helped topple Serbian dictator Slobodan Milosovic in 2000, and a few years later, he co-founded the Centre for Applied Non-Violent Actions and Strategies, known as CANVAS, that promotes non-violent advocacy for democracy and human rights and has worked with people in more than 35 countries.
He has taught at several universities in the U.S. and Europe, and made a point of saying he was amazed at the levels of interest and engagement from the UVA students.
Parks said they worked to mitigate what might seem impersonal with the large enrollment. In his constant communication with the students, he "intentionally modeled community-building practices in our daily sessions – practices which distributed authority and decision-making across our community, practices which intentionally opened up access for insight from everyone involved," he wrote in email.
First-year student Lydia Qian wrote that she appreciated this aspect of the class and looks forward to meeting some of her classmates in person.
"There was a personal touch to it and the enthusiasm and passion the professors and guest speakers had for their lessons, their movements, their activism, was palpable and infectious," she said.
When the riots caused havoc at the U.S. Capitol, "This event provided a real-time and very sobering example for morning lecture, a true and real example of what the class was about. Professor Parks and Professor Popovic led us step by step through this protest/riot, how and why it failed, others like it, and answered our countless buzzing questions we all had at such a monumental time like this," Qian wrote.
Iris Jung, another first-year student, wrote that "the relationship with the students and instructors was what made this class phenomenal."
"The fact that it was extremely relevant to our current state in the U.S. was attractive to me, because I hoped it would allow me to become a more informed and engaged citizen – which it did."

— Kristina Swingle, second year, on "Global Advocacy, Democracy and Public Narrative"
Before coming to UVA, Jung had lived in several countries throughout Latin America, she wrote. "The countries I called home constantly struggled with government corruption, human rights violations and violence. Although I was horrified, these experiences pushed me to witness the importance of advocacy and democracy."
Learning "how to write with persuasive rhetoric" is something she now considers essential. "Although writing can seem insignificant, this can be what unites so many around the world," she wrote in email. "Through this course, I felt a certainty that I could do something and create an impact."
Pandemics Beyond the Headlines: COVID-19
Taught by David Leblang, professor of politics, and Roseanne Ford, professor of chemical engineering, this signature course held 500 students, from first-years to fourth-years, across several schools and many different majors. That didn't deter from making the course "something special," as third-year student Jack MacLeod wrote, adding that the instructors "organized, guided and taught hundreds of students with a degree of excitement, engagement and sincerity that I have not yet encountered in a virtual setting."
Every day they had "the students read one or two newspaper articles so that they could apply the tools that we were covering to the news that they were reading," Leblang wrote in email, with other daily assigned materials also including podcasts, journal articles and a movie about the HIV/AIDS crisis. Ford covered virology and that helped when the new coronavirus strains started emerging.
Even though they were teaching a course about a topic that was evolving in real time, Leblang said they wanted every discussion to have a foundation of knowledge that would be transferable outside of COVID.
"I think the most important thing I took away from this course is the reminder that behind every number, statistic, study or news headline, there's a human life."

— Jack MacLeod, third-year major in urban and environmental planning major with a minor in historic preservation
Leblang said they aimed to give students "some literacy when it comes to understanding viruses and virology, the politics of regulation, and the physical and psychological dimensions of pandemic disease."
One activity that started and ended the course was a pandemic simulation game developed by the Frank Batten School of Leadership and Public Policy's Center for Leadership Gaming and Simulation. The students played various roles, such as prime minister, minister of finance, minister of public health, World Health Organization representative. They "made decisions about what policies to implement as they were seeing data about case numbers, deaths, public approval rating, impact on GDP, etc. They could also see the impact of policies on countries neighboring their own," Ford wrote in email.
"We're convinced that these big complex problems require interdisciplinary approaches," she said.
Leadership in Athletics
Role-playing, guest speakers and case-study team projects also featured in "Leadership in Athletics," a smaller class of 36 students taught by Gabrielle Adams, assistant professor of public policy and psychology; Jim Detert, John L. Colley Professor of Business Administration in the Darden School of Business; and Evan Bruno, lecturer in the School of Law and Ph.D. candidate in Darden's leadership and organizational behavior department.
With their combined expertise and experience, the instructors brought in a diverse group of guests and had UVA Athletics administrators talk with students and judge final presentations.
For example, Steve Clagett, a current Darden MBA student, shared what he'd learned from playing varsity lacrosse at Notre Dame, from serving as a Navy Seal and then selecting and developing future Navy Seals, and from working as an intern for the Baltimore Ravens. Terrell Jana, a fourth-year Batten student and member of the UVA football team focusing on the 2021 NFL Draft, described his decision to play the most recent season without a name on the back of his jersey.
"Learning from our decisions is vital when it comes to molding into great leaders, regardless of the occupation or field."

- Jefferson Dockter, fourth-year student
First-year student Jewel Elliott, who has spent a majority of her life playing soccer, wrote that she "wanted to understand how these team relations can be modified to be applied to other sorts of leadership situations and dynamics that occur in the professional world." 
Jefferson Dockter, a fourth-year American studies major, wrote that the class was "an unforgettable experience." The professors and guest speakers, he wrote, "helped us uncover after each case whether or not the pros outweighed the cons in the conclusive decisions made, and that learning from our decisions is vital when it comes to molding into great leaders, regardless of the occupation or field." 
The Past, Present, and Future of Humankind
Rachel Most, associate dean for undergraduate academic programs in Arts & Sciences, also an archaeologist, and Erin Eaker, assistant professor and association dean, taught 440 students to explore what it means to be human in today's world, drawing from the disciplines of anthropology, archaeology, evolutionary biology, psychology and philosophy.
They credited the Center for Teaching Excellence and the Arts & Sciences Learning Design & Technology group for helping to develop a structure that worked well in limiting lecture time and enhancing small-group projects.
Eaker wrote that they hope the students "learned how the human past informs our present; how we got to where we are today with respect to some of the grave challenges facing humankind; and how our ways of relating to the rest of the natural world determine whether we survive and thrive."
"To understand the present and see where we are headed in the future requires a deep understanding of human ancestors."

— Oscar Daum, second-year Engineering School student
She and Most noted that many of the students seemed optimistic about humanity's prospects for the future. Eaker wrote that she "was struck by those students whose optimism was based not on humankind's technological ingenuity, but on our capacity for moral or philosophical 'course correction.'"
Oscar Daum, a second-year student in computer science in the School of Engineering and Applied Science, put it this way: "From learning about our ancestral roots, the course made me realize how similar all humans are. By offering such a perspective, the class made me understand the struggles all of humanity will face in the coming century – climate change, resource depletion and misuse of technology to name a few – and encouraged me to begin shaping my academic and professional career to help improve these universal causes."
Article Information
January 28, 2021
/content/students-tackled-tough-topics-january-term-some-evolving-real-time