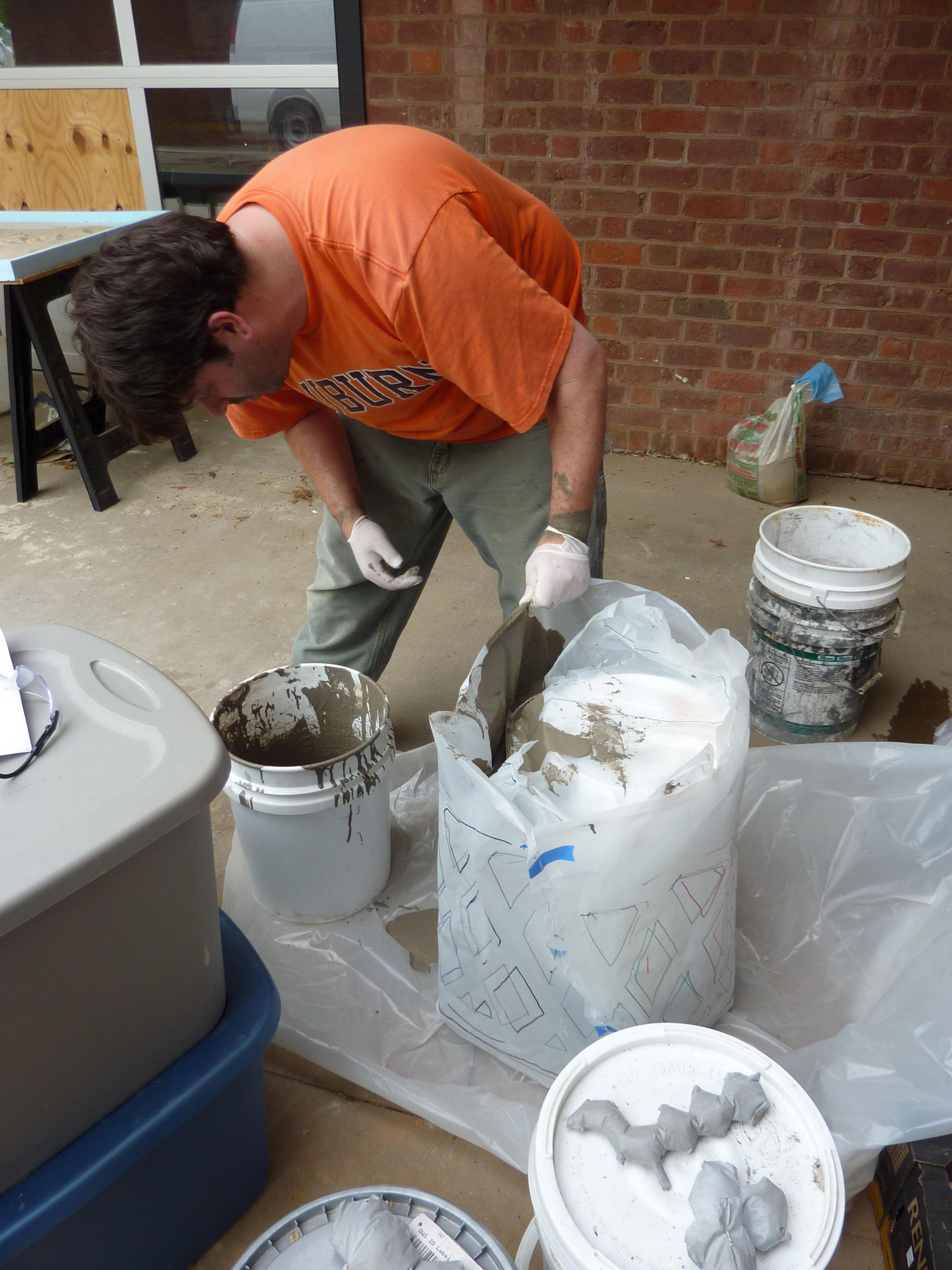 April 25, 2012 — University of Virginia architecture students crowded around a "SMART board," or interactive whiteboard, at a workshop led by graduate student Nick Wickersham. The informal presentation allowed Wickersham to share his research exploring the design and production of fabric forms for poured concrete structures.
It was exactly the kind of interaction that the Architecture School envisioned when it established its new Insight Lab, located within the Shure Studio in Campbell Hall.
Wickersham is one of five student researchers among the inaugural cohort of fellows at the lab. They are working on individual research projects with faculty mentors who have similar research interests, using the lab's advanced technology tools to share their research more broadly.
"We facilitate the research work and they turn around and make it a learning experience for everybody," Insight Lab director Eric Field said. Part of the fellowship agenda is that "they work at a peer-to-peer level."
The lab is filled with computers and an abundance of technological resources.
"We can teach everybody to use a machine, but it's about the applied side of technology," Field said. "We established the space and equipment, but they are worthless without the ability to do these kind of things."
Wickersham applied for the fellowship, which provides a $2,000 stipend and $500 for materials, after taking one course that investigated fabric structures with architecture professor Earl Mark, and pouring concrete for a project in another course with Michael Beaman, a Visiting Teaching Fellow.
Wickersham's faculty adviser for the lab project, Melissa Goldman, the school's fabrication facilities manager, has an interest in concrete casting and fabric formwork. Wickersham honed his ideas for a project when he attended a workshop on how to use the school's new computer numerical controlled sewing and embroidery machine.
"Nick wanted to do a lattice design and test the design structurally," she said. "It's a test of material and form."
Wickersham used a series of software applications, creating workflows to generate a template designed to work with the concrete mixture – a blend of cement, glass fibers and water – which he poured into a form made of plastic sheeting. Using his jump drive, he transferred his design from the computer to the sewing machine, secured the plastic sheeting in a jumbo hoop, familiar to quilters, to keep it taut, and set the machine to stitch the pattern in the plastic sheeting, which ends up as the form. After the concrete is poured into the spaces between the stitched patterns and dries, the template is removed, revealing the concrete structure.
"The pattern becomes a structure," Wickersham explained. He also investigated proportions to get the right mix of concrete ingredients and the right consistency to flow evenly through the fabric form.
Not every attempt was a success, Wickersham explained. He worked at various scales and talked about the need to be mindful of tolerances – permissible limits of variation to keep the structure viable. He also discussed the aesthetic aspects. "The way the plastic allows folds and you begin to see the stitching, that's a nice detail," he said.
"When there's a willful suspension of disbelief in connection to research, what you find out can be amazing."
Goldman said those industrial designers and architects who are "doing concrete casting in fabric formwork, have been either on the side of decorative work or strictly in the structural arena."
For Wickersham, the research opens up a path between fabric architecture, such as tents, and more permanent yet temporary structures, such as disaster-relief housing.
For temporary structures, the application has the potential to add stability. This kind of research creates innovative applications and is transformational, Field said.
Other fellows researching projects over the spring and summer are:
• Seth Brown, a fourth-year architecture student, with architecture professor Earl Mark, "Optimizing Fabric Membrane Architectures." Brown's research centers on "creating real-time simulations of fabric movement as dictated by contextual and environmental factors such as light, temperature and humidity."
• Paul Hughes, a graduate student in urban and environmental planning, with environmental and planning professor Tanya Denckla Cobb, "A Geospatial Platform for the Virginia Food Heritage Project." Hughes will develop a Web-based geographic information system platform that "will build food heritage knowledge via community-driven information sharing to support sustained community engagement and to support new heritage food-based economic development."
• Graduate architectural history student Kirsten Sparenborg with architectural history professor Cammy Brothers, "Renaissance Drawing and the Problems of Representation." Sparenborg will "utilize a combination of hand-drawing and digital rendering and modeling to explore the complicated, experimental techniques employed by Renaissance draftsmen."
• Weishun Xu, a fourth-year architecture student, with visiting teaching fellow Michael Beaman, "Parametric Design of Spatial Behavior." "Rooted in behavioral science, flocking algorithms describe how spaces are actually utilized and occupied. This research explores how rationalized mapping of spatial recognition can be translated into concrete built spaces through the help of parametric tools."
The Insight Lab was created by an Innovation Grant from the Office of the Vice President for Research in 2009 as a hub for faculty and student research, a space of multidisciplinary and cross-disciplinary collaboration, and a research lab for design informatics and applied information and visualization technologies. The lab is designed to facilitate multiple simultaneous activities and foster individual and collaborative research using both traditional media and advanced technologies, new and experimental software, SMART board interactive screens and tables and more, all as a catalyst to innovative application.
– by Jane Ford