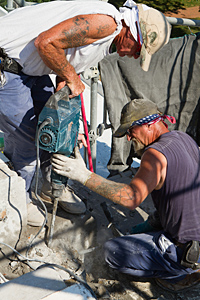 May 22, 2012 — Less than two days after Final Exercises at the University of Virginia, the much-anticipated work on the iconic Rotunda will get under way this week.
But that's not the only construction in the works. It looks to be an especially busy summer, with a good bit of the construction focused on the University's Academical Village and adjacent areas.
At Tuesday's Buildings and Grounds Committee meeting, Colette Sheehy, vice president for management and budget, outlined a robust work schedule.
"As you can imagine, this is the best time for us to undertake critical repair work, routine maintenance projects and renovations," Sheehy said, "and this summer will be no exception."
She said summer is the time when buildings are used less frequently, streets are less congested and, most important, most faculty and students have departed. "We try to schedule projects around the academic calendar in order to inconvenience as few people as possible."
Sheehy said she regrets that the work will sometimes be disruptive to the University families living in Pavilions on the Lawn and is appreciative of their patience. At the same time, she had some good news for students who will move into Lawn rooms in the fall.
"We have managed to pool some funds in order to fix the chimneys and to install fire suppression systems in all of the student residences on the Lawn this summer," she said. Work will also begin on the Range rooms, and completion is expected by the time cold weather arrives.
Despite this work going forward, fundraising efforts must continue. Thus far, $780,000 – including matching funds from the Alumni Association – has been raised toward the $3.7 million goal to cover the cost of the Lawn room project.
The first phase of Rotunda renovations will address conditions that threaten the building's integrity. The leaking roof and oculus skylight will be replaced, and exterior brick walls, windows and ornamental sheet metal will be repaired.
Over the next three weeks, an area just east of the Rotunda will become home to the construction access area and building scaffolding for the next year. Demolition of the roof will take about three months and installation of the new copper roofing will begin in early September. While the project is due to be completed in August 2013, every effort will be made to finish in time for Final Exercises in 2013. If it is not, Sheehy said, the project will be modified in order for Finals to occur as normal.
No magnolia trees will be removed to accomplish this work, she said.
Except for 12 weeks in early 2013 when the Dome Room will be closed for the replacement of the oculus, the Rotunda will remain open throughout the project – although construction noise may make it difficult to use sometimes.
The cost of the roof replacement is $4.69 million, $2.7 million of which is an appropriation from the Virginia General Assembly. An additional $2.5 million to cover the exterior work will come from maintenance reserves.
The University is currently undertaking a fundraising campaign to raise $26 million that will match funds from the state to cover the total $51 million needed for the full Rotunda restoration.
Other work in and around the Academical Village will include:
• East Range roof replacement: Replacement of the slate roofs and metal flashings over East Range rooms 28 through 52 will take place beginning June 4 and wrap up in mid-August.
• Lawn and Range bathroom renovations: Interior renovations to four bathrooms will also begin June 4.
• West Range student rooms: Interior renovations to nine Range rooms – 17, 19, 21, 23, 25, 27, 47, 49 and 53 – will begin June 4. No. 53, which has long been used as a restroom, will be returned to its original residential use.
• Pavilion X: Interior renovations, which were started more than a year ago, will be completed in August.
• The Lawn: Over the summer, the grass will be replaced with a different variety of turf better suited for the space. Discussions are also under way about the feasibility of constructing a drainage system.
• Steam tunnels and duct bank: Structural repairs to steam tunnels and the installation of a new duct bank along Emmet Street from the Ruffner Hall pedestrian bridge to Mary Munford House, and along the Lawn sidewalk running from McCormick Road to Rouss/Roberston Hall, will begin on June 4. While the tunnel repairs are expected to be complete by Aug. 23, the steam pipe replacement project will continue through October.
• Old Cabell Hall access ramp: Construction of a permanent ramp will begin this week and conclude in August. The building will remain accessible throughout construction.
• New Cabell Hall renovation: Interior renovations, exterior repairs and courtyard construction will continue through August 2014. Building access will remain in its current configuration throughout the duration of Phase I, which is to be completed next summer.
• Newcomb Hall renovation and dining expansion: Beginning this week, the first and second floors will be temporarily closed and the elevator will be out of service, precluding access to Central Grounds through Newcomb Hall. The Bank of America branch and theater will remain closed until the start of the fall semester. Interior renovations and westward expansion will continue through December. Additional accessible visitor parking will be provided along McCormick Road to improve accessibility until the elevator repairs are completed and first-floor access is restored in August.
• Temporary dining facility: During the last week in July, a temporary dining facility will be erected on the grass in front of Peabody and Monroe halls along McCormick Road. The 150-foot-long, 60-foot-wide, climate-controlled structure will be constructed of aluminum framing and have fabric, aluminum and glass side panels, a fabric roof and carpet. It will seat between 600 and 700 students at a time. It will be open for business in mid-August and will remain open for the entire fall semester while Newcomb renovations continue.
• Bookstore roof replacement: Work on the roof, to take place between May and July, should have minimal impact to the surrounding area.
The Building and Grounds committee also approved the concept, site and design guidelines for the sixth new Alderman Road residence hall. Dunnington and Fitzhugh houses, across from Scott Stadium and the Aquatic and Fitness Center, will come down in 2013 to make way for the new building. Buildings three, four and five are currently under construction, and will be ready for occupancy next summer.
– by Carol Wood
Article Information
May 22, 2012
https://news.virginia.edu/content/summer-construction-work-focused-central-grounds