By day, Matthew Gatto keeps classroom technology running smoothly in the University of Virginia's McIntire School of Commerce.
By night, he crafts masks and other memorabilia that would look right at home in Hollywood's most famous horror films.
Gatto, who has worked as a classroom technician at the Commerce School and the Darden School of Business for 10 years, began challenging himself to recreate the costumes in the horror films he loves several years ago. His Charlottesville apartment became something of a museum as he added more and more masks to his collection and began entertaining friends and family with mini-tours.
Now he has opened his first public exhibition at The Bridge Progressive Arts Initiative, a community art organization in downtown Charlottesville. The exhibition, "Parlor of Horrors," will run through Halloween.
Below, take a look at some of Gatto's creations, which include a life-size mummy inspired by the 1932 horror film "The Mummy" and several pieces recreated from "An American Werewolf in London," one of Gatto's all-time favorite films.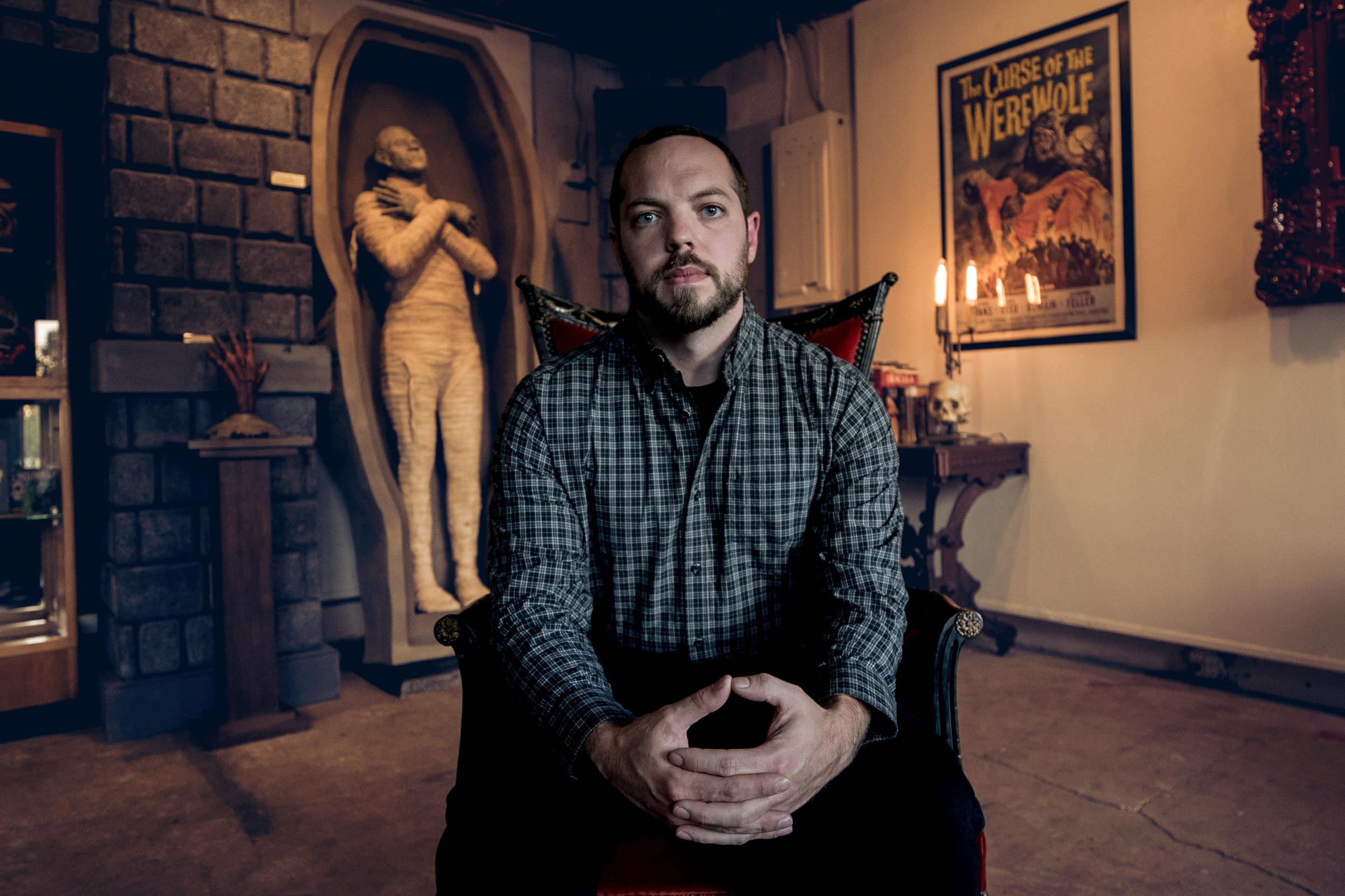 Gatto's enthusiasm for his craft is infectious. He attributes it in part to his mother, a retired police officer who loved to paint and sculpt when off-duty.
"She would spend weeks or months on a project, but she never got frustrated," Gatto said. "Growing up in that atmosphere, I wanted to make things, too."
He particularly gravitated to the elaborate costumes in classic horror films, a genre he has admired for years.
"I have always loved horror movies and monsters," he said. "The special effects and the makeup artists that work on those films are so inspiring."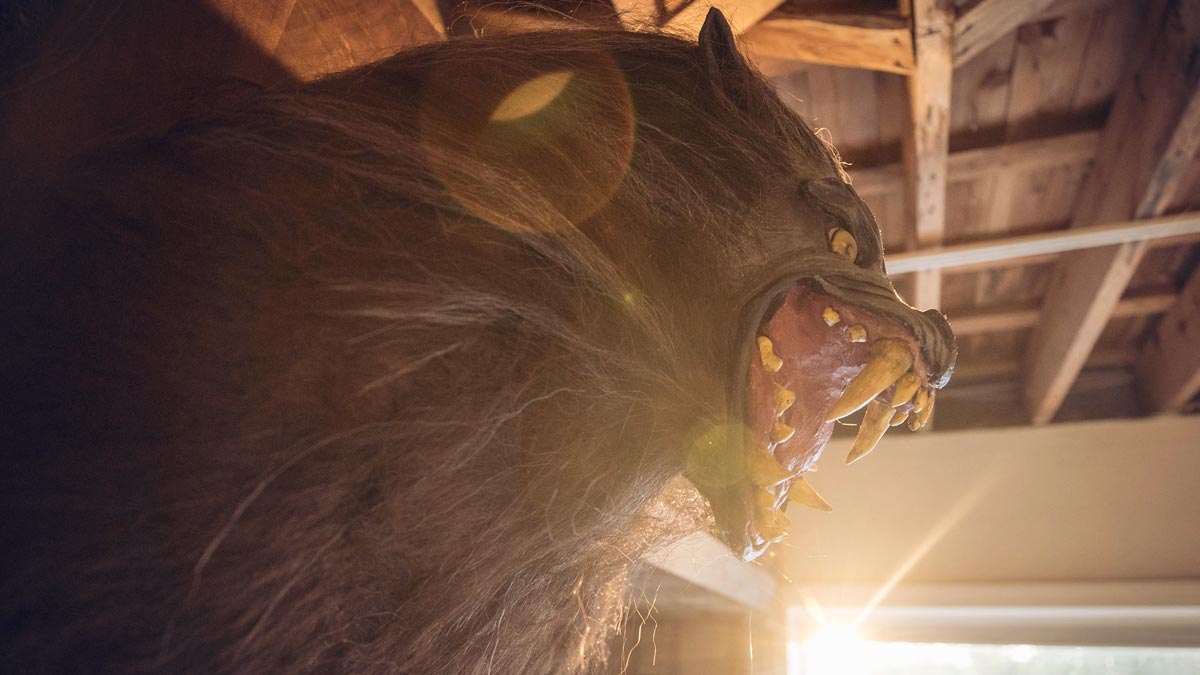 Gatto remembers watching the 1981 horror comedy "An American Werewolf in London" as a child and being transfixed by the techniques used to transform lead actor David Naughton into a convincing werewolf.
"I thought it was insane, and I actually remember thinking, 'I'll get to that one day,'" Gatto said. "I kind of knew that, at some point, I would fall into this artistic realm."
He was right. The mask above right is Gatto's first creation, a fearsome werewolf that was inspired by the film and served as his Halloween costume one year.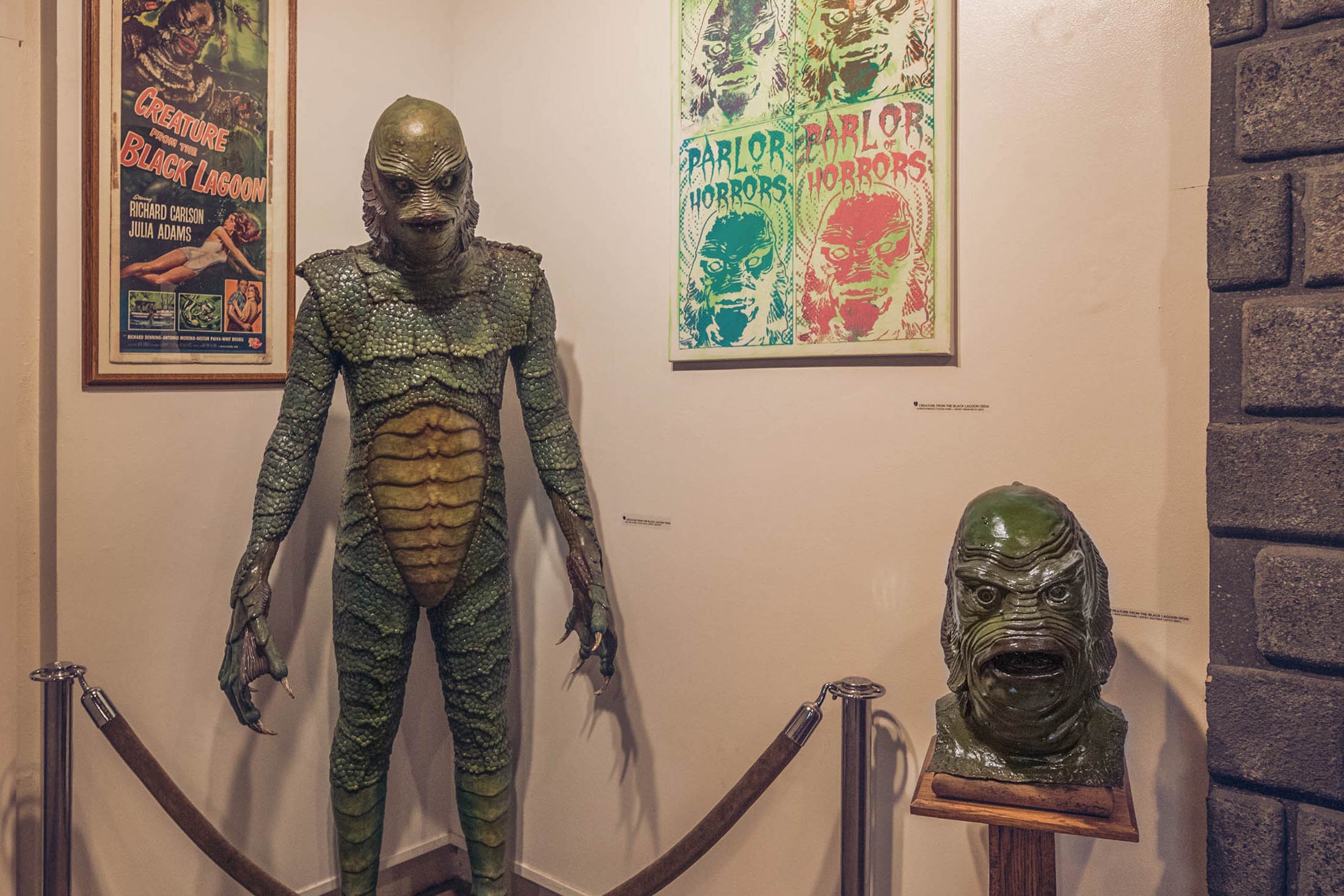 As his second project, Gatto created a Gill-Man mask, replicating the spectacular underwater monster featured in the 1954 film, "Creature from the Black Lagoon."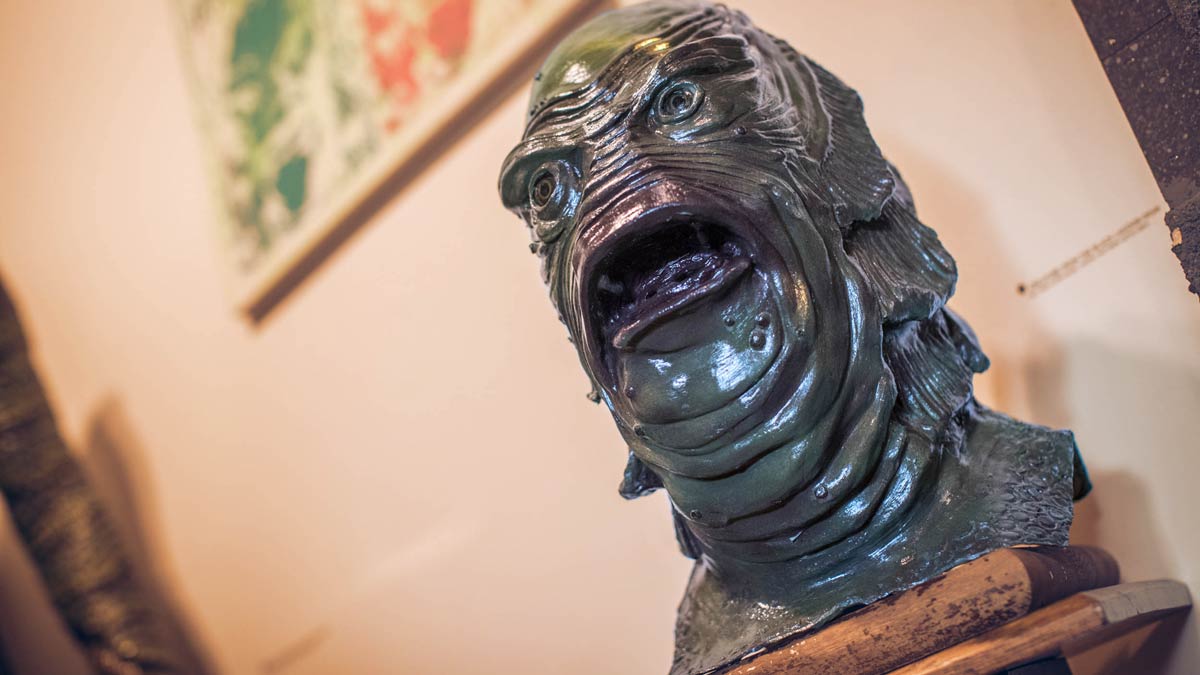 This mask, shown above with a full-size Gill-Man that Gatto purchased for his collection, was sculpted from the original mold that Gatto made years ago. He painted it himself, meticulously using an airbrush to layer the green, purple and yellow hues of the swamp monster.
Though he can always find ways to improve, Gatto said he was pleased with how this mask turned out.
"I am pretty proud of the paint job on this one," he said. Indeed, one only need look at the life-size Gill-Man next to the mask to see just how precise Gatto's craft has become.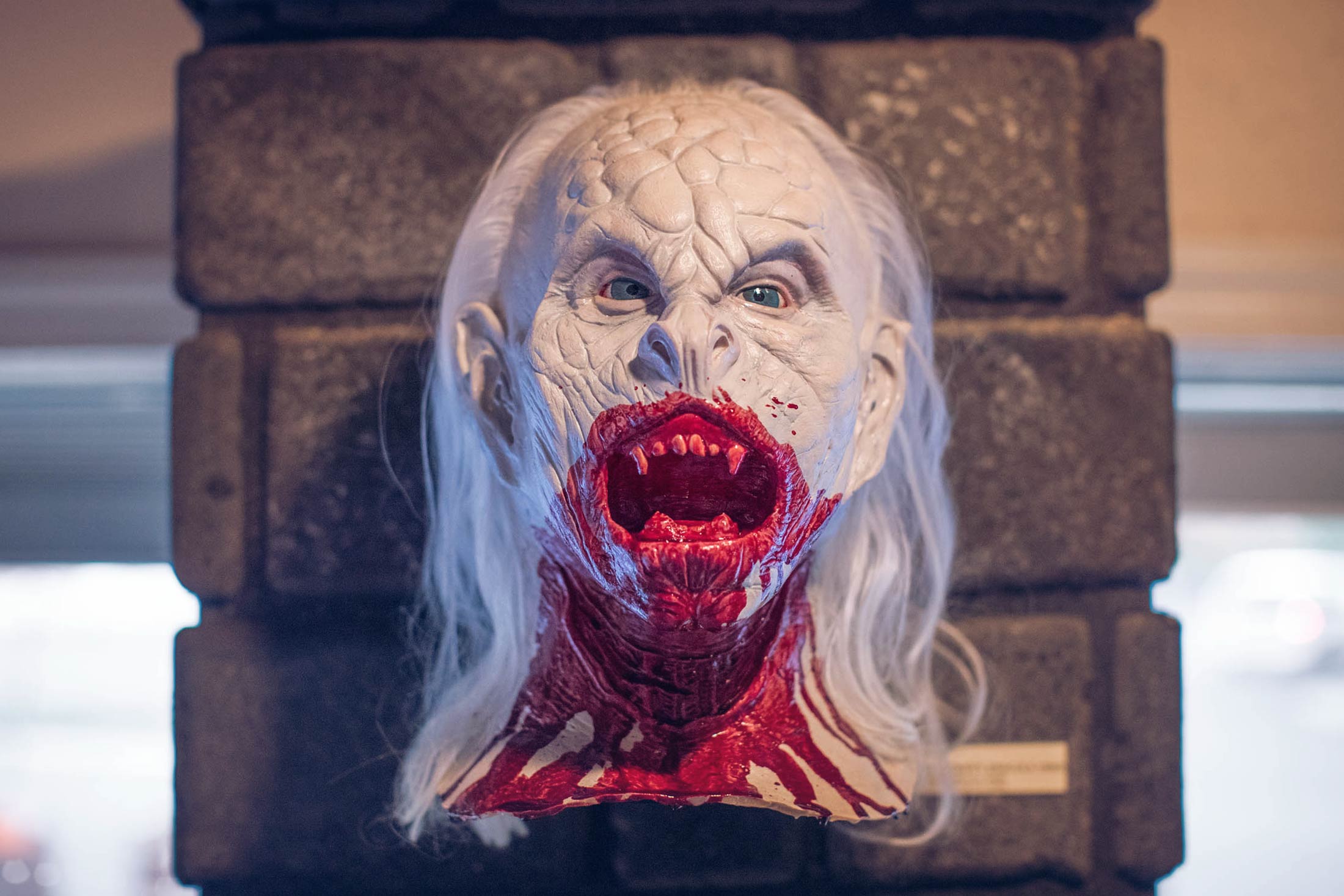 The mask above, another former Halloween costume, depicts a bloody, demonic Dracula, based on Gary Oldman's portrayal of the infamous vampire in the 1992 gothic horror film, "Bram Stoker's Dracula."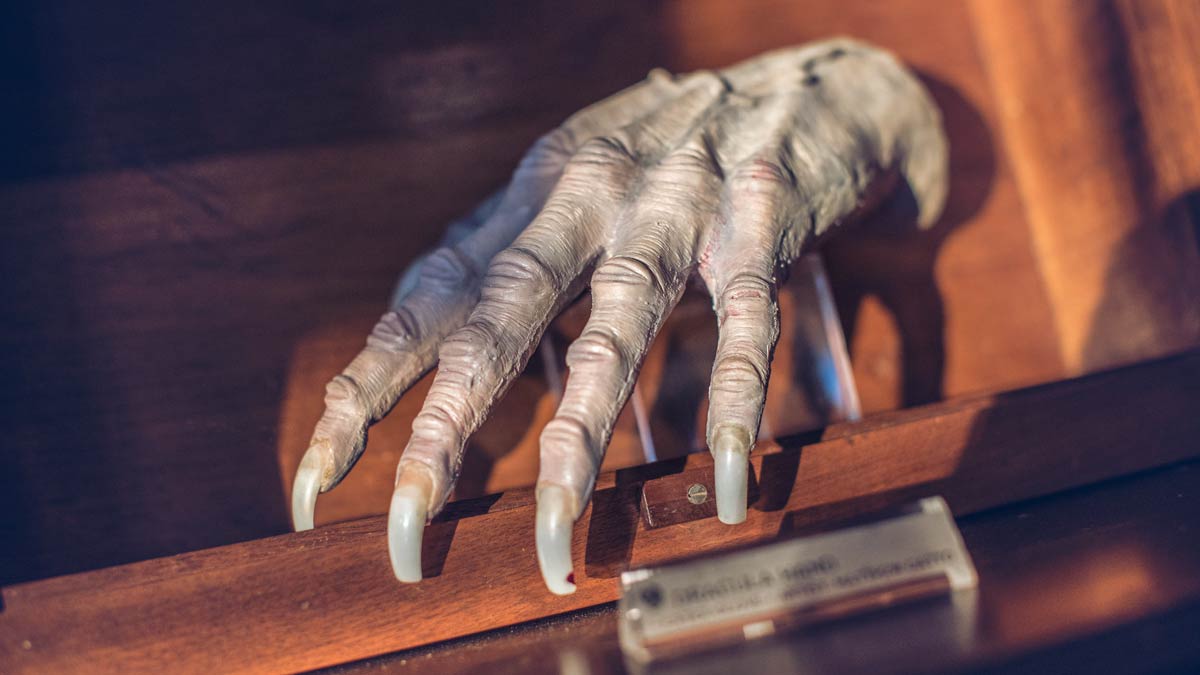 Gatto is self-taught, so it took several years of trial and error to hone his methods.
For each mask, he typically sculpts a design in clay, creates a plaster mold and then uses layers of latex to form the mask.
In addition to masks, he has created smaller items like the hands, right, that he wore with the Dracula mask, and a set of dentures, below left, recreated from a scene in "An American Werewolf in London."
"If I pursue future work in the industry, I knew I would need to know how to make things like dentures," he said.
Gatto cast his own teeth for the mold and ordered supplies from a dental supply company, which he said made for a very interesting phone call.
"They were very curious, but understood once I said it was for makeup and special effects," Gatto said, laughing.
By far the most ambitious project on display is the life-size mummy that Gatto made for the exhibition, based on the 1932 horror film, "The Mummy."
The mummy and sarcophagus took him seven months to craft, including a memorable three-plus hours when Gatto and several assistants wrapped plaster strips around his roommate, who gamely volunteered as a model.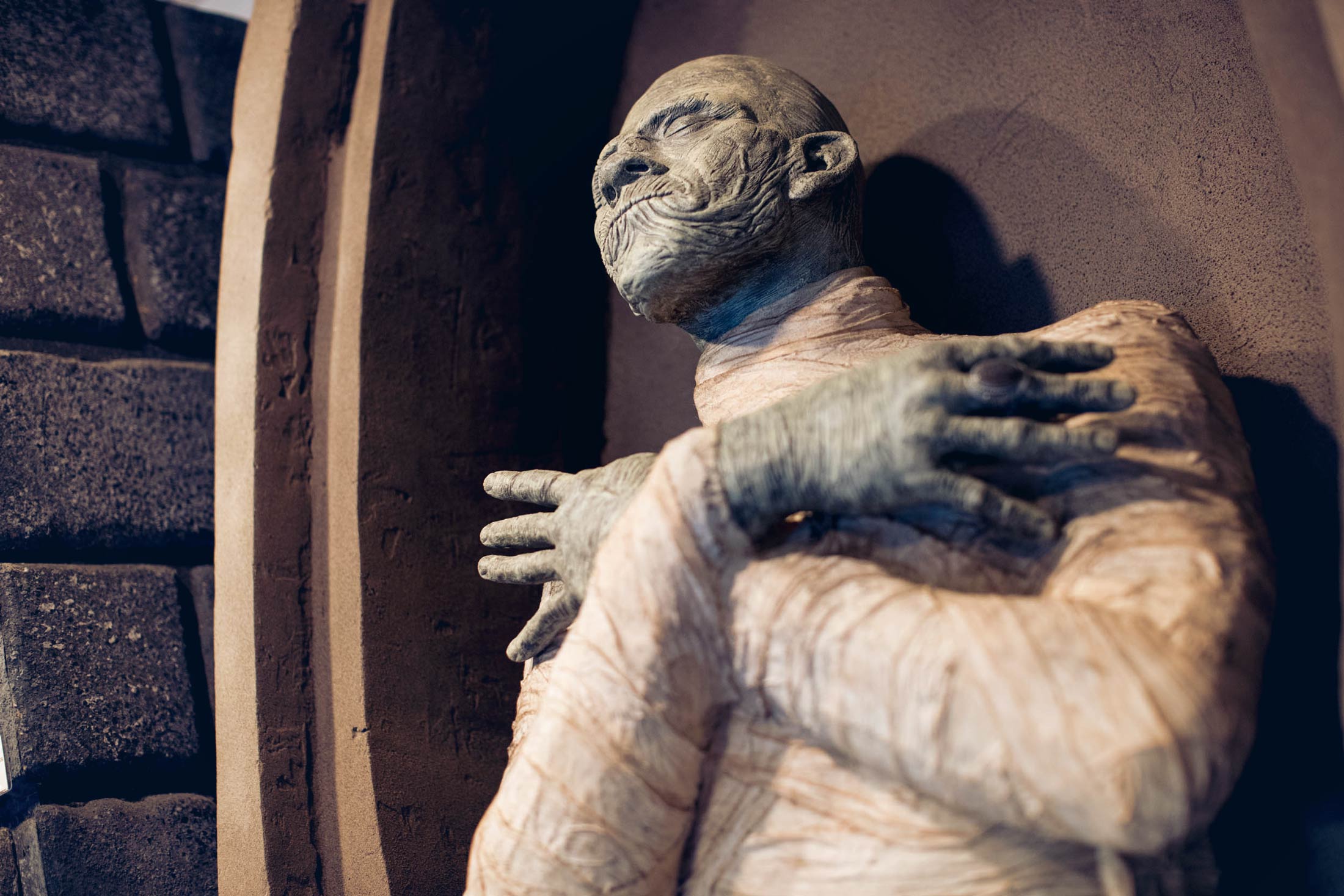 Gatto sculpted the mummy's head and hands, created a PVC pipe skeleton, filled the body with rigid foam and hand-dyed strips of muslin fabric to complete the effect.
"Of all of the things in the exhibition, this is the one I am most proud of," he said. "It took a lot of hard work, and it was so gratifying to finish it."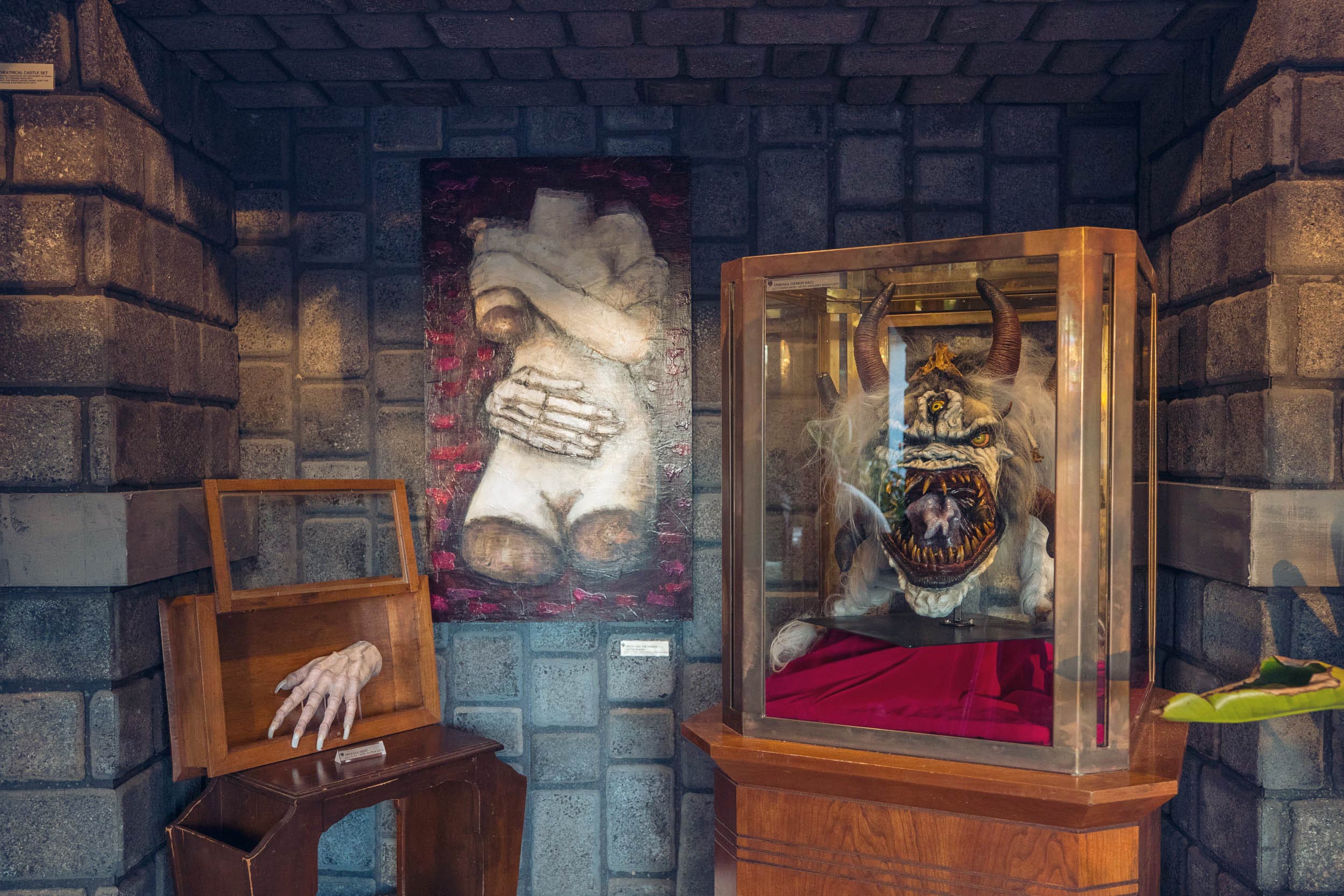 Apart from creating the masks, Gatto said mounting the exhibition – his first – was a rewarding challenge. Gatto designed the space, which includes sets donated by the UVA Drama Department, to resemble a room in Dracula's castle.
He also planned several events to go along with the exhibition, including concerts, a Halloween dance party held earlier this month, and a screening of fantasy thriller "Nosferatu," with the score performed live by UVA film studies lecturer and organist Matthew Marshall. He loved it so much that he now hopes to find a more permanent space for his collection.
"I have been in Charlottesville for 12 years now, but the networking opportunities this exhibition has given me have been incredible," Gatto said. "I have never felt more a part of the Charlottesville community."
Gatto's exhibition, "Parlor of Horrors," will be on display for the rest of October at The Bridge, 209 Monticello Road.
Article Information
October 24, 2017
https://news.virginia.edu/content/take-look-inside-uva-employee-matthew-gattos-parlor-horrors