Max Castroparedes has been at the University of Virginia for only a year, but as a rising fourth-year politics major, he's making huge strides toward a future public service career.
Castroparedes, a Houston native, transferred to the University from a small Catholic college in his home city after discovering a passion for politics and foreign affairs. He soon determined that UVA was the perfect place to pursue his newfound interest.
During his first semester on Grounds, Castroparedes joined the UVA men's rowing club, where he met his good friend (and recent UVA graduate), Billy Burris. "We were kind of an oddball [pair] because we just talked about current events, politics, the news and headlines every day," he said of their early morning workout discussions.
At one 5 a.m. training session, Castroparedes mentioned his interest in applying for an internship in the U.S. Senate, but worried that he might have to forgo the opportunity for financial reasons. Burris pushed him, both literally and metaphorically, to complete an application for a UVA Parent Fund grant as soon as possible. The grants support students like Castroparedes taking low-paying or volunteer internships in areas of public concern, such as civic engagement and public policy.
Castroparedes worked with alumna Dreama Johnson, who is UVA Career Services' associate director overseeing the public service and government career community, to secure both the highly competitive internship and the grant.
"In addition to being immersed in the inner workings of the legislative branch, [Castroparedes] is conducting research on national security policy issues and attending committee hearings," Johnson said. "His contributions to policymaking in the U.S. make him an excellent recipient of the Parents Fund Internship Grant Program."
Castroparedes also has professors and mentors such as Brantly Womack, Melvyn Leffler, Pete Furia and Kenneth Stroupe to thank for their advice and encouragement through the whole process.
As passionate about this internship as he is about his home state, Castroparedes went out on a limb before returning from winter break in January. Instead of catching his connecting flight to Charlottesville from Dulles Airport, he made a short trip into Washington, where he located the office of U.S. Sen. John Cornyn and announced to the receptionist, "Hi, I'm Max, I'm from Houston, Texas, I go to the University of Virginia, and I'd love to be your intern this summer."
He spoke to the internship coordinator that same day, turned in the application just a week later and then began the waiting game.
"April was really stressful, but then having the grant and realizing, 'OK, I'm going to D.C.' was really an amazing moment," Castroparedes said.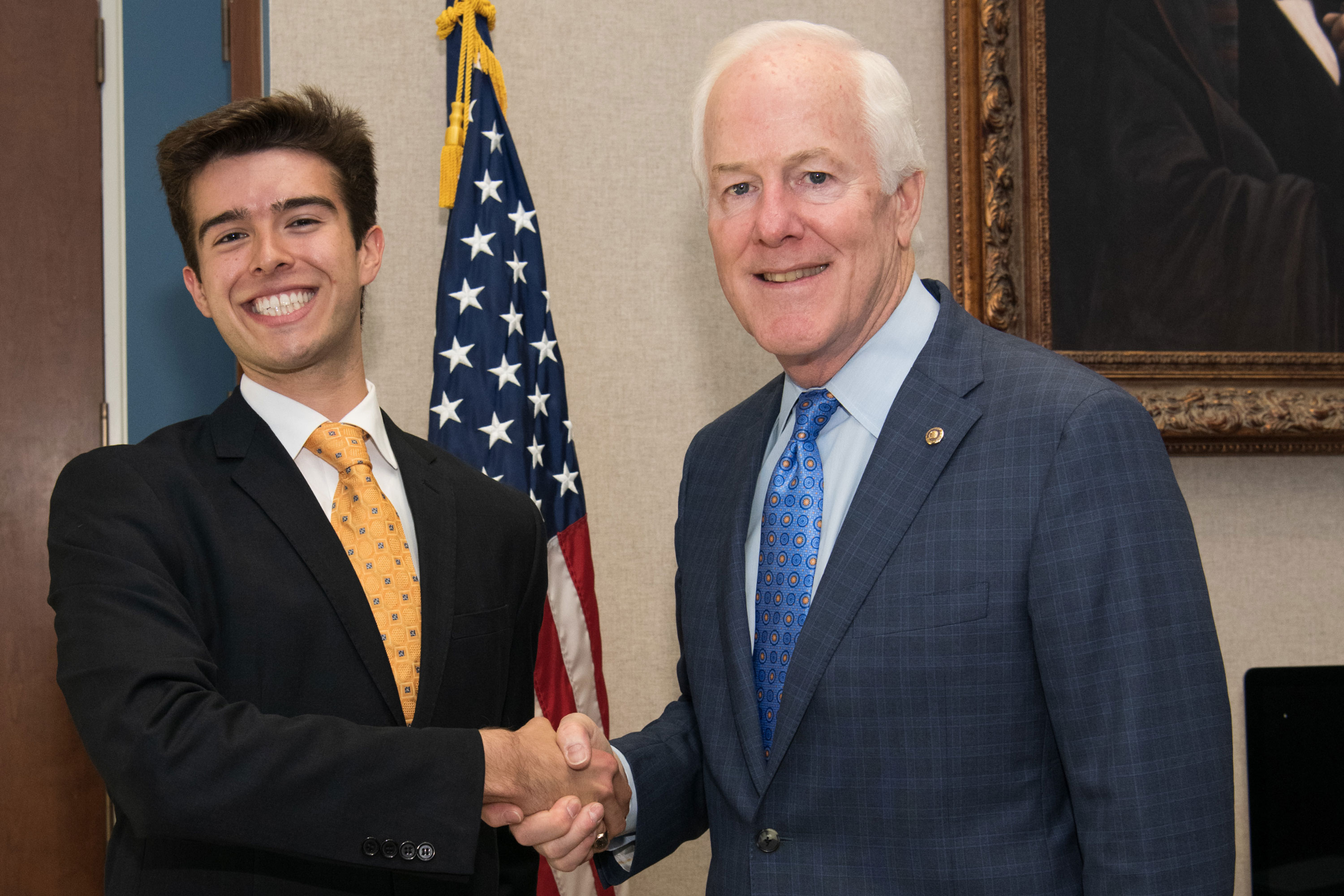 Max Castroparedes, left, working in the office of Texas U.S. Sen. John Cornyn, is focusing his efforts on what are called "legislative affairs." (Contributed photo)
Now, having spent about a month working long hours in the fast-paced, high-pressure world of Capitol Hill, he says he wouldn't trade it for anything.
"Arriving here from Texas, a lot of people [said], 'How are you going to do it in D.C.? The people are so mean,'" he said, "I didn't want to believe that, so my first week I tossed that stereotype away. This city is full of motivated people doing their best."
On the job, Castroparedes finds even the most tedious tasks rewarding. Aside from reading up on the latest policies, he and Cornyn's other interns are responsible for sifting through voicemails, press releases, constituent mail and news reports. It might seem tiresome, but Castroparedes likes learning what issues matter to the people in his home state.
He's also found reading pending legislation much more interesting. On his newfound enjoyment of what is termed "legislative affairs," Castroparedes said, "If you had asked me even a month ago, I would have [said], 'What is that?'" His most recent projects have consisted of tracking amendments for the National Defense Authorization Act and updating the office's legislative directories.
Some of the best insights Castroparedes has gained came when he was able to sit down face-to-face with Cornyn and some of his senior staff, an opportunity he believes not many other senators give their interns.
Cornyn's chief of staff, Beth Jafari, also gave the interns almost an hour and a half of her time, imparting advice from her 16 years of service in the Senate. Castroparedes recalls both the senator and the chief of staff agreeing that, "If you have a curious mind and you love to learn, [D.C.] is the place to be."
Castroparedes has already pinpointed some of the keys to thriving on Capitol Hill. In his first three weeks, his biggest takeaways are to communicate effectively and to be on top of your "A" game from the moment you walk in the door at 8:50 a.m. to the time you go home at 6 p.m., "because if you're not, you'll get thrown to the wolves," he said.
Off the clock, Castroparedes has found ways to unwind and bring a little bit of UVA to D.C. through the University Club. With summer-long memberships for interns, the club has become his safe haven where he can catch up with friends and colleagues, read in their Keefer Memorial Library or swim some laps.
Having just learned how to play squash at UVA's courts this year, Castroparedes has felt at home playing with fellow interns and D.C. professionals at the University Club. He describes it as his "temple," where he can stay "calm and collected and feel [like he's] back in Charlottesville."
Now excited at the prospect of moving to D.C. before attending law school, Castroparedes is also interested in running for office one day in his home state.
Despite his eagerness to be in Washington he said, "Ideally, I want to be back in Texas and serve my community."
Media Contact
Article Information
July 16, 2019
/content/texas-charlottesville-capitol-hill-transfer-student-brings-his-game