The University of Virginia is renowned for its Lawn and for its landscaping. The good news for fans of the trees, shrubs and flowers that distinguish UVA is that many of them can thrive in your personal grounds at home, too.
Helen Wilson, UVA's senior landscape architect, led UVA Today on a recent walk about Grounds, during which she pointed out a sample of perennials, bushes and small trees that help make the University beautiful. (Most can be found in multiple places, but we provide one location per plant in case you'd like to inspect them firsthand.)
Here are 10 for you to consider for your own landscape:
Polyantha rose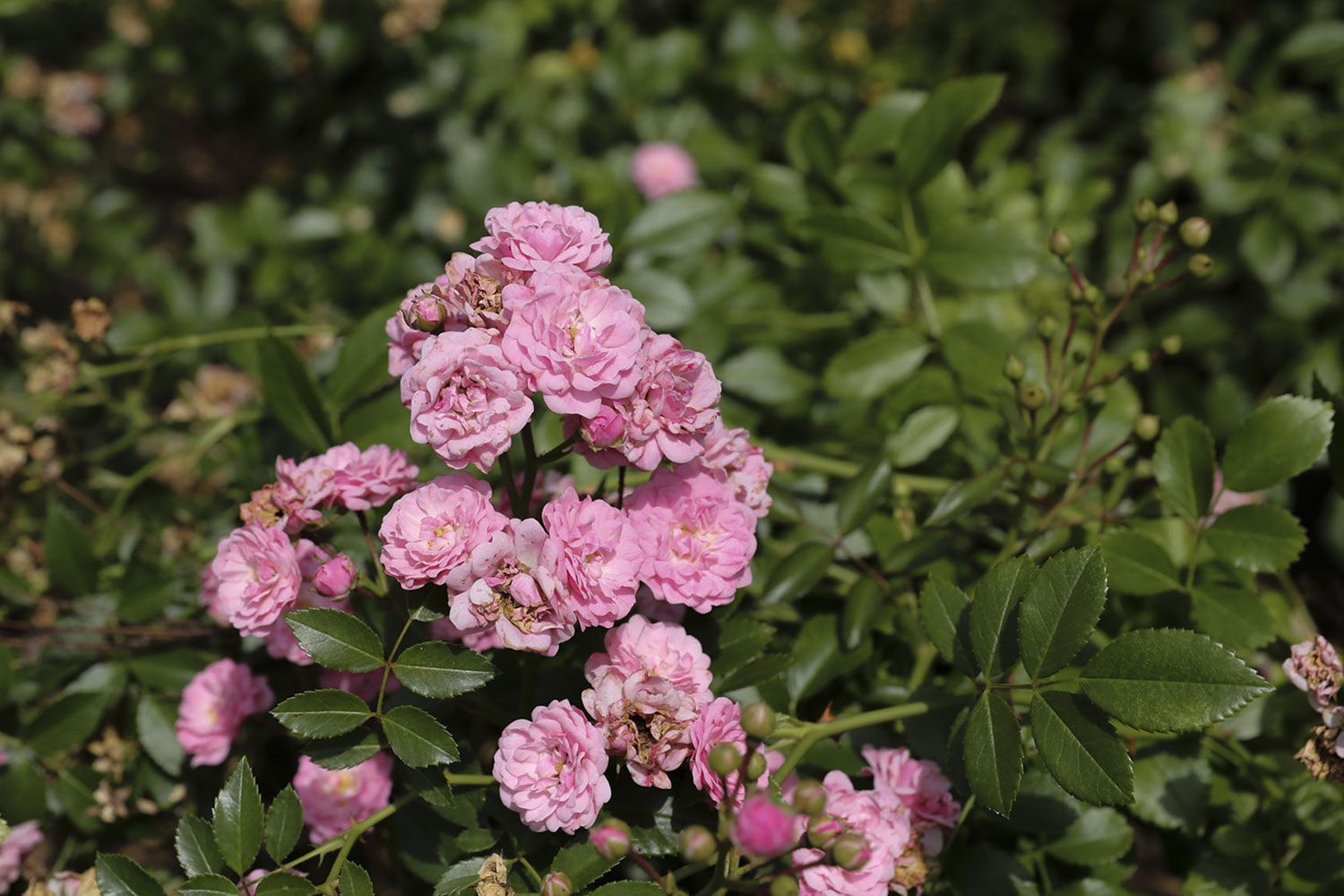 Scientific name: Rosa, "The Fairy"
Location: Outside Peabody Hall
The Fairy is a compact, hardy heirloom rose. Unlike many roses, it is disease-resistant and has healthy green foliage all summer long. It profuses pink blooms in late spring and early summer while sporadically blooming through frost. This plant likes full sun and is a nice alternative to the now ubiquitous "Knockout" rose.
Smooth hydrangea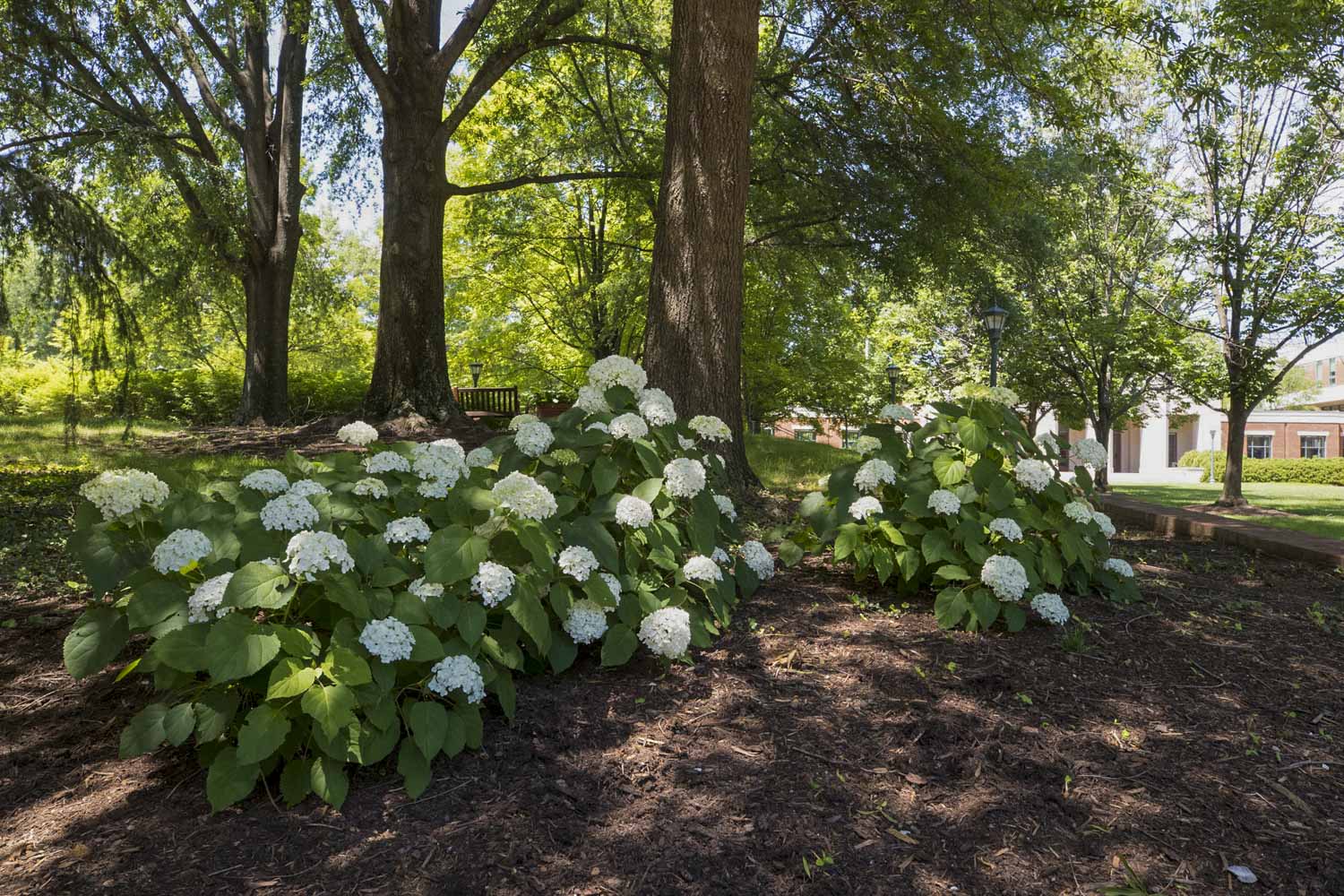 Scientific name: Hydrangea arborescens, "Annabelle" 
Location: School of Law
Smooth hydrangea is a cultivar of a native hydrangea. It's compact in habit, and features dazzling, prolific puffballs of pure white flowers in early summer. It needs shade or partial shade; afternoon sun may cause damage.
False goat's beard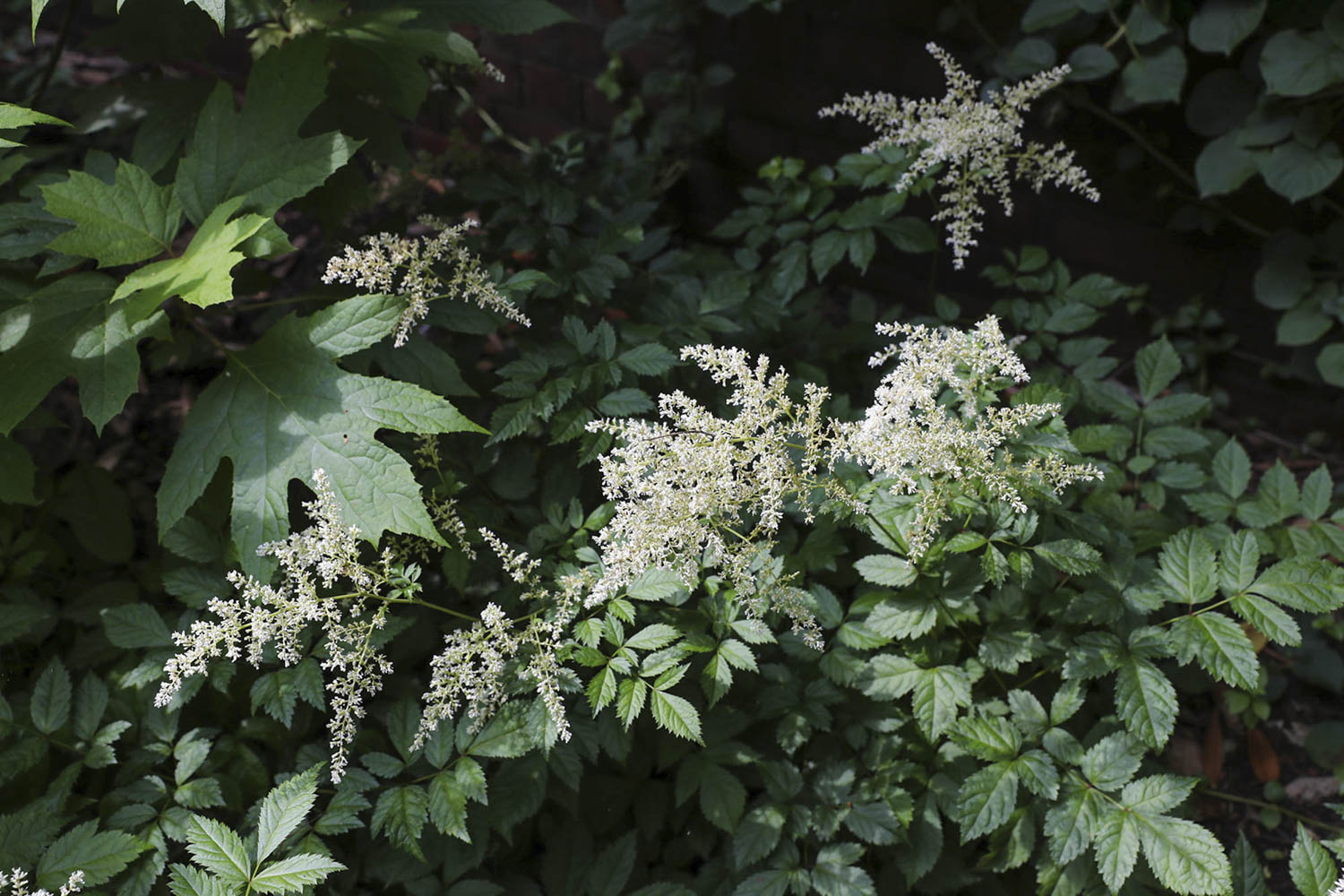 Scientific name: Astilbe
Location: South garden of the Fralin Museum of Art
This vigorous perennial has upright, showy spikes of white or rose-pink flowers, now blooming. Its foliage is composed of tidy mounds of compound leaves that stay healthy all summer long, except in periods of drought. This plant grows well in areas of partial shade to shaded conditions.
Japanese stewartia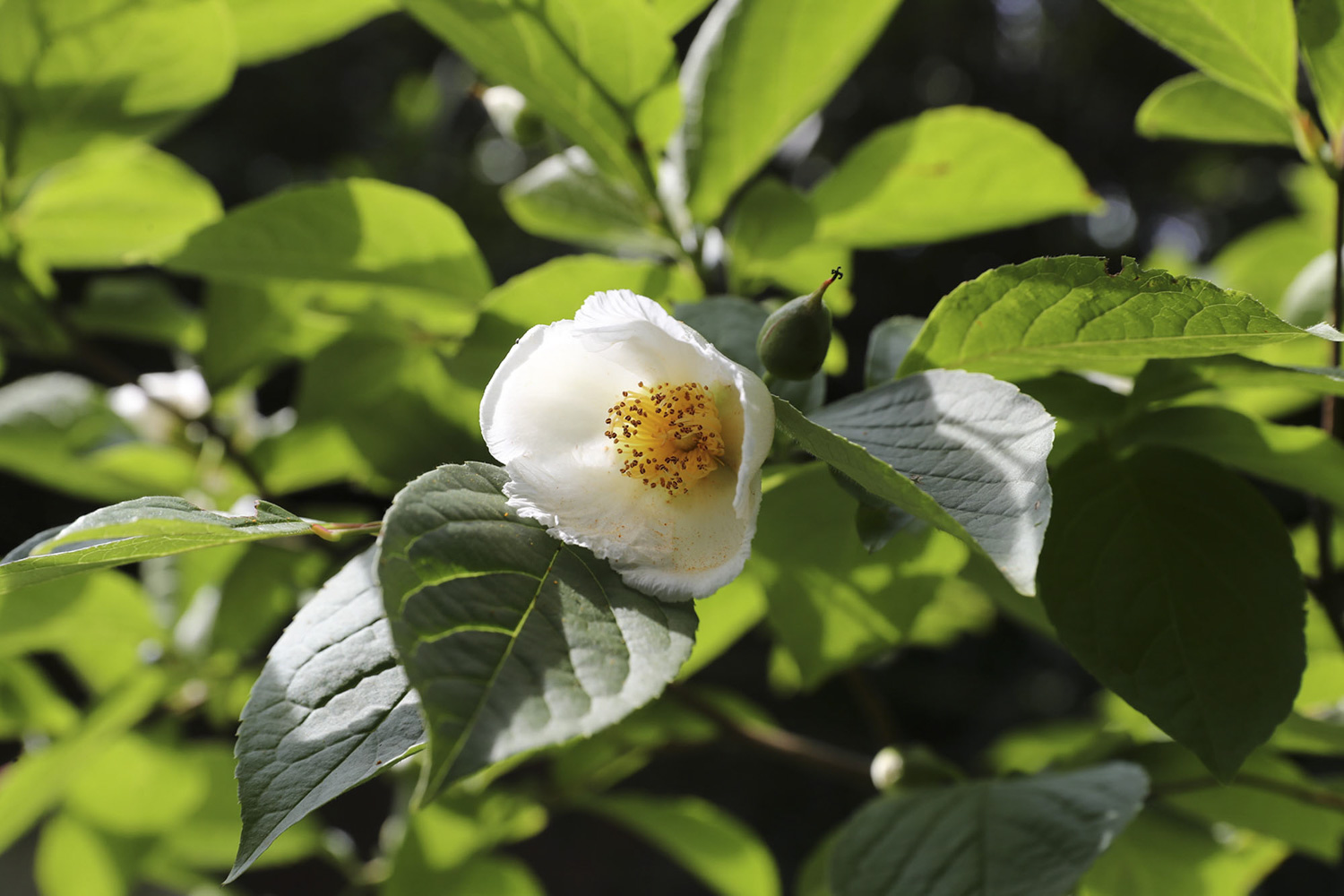 Scientific name: Stewartia pseudocamellia
Location: South garden of the Fralin Museum of Art
This small ornamental tree has camellia-like flowers featuring large, white petals with yellow centers. With age, the tree develops a peeling, variegated bark, like a crape myrtle. In fall, it has bright, orange-red leaves. It is truly a specimen tree and should be featured prominently in your yard.
Dwarf oakleaf hydrangea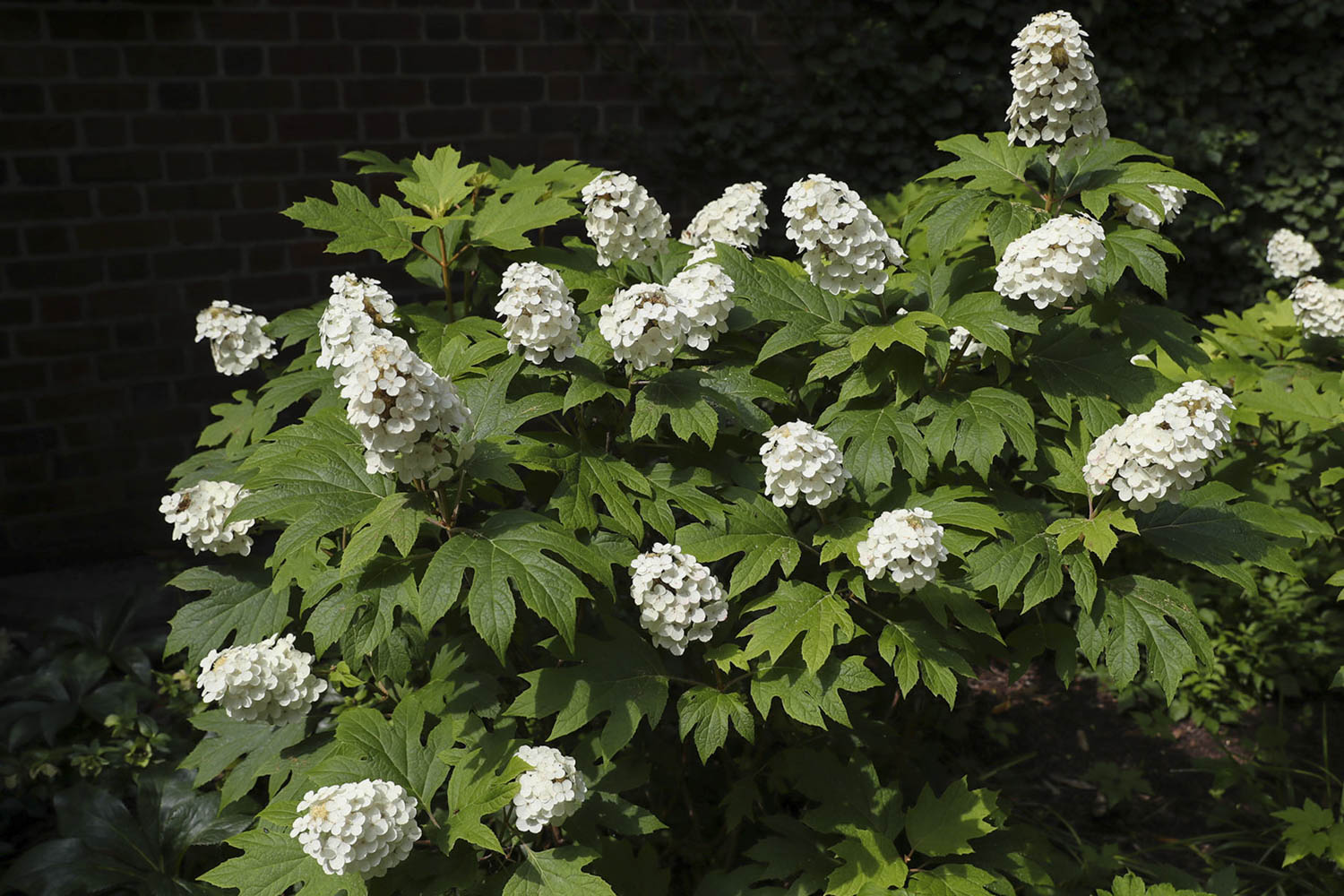 Scientific name: Hydrangea quercifolia, "Pee Wee"  
Location: Near Hotel A
Common throughout Grounds, the dwarf form of the native oakleaf hydrangea, "Pee Wee," has the same showy panicles of white blooms and the same large, oak-like leaves with brilliant fall color. It prefers morning sun; hot afternoon sun can wilt the foliage. Be forewarned: deer love hydrangeas.
St. John's wort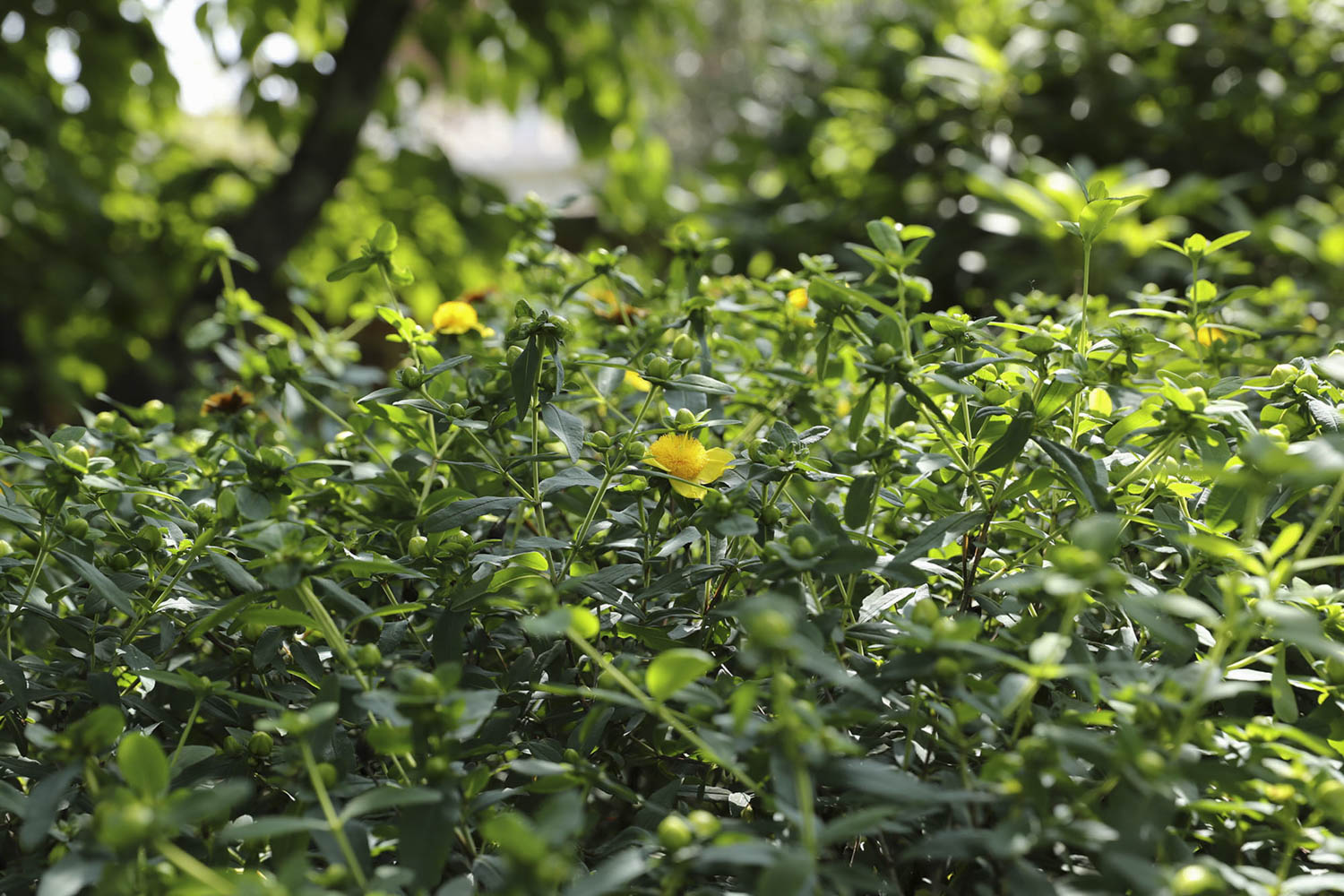 Scientific name: Hypericum calycinum
Location: On Bayly Drive, near the School of Architecture
St. John's wort is a semi-evergreen, vigorous groundcover with showy, yellow flowers in early summer and sporadic blooms throughout the fall. It prefers full sun and does not like "wet feet." In late winter, when it becomes a bit haggard-looking, it can be mowed down or string-trimmed.
Shadbush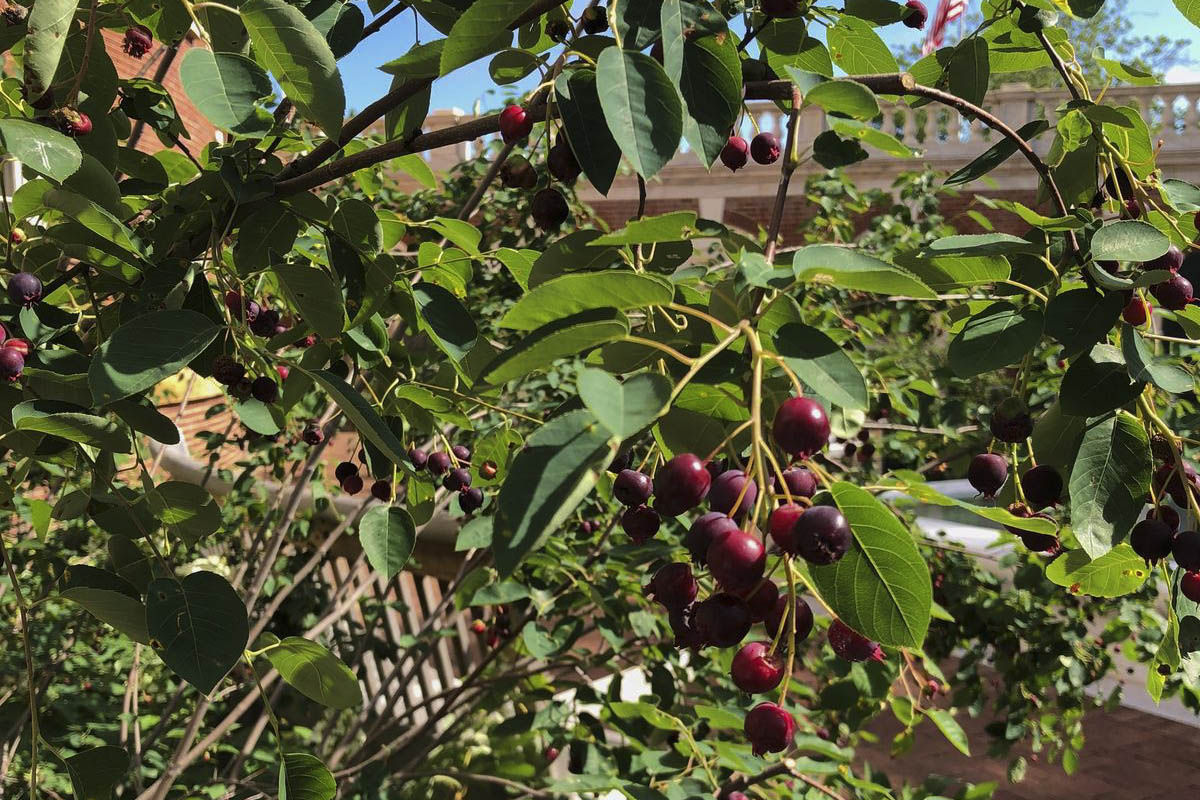 Scientific name: Amelanchier
Location: Rotunda's east courtyard
These trees have great red-orange leaves in the fall and beautiful smooth, gray bark. Amelanchiers are native small trees with delicate white flowers in early spring, which transform into berries. These trees attract birds because they enjoy eating the berries.
Japanese plum yew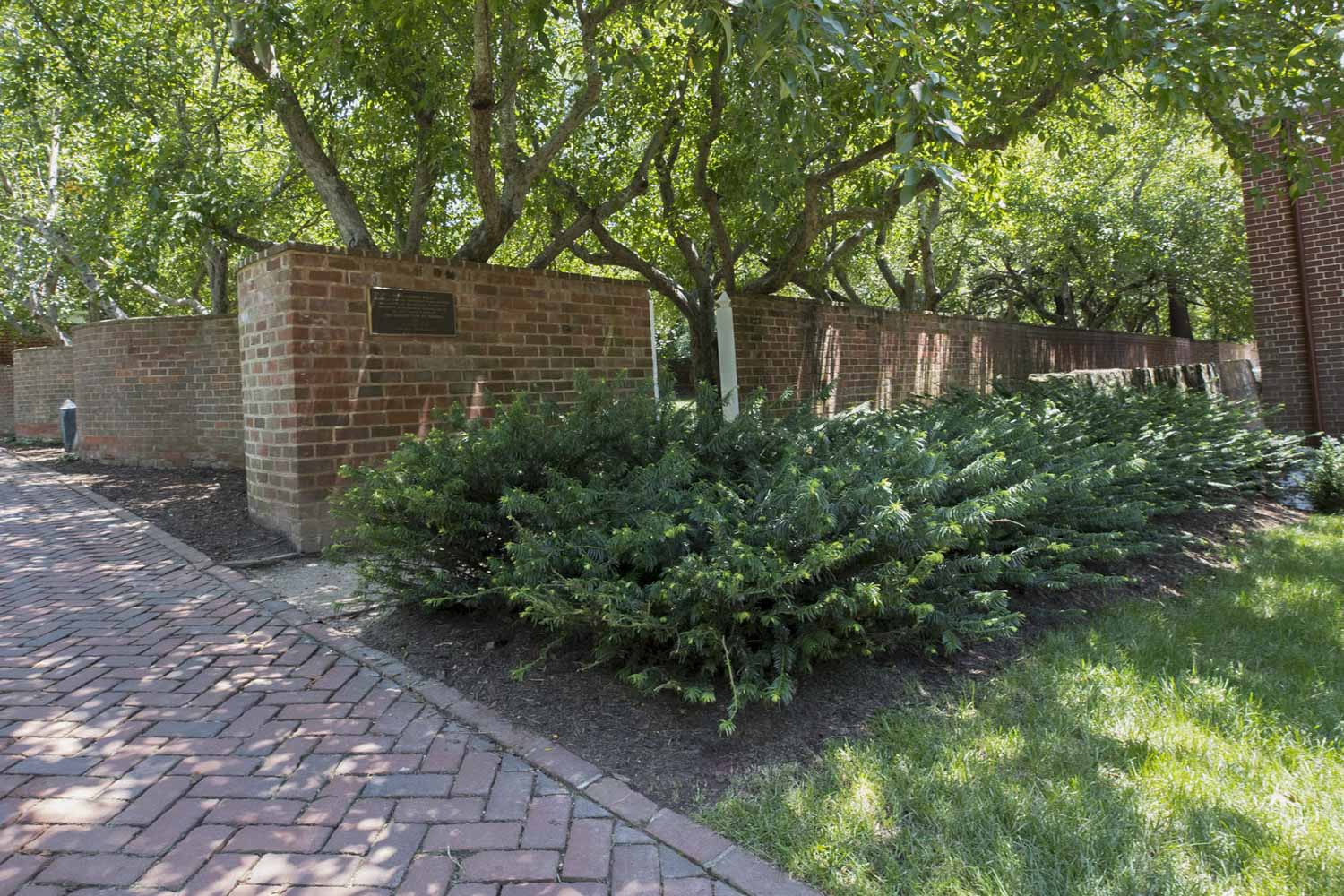 Scientific name: Cepthalotaxus harringtonia, "Duke Gardens"
Location: Hedges flanking Hotel A
Japanese plum yew resembles the English yew, but is much more tolerant of the heat and humidity of the South. "Duke Gardens" is a spreading form with rich, dark green leaves similar to the more familiar English yew. It prefers shade, making it a perfect plant for the north face of a building.
Winterthur viburnum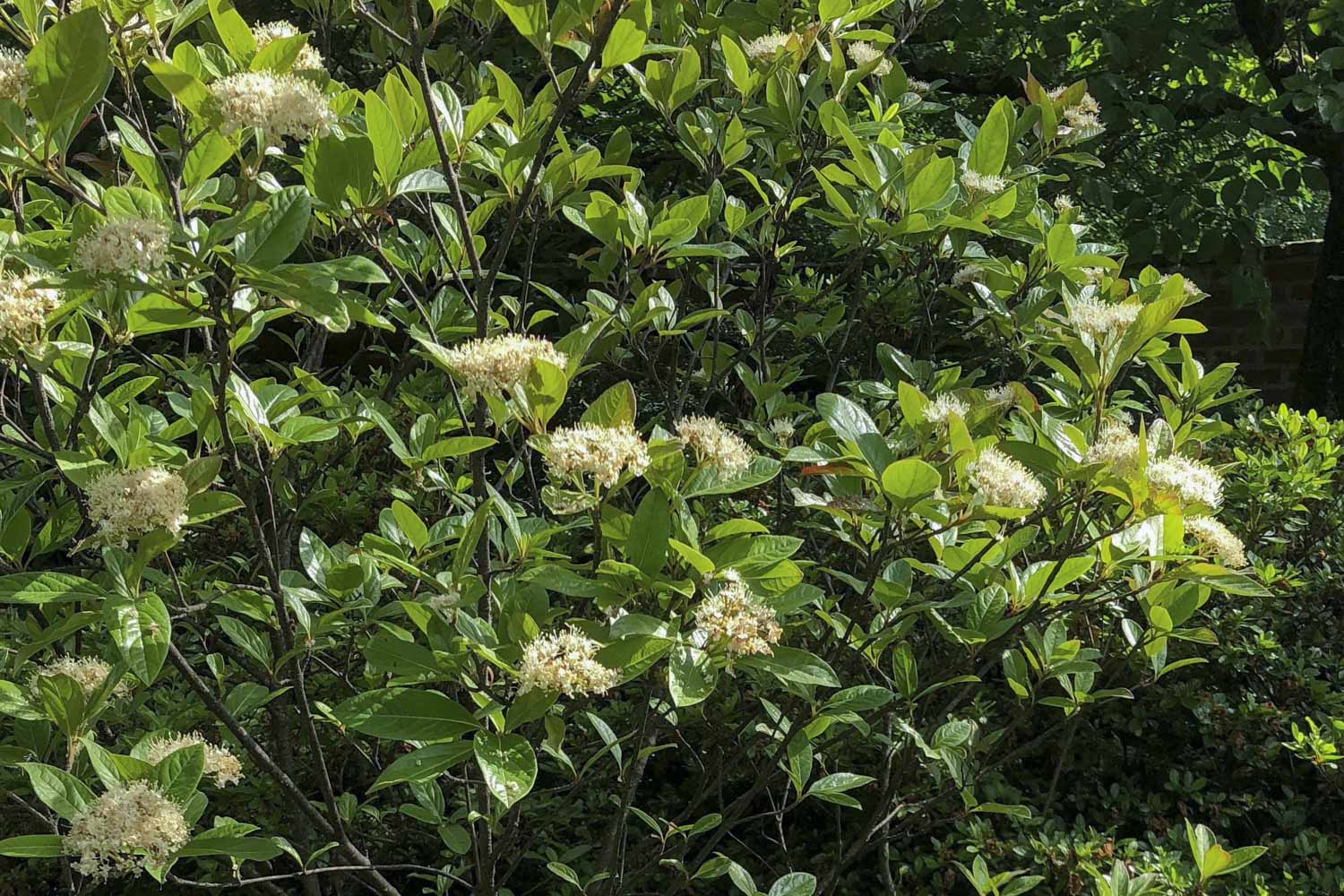 Scientific name: Viburnum nudum
Location: Upper Garden of Pavilion I
This cultivar of a native shrub is more compact than the straight species. It has flat-topped clusters of white flowers and large, vigorous green leaves that turn a wine red in fall. This plant prefers full sun and its flowers give way to clusters of dark blue berries. 
Russian sage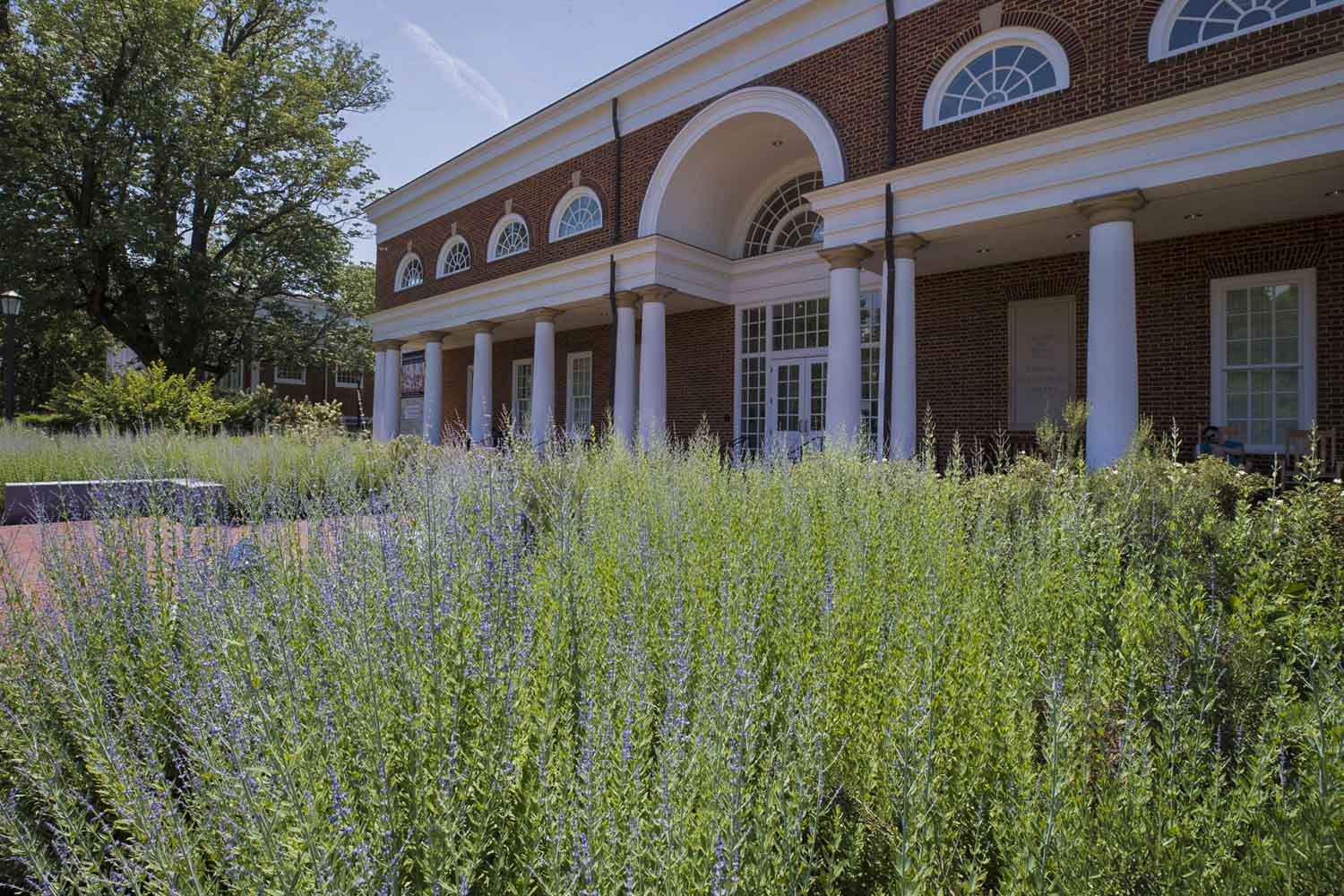 Scientific name: Perovskia atriplicifolia. 
Location: Outside the Albert and Shirley Small Special Collections Library
Russian sage features a feathery, gray-green foliage with showy, light blue, airy blooms. This tough perennial prospers in full sun and needs well-drained soil.
A mass of Russian sage is blooming just outside the Special Collections Library. This plant attracts pollinators such as bees, butterflies and other insects. Recommended cultivars are "Blue Jean Baby" and "Little Spire," as these forms are tidy and tend not to flop.
Article Information
June 15, 2018
/content/these-10-plants-thrive-uvas-grounds-they-could-thrive-your-yard-too