"Transformative" is one of the descriptions repeated again and again in the enthusiastic letters University of Virginia students, faculty members and deans submitted for this year's teaching award winners.
These professors – some who have been on Grounds for more than 10 or 20 years, and some who have joined the UVA community more recently – act as intellectual travel guides, as one student put it, enabling others to take important steps on their individual journeys of self-discovery and academic success. Their guidance, however, goes beyond the classroom to significantly influence the trajectories of students' lives.
The Office of the Executive Vice President and Provost issues a call for nominations each fall and administers the teaching awards, with the exception of the National Endowment for the Humanities professorships, a program of UVA's Center for Teaching Excellence. The teaching award winners were honored at a Thursday evening banquet.
In addition, the Office of Graduate and Postdoctoral Affairs annually administers All-University Graduate Teaching Assistant Awards. Departments are invited to nominate one or more candidates for graduate teaching awards.
Graduate teaching assistant awards went to: Nathan Brunelle, computer science; Caitlin Fitzpatrick, English and creative writing; Molly Kelly-Goss, biomedical engineering; Paromita Sen, politics; Brittany Sutherland, biology; and Christopher Maternowski, history. Dr. Carina Brown of the Family Medicine Residency Program received the School of Medicine's Resident Teaching Award.
The 2017 faculty honorees:
Psychology Professor Robert E. Emery, Cavaliers' Distinguished Teaching Professorship
Chemistry Professor Cassandra Fraser, Alumni Association Distinguished Professor Award
Assistant Professor of Chemical Engineering Gary Koenig, Alumni Board of Trustees Teaching Award
Associate Professor of Religious Studies Greg Schmidt Goering, NEH Daniels Family Distinguished Teaching Professorship
Associate Professor of Chinese Hsin-hsin Liang, Excellence in Education Abroad
Professor of Education James Wyckoff, Excellence in Faculty Mentoring Award
All-University Teaching Awards
Associate Professor of Biomedical Engineering Timothy Allen
Associate Professor Dorothe Bach, Center for Teaching Excellence
Assistant Professor of Public Policy Eileen Chou
Associate Professor of Management Amanda Cowen
Assistant Professor of Biology Robert Cox
Associate Professor of Architecture Phoebe Crisman
Associate Professor of Education Nancy Deutsch
Professor of Law Leslie Kendrick
Professor of Business Administration Frank Warnock
Robert E. Emery
Cavaliers' Distinguished Teaching Professorship
Professor of Psychology, Director of the Center for Children, Families and the Law
Years at UVA: 36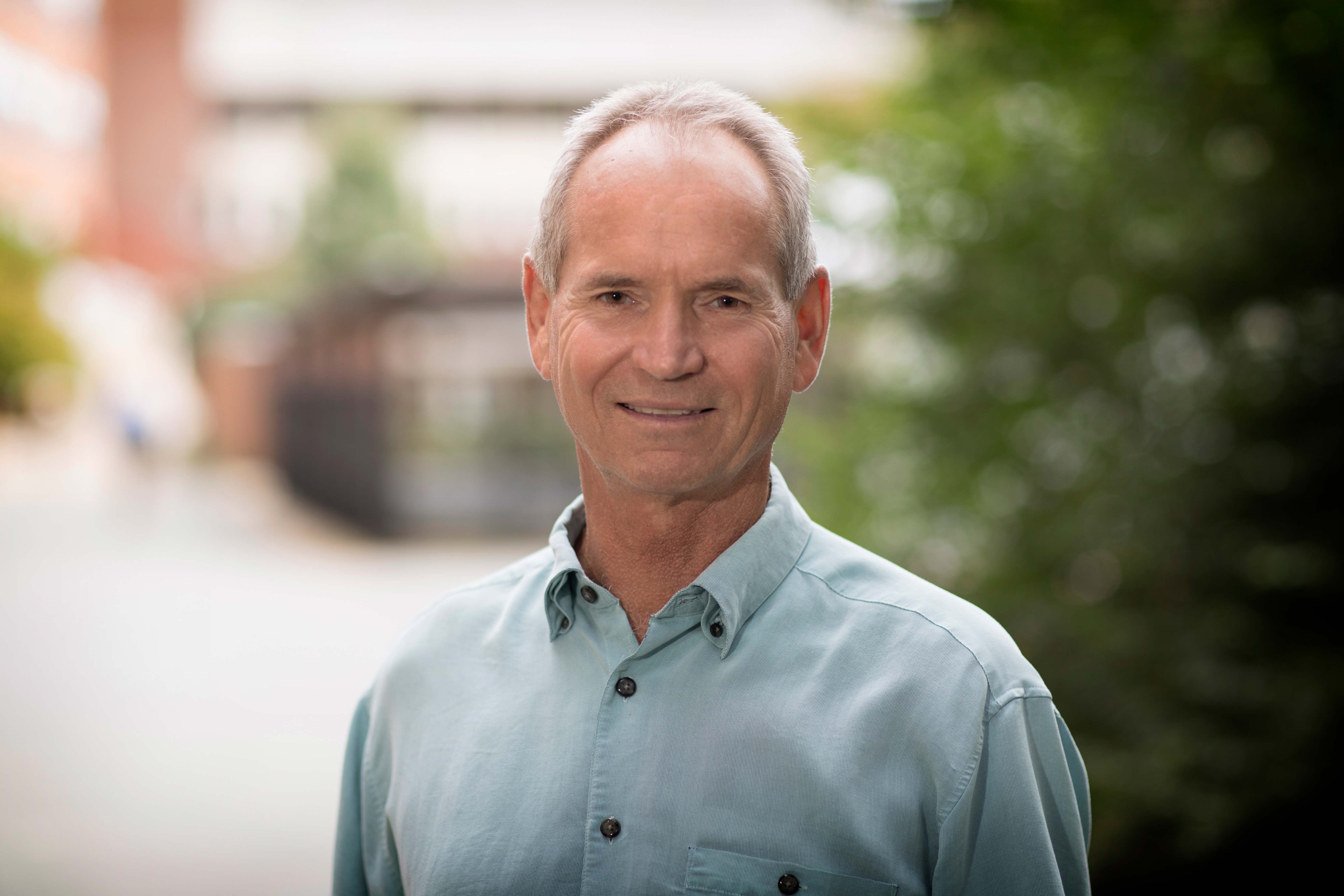 Bob Emery has become so well-known as an expert on children and divorce – with his own website devoted to the topic and based on several books – it's no surprise his legendary teaching and mentorship would join the spotlight. Over the years, about 15,000 undergraduates have taken his "Abnormal Psychology" class, as the lecture course draws 300 to 350 students each year, many of whom have called it "life-changing." And those numbers don't include graduate students.
Emery unabashedly loves teaching and challenging students to think for themselves, he wrote in his teaching statement. At the same time that he teaches them the skills to be skeptical and objective, he seeks to "humanize psychological problems," using case studies, forming small-group discussions and having students lead some of the class sessions.
"Despite teaching very large classes, he seems never to turn away a student who needs his assistance, and he even volunteers to do more than his share of student advising," wrote Professor Alev Erisier, chair of the Department of Psychology, in his nomination. "He is wise in clinical matters and a master at teaching often intangible lessons that make such a difference in the lives of individuals seeking help."
One student athlete who hadn't done well on the first two exams went to see Emery for advice on improving his study habits. Emery got him talking about how his life was going and told him he understood firsthand that being a student-athlete was similar to having a full-time job in addition to college. Emery made him "feel like a part of the University's student body for the first time" the student-athlete wrote. The player went on to excel in the class and wrote that he considers it one of the most important he has taken at UVA.
Teaching beyond the classroom, Emery is sought after as a clinical supervisor to graduate students in UVA's highly ranked clinical program. A longtime colleague of Emery's called him "the linchpin of a highly successful graduate training program in clinical psychology at UVA for 35 years."
The Cavaliers' Distinguished Teaching Professorship, a two-year professorship established in 1991 and endowed by UVA football bowl game proceeds, recognizes an eminent scholar for outstanding and enduring excellence in the teaching of undergraduates.
Cassandra Fraser
Alumni Association Distinguished Professor Award
Professor of Chemistry
Years at UVA: 22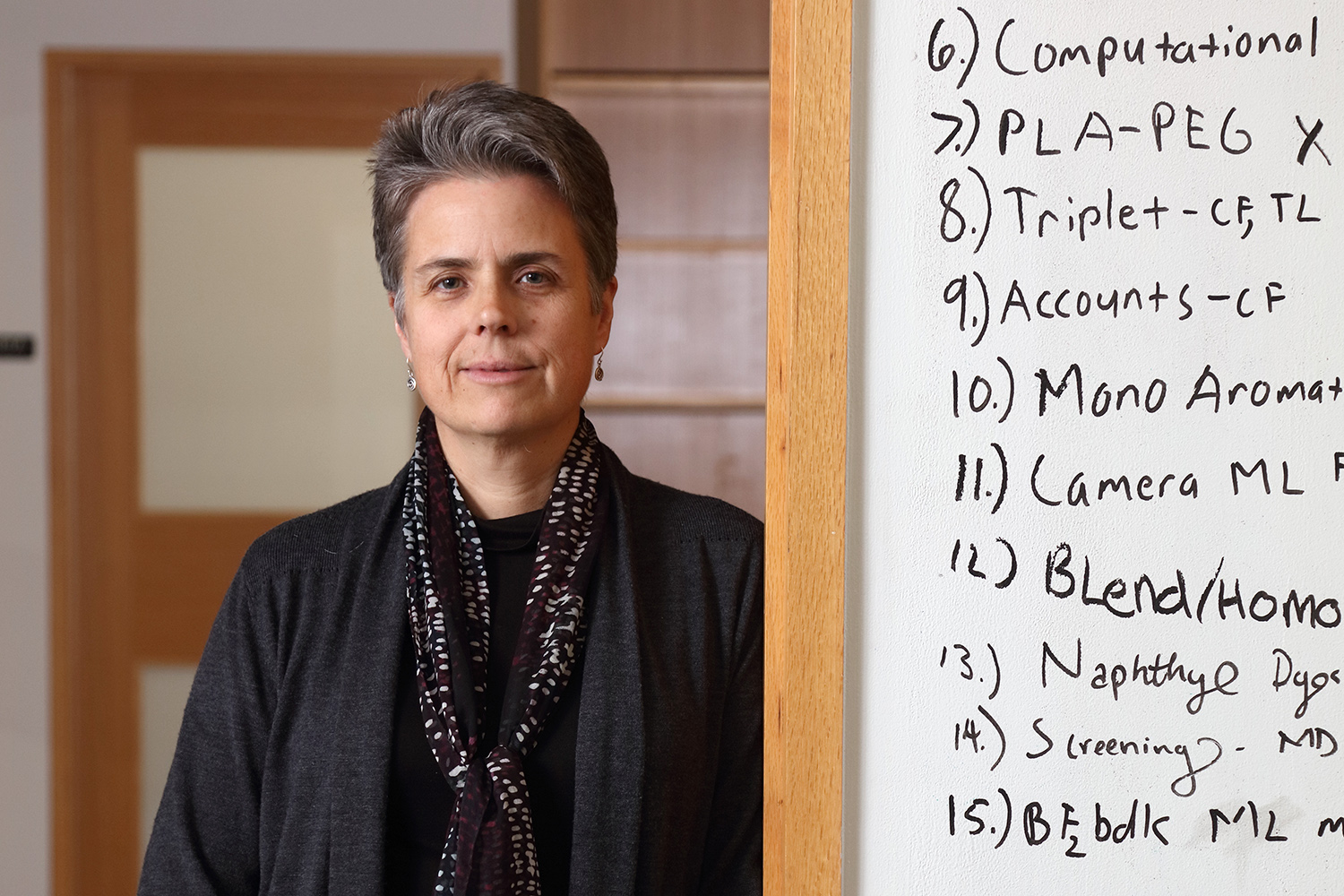 Cassandra Fraser is revered in the classroom and on Grounds as a dedicated role model who gets to know her students as she takes them on a journey of self-discovery.
Fraser has transformed the notoriously difficult and competitive "Organic Chemistry" into, as one former student put it, "one of the most interactive, collaborative and friendly classes I have ever taken." She inspires students to want to help each other and see each other succeed. She uses real-life examples and applications of chemistry to show students how the science bears upon current issues involving drugs or pollution, for example.
Her colleague W. Dean Harman, who chairs the Department of Chemistry, said she works in "the vanguard of science education and interdisciplinary thought at the University." Fraser also created the innovative courses, "Designing Matter" and "Transduction" in recent years. These interdisciplinary courses brought together faculty and students from a variety of disciplines along with chemistry, including architecture, the arts, biology, environmental sciences, history and social sciences.
One former student said, "Professor Fraser used to tell us that the problems in this world are too vast and complicated to be solved by one [academic] silo. Time and time again, I agree with her statement even years after college. In medicine, I collaborate with an interdisciplinary team every day. I am grateful for the opportunity that I had to expand my approach to problem solving and communication. These are the two priceless intangibles that prepared me the most for the 'real world' post-graduation."
The Jefferson Scholars Foundation also recently gave Fraser, along with two other professors, its 2017 Award for Excellence in Teaching for endeavoring selflessly to instill in students the virtues of scholarship and love of learning.
Gary Koenig
Alumni Board of Trustees Teaching Award
Assistant Professor of Chemical Engineering
Years at UVA: five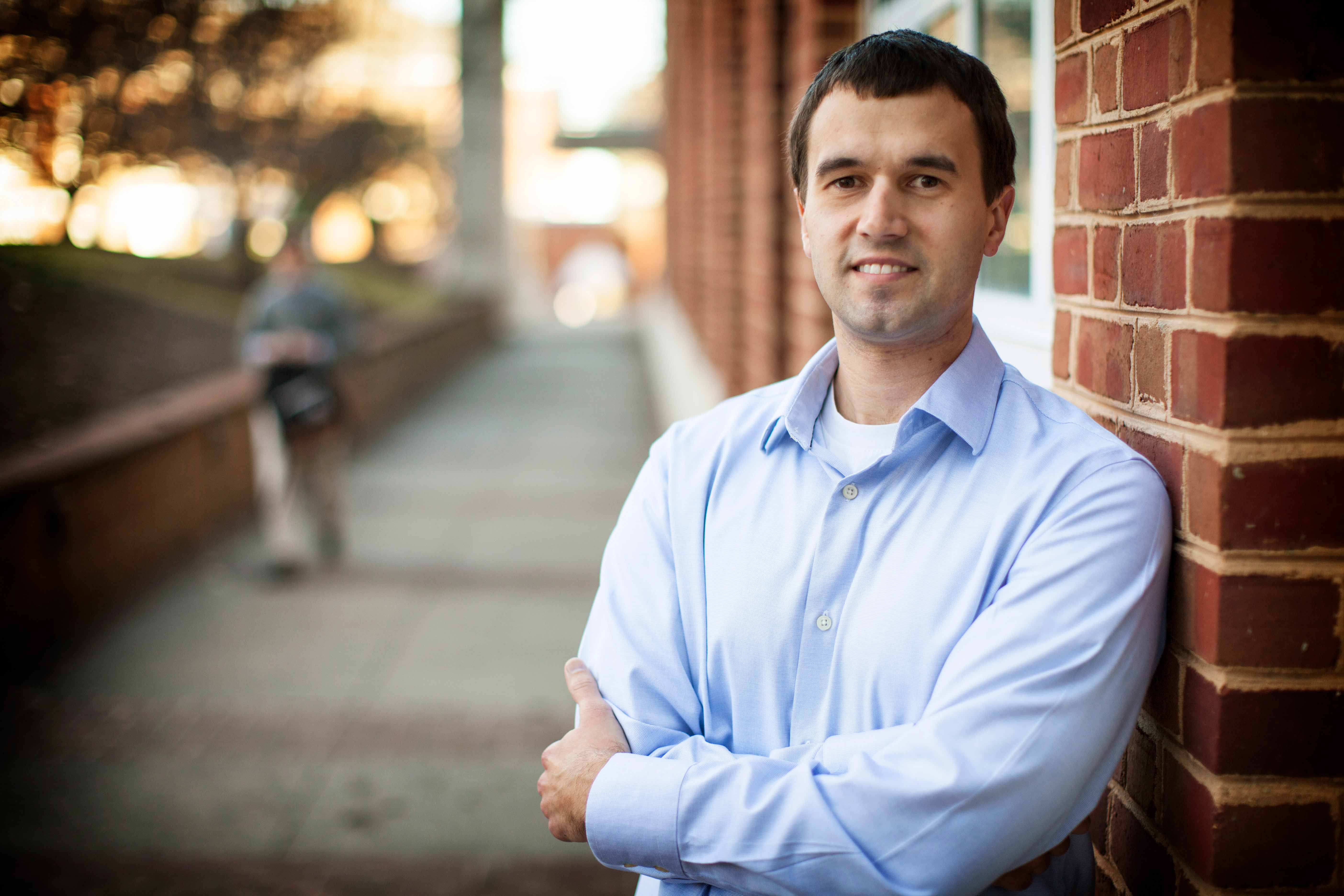 In his first academic job five years ago as assistant professor at UVA, Gary Koenig took on the course that provides the foundation of chemical engineering. As students' first exposure to the discipline, it's a big responsibility because their future success rests on what they learn in "Material and Energy Balances." He's done a remarkable job, according to his mentors and colleagues, not to mention students.
Koenig took advantage of his own learning opportunities through the Center for Teaching Excellence; as part of its Nucleus program he revamped "Material and Energy Balances." Through the center's Course Design Institute, he created a new course for undergraduate and graduate students, "Energy Outlook and Technology Options," filling "a great need in the Engineering School," his mentor Robert Kelly, AT&T Professor of Engineering, wrote in supporting his nomination.
Koenig organizes his courses around "process and practice-driven outcomes" rather than content material and solutions, he wrote in his teaching statement. He emphasizes how to solve problems, and connects engineering principles to something students can experience in their daily lives by using class demonstrations.
Former chair Roseanne Ford, who is currently undergraduate program coordinator, evaluated Koenig in his first four years, and said that observing his teaching has influenced her own methods. "Gary has been thoughtful and intentional in evolving the courses he teaches and his student teaching evaluations have reflected the value that the students have derived from the learning experiences in his courses."
Greg Schmidt Goering
NEH Daniels Family Distinguished Teaching Professorship
Associate Professor of Religious Studies
Years at UVA: 10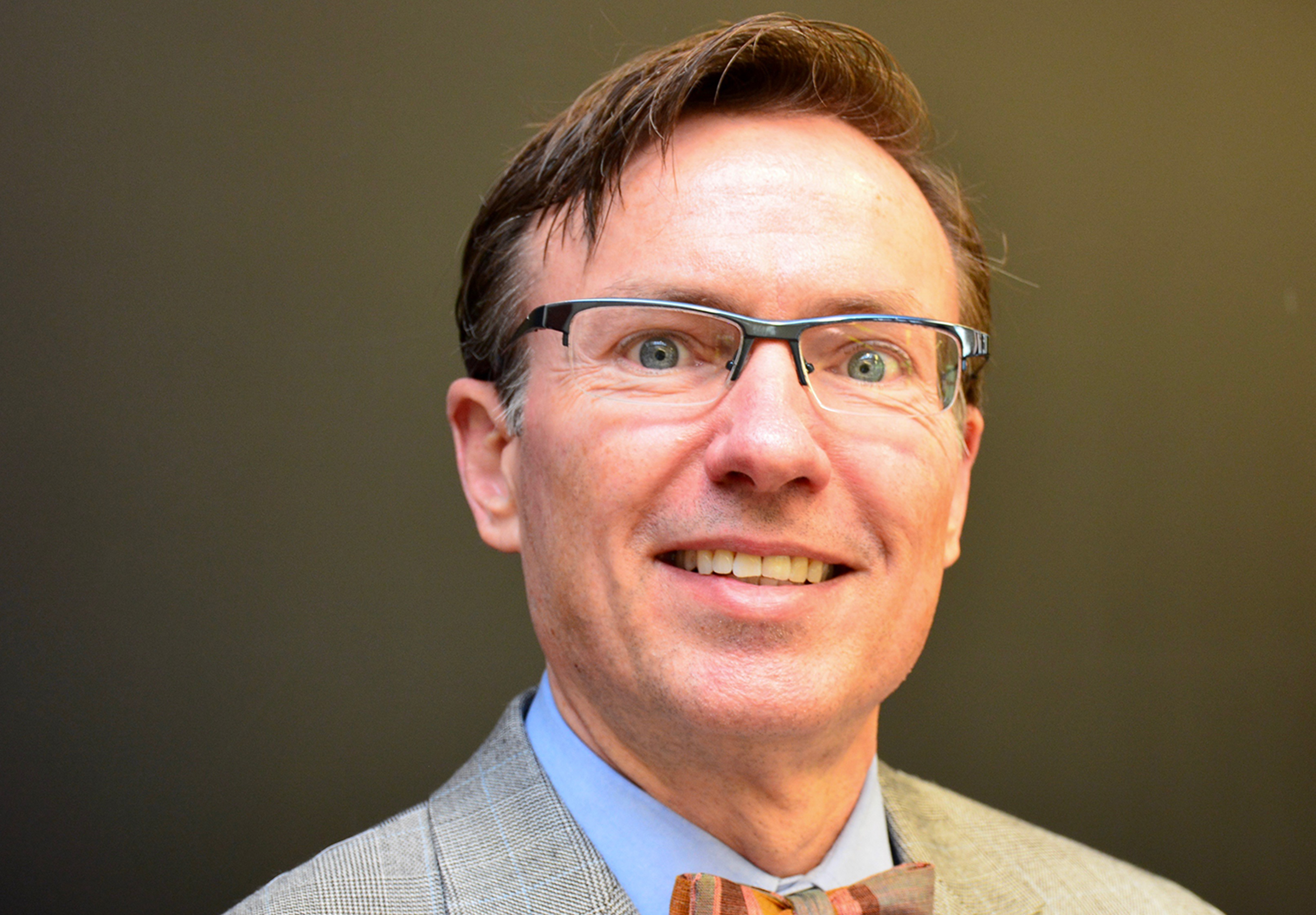 As a teacher, Greg Goering considers himself an intellectual travel guide, even though the territory he takes his students to is ancient and the language from Biblical times. He teaches and directs the Classical Hebrew Program in the Department of Religious Studies. This three-year NEH Teaching Professorship will provide him the time and resources to redesign the two-year program and renew its academic life.
"Through the study of antiquity, I lead students on a journey to bygone eras, where, confronted with cultures very different from their own, they can examine the unexamined within themselves and within their communities," Goering wrote in his teaching proposal.
Goering has determined – and research on second language acquisition supports this idea – that memorizing lists of vocabulary and verb forms is not the best way to learn ancient languages. He will design a communicative model that has proved successful in teaching modern languages. This teaching method emphasizes activities such as dialogue, composition, skits, music and other learner-centered practices to help students develop meaningful connections to this language and culture from two millennia ago. He has already seen positive results from changes he has made in his courses so far.
His colleagues and nominators think the program overhaul will be transformative for their students, undergraduate and graduate. Goering would also like to share this new approach with colleagues who teach other classical languages.
"The teaching of classical languages is one of the most important humanistic endeavors that we can offer to our students and to our society," religious studies chair Kurtis R. Schaeffer said. "To know our past through direct engagement with the highest ideals of an age expressed in exquisitely crafted language enables us to appreciate alternative visions for the present. Greg knows this, and lives it through his teaching."
Timothy Allen
All-University Teaching Award
Associate Professor of Biomedical Engineering
Years at UVA: 11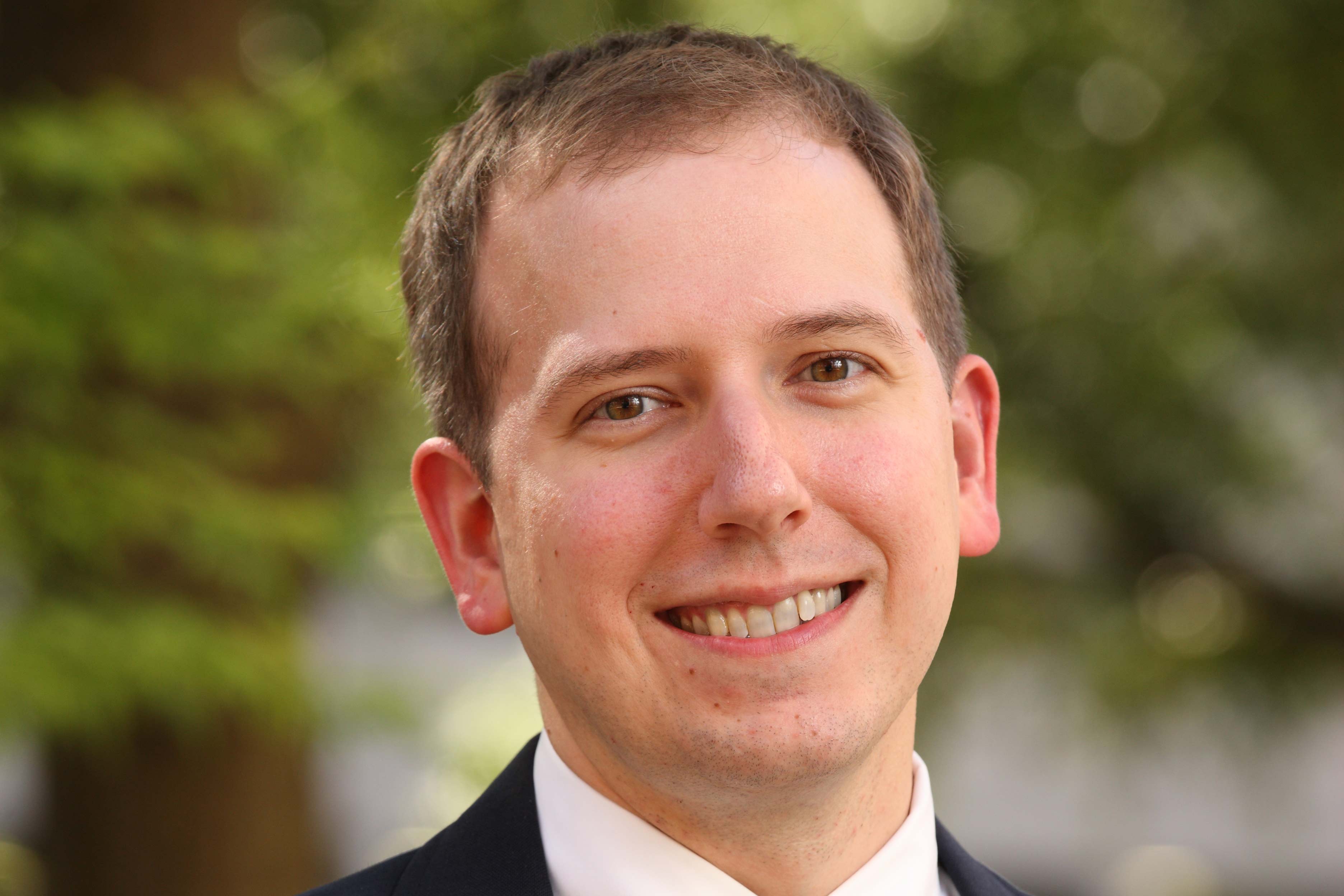 Timothy Allen first experienced that "aha!" moment about teaching when he was working part time as a choir director during graduate school. He found that taking the time to really get to know each singer built students' trust in him and as a result, they sang better together. "Only when my choir truly trusted me did they meet their musical potential," he wrote.
This has worked spectacularly well in his biomedical engineering classes as well, including the Integrative Design and Experimental Analysis, or IDEAS, lab. Through the intensive, required third- and fourth-year courses he teaches, he gets to know each student. Again, getting to know students is essential to creating trust, he wrote in his teaching statement, and "trust is the foundation for effective teaching."
"When asked during exit interviews, students more often than not proclaim this tremendously difficult course [IDEAS] as the best and most influential experience of their University careers," wrote Associate Professor William Guilford, who serves as undergraduate program director for biomedical engineering. "In our recent program accreditation site visit, IDEAS was singled out as the one thing we must not change."
"Timothy Allen is the most beloved faculty member in the Department of Biomedical Engineering," Professor and department Chair Frederick Epstein unequivocally states. He bases that on Allen's stellar course evaluations from more than 300 students every year. Despite the difficulty of his courses, students repeatedly stress how approachable and helpful he is, with one calling him a "caretaker" and another writing to him, "Without you, I would not have graduated or regained my sense of self."
Dorothe Bach
All-University Teaching Award
Associate Professor, Center for Teaching Excellence
Years at UVA: 15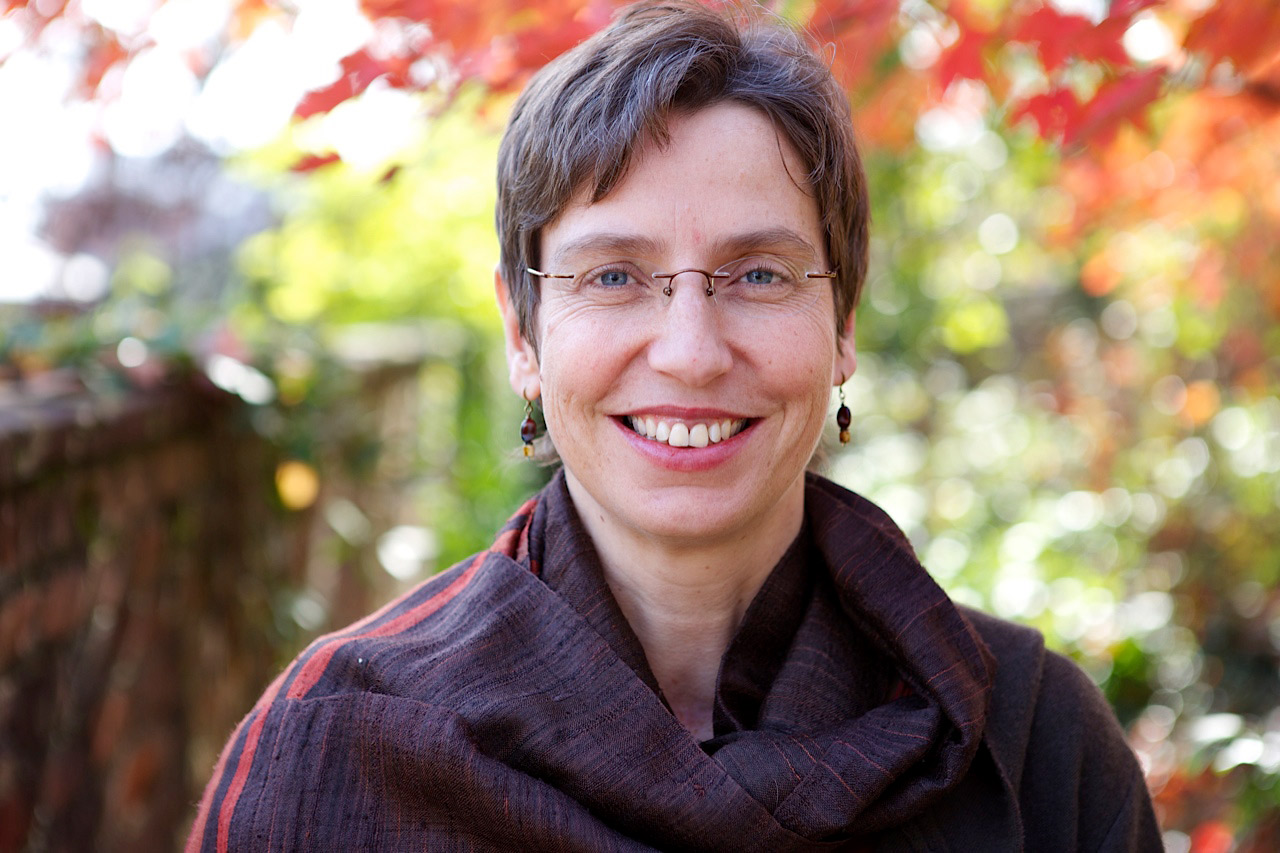 Dorothe Bach is unique among this year's teaching award winners for her role at the Center for Teaching Excellence. In addition to teaching students, she also teaches faculty and graduate students through the center's programs, which she helped to develop, including the Course Design Institute, the Ignite Program and the Student-Faculty Partnership Initiative. She has been unwavering and compassionate, her nominators said, in bringing innovative, evidence-based teaching techniques and tools to UVA classrooms – effectively spreading her successful, meaningful methods to tens of thousands of students.
Her courses and workshops offer paths to mindfulness, or greater awareness and understanding of oneself and others, that lead not only to enhanced learning but also to creating personal and professional wellbeing. That doesn't happen accidentally. Creating an atmosphere in the classroom for "transformative learning," she writes in her teaching statement, "requires meticulous planning and a large toolbox of pedagogical strategies."
That toolbox is learner-centered and flexible with lots of space for reflective writing and discussion between students and teachers. She emphasizes the importance of a well-thought-out syllabus and invites students to be involved in the success of the class in a variety of ways.
Eileen Chou
All-University Teaching Award
Assistant Professor, Frank Batten School of Leadership and Public Policy
Years at UVA: five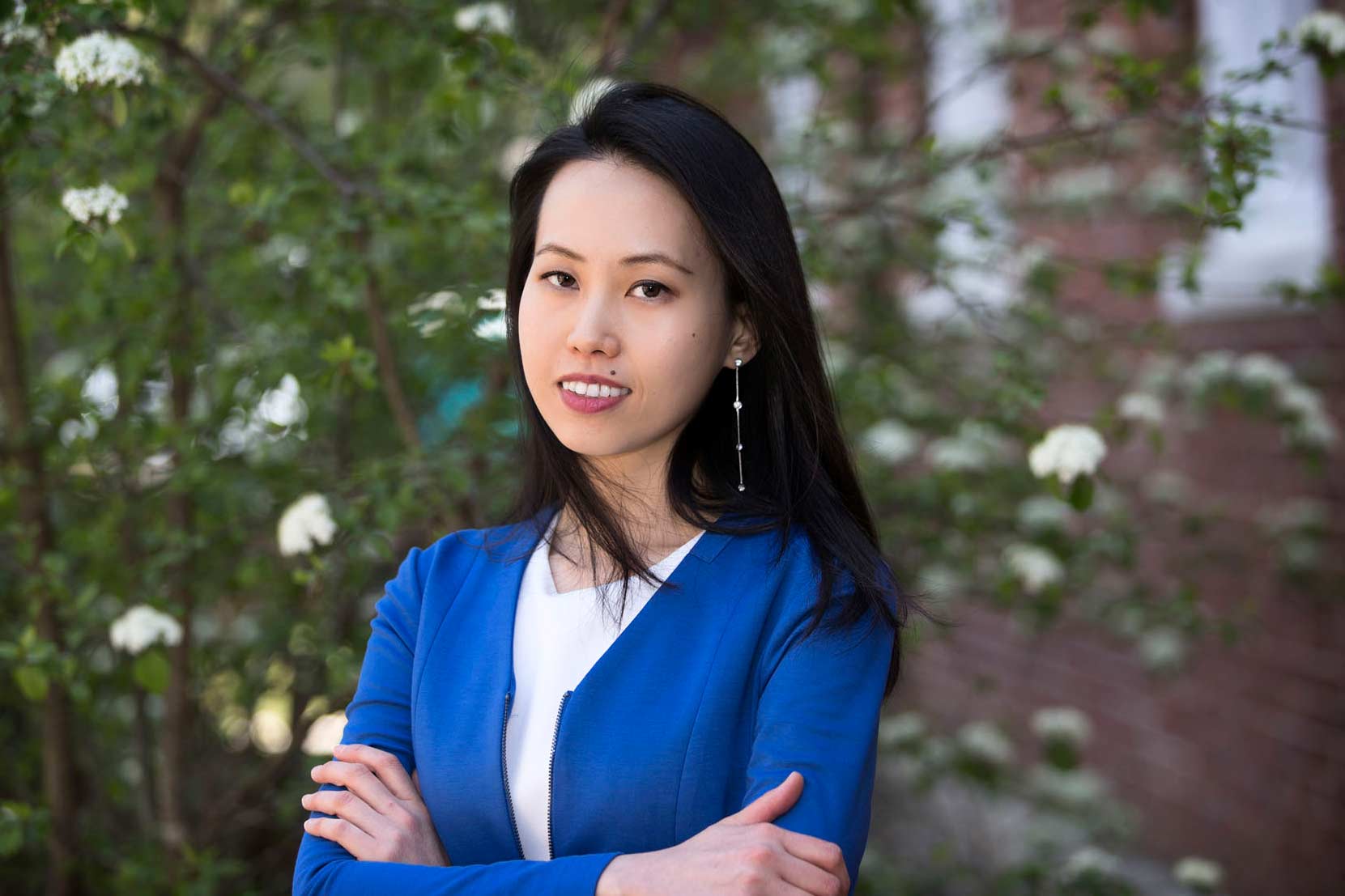 Eileen Chou stands out because she gives students a voice. "She coaxes out of them contributions that make them all feel that they can be productive members of the Batten community and, more importantly, that they have the potential to impact the world beyond UVA," one student wrote in her nomination letter.
Chou creates this context even in large lecture classes, where she uses a variety of small-group, hands-on activities and exercises "to help students learn research-based leadership skills and put them into practice," she wrote in her teaching statement.
One student wrote that Chou excelled at teaching "due to the perfect mix of professionalism, compassion, knowledge and passion she brought to each class."
"She makes difficult concepts easily digestible through anecdotes that I can recall to this day, while incorporating memorable exercises that cement her learning points," wrote one student who has worked with her for the past three years.
Amanda Cowen
All-University Teaching Award
Associate Professor of Management, McIntire School of Commerce
Years at UVA: 10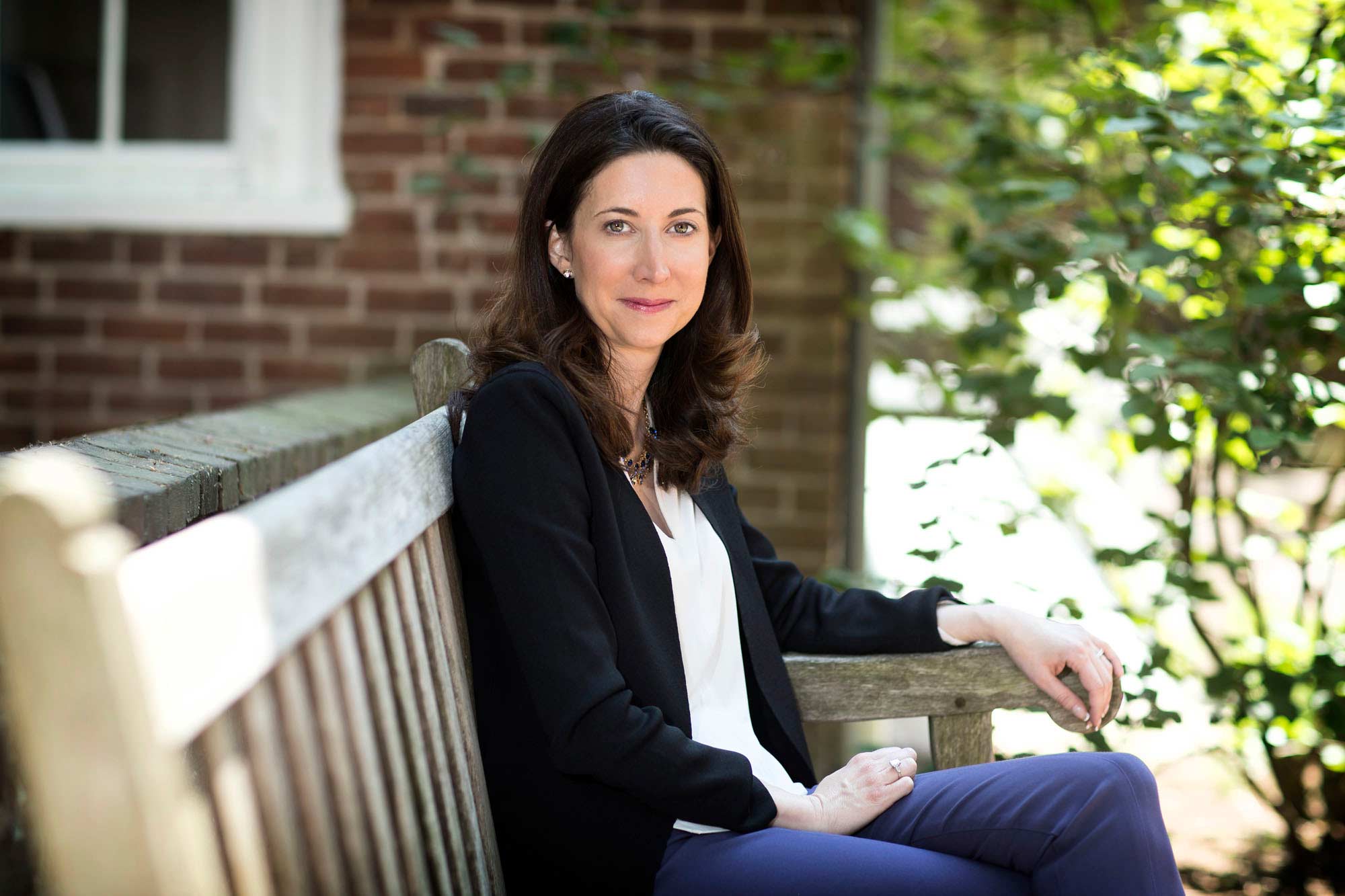 Amanda Cowen's teaching innovations now have a worldwide impact, Dean Carl Zeithaml wrote in nominating her, since Cowen designed the first module on international corporate governance for the McIntire School's new Master of Science in Global Commerce, a program that takes students to universities in the U.S., Spain and China. He said all 59 graduate students in the program, who come from 14 countries, wanted to write letters supporting her for the teaching award.
One colleague said she had already set the standard for the school's new program with her course on Brazil "by perfectly balancing academic rigor with practical preparation for the abroad experience." Students often describe her seminar on "Doing Business in Brazil," which includes going there over spring break, as "transformative."
In her teaching statement, Cowen reveals that early in her career, she used to avoid sensitive issues in class because she couldn't resolve them for students, but she came to see her role as "modeling for students how to participate in, and learn from, difficult conversations in an authentic way. I believe this, too, makes students better critical thinkers and ultimately, more effective in the organizations they will go on to join and lead."
Robert Cox
All-University Teaching Award
Assistant Professor of Biology
Years at UVA: six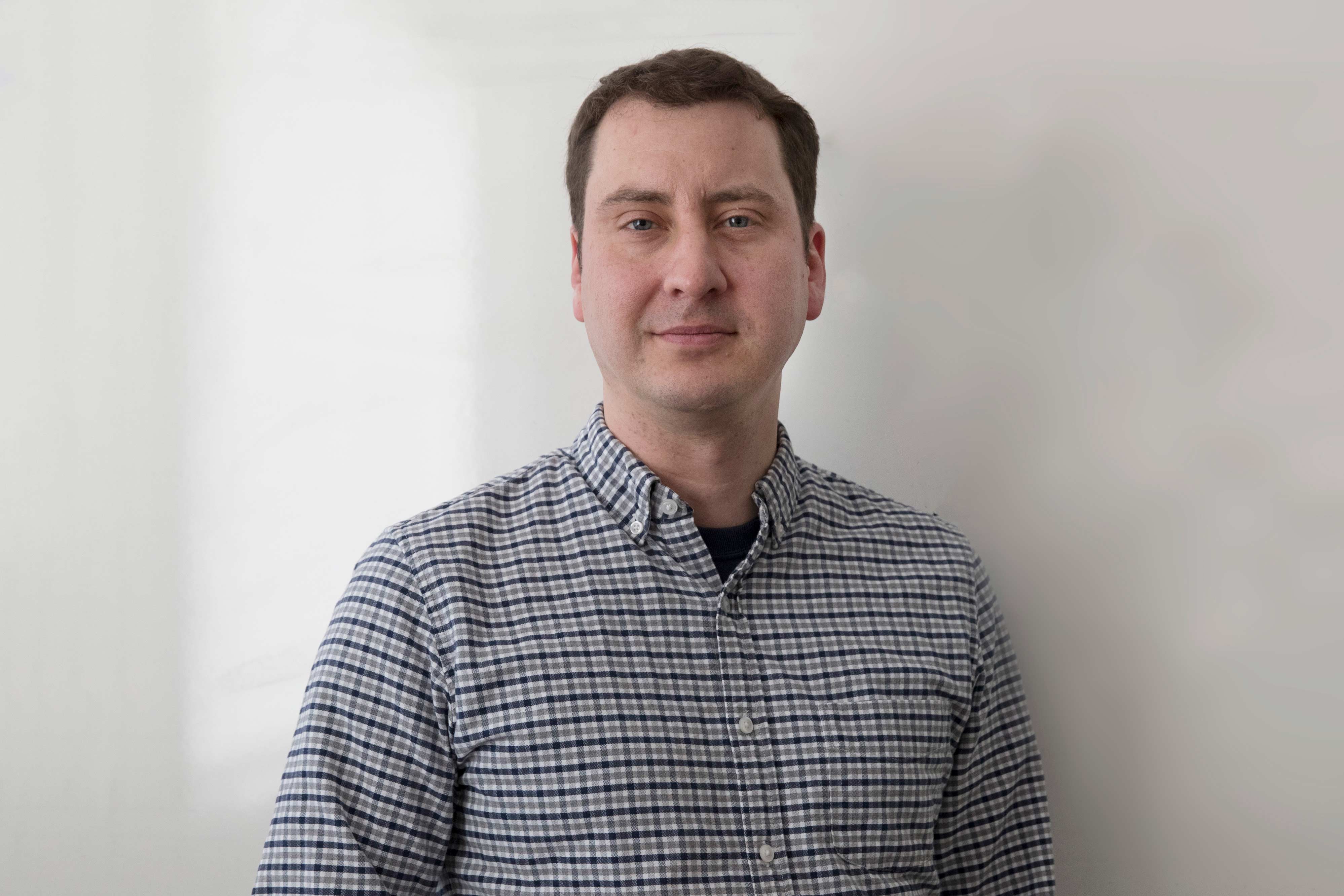 Robert Cox ignites his students' curiosity to pursue thought-provoking questions. "If students understand the mechanisms that give rise to patterns, the logic that underlies theories and the methods by which one might test such mechanisms and theories, they understand science as a way of learning," he wrote in his teaching statement.
One student, among the many who deem him one of their top professors at UVA, wrote in supporting his nomination, "He brings his love for life into his work and makes his students want to learn."
Cox promotes cross-disciplinary perspectives and laboratory research that have enabled some of his undergraduate students to co-write papers and present at conferences, also preparing them for graduate programs. They come away from his courses with a view of "big picture" themes. He has revamped courses and revived the department's Ecology and Evolutionary Biology graduate program; it now attracts some of the best students in the nation, his colleagues wrote.
He also builds collaborations between UVA undergraduate and graduate students and high school teachers on science education, a project funded by the Mead Endowment and a National Science Foundation early career award.
Phoebe Crisman
All-University Teaching Award
Associate Professor of Architecture
Years at UVA: 17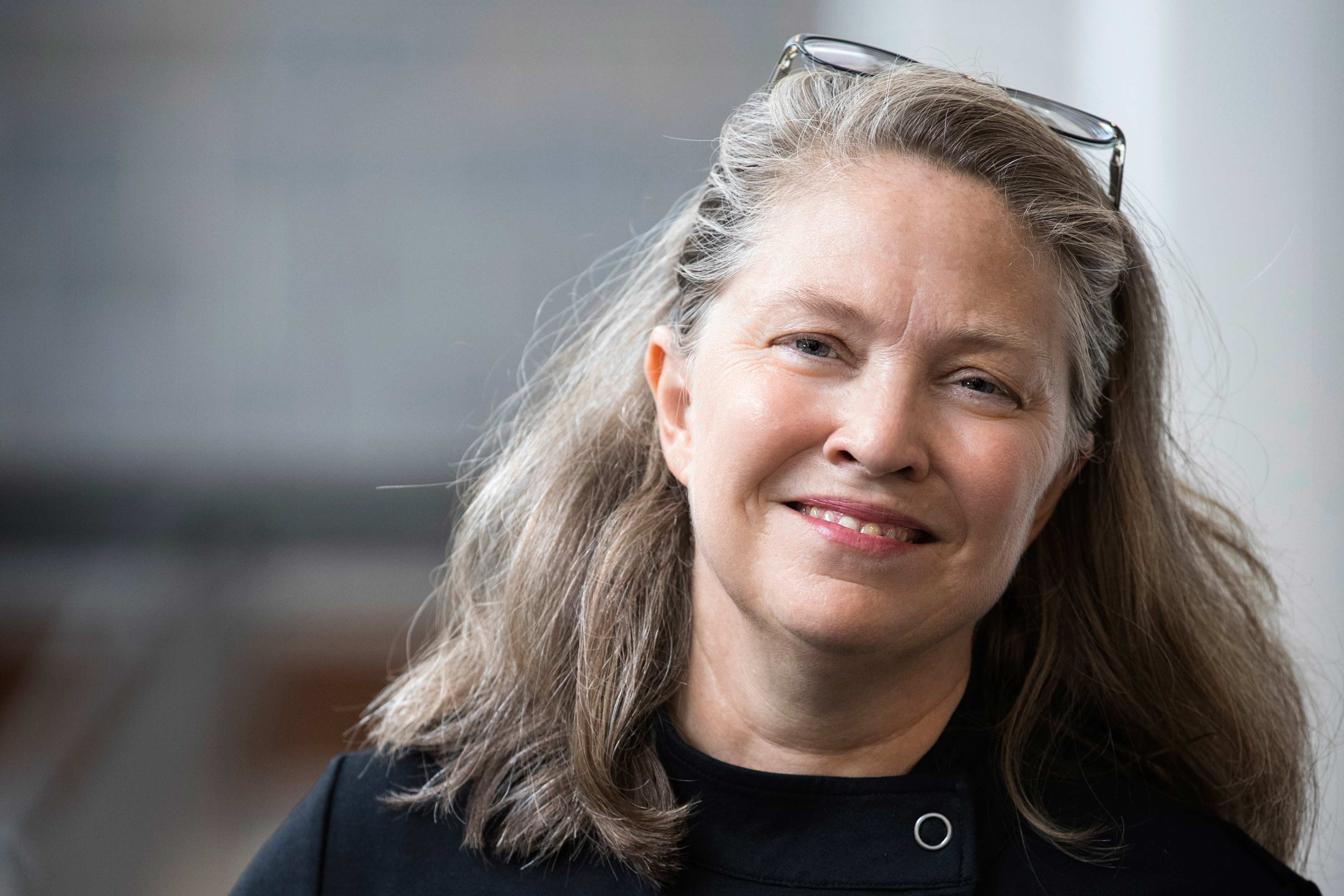 Phoebe Crisman's students describe their experiences in her classes as transformative – "not just because she makes possible academic achievement but inner growth ethically and even spiritually," one of her colleagues wrote. She considers teaching "a learning adventure" and seeks to "inspire a love of both theoretical and practical exploration," she wrote in her teaching statement.
Crisman created a Global Sustainability program that attracts students across the University, helping expose them to architecture concepts as well as how it relates to contemporary issues. She directs the Environments + Sustainability concentration of the interdisciplinary major in Global Studies in the College and Graduate School of Arts & Sciences.
Among several of her projects that link academic education with professional practice, Crisman created a Diplomacy Lab with research institutions and the U.S. State Department that brings together architects who have worked on embassy buildings and students working on their own design projects.
Her Learning Barge on the Elizabeth River, a floating environmental classroom launched in 2009, still draws hundreds of school children to learn about pollution and how to repair the damage.
Nancy Deutsch
All-University Teaching Award
Associate Professor, Curry School of Education
Years at UVA: 12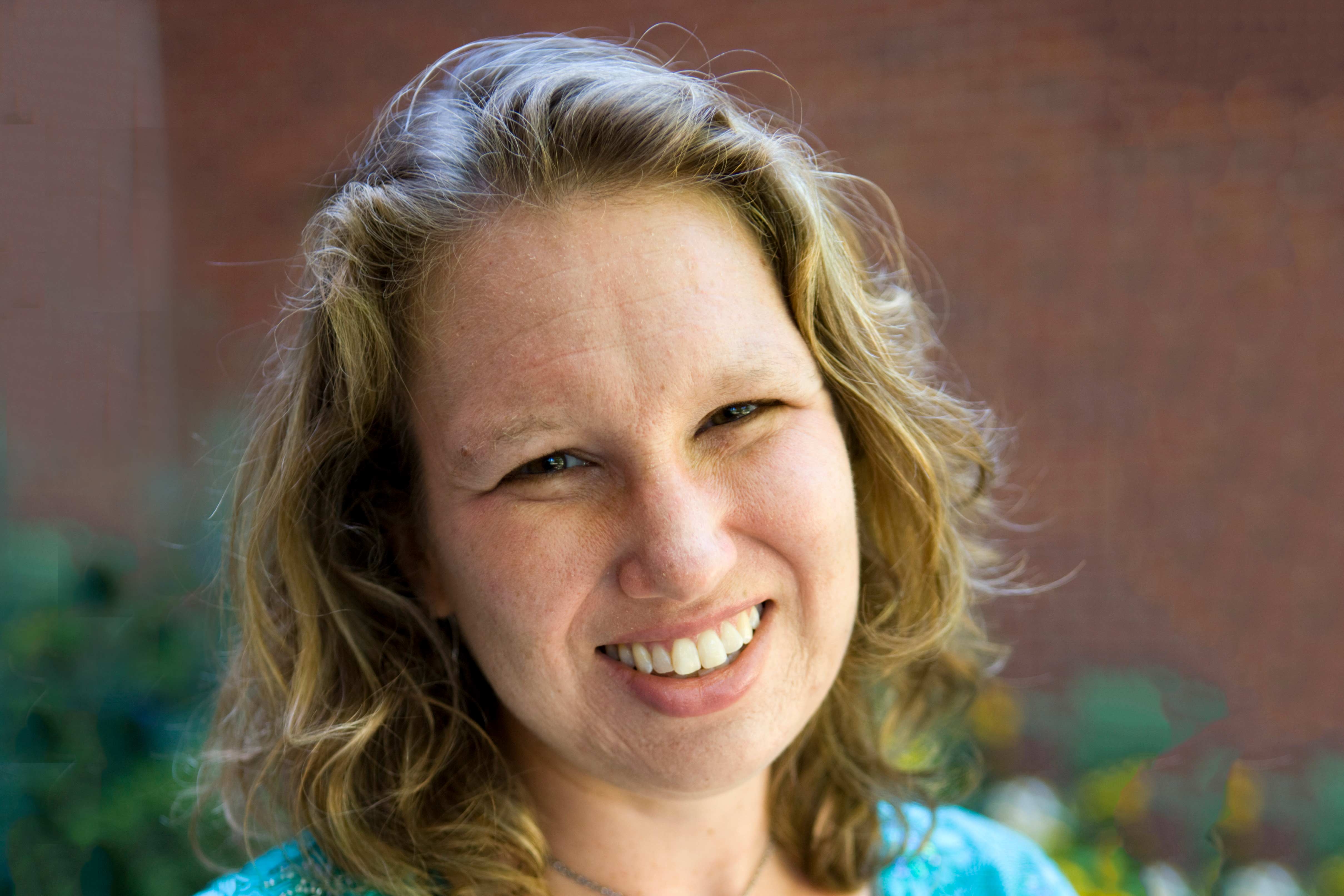 One of Nancy Deutsch's students described the supportive learning environment she fosters as combining "opportunities to challenge one's own assumptions and to boldly cross cultural boundaries to engage in growth-inducing conversations." Colleagues and students who supported her nomination emphasized her ability to create a safe space for students to discuss difficult issues related to diversity and marginalized groups. In one class activity, for example, students took on different stakeholder roles and collaborated to solve a community problem.
In teaching about youth development, she facilitates group projects with programs in the Charlottesville schools and community, providing her students with "real-world" applications that will be relevant in their future work.
At the same time, she has taught hundreds of students the research methods necessary in their field. One former student said, "I have spoken to many students who did not feel they accurately grasped how qualitative research was conducted until they conducted their own project" under Deutsch's tutelage.
One of Deutsch's colleagues called her "an exemplar for academe because she embodies a rare integration of expertise, righteous core beliefs and a high level of generativity that drives her own research and the research of her students to improve the social lives of youth."
Leslie Kendrick
All-University Teaching Award
Professor of Law
Years at UVA: eight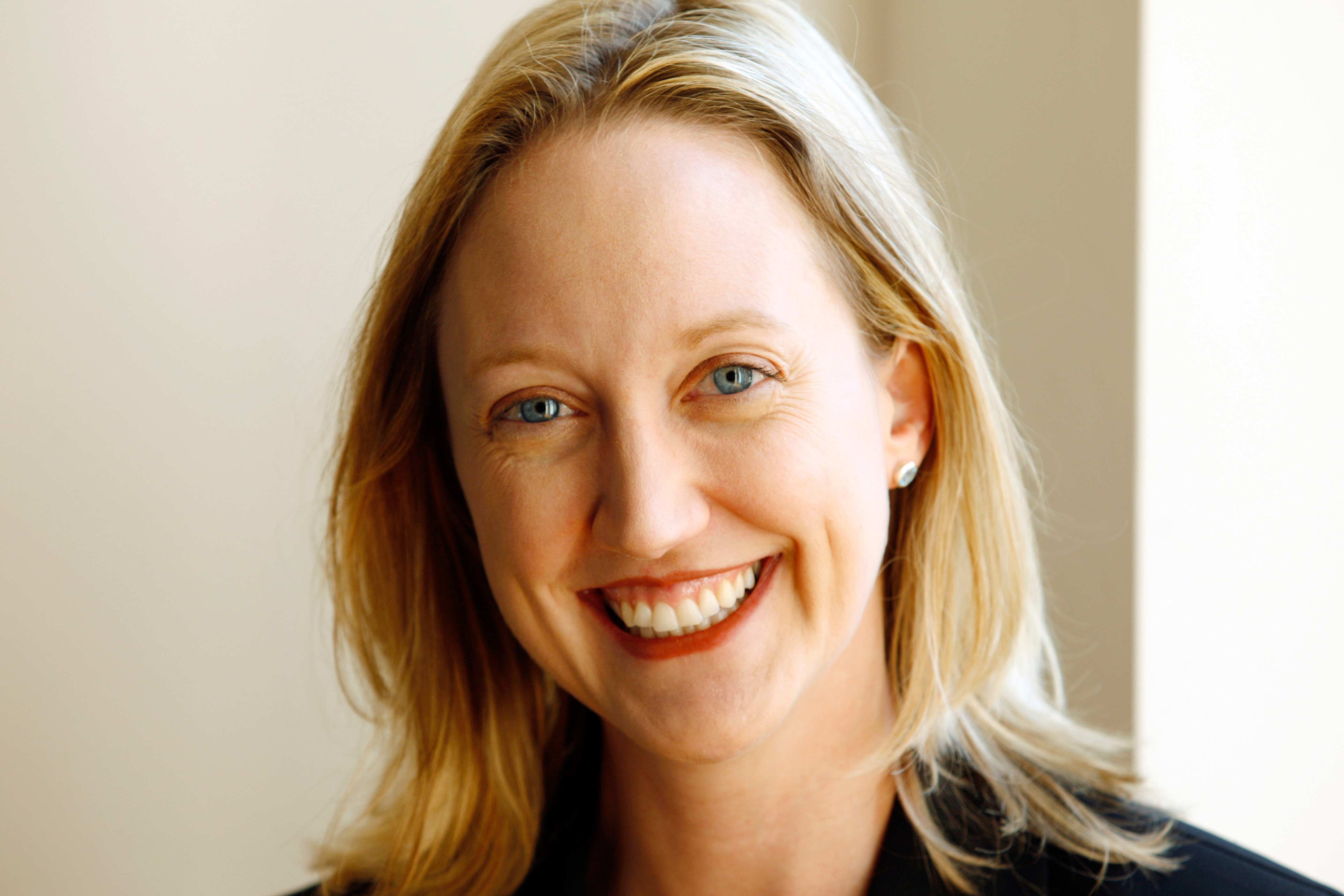 A 2006 alumna of UVA's School of Law, Kendrick clerked for U.S. Supreme Court Justice David Souter before she joined the faculty in 2008. She will become the Law School's next vice dean this summer.
One student who supported her nomination said his adoration for Kendrick's teaching is shared by many.

"Not long ago, I overheard two first-year students discussing which classes they were enjoying in their first semester at UVA Law School," he wrote. "'I love Torts,' one said, 'although I can't tell whether I love Torts because it's Torts, or because it's taught by Professor Kendrick.' The other student replied, 'I know exactly what you mean.' Anyone who visits Leslie Kendrick's classroom will understand the sentiment."
Kendrick's ability to meet students where they are in terms of understanding legal concepts – and in life – is what sets her apart, her colleagues wrote in their nomination.

"Professor Kendrick is revered by her students for her unique combination of expertise and empathy," one faculty member wrote. "The two are, of course, related. She is able to teach so effectively because she excels at recalling the nervous plight of a first-year law student and building her classes over the term to match her students' rise in confidence and comprehension. Students are comfortable expressing their opinions in her class and eager to do so."
Frank Warnock
All-University Teaching Award
Professor, Darden School of Business
Years at UVA: 12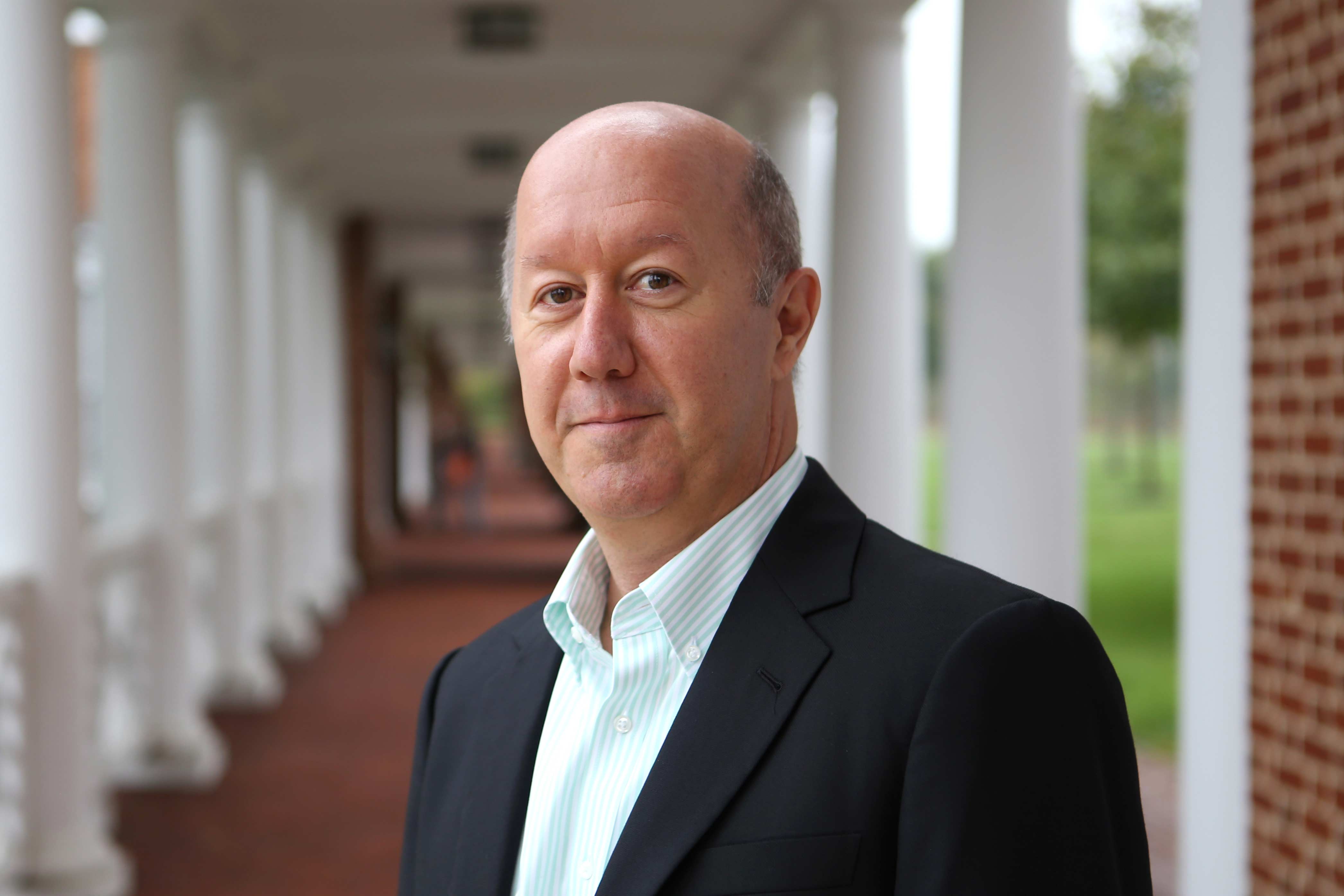 "Frank is much more than a professor," one former student wrote in supporting his nomination. "Frank is a trusted voice that has pushed me and my classmates to think differently, think deeply and think responsibly."
"Markets in Human Hope" is one of the classes Warnock teaches with his wife, Veronica, sharing with students how to use economics to solve some of the world's greatest problems. "As MBAs, we were ready to run to a new venture or start a nonprofit, but Frank put those premature ideas on hold and forced us to think deeply about the problem. … If you don't wrestle with complexities of why a market failure exists – be it clean water or subprime financing or food waste – you're unlikely to solve the root problem."
Another student wrote about how Warnock consistently brings in the latest data about economic markets to make sure his students have all the information they need. In addition, he goes out of his way to build personal relationships with his students to understand their perspectives and be helpful to them as they prepare for their careers.
Hsin-hsin Liang 
Excellence in Education Abroad
Associate Professor of Chinese, Department of East Asian Languages, Literatures and Cultures
Years at UVA: 15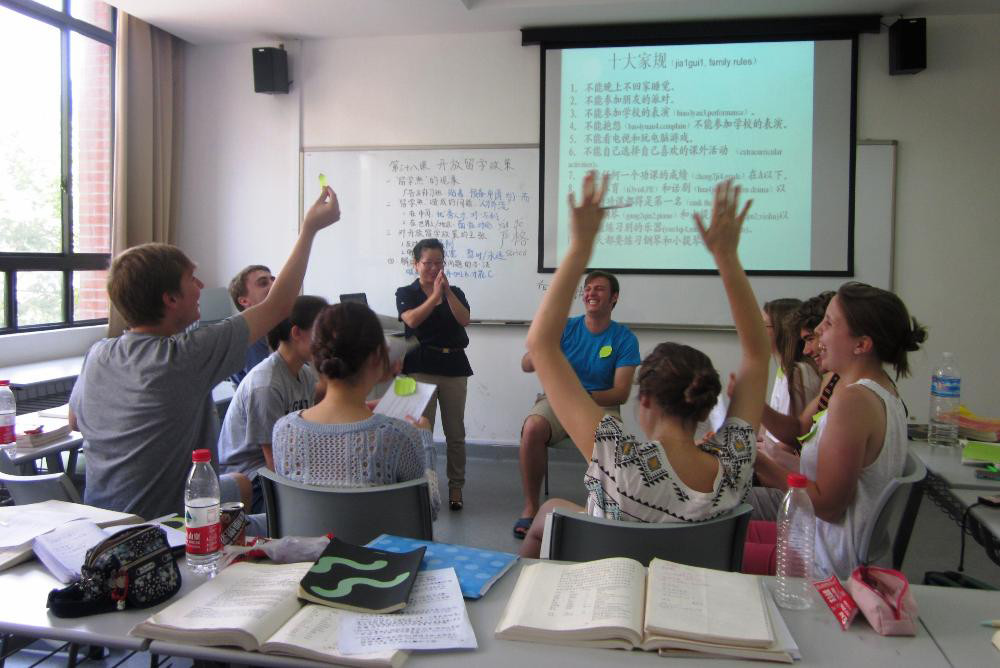 A leader in Chinese language study abroad, Hsin-hsin Liang has directed the UVA-in-Shanghai Summer Program since 2006, making it a nationally and internationally recognized program. In addition to learning Chinese in class, the students learn firsthand through activities in Shanghai.
"I consider that simply 'throwing students into the total immersion situation' won't make them learn. Rather, skillfully and tactfully pushing them out of their comfort zone and guiding them in meaningful interactions in authentic surroundings is essential," Liang wrote in her teaching statement. The program also serves as teacher training for graduate students who participate as instructors.
A former student who then worked for her in the UVA-in-Shanghai Summer Program for two years wrote that she had inspired countless students to excel in Chinese studies. Another student who found her passion for teaching "awe-inspiring" now uses the Mandarin Chinese she learned, especially through the summer program, in her job with Booz Allen Hamilton.
Teaching at several universities before coming to UVA, Liang has taught Chinese as a foreign language for 40 years. She has not only influenced generations of students and teachers, but also the profession of Chinese language teaching in the U.S. and in China, and even "the Sino-American relationship," one student wrote.
James Wyckoff
Excellence in Faculty Mentoring Award
Professor, Curry School of Education, Educational Leadership, Foundations and Policy
Years at UVA: nine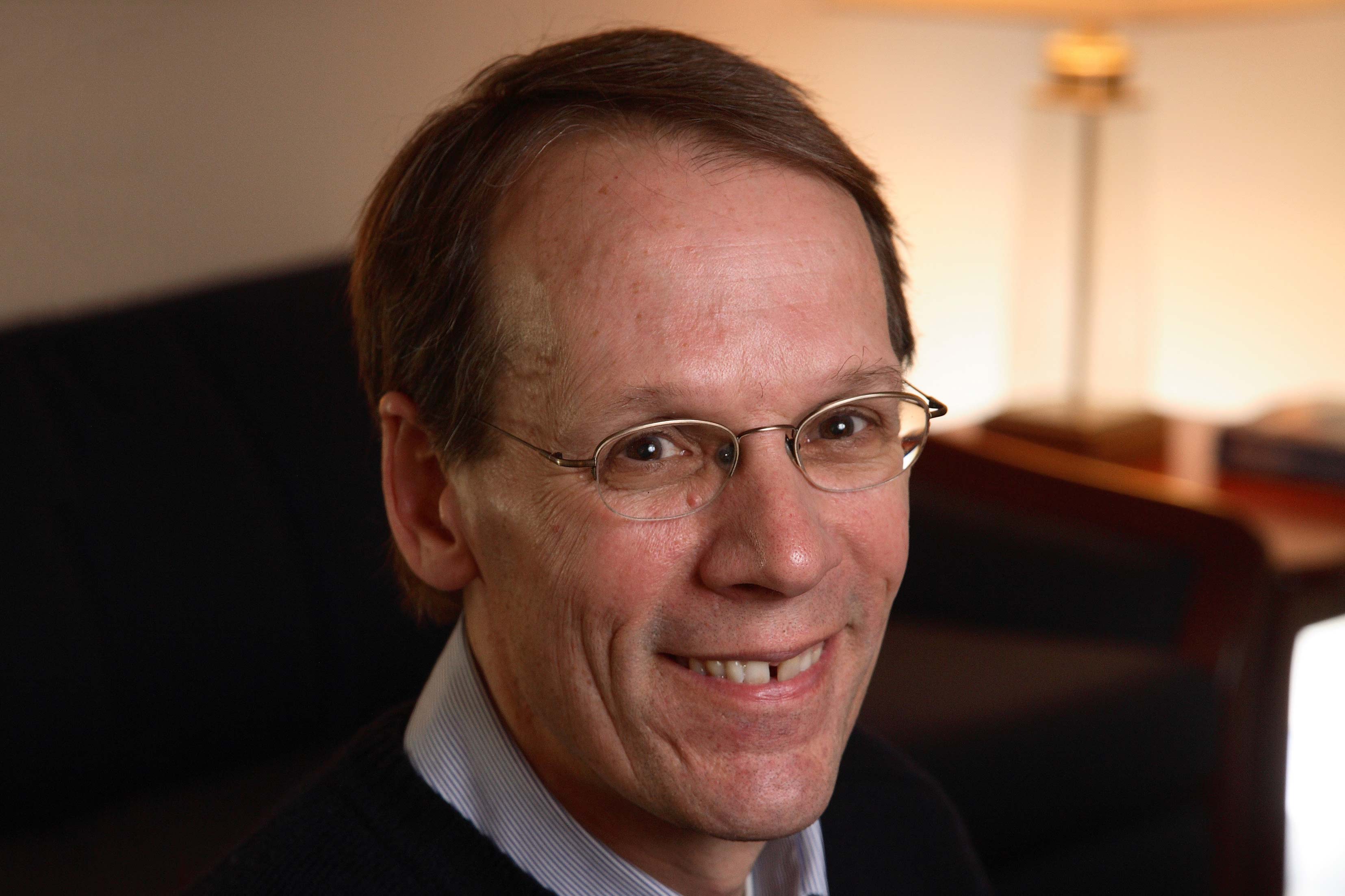 Under Jim Wyckoff's leadership, the Education Policy program in the Curry School has become one of the top-ranked in the nation, wrote Dean Robert Pianta in his nomination. That success comes in part from Wyckoff's commitment to recruiting excellent faculty and "his unique ability to connect with and mentor junior faculty," Pianta said, calling these relationships "transformative."
Building a culture that invites faculty and Ph.D. students to join a system of support was one of Wyckoff's objectives when he began the Education Policy program, he wrote in his mentoring statement. He models this with an open-door policy and willingness to listen to junior faculty. As one professor put it, "I know he is always available when I need his advice or input, and he also provides me with the room and flexibility to chart the path to research productivity, teaching excellence and service that aligns best with my interests and skills."
"Jim's confidence in us and in the field is infectious, helping us take on challenging projects and see them through successfully," another faculty mentee wrote. 
One colleague pointed out that Wyckoff's mentees are working at the level of successful senior faculty in their academic and policy activities. "Perhaps his greatest gift to them, however, is his modeling of citizenship. He is a quiet leader who uses his voice for the betterment of others."
Article Information
April 27, 2017
/content/these-award-winning-teachers-take-students-life-changing-journeys