From high schoolers to local residents to University of Virginia employees, almost 100 people spent time on Thursday helping make the words of the late civil rights activist Julian Bond, who taught history at UVA for 20 years, more accessible to the public.
The second annual #TranscribeBond event to digitize Bond's papers, which he left to UVA, took place at five locations on Grounds and in the community. The Carter G. Woodson Institute of African-American and African Studies partnered with UVA's Center for Digital Editing, as well as the Albert and Shirley Small Special Collections Library, the Scholars' Lab and Virginia Humanities, just as they did last year. In addition, the Athletics Department joined in the effort to make Bond's remarkable collection of documents accessible through this crowdsourced transcription effort.
The transcription platform company, FromThePage, reported that yesterday was record-breaking as the most active day of usage in its history. The previous busiest day was last year's Bond transcribe-a-thon.
The daylong event drew many people who participated last year, and also some newcomers, including Laila Hurd, a rising senior at St. Anne's-Belfield, and Zhaire Roberson, who'll be a senior at Albemarle High School. As two of the 16 interns (eight UVA students and eight high school students) for the Carter G. Woodson Institute's Citizen Justice Initiative, they had spent the better part of the summer preparing for Thursday's project, uploading documents to the platform where participants could access the material.
"All his speeches are still related to today's issues, from health care to civil rights," Hurd said. "It's important to keep people in history alive."
Roberson said, "It's cool to be able to get on the website to see documents like this." Bond was among the social justice warriors whom everyone should know more about, she said.
Laila Hurd and Zhaire Roberson, local high school students, worked on the Julian Bond digital project as interns this summer for the Woodson Institute's Citizen Justice Initiative. (Photo by James Perla, Woodson Institute)
On Thursday, the two interns also transcribed some pages and took photos of others doing the same. People dropped in to work on computers at the Scholars' Lab in Alderman Library, the Woodson Institute in Minor Hall, the Athletics Department's McCue Center computer classroom, Shenandoah Joe's coffee shop on Preston Avenue and the Virginia Center for the Book in the Jefferson School.
Since last year, participants have transcribed about 3,000 pages of speeches, letters and other documents in this early stage of producing an online, digital edition, "The Essential Julian Bond," which will compile numerous documents from his vast archive. There are more than 4,500 pages on the platform still available for transcription – and that only represents about 4% of the total number of his documents housed in the Special Collections Library, said James Perla, who coordinates the Citizen Justice Initiative.
Winston Barham, a music collections librarian, returned for a second time and worked in the Scholars' Lab, where he transcribed a hand-written, 1975 speech in which Bond talked about equality and integrated education, its problems and benefits, from Boston to Birmingham, Alabama. Barham said he was interested in Bond's perspective on this particular topic because Barham himself had attended public schools in Mississippi in the 1980s with a mix of not only white and black students, but also teachers and administrators. It was his parents' conscious choice to ensure that their children received a biracial education, he said.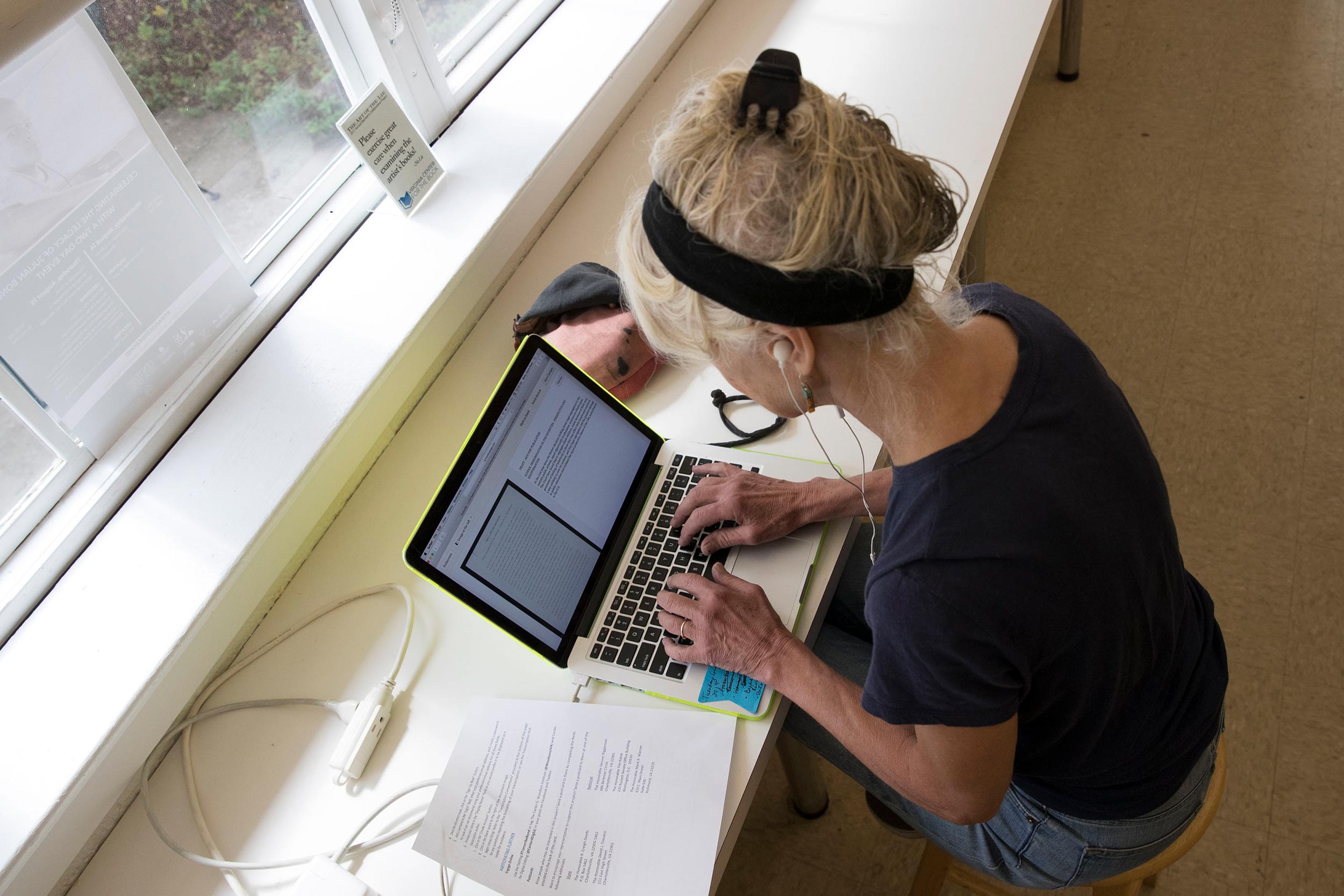 Local resident Betty-Joyce Nash found it so interesting to transcribe Bond material last year that she returned to work on the project again. (Photo by Dan Addison, University Communications)
Freelance writer and former journalist Betty-Joyce Nash also came back to the project after doing it last year, saying it was interesting to "bond with a historical figure" (pun intended).
"I was intrigued to work with historical documents," she said from her post at the Jefferson School, where Virginia Humanities' Center of the Book moved a year ago. "It's insightful to get into his head," said Nash, who heard him speak in 1970 at Davidson College.
"It feels like he's speaking directly to me," said local resident Rachel Vigour, next to Nash. She was working on a commencement speech Bond gave in 1975 because she thought it would be inspiring to read what he said to students. "It's like he's giving young people permission, that they can be activists, too."
"It's important to keep people in history alive."

- Laila Hurd, St. Anne's-Belfield School student
Justin Reid, who directs African American programs at Virginia Humanities, hosted the Center for the Book site at the Jefferson School. "That the papers of Julian Bond are here at UVA is something to be proud of," he noted.
The project presents a new model for documentary editing through the crowdsourced transcribing effort, said Jennifer Stertzer, director of the Center for Digital Editing and senior editor for the Papers of George Washington. Usually, a team of scholarly editors would work on a project like this.
"We wanted to work with the public to promote community engagement, and also get students involved to take part in the editorial process," Stertzer said.
When the National Historical Publications and Records Commission of the National Archives learned of the transcription project, officials asked for more information to include in its video series about public engagement in historical work. Katie Blizzard, a communications specialist for the Washington Papers and Center for Digital Editing, created the video segment with Woodson Institute Director and English professor Deborah McDowell describing public feedback on the #TranscribeBond project.
"To our great surprise, the impact of the transcribe-a-thon itself we felt immediately [last year], largely through reports from people who participated," McDowell said in the video. "What they reported to us was a sense of deep fulfillment at being engaged with these materials; that they felt they were doing more than simply transcribing words from a page into a computer, but that they were actually engaged with this figure whose words, dating back in many cases decades before, still retain their relevance, their resonance and their importance."
In introducing this year's event, McDowell told participants, "Ours is a project that looks backward and forward simultaneously. It looks backward at the broad arc of Bond's 50-year life and career as an activist in the Atlanta student movement of the 1960s; as co-founder of the Student Non-Violent Coordinating Committee; as legislator, educator and lifelong champion for civil rights and social justice. It looks forward to what Bond's illustrious career demands of those of us who strive to honor him by transcribing his words."
Those wishing to participate, but who were unable to join in person, can still contribute remotely by accessing the project here. It's also possible for instructors to incorporate the transcription project into their courses, as did assistant professor of sociology Adam Slez last year in his "Social Movements" class. In fact, at the time of this posting, people were still transcribing Bond's words.
Article Information
August 16, 2019
/content/transcribebond-connects-people-and-grounds-civil-rights-past-and-present