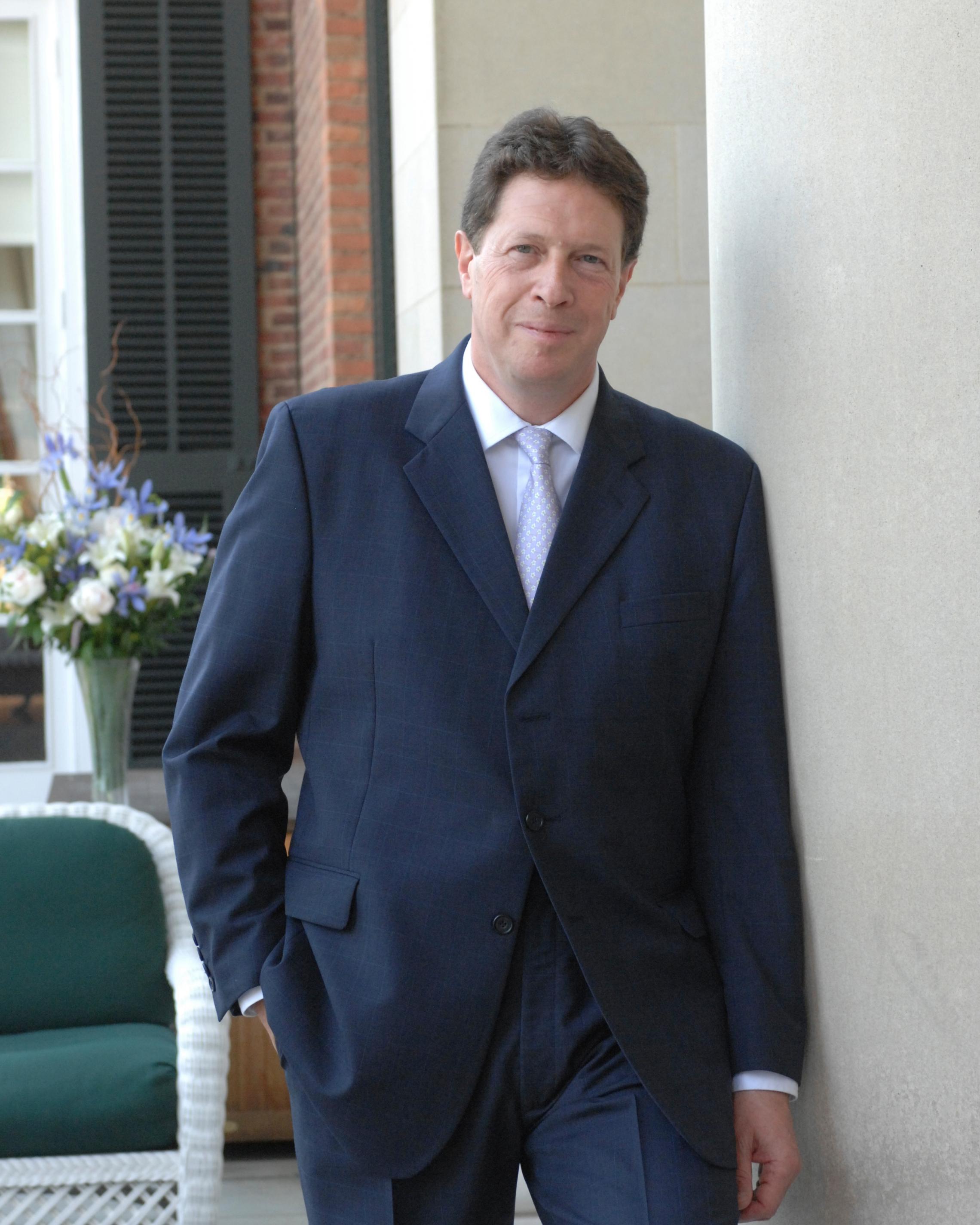 February 16, 2009 — Sir Nigel Sheinwald, British ambassador to the United States, told a University of Virginia audience Friday that U.S. leadership is essential for the world to battle climate change.
The ambassador spoke the day after signing a pact with Virginia Gov. Timothy M. Kaine to develop environmentally friendly technology jobs and to jointly reduce greenhouse gases.
Speaking before a standing-room-only crowd in the Rotunda Dome Room, Sheinwald alluded to the pact, saying there is a "clear need to move urgently to lower carbon dioxide emissions."
Climate change is a security issue as well, he said, because rising sea levels will endanger low-lying countries and cause food, drinking water and forests to become scarcer..
Citing one economist who predicted a 5 percent to 20 percent loss of global gross national product if nothing is done about global warming, Sheinwald said England has pledged to reduce its carbon emissions by 80 percent by 2050, shift to renewable fuels and conserve energy.
"High carbon growth is no longer an option," he said, noting that the British economy had grown by 45 percent since 1990 and reduced its carbon emissions by 16 percent.
He also called for energy stabilization through increased use of nuclear power, finding greater efficiencies and creating new carbon-sequestration schemes to trap carbon dioxide from large emission sources, such as electric generating stations, and store the captured carbon underground.
Sheinwald praised the current U.S. administration for its plans to reduce greenhouse gas emissions and double the use of fuel from renewable sources. He said President Obama should lead the worldwide efforts to reduce greenhouse gases.
"We need the political will," he said. "There will never be an easy time to do this."
An equitable international treaty on greenhouse gases must include India and China, he said. "China will move on climate change, but Obama needs to lead the debate."
Sheinwald said that the United States and Europe must tackle the problems of Pakistan, Afghanistan and the Middle East together. Though Thomas Jefferson advised the young American nation to avoid foreign entanglements, Sheinwald said the world is different after 9/11; the United States and Europe need to stabilize the improvements made in Afghanistan through strengthening social institutions, such as the legal system and the schools.
While other European nations are reluctant to send troops to Afghanistan, he said they could provide other forms of aid to stabilize the country. The real threat, he said, comes from  the Taliban, which is regrouping in Pakistan.
On the Middle East, Sheinwald said European and U.S. partnership is needed for any comprehensive peace plan, But any such plan would also have to include 23 Arab and Muslim states. Obama, he said, has been working on the issue from the start, giving his first interview to an Arab television network and making his first official call to Egyptian leader Muhammad Hosni Mubarak.
Sheinwald predicted closer ties between the U.S. and Europe.
"This is a transforming moment in trans-Atlantic relations," he predicted.
Following his planned remarks, Sheinwald was questioned by his old friend Philip Zelikow, former executive director of the 9/11 Commission and former counselor of the U.S. State Department, and currently the White Burkett Miller Professor of History; and by David A. Leblang, the J. Wilson Newman Professor of Governance & Professor of Politics.
"Do the British and the Europeans care about Afghanistan and Pakistan?" Zelikow asked. "Are there issues where Europeans are willing to kill or be killed?"
Sheinwald said that the level of concern about Afghanistan and Pakistan varies within Europe, but he said that only the French and British have substantial militaries.
"There are few European countries that have the capacity for the hard end of warfare," he said. "Britain could not fight the Afghanistan war without the Americans. We only have 100,000 people in our army and fighting two operations is difficult."
European militaries, he said, have their place in small operations and peacekeeping missions.
Leblang cited the current world financial situation and Britain's role in setting up the world's economy following World War II. He asked if England "was strong enough to take a leading role today."
Sheinwald said there needs to be U.S. and international leadership in the financial crisis, but he said to have a global recovery, there need to be recoveries in each country. He said there must be support for the international institutions such as the World Bank and the International Monetary Fund.
"We need to help vulnerable economies," he said. "We also have to include China. India, Brazil and give them a bigger stake."
In response to questions from the audience, Sheinwald said European foreign policy puts a premium on alliances, multilateral discussions and consultations. He said the European community "works across a range of issues and take a holistic approach."
Sheinwald said while Britain "had supported the rapid expansion of the North Atlantic Treaty Organization up to this point," he said firm principles had to be established before Georgia and the Ukraine could be admitted to "the European mainstream."
He said Europe had to take into account, but not be subservient to, Russia, which had acquiesced to NATO absorbing other former Eastern Bloc countries. He also predicted that Europe would soon add Turkey to its community.
He said while there had once been talk about pitting a united Europe against the United States economically, he said those views were no longer "fashionable." Sheinwald said that power is already shifting to Asia, but the U.S. would be the primary nation on the world stage "for the first half of the century." He was not sure Europe would be No. 2, but he said it would still be a player. Politics and economics go together to assure stability.
He also spoke against protectionism, while acknowledging a trend of countries retreating behind their economic borders.
— By Matt Kelly