Friends and colleagues remember University of Virginia President Emeritus Robert M. O'Neil as a caring mentor, a staunch advocate for students from all walks of life, a beloved law professor, and a nationally recognized scholar focused on the First Amendment, free speech and the press.
O'Neil, the University's sixth president and a former School of Law professor, died Sunday at his home in Washington, D.C., at age 83. He is survived by his wife of 51 years, Karen Elson O'Neil, his four children and their families, including 13 (soon to be 14) grandchildren.
"I am very sorry to hear about Bob O'Neil's passing," said UVA President Jim Ryan, also a former UVA Law professor. "Bob was a friend and mentor to me at the Law School, where we were colleagues. I'll never forget and always appreciate the great kindness he showed to me when I was just starting my career.
"He leaves a remarkable legacy. As a law professor, he combined deep expertise in the First Amendment with a love of the classroom, teaching a course almost every semester for 50 years. And as president, he helped make it clear that students from every background and walk of life have a place at UVA.
"My thoughts are with his wife, Karen, his children, the entire O'Neil family, and all of the members of the University family who knew and loved him."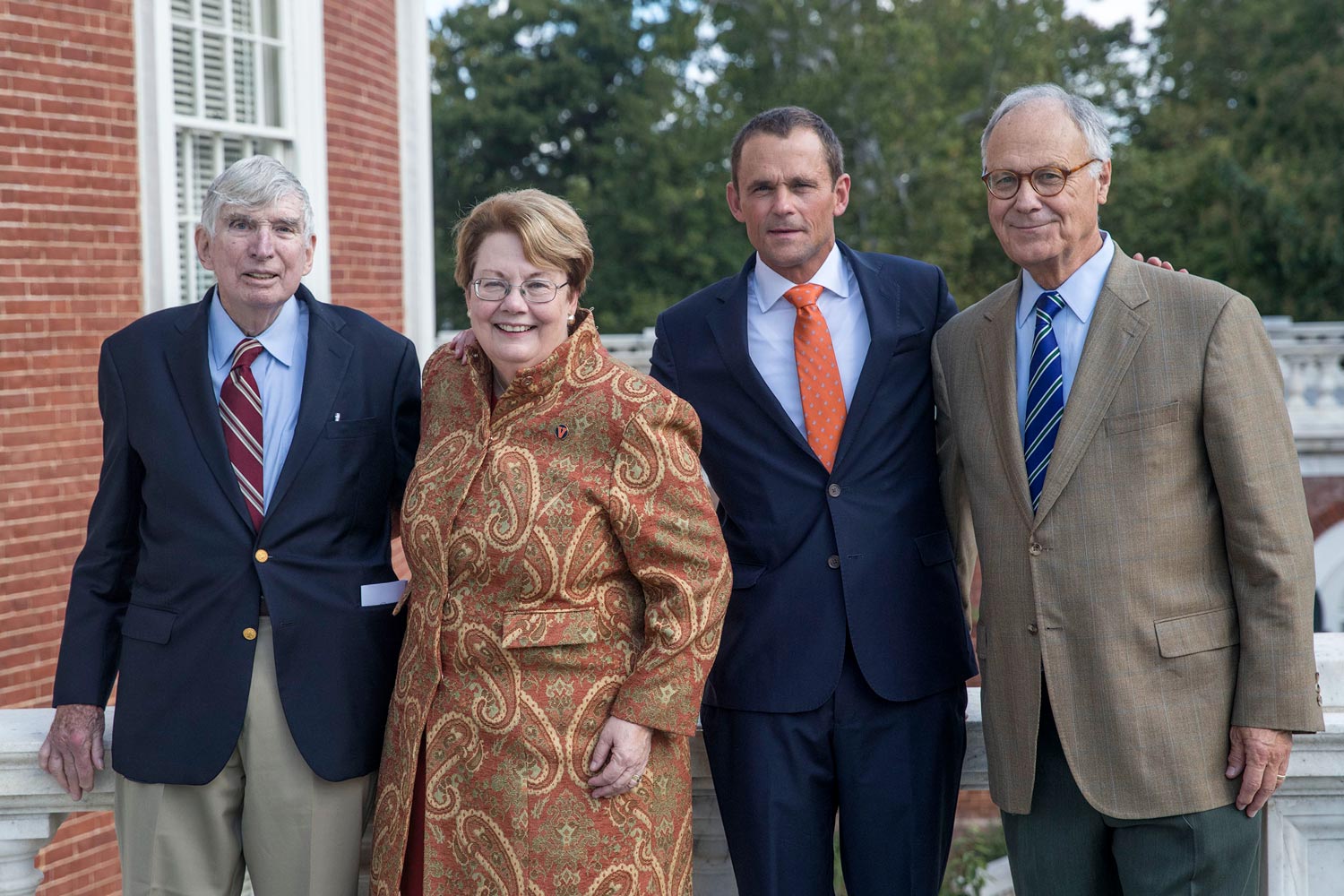 President Emerita Teresa A. Sullivan, who stepped down in July, also remembered O'Neil's commitment to opening UVA's doors to people of all backgrounds.
"Bob O'Neil thought deeply about issues of academic freedom and free expression more generally," Sullivan said. "He cared deeply about making UVA more inclusive and welcoming to everyone."
UVA President Emeritus John T. Casteen, who succeeded O'Neil in 1990 and later worked with him on various committees for the Association of Governing Boards of Universities and Colleges, said O'Neil "lived his values."
"He was thoughtful and generous in everything, and he saw things clearly. All of us will miss him, his kind spirit and his vast knowledge," Casteen said.
"President O'Neil was a wise, gentle, generous man on whose thoughtful advice leaders throughout higher education depended. I did not know him especially well when he was president; I was not here during those years. Later, however, his insights into how universities work, how they sustain forums for free speech and collegial governance and how they can improve themselves came to be valuable guidance for university presidents and trustees."
O'Neil's son, Ben, agreed that creating an inclusive educational environment is an important part of his father's legacy at UVA.
"The question of my dad's legacy is one that always strikes our family as difficult, because he was such a humble person and would bend over backward to deflect attention to those he felt were more deserving. That said, I think he would most like to be remembered as someone deeply committed to diversity and inclusion in all aspects of life, but most directly on the college campus," said Ben O'Neil, a UVA alumnus. "My dad tried very hard during his term as president to make the University more inclusive for people of all backgrounds. To be candid, this was not always easy. But in time, I think many of my dad's diversity initiatives have been embraced and borne fruit over the last two decades. No question there is a long way still to go, but the progress is evident."
The younger O'Neil said he admired his father's humility, civility and integrity.
"He was such an accomplished person, but rather than tout his own achievements, he always wanted to elevate and give credit to others," O'Neil said. "He was also someone who, in any situation, was unreservedly respectful and sympathetic to those who held views different from his own. I simply can't imagine a better role model for me and my siblings as to how to live and treat other people. Especially in the current toxic political environment, I'm grateful to have had my dad as an example."
Despite all of his professional commitments, Ben O'Neil said, his father was a constant, kind and loving presence in his children's lives.
"He was simply one of the kindest and most selfless people I've ever known. As hard as he worked and as many professional commitments as he had, he always made time for his family," he said.
A Presidential Legacy of Inclusion and Opportunity  
Robert O'Neil, who earned undergraduate, master's and law degrees from Harvard University and clerked for Supreme Court Justice William J. Brennan Jr. in 1962, came to the University in 1985 after serving as president of the University of Wisconsin system.
He served as UVA's president until 1990 and taught at the School of Law until his retirement in 2007. Even after retirement, he continued to teach the First Amendment Clinic at the Law School and serve as founding director of the Thomas Jefferson Center for the Protection of Free Expression, a position he held from 1990 to 2010.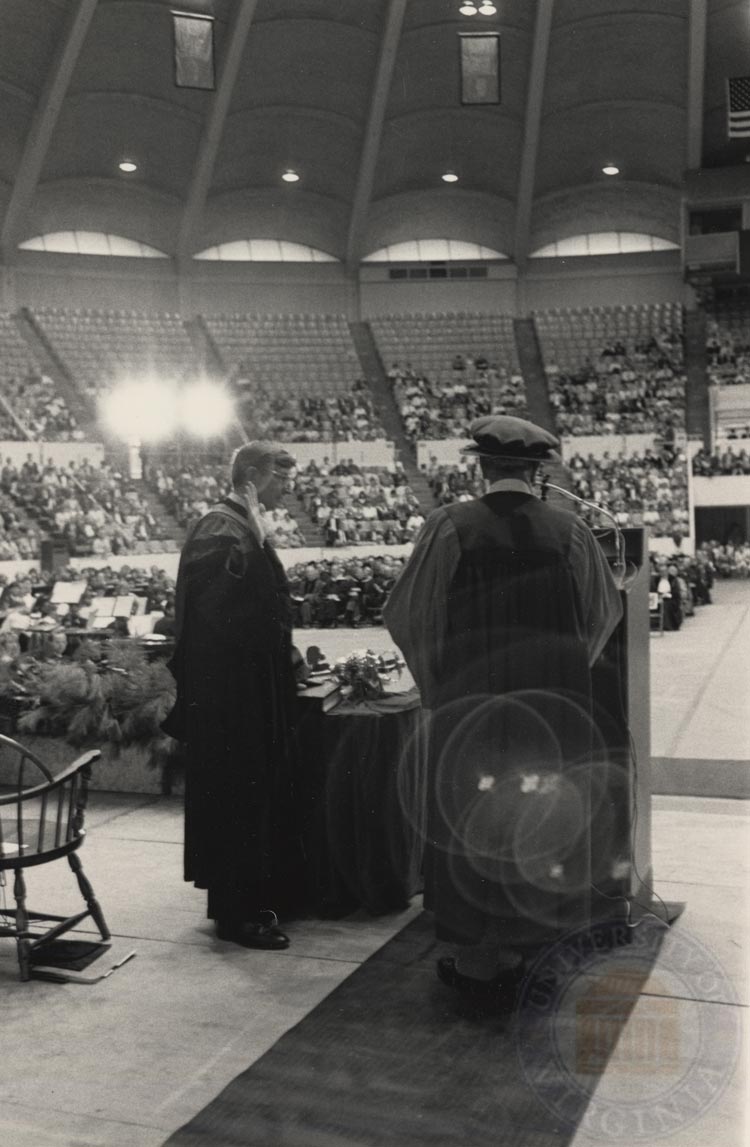 As president, O'Neil played a key role in welcoming underrepresented groups to the University's faculty and student body, including African-Americans, women and those with disabilities. Under his leadership, the University increased representation of African-Americans and women on the faculty, established the Holland Scholarships to attract African-American students, opened what is now the Maxine Platzer Lynn Women's Center, opened a day care center for employees' children and established task forces studying the status of women and minorities at the University. 
In an article at the time of his retirement, O'Neil himself cited such progress as one of the key accomplishments of his presidency.
"Here we worked very hard not only on racial and ethnic minority issues, but realizing that there was a lot that had to be done in terms of gender equity, and still does," he said. "We also worked hard on issues like handicapped access and just in general trying to make this a more welcoming community for those who historically have not been fully accepted or fully involved."
A Life Spent Defending Free Speech
At the Law School, O'Neil was renowned for his expertise on the First Amendment and free speech and his commitment to teaching. He taught classes on constitutional law, free speech and the press, and church and state. Even during his 20 years as a full-time administrator at UVA and other institutions, he continued to teach at least one class a semester. Teaching for a total of 50 years, he mentored hundreds of students and authored dozens of articles on academic freedom, affirmative action, free speech and religious liberty.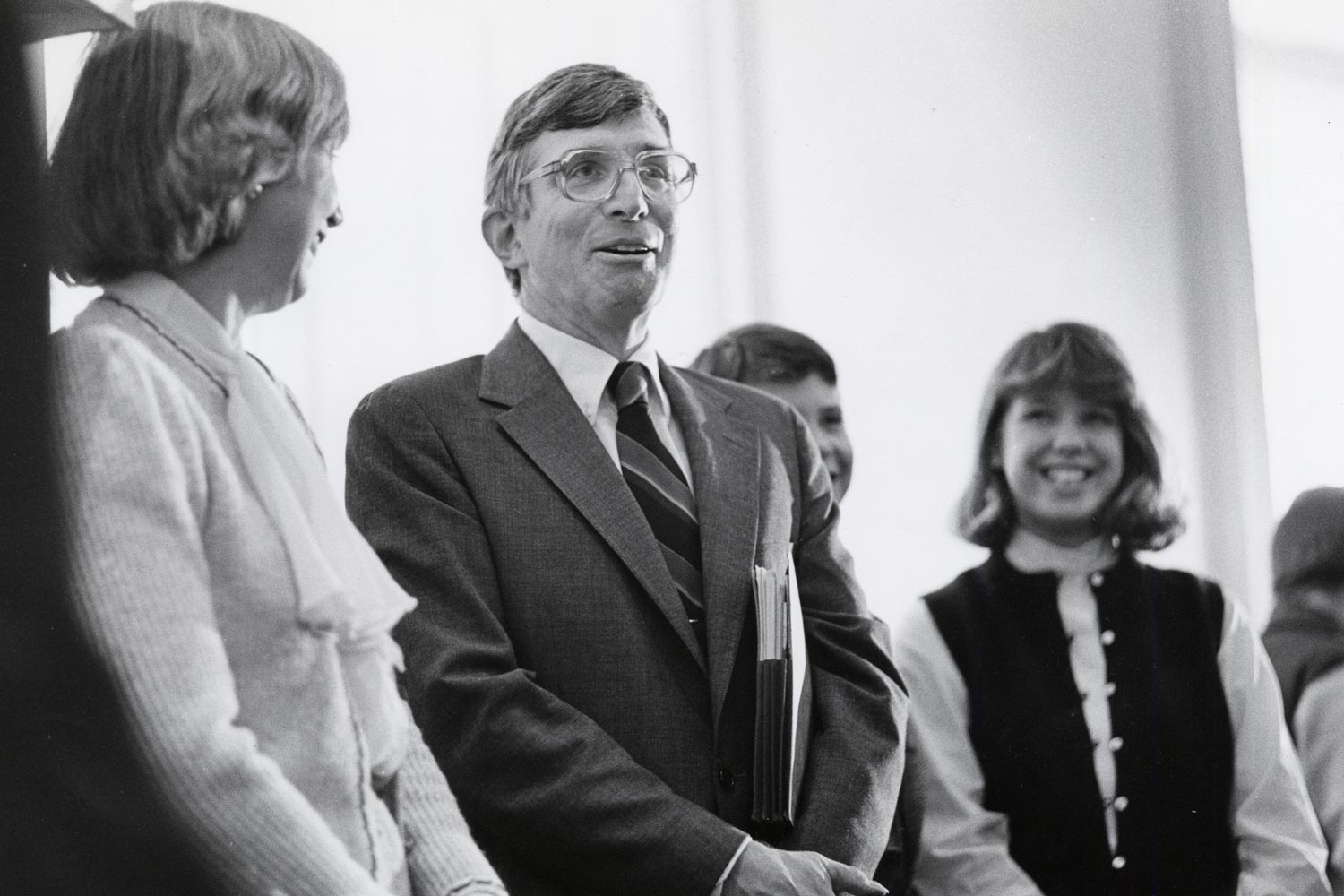 O'Neil also dedicated significant time and energy to the Thomas Jefferson Center for the Protection of Free Expression, a nonpartisan, nonprofit research and policy center in Charlottesville that he directed for 20 years. The center offers a wide range of programs in education and the arts and actively participates in judicial and legislative matters involving free expression. 
"After retiring from the presidency, Bob O'Neil became a mainstay of the classroom in the Law School. He also devoted his learning, his energy and his leadership to the Thomas Jefferson Center for the Protection of Free Expression, which has intervened in hundreds of cases to defend free speech," said John C. Jeffries Jr., a David and Mary Harrison Distinguished Professor of Law and senior vice president for advancement at UVA. "He was always ready to share his expertise in freedom of speech and religion with younger colleagues, as well as with his students."
O'Neil also directed "Difficult Dialogues," a Ford Foundation program that uses events, programs, training sessions and courses to facilitate difficult discussions at college campuses across the country, protect freedom of expression and academic freedom and expand opportunities for constructive dialogue among those with different perspectives.
At the time of O'Neil's retirement, UVA law professor A. E. Dick Howard called him "one of the nation's most influential voices in interpreting First Amendment law and in promoting the values of free expression and the open society."
"I think my dad would want to be known as someone who, both as president of the University and in his 25-year career as a professor at the Law School, tried to pass on to students Thomas Jefferson's most cherished ideals of individual liberty and religious freedom," Ben O'Neil said, noting that his father often referenced Jefferson's choice to list his authorship of the Declaration of Independence and Virginia's Statute for Religious Freedom and his founding of the University of Virginia on his headstone.
"My dad felt Jefferson's desire to rank these accomplishments over even having served as president of the United States reflected that the ideals in those documents were what the University should stand for," he said. 
In addition to his many roles at UVA and other universities, O'Neil served as president of the Virginia Council for Open Government, chair of the Council for America's First Freedom, director of the Commonwealth Fund and the James River Corp., and chair of the American Association of University Professors Committee on Academic Freedom and Tenure.
He served three terms as general counsel of the American Association of University Professors and chaired several committees there over nine years, including several special subcommittees on academic freedom and one on the impact of hurricanes Rita and Katrina in New Orleans. He also chaired the National Association of State Universities and Land-Grant Colleges, a commission on the future of Virginia's judicial system and a commission of the Markle Foundation on media coverage of presidential elections. He was a consultant to the Association of Governing Boards of Universities and Colleges and served as a trustee for the Carnegie Foundation for the Advancement of Teaching, the Teachers Insurance and Annuity Association, WVPT Public Television and the Piedmont Council for the Arts.
The O'Neil family is planning a memorial service to be held Nov. 18 at the Cosmos Club in Washington, D.C. They request that memorial contributions be made to the American Association of University Professors or the American Civil Liberties Union.
Media Contact
Article Information
October 2, 2018
/content/university-community-remembers-uvas-sixth-president-robert-m-oneil