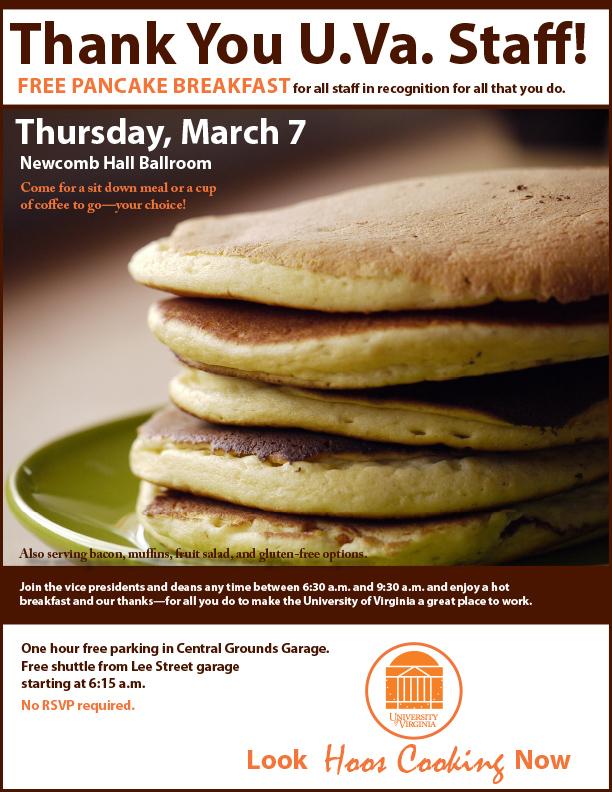 UPDATED 3/5/13: Due to the prediction of inclement weather on Wednesday and Thursday,  the pancake breakfast has been rescheduled for Tuesday, March 19.

Attention, University of Virginia staff: The second annual pancake breakfast will be held on March 7, in appreciation of your efforts.
Vice presidents and deans will serve a free breakfast to employees, including Academic Division and Medical Center staff. All are invited to enjoy pancakes, bacon, muffins, fruit salad and conversation with friends and colleagues. The breakfast will be held from 6:30 to 9:30 a.m. in the Newcomb Hall Ballroom.
University Human Resources will provide one-hour free parking at the Central Grounds Garage between 6:15 and 10 a.m., and there will be a shuttle running between the Lee Street garage and the Central Grounds Garage starting at 6:15 a.m. No RSVP is required. 
New this year: gluten-free options will be available. In addition, staff can participate in a 15-minute walk at 7:30 or 8:30 a.m., sponsored by Hoo's Well@, in partnership with UVA-WorkMed. 
Questions? Contact the HR Service Center at 434-982-0123 or AskHR@virginia.edu.