A University of Virginia student detained by the government of North Korea for more than a year has died, only days after being returned to his home, according to his family.
Otto Warmbier, who was medically evacuated from North Korea to his Ohio home last week, had been in a coma.
"It is with great sadness that we learned of Otto's passing this afternoon," University President Teresa A. Sullivan said Monday. "Our thoughts and prayers continue to be with his family and friends during what has been an incredibly difficult time. He will be missed by all those who knew and loved him."
In a statement Monday afternoon announcing their son's death, Fred and Cindy Warmbier said they and their son were at peace.
"It would be easy at a moment like this to focus on all that we lost – future time that won't be spent with a warm, engaging, brilliant young man whose curiosity and enthusiasm for life knew no bounds," the Warmbier family said in the statement. "But we choose to focus on the time we were given to be with this remarkable person. You can tell from the outpouring of emotion from the communities that he touched – Wyoming, Ohio and the University of Virginia to name just two – that the love for Otto went well beyond his immediate family."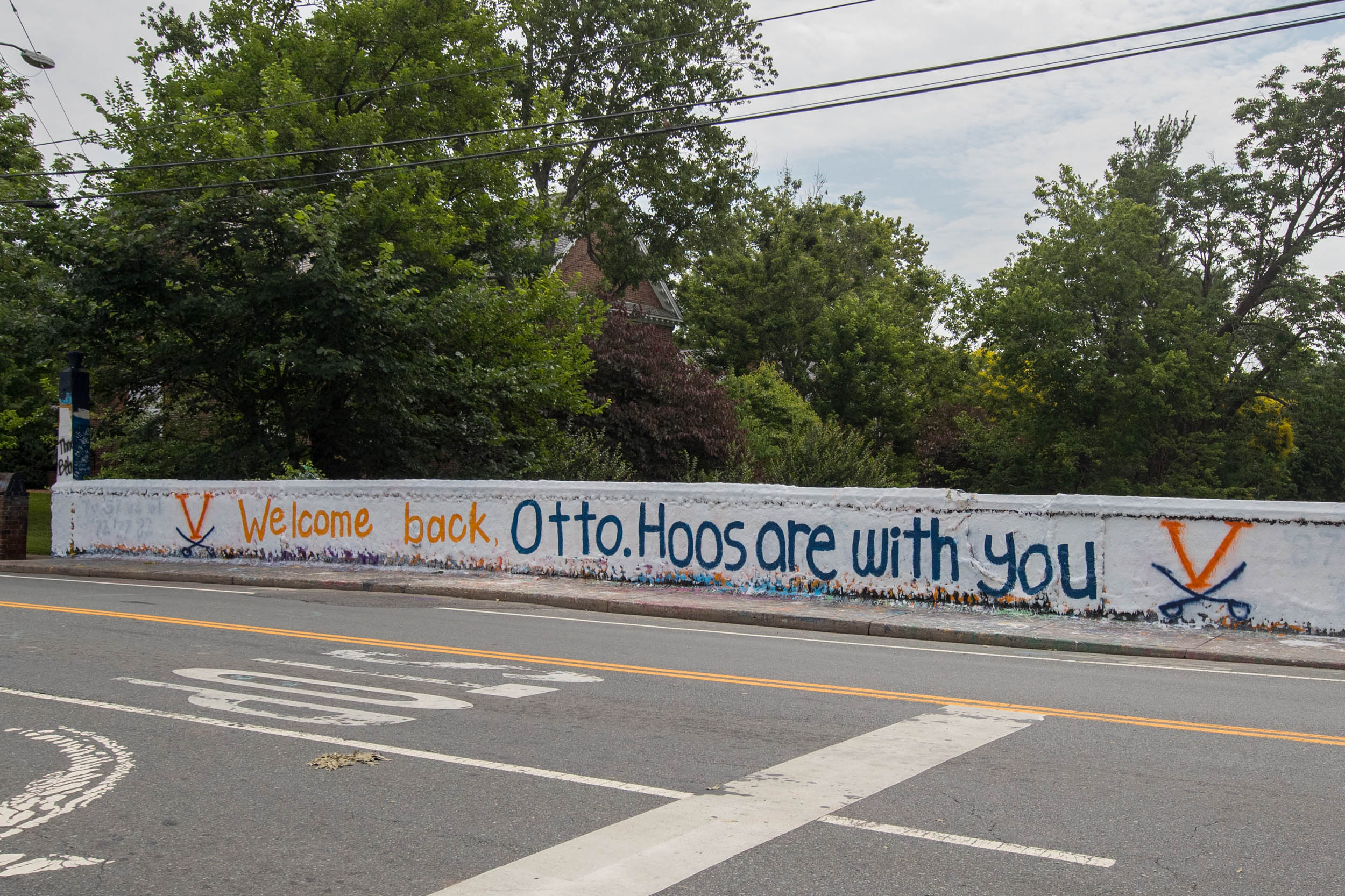 The day after Otto Warmbier's return from North Korea, students painted Beta Bridge on Grounds.
Warmbier was a student in the McIntire School of Commerce and would have graduated in May. 
"The entire McIntire School community is deeply saddened by this tragedy, and we send our sincere condolences to the Warmbier family and friends," Dean Carl Zeithaml said Monday. "In particular, I know that Otto's classmates and faculty feel a tremendous sense of loss, and he will always be an important member of the McIntire Class of 2017. Our thoughts and prayers are with his family and all who knew this wonderful young man."
In January 2016, Otto Warmbier, then a third-year student, was on a tour when he was arrested by the North Korean government as he was preparing to depart from the airport. Officials there alleged that on his last night in Pyongyang, he attempted to remove a propaganda sign from the wall of his hotel.
After a one-day trial in March 2016, he was convicted of "hostile acts against the state" and sentenced to 15 years of hard labor.
While he remained in North Korean custody, his friends at the University expressed their deep concern for his well-being. On May 21, the day he would have graduated, student leaders organized a tribute in his honor and distributed "Free Otto" stickers at Final Exercises.
The thoughts of the University community are with Otto Warmbier's family and friends. Simply devastating news. May he now be in peace.

— Allen Groves (@UVADeanGroves) June 19, 2017
Both Sullivan and Zeithaml included Warmbier in their remarks to the graduates.
According to media reports, Warmbier had been in a coma since sometime after his trial, but no details were available regarding the cause of the condition.
Article Information
June 19, 2017
/content/university-mourns-death-student-otto-warmbier