Veterans are non-traditional students, and as such have non-traditional needs.
To help meet these needs, the University of Virginia has created a Veteran Student Center in Newcomb Hall.
"It is designed as a gathering space for veterans, particularly our undergraduate veteran population," said David Sauerwein, an assistant dean of students who worked on the center. "They have some specific needs that are tied also to their non-traditional age. With their experience serving and their life experience, they are often in a different developmental place than many UVA undergraduates. Some are married, some have children and they are sometimes not seeking out the same undergraduate experiences as other students."
The center, a joint project of the Student Veterans of America @ UVA, the Office of the Dean of Students and the Jefferson Trust, officially opened Thursday, with University President Jim Ryan among those delivering remarks.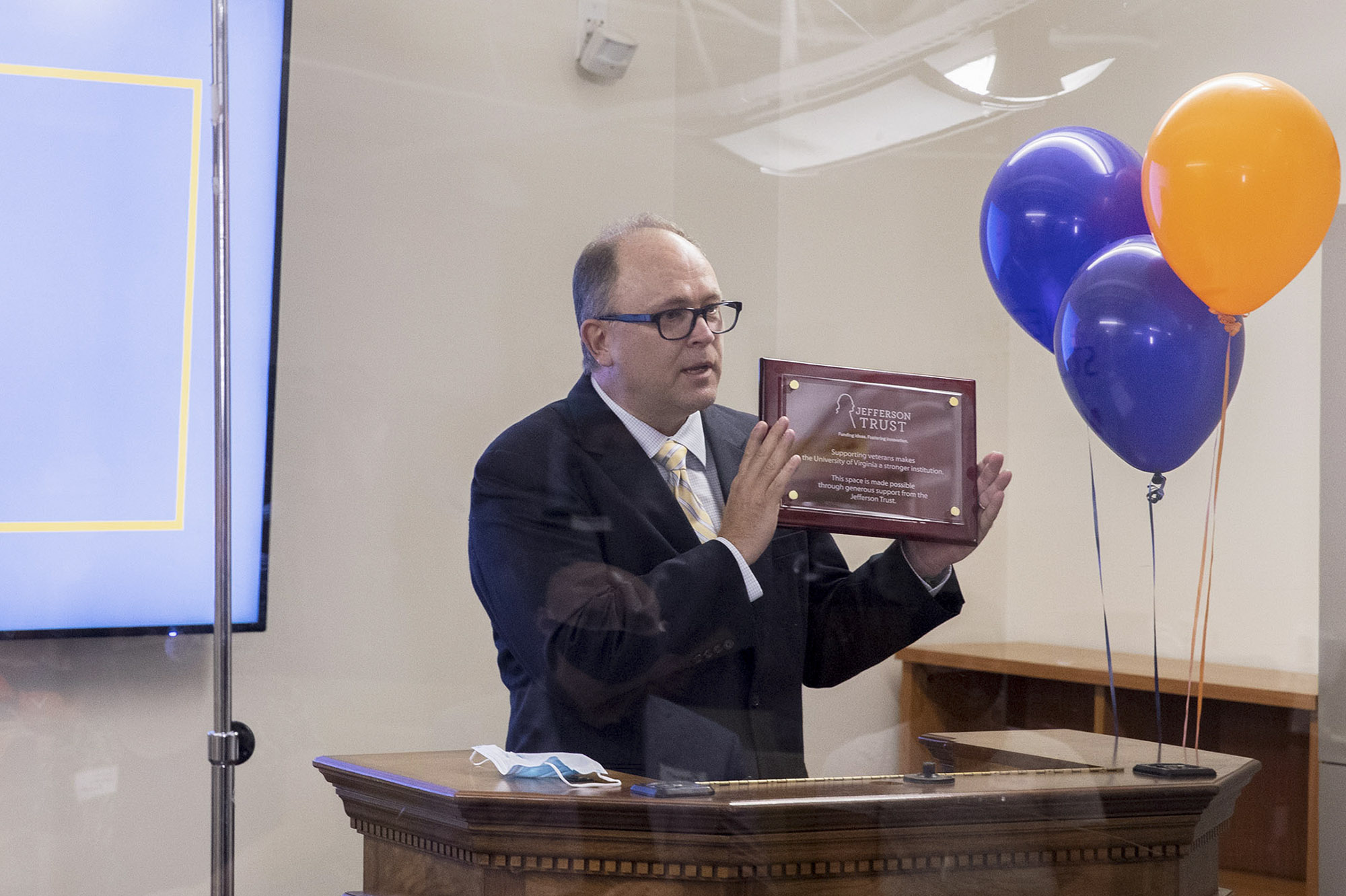 "Veterans add to the richness of our community, bringing a variety of perspectives that add depth to our classrooms," said David Sauerwein, an assistant dean of students who worked on the center.
Ryan told the veterans at the opening ceremony that the center was a place for them to build a community, develop themselves and to take advantage of the center's educational and social programming.
"And it's a place that I hope will help remind you that you belong here at UVA," Ryan said. "No matter where you are from, or whether you are the first in your family to attend college, whether you are a graduate or undergraduate student, or what your background is, you are welcome here, and you are also part of what makes us the University of Virginia. You are part of what makes us among the most vibrant university communities in the world. When you graduate, I know that you will have helped to shape this place, just as UVA will have helped to shape you."
Ryan said it was a difficult time for veterans and the country, with the challenge of the pandemic and recent events in Afghanistan, noting that veterans bring different perspectives and emotions with them.
"I feel heartbroken at the tragic loss of life since our time in Afghanistan and deeply grateful to those who have sacrificed so much to make the world a better place," Ryan said. "I also learned that some of you are involved in a program to help refugees from Afghanistan. This doesn't surprise me, given your extraordinary commitment to service, but it does inspire me. Because that is what UVA is all about: using your time here to lead, to serve others, and to engage with the world even when doing so might require sacrifice. It is what makes UVA great and good."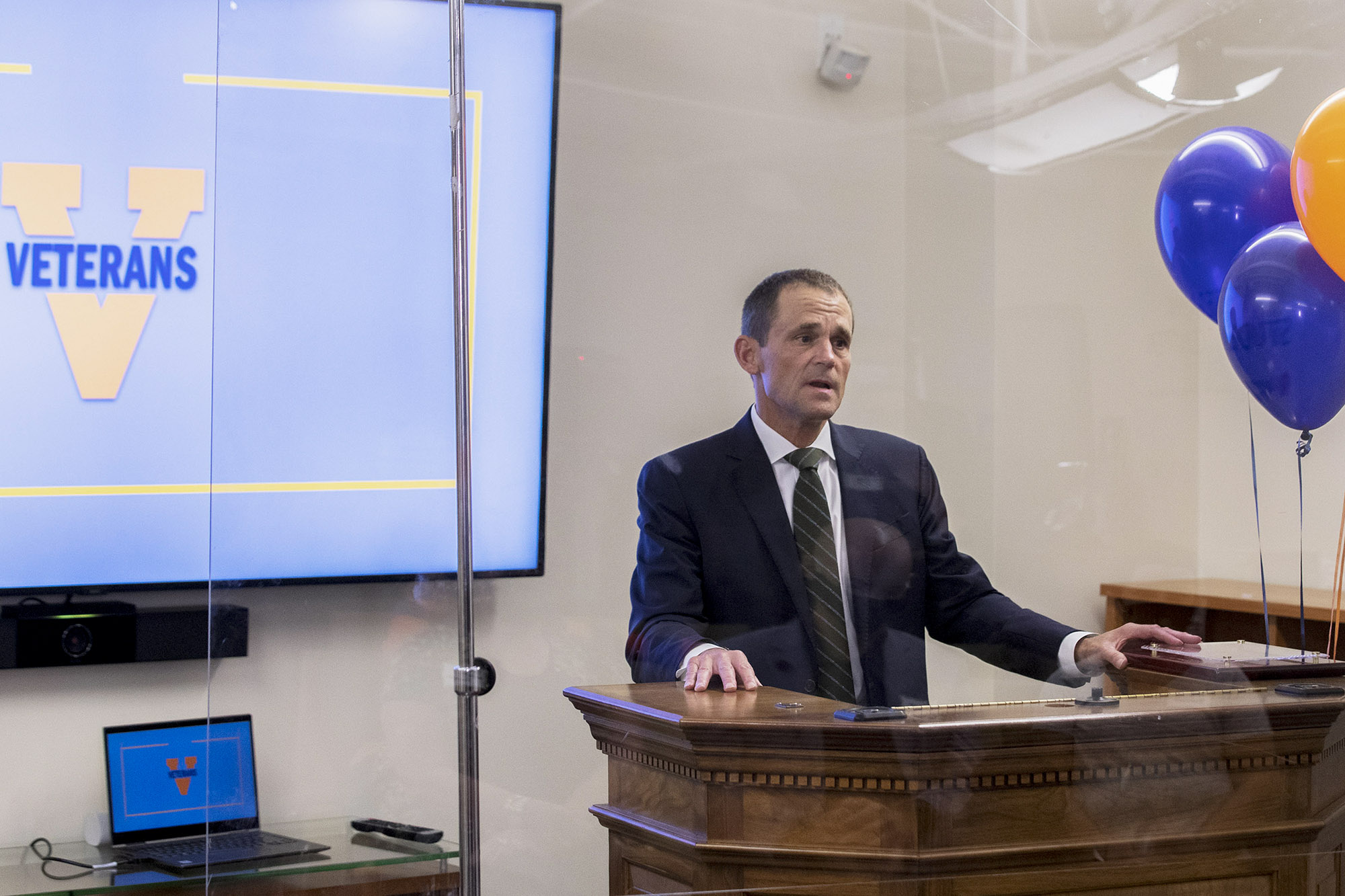 UVA President Jim Ryan said it was a difficult time for veterans and the country, with the challenge of the pandemic and recent events in Afghanistan, noting that veterans bring different perspectives and emotions with them.
Other speakers included Student Veteran's Association President Tim Brown and Jeffrey Lovelace, an assistant professor of commerce at the McIntire School of Commerce and a veteran who graduated from the United States Military Academy at West Point.
Lovelace said student veterans across the country, despite their experience, knowledge, skills and abilities, are underrepresented at top institutions of higher learning. He noted that UVA had agreed in 2014 to a set of U.S. Department of Education guidelines to help veterans succeed and the center was a key step in that process.
"The mission of UVA is to develop responsible citizen-leaders and professionals," Lovelace said. "Who better to be a part of that mission than a group of students who have already proven themselves to be citizen-leaders, leaders with real-world experience, who volunteered to go into the most complex and stressful environments imaginable to support our nation and the freedom of others around the world. Further, one of the greatest things about our military is how it reflects the wonderful diversity that makes our country so special. Our student veterans come from all types of backgrounds, but they have all demonstrated a commitment to serving others above themselves. This epitomizes what we value here at UVA."
"Veterans are one of the smallest minorities on Grounds," said Brown, who served in the Navy, in an interview before the opening ceremony. "We are people who are accustomed to a strong sense of camaraderie and community. The VSC will facilitate in bringing veterans on Grounds together and providing them with the resources to succeed at UVA.
"Additionally, many undergraduate student veterans are transfer students and come from campuses with dedicated student veteran centers. The VSC will bring the veteran experience up to the standard people would expect from a prestigious university like UVA."
The center is housed in room 42 on Newcomb's lower level, near the offices of the Cavalier Daily, the independent student newspaper. It features a main room with couches, chairs and mobile tables and two large display screens, and a smaller room with a display screen that can be used as a conference space.
"We have gotten veteran input on the look and function of the space so that it can serve their needs," Sauerwein said. "Many veterans live a little farther from Central Grounds, so there will be a few lockers in the VSA to use, and there is space to study or wait between classes.
"It is also good program space. There is technology available to have speakers on screen or for them to use in person. We plan to have opportunities to learn more about their [Veterans' Administration] benefits so that they can take full advantage of what they have earned. We can have social occasions there, too."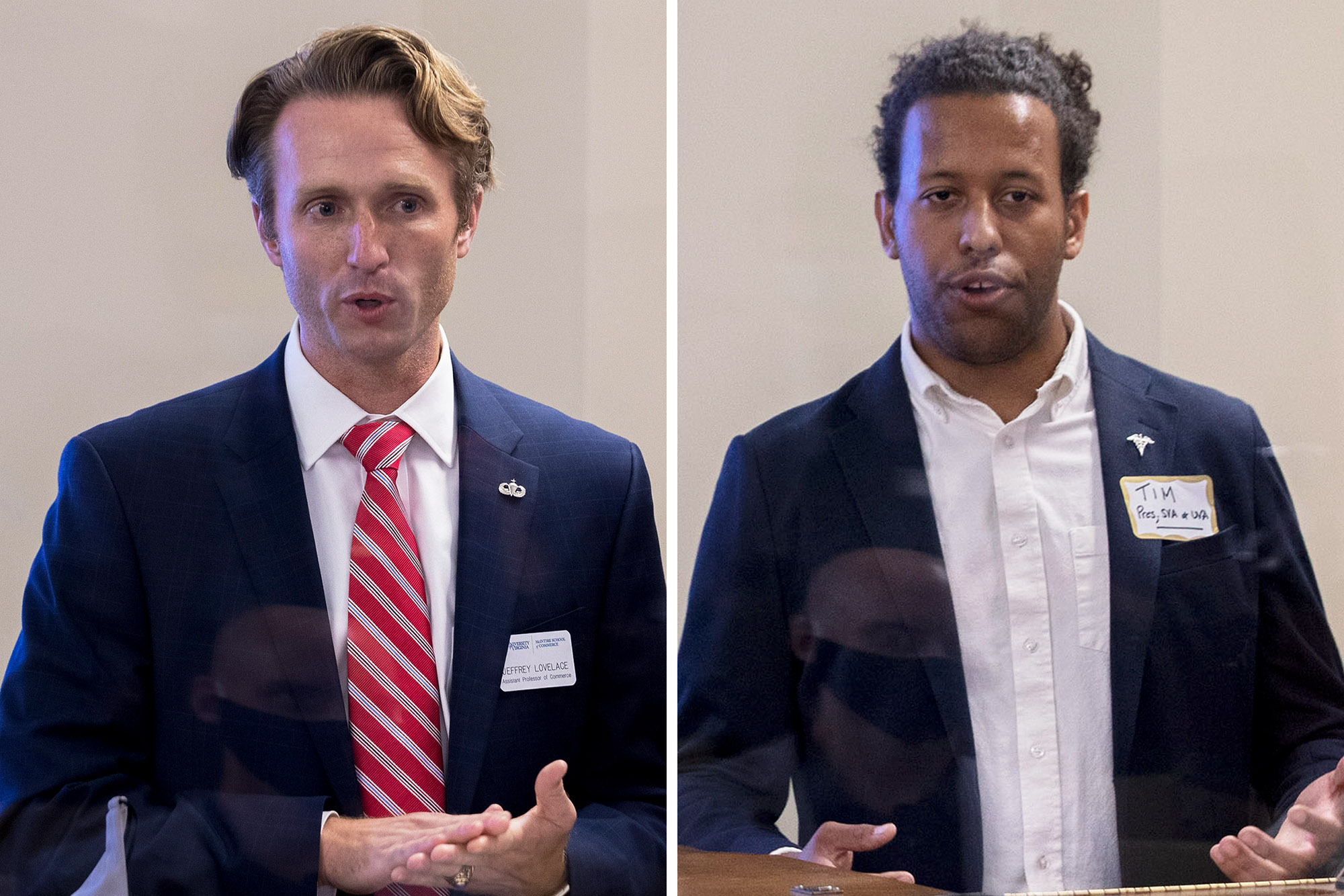 Jeffrey Lovelace, left, a veteran and assistant professor of commerce at the McIntire School of Commerce, and Tim Brown, president of the Student Veteran's Association, both spoke at the ceremony.
Brown, a second-year undergraduate who plans on applying to the McIntire School of Commerce, said the project – initiated by Thomas Doyle, his predecessor as SVA president – has taken longer than planned, but the University has committed to a dedicated space for veterans.
"In addition to giving veterans a space to create a community on Grounds, we hope that the space will give us some momentum and open up a dialogue about the veteran experience at UVA," Brown said. "We think that UVA is making great strides in admitting and supporting undergraduate veterans, but there is still a lot of work to be done."
Brown said an eventual goal is for the University to hire a full-time veteran director who would advocate for veterans, help them navigate their GI Bill benefits and aid their transition to civilian and academic life. Brown said the University currently hosts about 50 undergraduate student veterans; about 5% of the graduate student population are veterans, with a concentration in business and law. UVA is ranked No. 10 in the nation among Best Schools for Veterans, according to U.S. News & World Report rankings.
"We'd also like the University to admit more veterans," Brown said. "UVA partners with the Posse Foundation, which brings around 10 undergraduate veterans to Grounds every year.  Outside that partnership, there are no initiatives to attract veterans to UVA. We think that the University and all of its students are missing out on a tremendous opportunity. Veterans bring a ton of diversity and offer a government-backed tuition check."
Sauerwein is the University's liaison for the Posse Foundation and he provides oversight and operation of that program along with others on Grounds.
"Veterans are an underrepresented group at UVA and it was good bring more of them to our community," Sauerwein said. "They also add to the richness of our community, bringing a variety of perspectives that add depth to our classrooms. I've heard from faculty about the contributions from veterans. Many undergraduate veterans also have intersecting identities. Many are first-generation, low-income and have a variety of racial and ethnic identities. And veterans have the unique experience of having represented our country – some in combat, but all in uniform."
Article Information
September 9, 2021
/content/university-opens-veteran-student-center-newcomb-hall