Whether in their jobs for 30 years or just the last two, University of Virginia employees show an uncommon amount of efficiency, good cheer, dedication to work, respect for others and empathy. Each year, the Leonard W. Sandridge Outstanding Contribution Awards program honors employees from the Academic Division, the Medical Center and U.Va.'s College at Wise who have shown exemplary service and commitment to the University. Administered by University Human Resources, the award is the highest honor for U.Va. staff members.
Each honoree receives a $1,000 award and an engraved gift. A red carpet welcomed the award-winners, who were invited – with family and coworkers – to the Service Awards Ceremony, held May 13 in the John Paul Jones Arena, when employees with 10, 15 and 20 years of service were also honored.
The Outstanding Contribution awardees also will be recognized June 6 at a luncheon with members of the Board of Visitors. Employees with 25, 30, 35, 40 and 45 years, plus one with 56 years of service –­ a total of 239 staffers ­ – will be saluted June 9 at the John Paul Jones Arena, for their longtime efforts in creating excellence at the University every day.
Below, linked to each honoree's name, are selected remarks from nominators about how the employees have gone above and beyond their duties to carry out the University's mission, making it their own.
---
Academic Division Honorees
Health System Honorees
U.Va.'s College at Wise Honoree
Jessica Necessary, administrative assistant for the Visual and Performing Arts Department
Jeffrey D. Baker, information technician and operations manager, Graduate Programs Office, School of Medicine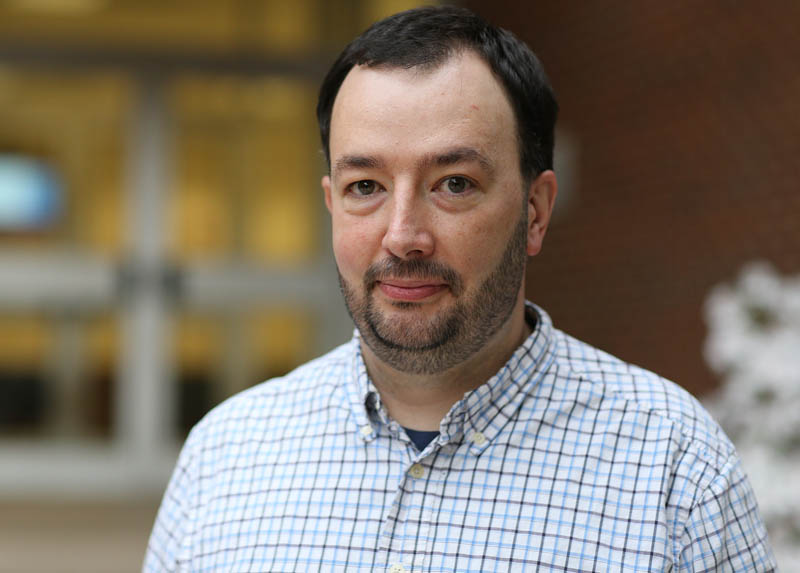 Years with U.Va.: Nine
Nominators say …
"His contribution to our educational and diversity endeavors has a profound impact on not only Ph.D. graduate programs and faculty, but also the national image of the University."
"Jeff was the primary choice to oversee a major project, the Summer Research Internship Program. SRIP has grown to become a large and complex endeavor encompassing more than 700 applications per year for about 35 positions in a 10-week summer biomedical research experience with more than 175 participating U.Va. faculty. He interacts with every student, starting from the time they submit an application and continuing as he aids them with transportation, pay, housing and even computing issues. He plays a role in virtually every aspect of SRIP from organizing the admissions committee to preparing statements of appointment for the grants."
"One measure of Jeff's influence is that a recent National Institutes of Health review panel gave our recent SRIP grant application the highest possible score of 10 with the following comment: 'This is a dynamic training program with weekly workshops and journal clubs and is considered one of the most successful in the country. The institutional commitment and support to the program is good. There are excellent resources and an outstanding environment at the University of Virginia.'"
Justin H. Callihan, chiller plant engineer, Facilities Management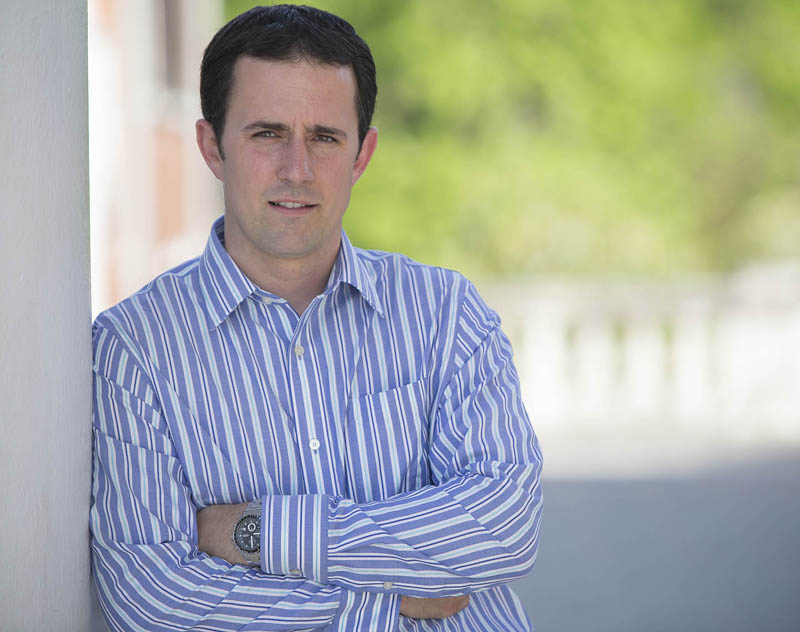 Years with U.Va.: Six
Nominators say …
 "Over the past several years, Callihan has worked tirelessly to improve both the reliability and energy efficiency of U.Va.'s chiller plants, thus making sure the University is fully functional while stewarding our energy resources. The total energy consumption of the plants has been reduced by roughly 20 percent over the past two years, largely as a result of the initiatives Justin has led to upgrade equipment, replace controls and optimize the sequence of operations for the plants. This energy reduction has resulted in over $1 million in cost avoidance annually."
"While Justin has deep technical knowledge, skill and expertise, it is his gift as a leader that truly enables him to achieve such dramatic results. His ability to engage every member of the chiller plants team and to gain their trust and respect is truly exemplary."
"He has offered something that only a few take the time to offer – namely, knowledge sharing. He empowers individuals to understand how things work and he teaches them to do things on their own. This knowledge sharing and teaching will serve the University for generations to come, and it's a great example of leadership, education and mentorship, which are all vital for the workforce of the University to continue at the top level."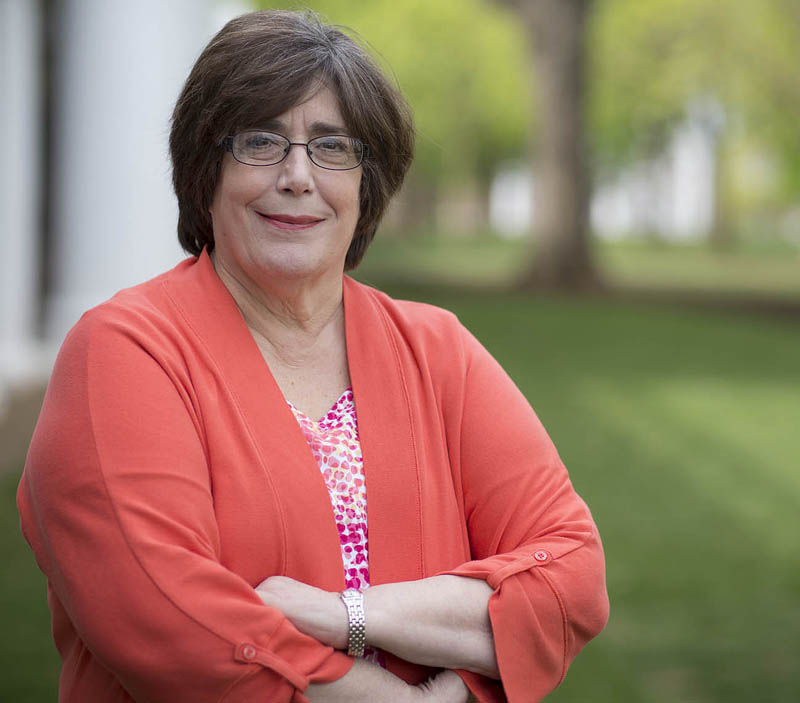 Years with U.Va.: 20
Nominators say …
"As the 'face of the College,' Sharon French provides helpful and specific responses, and she does it with a thorough knowledge of College policies, good cheer, courtesy and a friendly smile. But Sharon does much more than model the ideal receptionist in what may be the busiest academic office at the University. With an innate, even irrepressible inclination for organization, Sharon observes patterns of behavior among students, colleagues and visitors, and then thinks up ways for greater efficiency."
"Sharon has earned the respect of all of the deans and fellow staff members. During the predictable 'crunch times,' such as orientation, add/drop, course enrollment and the run-up to finals, Sharon's ability to say calm and keep her sense of humor is a model for us all."
"I believe that the reason she has done this work so well, for so long, is because she truly loves our students. As I come to understand the real work that our office does – its true mission to support our students – I could not have asked for a better model of this spirit of care and service than Sharon French. When she announced her intention to retire this summer, our whole office suddenly faced the question, 'How will we do this without her?'"
Kevan D. Holdsworth, coordinator for audiovisual services, Miller Center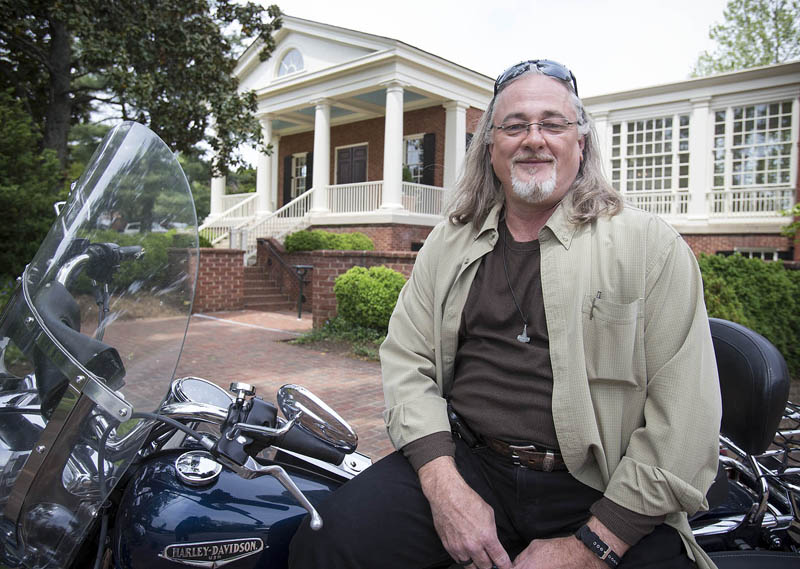 Years with U.Va.: Nine
Nominators say …
"Without his expertise in developing the first iteration of the Miller Center Forum, his willingness to put in long hours for many years to establish the show as a regular PBS program, and his creativity over the past year in dramatically improving the production value of the program, the forum, a unique asset for pushing out the University's brand nationally, would never have survived."
"Kevan developed a system that allowed him to control four cameras remotely from his control room, where he essentially played the role of director and camera operator (times four)."
"The proof of Kevan's impact is evident in the PBS numbers. In 2006, the Miller Center Forum aired on just a handful of stations in Virginia. Our most recent carriage data indicates that the show is carried by 90 unique PBS stations ranging from large markets (e.g. Chicago and San Francisco) to small markets (Anchorage and Bowling Green)."
With a gift from President Teresa A. Sullivan's office, "Kevan worked to overhaul the center's now outdated recording equipment and production workflows to meet a new vision of the forum program as a much more highly produced television product."
"In so many ways, Kevan's approach to his job reflects Mr. Sandridge's decades of service: humility, respect for his colleagues, commitment to the University and an unflagging dedication to his work."
Oris Smith, housekeeper, departments of Surgery, Environmental Services and Urology, School of Medicine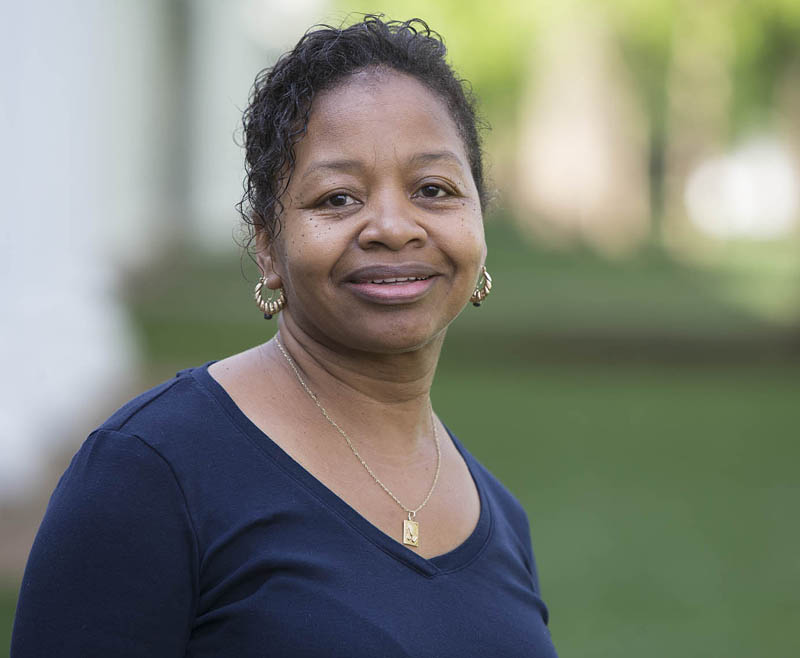 Years with U.Va.: 35
Nominators say …
"Oris is hard-working, trustworthy, polite and dedicated to the University of Virginia. Just about everyone in the building knows her, as she makes a point of getting along with everyone. Oris represents the best qualities of the University and supports the University's mission by providing excellent services to our building."
"For years, Oris has brought her enthusiasm and energy to our department as she goes about her daily routine cleaning our offices. What many people do not know is that Oris has a full-time job in the urology department, and when she is arriving to clean our offices in the surgery department, she is actually beginning her second job of the day. We value her work highly."
"In a medical environment, cleanliness is vitally important and Oris keeps us looking bright and clean all the time. She goes the extra mile when new doctors and staff are hired and when offices change occupants to make sure that they are sparkling clean and ready for the new employees."
"We hope she realizes the impact she has made on each of us and how grateful we are to see her each day as she distributes her genuine warmth and positive attitude to us."
"Oris' smile alone is worth a million dollars."
Raymond D. Cook, specimen management technician, Specimen Support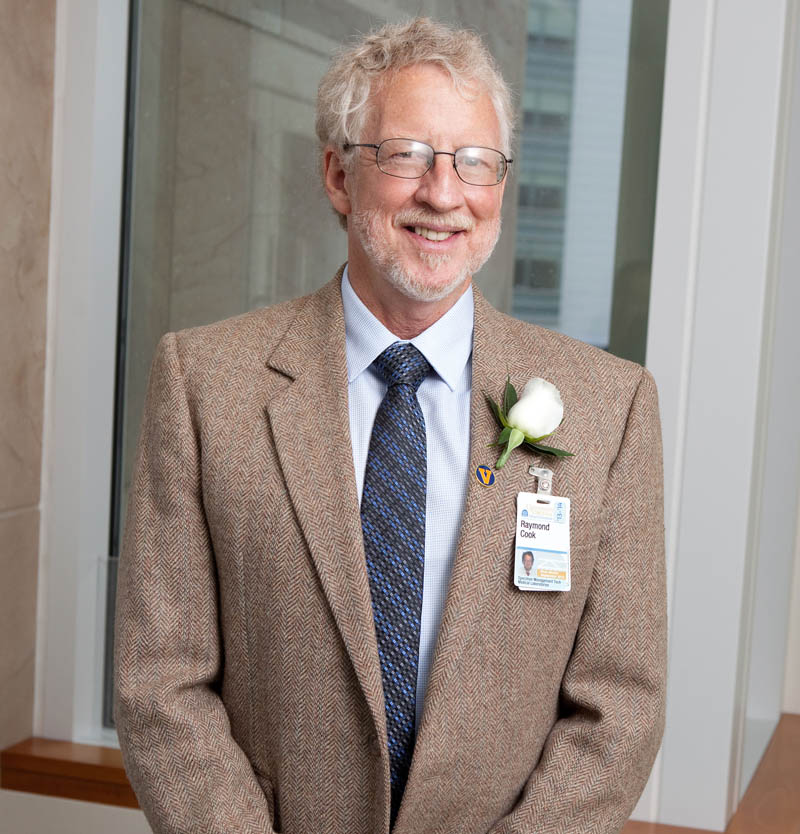 Years with U.Va.: 23
Nominators say …
"Ray respects every patient, seen and unseen. He is always sure each and every specimen we handle is treated with utmost importance. Only a few short weeks after my start date, I noticed that we were missing a specimen. I did as much research as I knew how, and then we asked Ray for his opinion. Ray took charge of this issue, searched the computer and sorted through paperwork. He never quit until the issue was resolved, saying, 'We are here for the patients.'"
"In the short while since I have been a U.Va. employee, Ray has gone above and beyond for fellow coworkers, offering his lunch to those who have forgotten dinner and always giving excellent patient care."
"I have known Ray for only nine months, but he makes me feel as though I've known him forever. He welcomed me with Southern charm when I started at U.Va.; being seven hours away from my husband, it made me feel comforted knowing someone was looking out for me."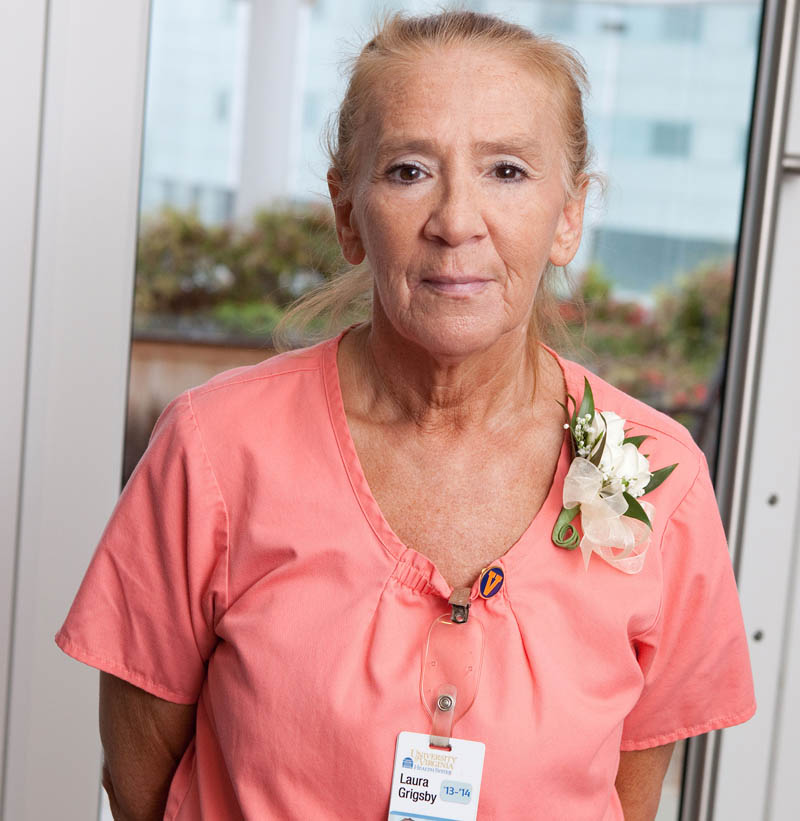 Years with U.Va.: 10
Nominators say …
"Laura works with the physicians to keep optimal flow in the clinic. She always completes every detail of her role with care. She is never idle and always looks for what else needs to be done. She also carries this into our community."
"No matter how upset, rude or difficult a patient's behavior gets, Laura shows respect and conveys empathy. She often provides insight to the behavior and assists in maintaining a calm and positive environment."
"Laura holds herself accountable for the work that must be done, never seeing any job beneath her. She came to work the night of a big storm because the U.Va. email said to 'come early when you can make it safely.' After she parked and left her car, a tree fell on it, and she still came to work. She sat in the cafeteria all night and reported to work in the morning."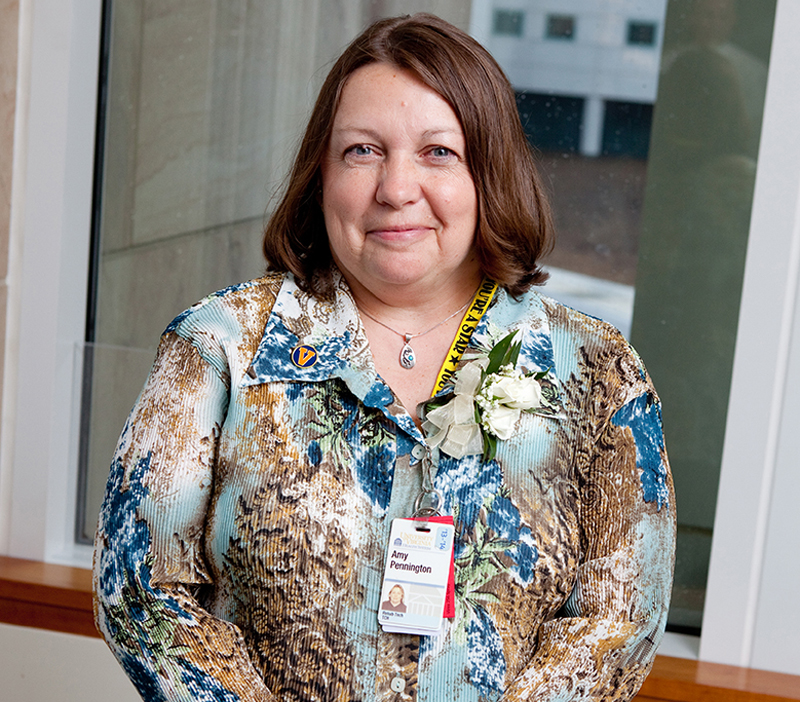 Years with U.Va.: Seven
Nominators say …
"Amy joined the Transitional Care Hospital Employee Engagement Committee in 2012 and was quickly nominated to serve as chair. She has since transformed the committee and made it a model committee for the hospital with many accomplishments noted under her leadership. Such accomplishments include: planning the first Northridge Campus Health Fair; evaluating the results of the hospital's engagement survey, which resulted in an employee-led action plan; co-facilitating engagement retreats; and partnering with Hoo's Well to promote healthy lifestyles among employees."
Amy has also made valuable recommendations to the U.Va. Hospital Auxiliary for its annual Venture Awards Program, such as this one that resulted in an award to Transitional Care Hospital in 2013: "I would like to purchase computer speakers for all the patient rooms at the TCH to provide music therapy for our patients. Music therapy promotes healing and has many biological responses such as lowering blood pressure, lowering respiratory rates, aiding in muscle relaxation and endorphin production. Music can help counteract the damaging effects of chronic stress and promote not only relaxation, but also health. It can lower anxiety and pain levels. Our patients have an average length of stay of 28 days, and the majority of them are actively weaning from ventilators, so this would be very beneficial to their recovery."
(No Photo Available)
Years with U.Va.: 19
Nominators say …
"Nursing students for whom Sally is the preceptor benefit greatly from working with her. She created a very thorough guidance document for students to review before starting their observational or practicum experience. This document allows students to further build upon the education she provides them as well as having a valuable resource to use after their experience with her comes to an end. Sally is a superb nurse who is always looking for ways to improve the experience of the student nurse."
"Sally has a true passion for patient education and has been the driving force behind obtaining the American Academy of Pediatrics online patient education materials for U.Va. What started as an idea for how to better serve patients and their families at Northridge Pediatrics grew into how we can better serve all pediatric patients at U.Va."
"A desire to provide trusted educational information to families led Sally to present her ideas to the hospital-wide Patient Education Committee. A subcommittee was formed, and together these committees worked to secure funding and discuss implementation into Epic and MyChart."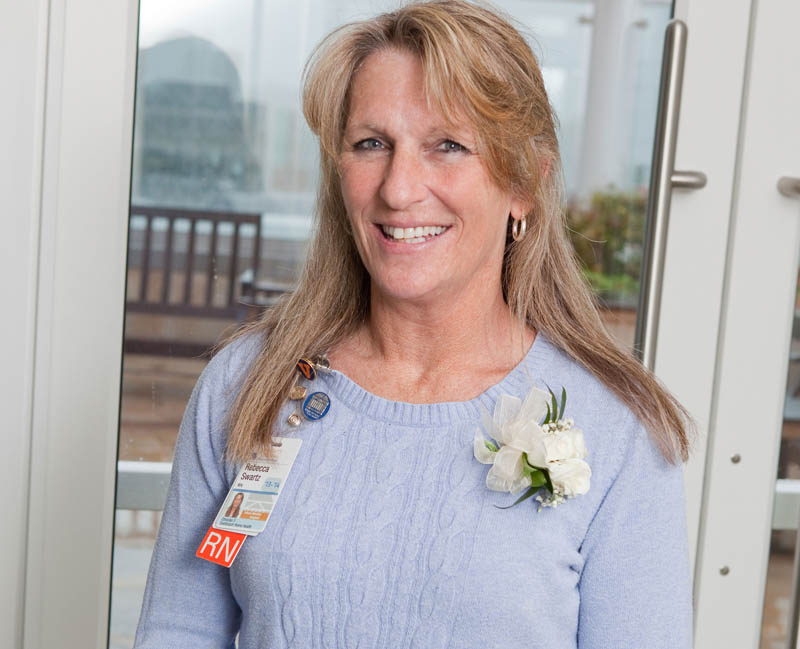 Years with U.Va.: 16
Nominators say …
"When Becky arrived on the first day, she had no idea of the extent of my injuries based on my file. She talked with me for quite some time until I felt completely comfortable with her. She assured me that we would move slowly and that she was there to help me in any way that she could. Her caring and empathetic manner made me feel at ease while she gained my trust with what I knew would be a painful bandage change. She displayed complete respect for me and my condition – with burns on every extremity. She called 45 minutes prior to her arrival to remind me to take pain medication. This process took up to three hours each day in the beginning. Becky reassured me every step of the way. It was as though I had my mother by my side."
"Becky always had a positive outlook and assured me that I would continue to improve every day. Her upbeat and patient attitude contributed a great deal to my healing. She talked with me daily about my pain, diet, wound care, attitude, sleep, medication and overall condition. She went over and above what was expected of her professionally. She truly cared about me as a person and I will never forget what she did for me."
Jessica Necessary, administrative assistant for the Visual and Performing Arts Department, U.Va.'s College at Wise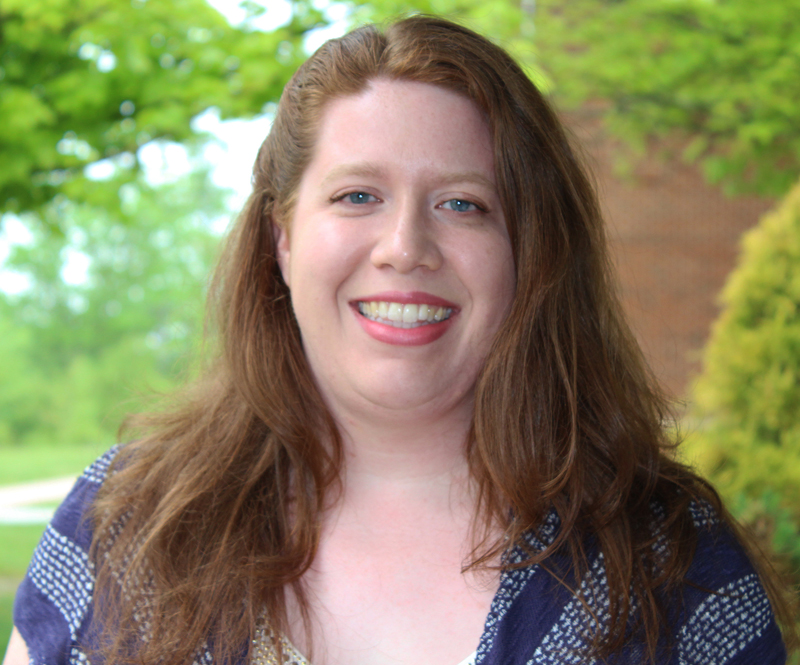 Years with U.Va.: Three
Nominators say …
"Jessica brought a flexible management style and a positive energy that has corralled the fragmented edges of the department and helped the overall productivity. She goes well beyond the expectations of her job description."
"I am delighted that we found a competent, energetic person to fill this position, but the extra attention Jessica gives to the special events and fundraising efforts in our department is exemplary."
"While Jessica's management of the constantly changing procurement process is impressive, her attention to those consistent duties in her work is equally noteworthy. One example is the administration of the Governor's School program, which demands substantial organizational tasks that Jessica initially began helping with and quickly took over."
"Last semester, Jessica taught a freshman seminar class. Jessica has also served this year as president of the staff council and consequently serves on a number of different committees in her representational position, some of which will continue beyond her term as president."