When Kevin, Lindsey and Melissa Hart hopped on a Zoom video conference call with their parents over the summer, they did it with the intention that many people have had during the pandemic – to see familiar, loving faces, and to catch up with each other.
Never did they expect the call to be the jumping-off point of a new business venture.
But that's precisely what occurred after Kevin made one offhand comment.
"I remember talking about how 2020 would go down in history as a monumental year, and I casually mentioned that someone should make a game about it," said Kevin Hart, a 2014 University of Virginia alumnus. "We started bouncing ideas back and forth and quickly realized we were onto something good. After about 10 minutes, we were like, 'We have to make this.'"
The siblings began assembling a list of all the newsworthy moments that occurred during the year.
A few months – and many more Zoom calls – later, "The 2020 Game" was a reality.
Earlier this month, the game – which Kevin Hart describes as a cross between Cards Against Humanity and UNO – launched on Amazon and is also available here. 
"The response has been overwhelming," said Kevin, who lives in Los Angeles and works full-time in product management for Netflix. "We have already had to restock and put in an additional order with our manufacturer. Our early sales have been really encouraging, and we're hoping that the momentum continues into the new year."
One of the keys in being able to get the game to market so quickly was the group's knowledge of the trademark process – something Melissa Hart said she learned about extensively as a student in UVA's McIntire School of Commerce.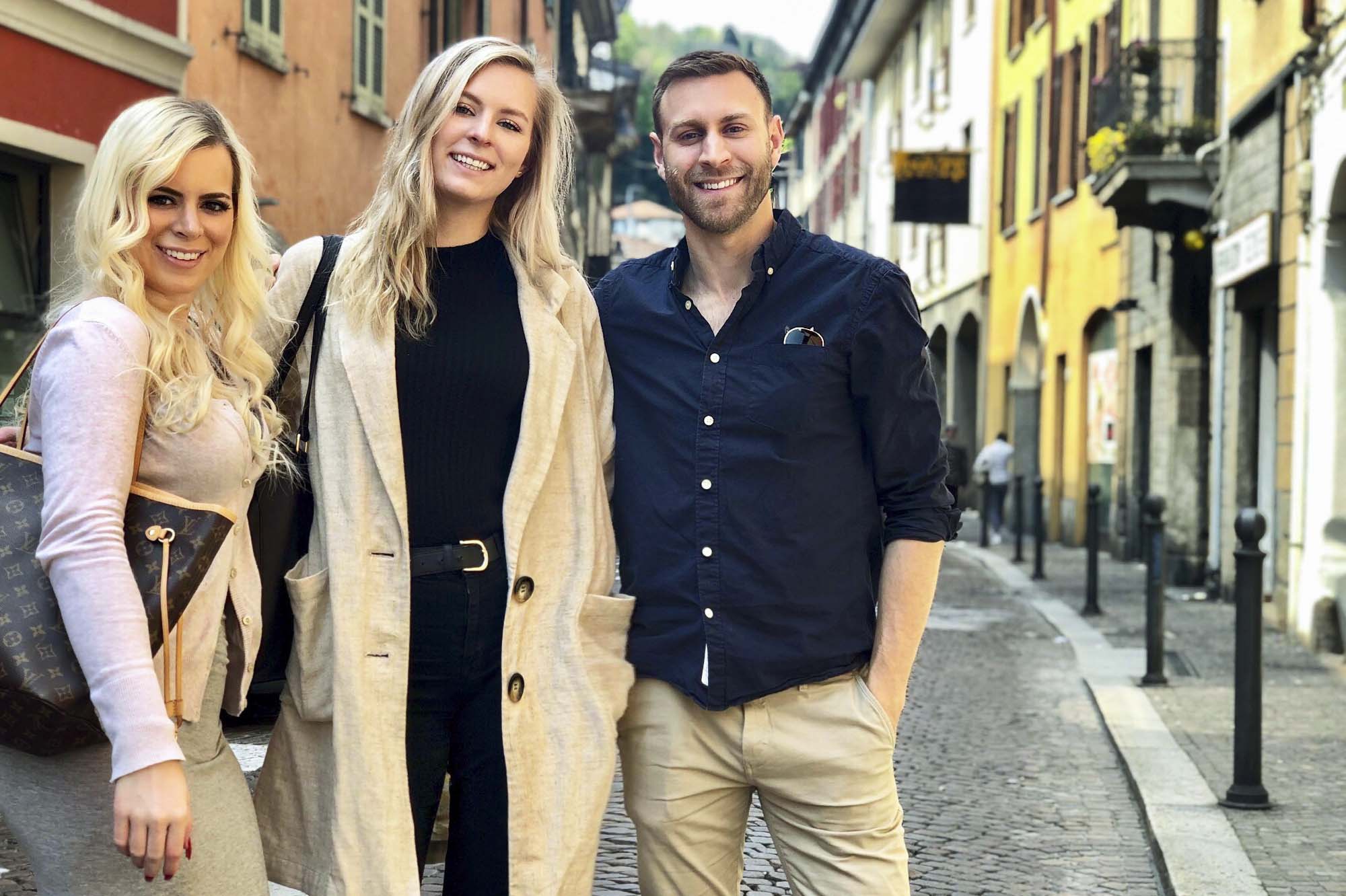 From left, siblings Lindsey, Melissa and Kevin Hart created "The 2020 Game," which went on sale on Amazon earlier this month. (Contributed photo)
"The trademark registration we were able to tackle on our own was a direct result of professor Sherri Moore's immersive lessons in commercial law," said Melissa, a 2020 alumna working full-time for FTI Consulting.
"Additionally, leaning on lessons learned from professor Chris Maurer's 'Product and Project Management' class helped us to better understand the end user and manage project dependencies. I also have professor Trey Maxham to thank for learning how to develop an authentic and successful brand through his 'Customer Analytics and Brand Strategy' class."
Lindsey Hart, a University of Miami alumna who works in marketing for a financial crime prevention organization, said what she loves most about the game is the "time capsule" element of it.
"The cards are all events or experiences felt by the world this past year," Lindsey said. "The 2020 Game is a way people can look back at this historic year and reminisce about the good and bad times, in a fun, lighthearted way." 
UVA Today caught up with the siblings – who originally hail from Ashburn – for a deeper dive into their creation.
Q. Was getting to do something like this with siblings really special? Have you guys always been close?
Lindsey: We have always been super close and gotten along very well. We all brought our own ideas and collaborated really well when we created this. Of course, there were a few debates here and there about whether or not we should include a certain card, but we always came to a consensus. 
Melissa: We've always been completely honest with each other, which I think worked well for us. We took each other's feedback into account when coming up with the cards, and made sure to only include cards that we all signed off on. 
Kevin: I wouldn't have wanted to make this game with anyone else! I was blown away by how knowledgeable both of them were when it came to the technical and business side of things. Looking at the final product now, and knowing that we created it together as a family, I couldn't be prouder.
Q. Growing up, I'm guessing you played a lot of board games with each other. What were some of your favorites, and do you have any fun stories about playing them you can share?
Kevin: We played a ton of games growing up – from board games to video games – and we still do. Anytime we get together, it's pretty much a requirement that we have a family game night. My favorite is Catan because I always win. 
Lindsey: Actually, I won the last time we all played Catan! Our Catan games do get a little intense, though. When we were younger we played all the classics – Monopoly, Sorry and Life. We started playing virtual games during quarantine, since we all live in different states. We had bi-weekly game nights with our grandma and usually played games on Jackbox or Houseparty.
Melissa: Let's set the record straight: I always win Catan. Growing up, we also always loved playing Clue, and we played it so much that we created our own "expansion pack" where we created new rooms, characters and potential murder weapons.
Q. What were the biggest challenges you faced in getting the game made? How did you overcome them?
Melissa: The game by design faces a fundamental challenge of including events that continuously unfold throughout the duration of the year. At some point, we had to stop creating new cards and move forward with production. It was challenging to decide how long we could hold off on beginning production without waiting so long that we would miss the holiday window. 
Kevin: Our biggest challenge with this idea was time. … We all felt like this was something that needed to be completed before the 2020 holiday season, so we pushed really hard to ensure it made it to market by December. It took a lot of planning and strategizing, but we got it up on Amazon with seconds to spare. I'm still catching my breath from it all!
The Harts said the goal of the game cards was to encapture as much of 2020 as possible. (Contributed photo)
Lindsey: COVID-19 also impacted production and shipping worldwide. We experienced delays in both air and boat shipping, and the production time ended up taking longer than we anticipated. We knew we wanted to have the game available before the holiday season, so we ended up having to air ship a large portion of our order to get it here on time. 
Melissa: This was our first time doing anything like this. We were thankful to have our friend Matt McCarthy, an experienced Amazon seller, help us with the fulfillment process and advertising once we launched on Amazon. His help has been crucial in getting online before the holiday season, and also being successful with our advertising.
Q. Have you received any feedback from people who have tried playing it? What do your parents think of the game?
Lindsey: We've been so happy with the feedback we've received! People like that it's a game they can play with both friends and family, and have it be equally funny either way.
Melissa: Our parents have been there every step of the way and have offered to help wherever they can. We feel so grateful for their support and willingness to help us, from offering new ideas to proofreading our final cards.
Kevin: The general consensus seems to be that people love the concept and think the cards are hilarious, which is a huge relief because we put a lot of work into ensuring that we found a good balance between nailing the 2020 theme and maintaining humor. In particular, the Karen card has been a favorite.
Q. How did the "Karen card" come about? And how many of the cards from the game have been directly pulled from experiences in your lives?
Lindsey: While we were brainstorming the Cure Cards, we had the idea to have one of them give you the ability to swap out the question card for a different one, after all the cards had been played, making some of the answers no longer work and giving you an advantage if you have a weaker card that round. It seemed fitting that this card would be called the "Karen card," given that Karens have been causing chaos all year!
Kevin: Our goal when coming up with the cards was to encapture as much of 2020 as we could. Many of the cards were pulled from moments in pop culture or events from major headlines, but there are also a number of cards that get a little more specific to the experience of having lived through the year. Cards like, "That feeling when the nasal swab touches your brain" or "Not wearing pants on a video conference" are things that I have personally experienced, and I know others have as well.
Melissa: We tried to make the cards as universally relatable as possible, while throwing in a few cards about noteworthy events that people might not know about, such as the FDA approving the first drug for the treatment of peanut allergies in children. Some of the cards are related to activities that personally helped us through quarantine. For me, that was Animal Crossing, "Hamilton," and (trying to) learn how to do the splits.
Lindsey: For me, quarantine was all about "Tiger King" and banana bread, so we had to include those cards. I also fostered a dog during the lockdown that I ended up adopting, as did many people, so we included a card relating to that as well.
Q. Is there any strategy to the game or is it mostly a game of luck? I guess it depends on the judge's sense of humor to some degree?
Lindsey: It's a game of luck in the cards that you draw at the start of the game, but there is definitely some strategy with the Cure Cards.
Kevin: That was one of our reasons for creating the Cure Cards. We wanted to add another layer to the game beyond just selecting a funny answer. You can really change the game by playing one of the Cure Cards, for better or for worse. It wouldn't be a game about 2020 without a ton of twists! 
Melissa: It definitely could depend on the judge's sense of humor, so you should try to appeal to the judge of that round. However, we wanted to make sure to create cards that match and make sense with the questions. Our hope is that the judge has a difficult choice determining which card is best, and that every round will have funny options to choose from.
Q. In the long term, what are your hopes for the game?
Kevin: My hope for The 2020 Game is that it will reach as many people as possible. It would be a dream come true to see the game for sale on the shelves of a major retailer. 
Melissa: I really feel that the game doubles as a time capsule, and I hope that people will revisit it years from now and reflect on all of the events, good and bad, that happened in 2020.
Lindsey: If there is demand for it or if we experience another crazy year, who knows, we might create The 2021 Game!
Article Information
December 15, 2020
/content/unusual-year-has-been-2020-now-card-game