Before COVID-19 descended on the United States, Jordan Arnold, a first-year member of the Virginia College Advising Corps assigned to Covington High School, would drive to the school early to catch up on paperwork, logging interactions with her advisees over college applications and financial aid forms. She'd spent the rest of her day working directly with the students, helping the seniors fill out applications and discussing their futures. In the evenings, Arnold made a point of attending both the boys' and the girls' basketball games to show her support.
"By far, the best part of being a college adviser is those casual moments where you just spend time with students and learn more about their lives, just laughing and joking around," she said.
In mid-March, those daily rituals disappeared.
As the virus spread and the economy shut down, closing the schools with it, Arnold and her fellow college advisers scattered around Virginia lost that personal daily interaction with the students: the shared joke in the office, the quick update in the hallway, the casual contact at a sporting event.
But the advisers stayed on the job, using their command of technology to stay in touch with their now-isolated students.
The Virginia College Advising Corps, based at the University of Virginia, embeds recent college graduates in high school guidance counselors' offices, where they work with high school students who might not otherwise think of education beyond 12th grade.
Joy Pugh, director of the corps, said advisers continued to reach out to students and families after schools closed and students were sent home.
"They all texted and emailed students," Pugh said. "Some took the tech piece further, creating YouTube channels and videos for students to watch on relevant topics such as deciphering financial aid award letters. They spent many hours calling households to check in and see what questions students and families have about the application process, financial aid awards, delayed commitment deadline and online orientation."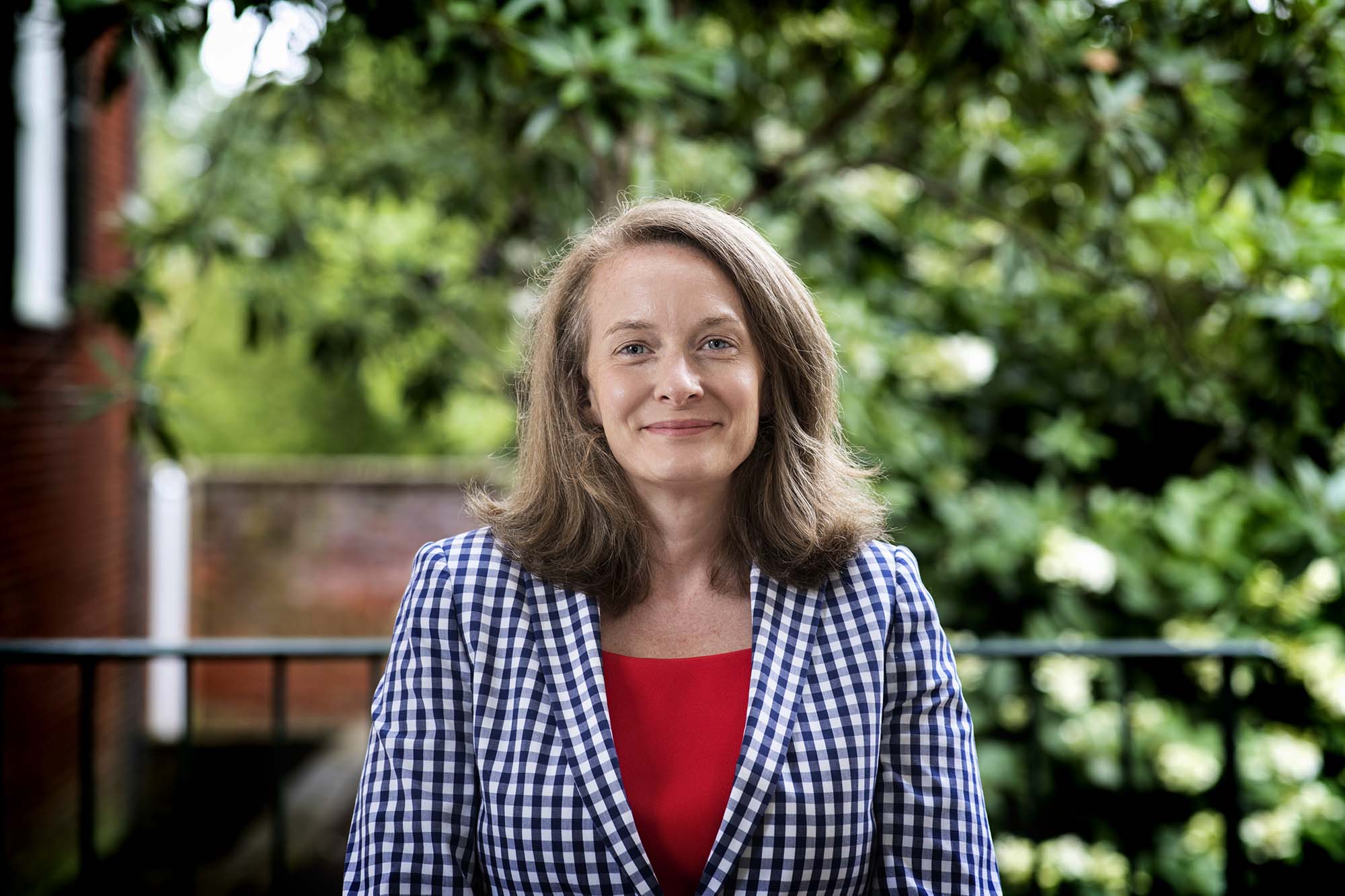 Joy Pugh is director of the Virginia College Advising Corps. (Photo by Dan Addison, University Communications)
Lacking the daily contact with students, the advisers took to cyberspace, with Facebook pages, Zoom videoconferences and texts.
"I created a video on YouTube about financial aid around the time that they got their letters and they don't really know how to read them," said Breona Walker of Richmond, a first-year adviser at Sussex Central High School in Stony Creek and a 2016 James Madison University graduate. "I did a lot of different things and thought about changing and creating content so I can reach out to them. But it is vastly different from seeing them five days a week when I can have easy access."
Arnold, of Lexington, a 2019 UVA economics and political and social thought graduate, mainly communicated with her advisees via email. She said not all of her students have computers or internet connections at home, many relying on mobile phones for communications.
"All of the students have a school email where they got a lot of their work," said Arnold, adding that that could be hit or miss. "Some of them check their email three times a day, and some of them check their email once a week, and some of them never look at their email."
Arnold created a college adviser Instagram application to reach her students.
"I find that a lot of the kids who don't read or respond to my emails will actually engage on Instagram," she said. "There is a messaging platform there where you can direct-message with students. I was direct-messaging them, asking them questions."
Arnold also uses a software application that logs all of her text interactions.
"I can just ask them nice simple questions," she said. "While they don't check their email every hour, they will definitely check their texts, so I can say 'Have you registered for classes at community college yet?' or 'Have you filled out this form yet?' or 'Have you applied for this scholarship?,' that sort of thing. It is pretty helpful. Most of them do respond that way."
Taylor Mullins of Wise, a first-year adviser at Central High School in Wise, from which she graduated in 2015, used social media accounts to communicate not only with the students, but with their parents as well.
"I did senior shout-outs on the Facebook page that I made on what schools they have been accepted to, what their post-graduate plans are – whether it is military or workforce, two-year or four-year college or trade school," Mullins said. "The seniors loved that because they felt appreciated even though they were not in school, and they were able to share their success with the community. I think that is something I will keep doing even when we are back in school because the local community likes being able to see where the seniors are going and what they are doing."
Mullins, who graduated from the University of Virginia's College at Wise in 2018, knows the families of many of the students with whom she works. She understands that while the students use applications such as Instagram to communicate, their parents are more comfortable with platforms such as Facebook.
"I am lucky because I went to that high school and I'm from the area, so I know a lot of the parents personally," she said. "I have social media accounts that I have made, Twitter and Instagram accounts to keep in touch with teenagers. But if a student wouldn't reach out to me or reply or anything, I probably know their parents on my personal Facebook account and that makes it easier."
Reilly Park of Lorton, a first-year adviser at John Marshall High School in Richmond and a 2017 UVA politics graduate, has been experimenting with the Zoom teleconferencing platform during the shutdown, but with limited success.
"We've been using it twice a week to offer office hours so they can just drop into a meeting and ask a quick question," Park said. "But we haven't seen a lot of response to that. It is a lot better if we send a text and then maybe they call us on the telephone, if it needs to be a conversation."
The students do not seem to be comfortable with Zoom yet.
"I haven't had students use this format yet," Park said. "We've had good response with phone calls. I am not sure why that is. If we were face-to-face, I think the students feel more obligated to share. But the phone calls can be transparent, which is good. I will take whatever we can get, because I know everything is a challenge. I would like to use Zoom more with the students. I definitely use it more with colleagues, a lot."
The advisers have used videoconferencing to stay in touch with each other, and the assistant directors hosted office hours twice a week.
"We could hang out and ask questions," Park said. "I think everyone has been good at reaching out and offering communication. I definitely appreciate any interaction I have with [fellow advisers]. We really do lean on each other a lot. We have group text messages that we use.
"My friend and colleague Haden Parrish started a book club with the advising corps members and I am participating in that. It's pretty casual conversation related to college access. We have been reading 'The Privileged Poor: How Elite Colleges Are Failing Disadvantaged Students,' by Anthony Jack."
While advisers use technology to stay in touch with each other and with their students, they agree that it does not replace the personal touch. When school was in session, Arnold worked hard at becoming part of the community.
"Covington City is a really small town and my school only has about 300 students in grades eight through 12, so I was getting to know everybody," Arnold said "I know all my students, probably half of their parents and families. It's a really close-knit community, so I would go to all the sports games and I felt like I was really becoming a part of the community. The shutdown was tough because I don't actually live there, so it's not like I see people when I go to the grocery store. Right now, I feel pretty disconnected, which is unfortunate."
Once school reopens, she will continue using Instagram to reach students.
"This pandemic has forced me to be more creative about the ways that I contact students and share information," Arnold said. "The texting feature I had access to, but never used before, is pretty helpful for the short questions I need to ask students." 
Walker plans to continue her newsletter and to create more videos when the school year starts.
"I think these are great conversation-starters," Walker said. "Using a video or a newsletter with the juniors could be a very good introductory tool, like a welcome to their senior year. Once they read the newsletter or watch the video, they can come to my office and ask me questions instead of me asking them and they can go straight to work."
Pugh said, "Even in good economic times, incredible amounts of determination and resiliency are required of low-income, underrepresented and first-generation students to overcome structural barriers on their path to college. In this current environment, educational attainment requires even more – that students without safety nets take massive leaps. The knowledge and support of VCAC college advisers become critical, then, working with students to play out various scenarios in the shifting landscape, to prepare for all of them and to execute the necessary steps when it is time to do so."
Arnold appreciates the weekly all-staff calls where the advisers talk through different issues and bounce ideas off each other
"We have a group, so if I have a question, I will just text the group of 40 other advisers. There is plenty of contact and support," she said. "I am not super creative. I have strengths and talents, but creativity is not one of them and I think in this moment creativity is especially useful."
"Honestly, without the other advisers, especially the second-years, I don't know what I would do," Mullin said. "Through all of this we have become very close and we're all brainstorming it together and trying to figure it out in each of our different schools. They have definitely been a big help. Any form or document that we came up with that we think is at all beneficial, we share it with each other."
Mullin will continue the social media accounts she has created. 
"I didn't know what I was doing was actually helping the students until they all reached out and they thanked me in a lot of different ways, and it shows that I really am making a difference in their lives," she said. "And that has become awesome. Teenagers don't really show their appreciation a lot, so the fact that they have been thanking me or sending me random emails thanking me for my help this year, it just shows that I am making a difference. So that is always motivating."
Article Information
July 24, 2020
/content/using-social-media-college-advisers-maintain-contact-sequestered-students