Aaron Reedy was getting frustrated.
His high school students in Chicago were conducting eye-opening labs that were generating huge data sets, but they didn't have the right tools to visualize and analyze the data.
"Like a lot of students around the country, they were equipped with Excel or Google Sheets," Reedy said, "but those apps were never really meant to teach kids to work with data."
Several years later, when Reedy was working on his Ph.D. at the University of Virginia, he began working with more powerful data tools and was struck by how there was no kid-friendly equivalent.
"I was using digital data tools almost daily as a scientist, but they were almost non-existent in K-12 science education," Reedy said. "It seemed obvious to me that this needed to change."
Soon thereafter, Reedy developed the solution in the form of a one-of-a-kind web app called "DataClassroom." Almost instantaneously, the app lets teachers and students alike turn datasets into easy-to-understand visualizations.
Reedy, who has been working out of Catalyst – the newly launched startup accelerator at UVA's Batten Institute for Entrepreneurship and Innovation, a center at the Darden School of Business – began selling DataClassroom licenses to schools last spring and now has 5,700 users around the world.
Reedy believes he really has something.
"There is no other web app on the market like ours," said Reedy, who grew up in suburban Chicago. "There are many pro data-tools available, but none of those are built for use by kids in classrooms. The pro tools cost too much and do too much to be practical for use in the classroom.
"Most of the available data tools also require a download. This just doesn't work for schools, many of which have no-download policies."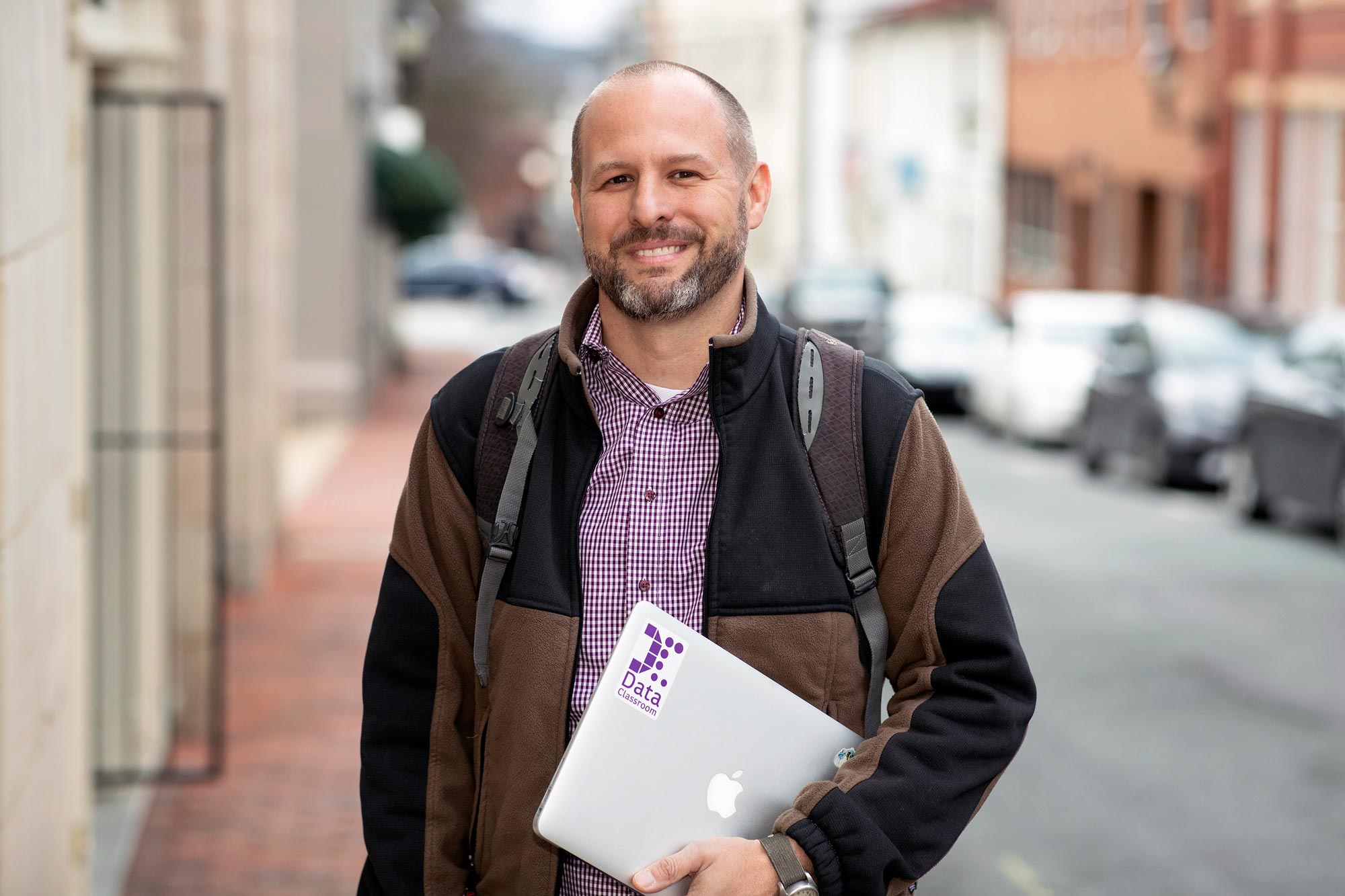 Reedy believes there is no other web app like DataClassroom on the market.
Reedy's path to entrepreneurship has been circuitous. After graduating from Southern Illinois University in Carbondale, Illinois, he worked as a medic. He and his wife, Sarah, then taught for three years while serving in the Peace Corps in the South Pacific.
Returning home to Chicago, Reedy earned a master's degree in secondary teaching and started working in a Chicago public school classroom on the south side.
It was there, while growing frustrated at the lack of data tools for his biology students, that Reedy developed a "pretty serious science hobby." During summers, he began studying painted turtle and wild lizard populations.
In 2012, deciding that he wanted to try research as more than a hobby, Reedy came to UVA via a Jefferson Scholars Foundation graduate fellowship to work on a biology Ph.D. in the lab of professor Robert Cox.
"[Cox] was pushing the envelope of field studies in evolutionary biology using lizard populations in the Caribbean, and his lab was a perfect fit for me," Reedy said.
During the six years it took Reedy to earn his Ph.D., Cox was extremely supportive of his working on outside science education projects.
In fact, together they cofounded Evolution Education, an organization that trains teachers from all over the country to improve the teaching of evolution and promote science as an active process in the classroom.
Reedy said working with teachers in that capacity helped him shape some of the ideas behind DataClassroom, which he launched in 2017, near the end of his time in Cox's lab. Reedy was driving back with Cox from a research trip in Florida when the idea came to him.
"We were talking about how I wished a K-12-friendly data tool existed," Reedy said. "In that conversation, it was the first time that it occurred to me that I probably wasn't the only one who wanted that product to exist."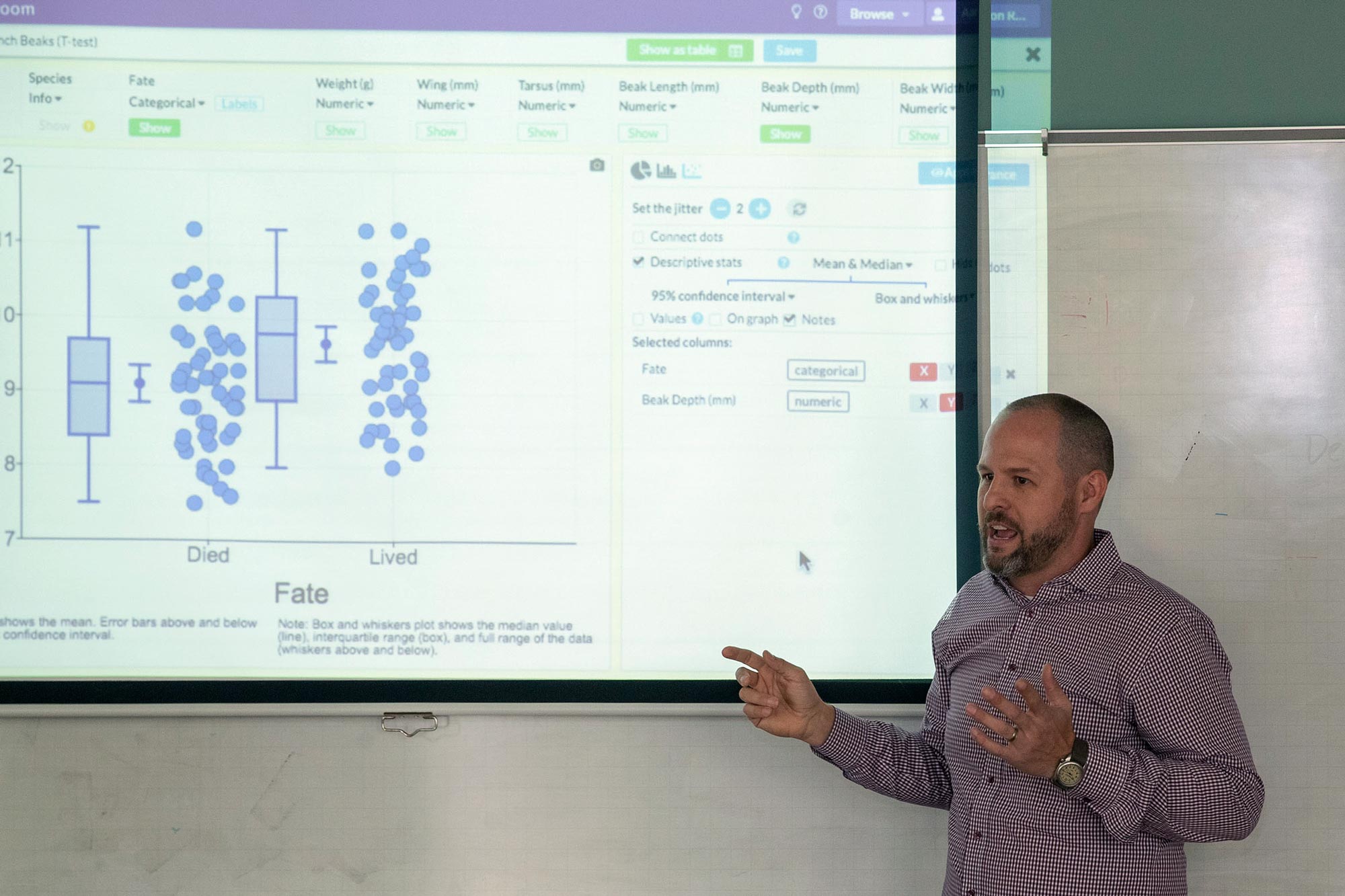 DataClassroom lets kids turn math datasets into visualizations.
David Touve, who oversees the Catalyst program – a byproduct of the economic development initiative GO Virginia – said Reedy's years in a classroom, combined with his Ph.D. training in science, have resulted in experience, passion and knowledge that are all leveraged in DataClassroom.
"DataClassroom has developed a much-needed education platform for both students and teachers," Touve said. "The web experience enables teachers to better integrate data science education into their courses, while providing the interactive experience that makes student learning both meaningful and fun."
Reedy, who has a 7-year-old son and 5-year-old daughter, said his most ambitious goal for the company is to influence the way the data skills are taught in math and science.
"Data science is exploding right now and is beginning to play a role in nearly all professional fields," he said. "I am absolutely convinced that digital data tools will regularly be used in every math and science classroom in the country within 10 years.
"I want DataClassroom to be the tool that influences the integration of more quantitative reasoning skills in math and science education." 
Looking back on the twists and turns his career has taken, Reedy – who is just beginning to seek investors for DataClassroom – is as surprised as anybody with what he's doing now.
"I never thought I would be an entrepreneur," he said, "but I feel like my career path has positioned me to tackle this specific problem. I don't see myself as ever being a serial entrepreneur. This is the specific problem that I understand as well as anyone out there because of the time I have spent in science and in the classroom."
Article Information
February 25, 2020
/content/uva-alum-went-studying-lizards-and-turtles-data-science-forefront