Whether it's showing a kindergartener how to tie his shoelaces or advising a student who is trying to decide on a college major, teachers often are in a powerful position to make profound impacts on their students' lives.
That couldn't be more evident than in the case of Leslie Wills-Taylor, a University of Virginia Curry School of Education alumna who was recently chosen as just one of five recipients from across the country of the 2016 Teaching Tolerance Awards for Excellence in Teaching, bestowed upon teachers who are finding effective ways to bring social justice into the classroom.
Not only is Wills-Taylor shaping and guiding her fourth-grade students at Woodbrook Elementary School in Albemarle County, but she also has a personal testimony of how a former teacher shaped and guided her to where she is today.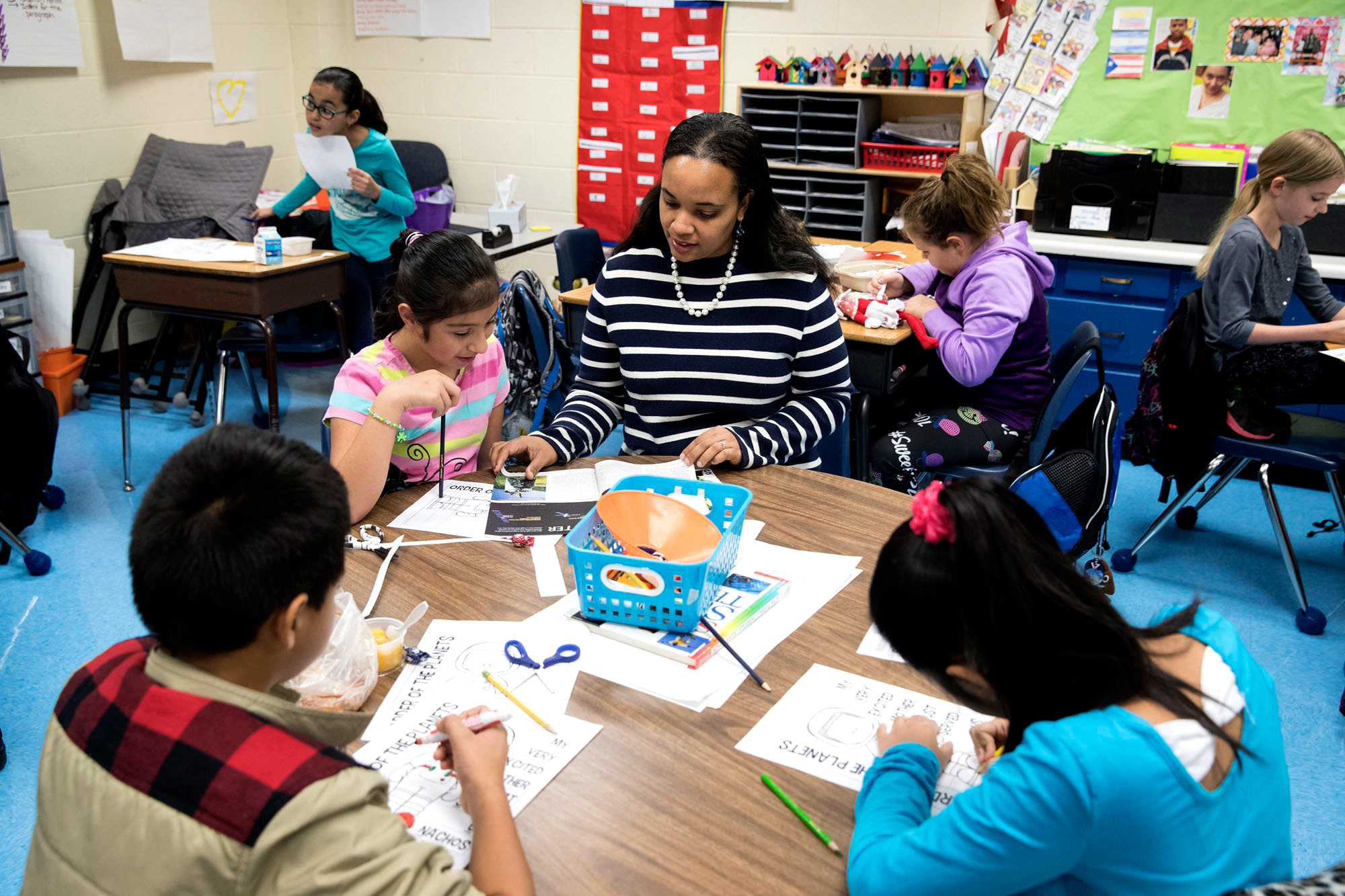 Wills-Taylor earned her bachelor's degree from Howard University, and after spending a couple of years as a kindergarten and second-grade teacher, decided to pursue her master's degree in elementary education at UVA.
There, Wills-Taylor formed a transformative relationship with her professor and mentor, Patrice Grimes, who opened her eyes to the concepts of culturally responsive teaching and social justice education.
"Dr. Grimes was a very strong mentor in my life. Her investment in me is part of the reason why I achieved this honor," Wills-Taylor said. "Never underestimate the power of a one-on-one relationship; even today, I still rely on her for advice, support and ongoing encouragement."
It was while she was working side-by-side with Grimes that Wills-Taylor discovered Teaching Tolerance, the organization from which she received her recent honor. Teaching Tolerance is a project of the Southern Poverty Law Center that provides educational materials to support students from a wide variety of cultures.
"It really seeks to understand students at an individual level in terms of their individual identities and how that intersects with education," Wills-Taylor said.  
Now, Wills-Taylor is incorporating those very concepts she learned as a graduate student into her classroom.
"We're teaching lessons that allow students to discover important aspects of their individual and family identities," Wills-Taylor said. "My philosophy centers around the idea that when students feel safe and open to share who they are beyond what people can see, it increases their efficacy as a student. These lessons are intended to help them understand all of the things that empower them to make strong contributions to the classroom and to the larger community."
According to Wills-Taylor, elementary school is the ideal setting to start imparting lessons of tolerance and compassion.
"Even before they come to school as kindergarteners, kids can see core differences in family structures, race and identity; they pick up on these subtle differences," she said. "But by fourth grade, they begin to attach how society interprets these differences and how their classmates and teachers perceive those differences."
And when she's not incorporating ways to address issues of identity into her standard curriculum, Wills-Taylor serves Woodbrook in another capacity: as a diversity resource teacher. In this role, she shares ideas related to culturally responsive teaching, hosts professional development opportunities and organizes school-wide events like the school's recent multicultural community fair.
It's a critical life lesson for them to trust the process of what it means to engage at a very deep level collaboratively with people who may differ in opinion or life experience. Students should always be thinking deeply about who they are and how they understand others. - Leslie Wills-Taylor
Thanks in large part to Wills-Taylor's efforts as a diversity resource teacher, more than 85 percent of Woodbrook Elementary's staff members are now trained in culturally responsive teaching.
"In a school like Woodbrook, which is a minority-majority school, our teachers highly prioritize the importance of culturally responsive teaching," Wills-Taylor said. "But what we're trying to push is that it's not just for minority students; all students should be able to partake in a curriculum that is accessible, engaging and culturally relevant."
Wills-Taylor also places a strong emphasis on the need for family engagement, both inside and outside of the classroom. "That partnership is truly indispensible," she said.
Just this month, Wills-Taylor invited all of her students' parents to attend a morning meeting in her classroom so that they could share details about who they are and what their family traditions may be. And when Wills-Taylor isn't opening her door to parents, they're opening their doors to her – and her fellow Woodbrook colleagues – through an event called "Stepping Out." Wills-Taylor adapted the event, which entails making visits to students' homes and neighborhoods, from another Albemarle County school, Greer Elementary.
"For many teachers, it enables them to get critical insights into the home lives of students, which helps them to build more equitable learning at home," Wills-Taylor said. 
Through these types of experiences, Wills-Taylor also believes her students become more able and ready to develop critical interpersonal skills.
"I think it's important for students to ask questions and for them to be empowered to bring their interpretations of life into the classroom," she said. "It's a critical life lesson for them to trust the process of what it means to engage at a very deep level collaboratively with people who may differ in opinion or life experience. Students should always be thinking deeply about who they are and how they understand others."
Teaching Tolerance's recognition of Wills-Taylor is proof that she is, indeed, succeeding at making these types of lessons a priority. But Wills-Taylor noted that reaching the point of being able and qualified to do so required a lot of support along the way.
"I haven't achieved this award in isolation. I'm representing many people, from Dr. Grimes and my administration – which has always supported things that are outside the box – to my district at large and my colleagues who are willing to make sacrifices," Wills-Taylor said. "None of this would be possible without their support."
Grimes said she feels fortunate to have played a part in Wills-Taylor's journey thus far, and that she foresees many more opportunities ahead for her to continue making a meaningful difference.
"As a student, Leslie was curious, persistent and willing to push through when I challenged her thoughts and ideas about teaching and learning," Grimes said. "As a teacher, she seeks to understand her students and create instruction that challenges them to learn and to be their best. As a teacher leader, she shares her passion for social justice with colleagues, and consistently models best practices that inspire them to professionally stretch and grow.
"I'm hopeful for the future of our profession because of teachers – and people – like Leslie."
Article Information
December 16, 2016
/content/uva-alumna-getting-noticed-teaching-tolerance-her-classroom-0