Recently two University of Virginia alumni were promoting their new snack food with free samples at the Rebecca's Natural Food store in Barrack's Road Shopping Center.
Tsampa Tsnacks – the "t" is silent – might look similar to other "energy ball" snacks, but they are different in their main ingredient and the intention of their creators. Chenam Barshee and Sogyel Lhungay call their product "Tibetan fuel for the mind and body."
Barshee, born and raised in McLean of Tibetan parents, graduated in May from the Frank Batten School of Leadership and Public Policy. He met Lhungay last summer through a mutual friend, recently retired Tibetan professor Tsetan Chonjore, at the UVA Tibet Center. Lhungay, who hails from New Jersey and worked in New York City for eight years, knew of UVA's longtime connection with Tibetan studies and Buddhism when he decided to attend the Darden School of Business, where earned his M.B.A., also in May.
Barshee and Lhungay found they shared interests in both Tibetan food and Buddhist meditation. They wanted to find a way to differentiate the snack product they were working on and decided to imbue their venture with a personal social mission – to spread the word about the benefits of mindfulness through food.
That's not surprising. Tibetan-American culture retains strong concepts of compassion and giving back to the community, Lhungay said.
"We see a disconnect between material comforts and mental well-being, especially in our generation, and it pains us," Barshee said. "Mindfulness is an incredible tool that is accessible to anyone. It's a way to help find joy and inner peace."
"Mindfulness is the basic human ability to be fully present, aware of where we are and what we're doing, and not overly reactive or overwhelmed by what's going on around us," according to the Mindful website. "Mindfulness meditation gives us a time in our lives when we can suspend judgment and unleash our natural curiosity about the workings of the mind, approaching our experience with warmth and kindness – to ourselves and others."
Barshee and Lhungay applied successfully to the University's i.Lab Incubator Program to develop their company and have worked this summer to bring their brand to reality. The i.Lab "supports the development of new entrepreneurs and the growth of promising early-stage ventures," as the website says, "through a combination of programs, funding, workspace, committed mentors, industry experts, free legal services, a community of founders and funders, and connections to a range of resources."
After experimenting with recipes, they made their new snack from a kind of roasted barley flour called "tsampa," a staple of Tibetan cuisine for centuries that isn't easy to find in American grocery stores. So far, they have stocked Rebecca's and Integral Yoga and Barre(d) Studio with their product, and they hope to expand their reach. Tsampa Tsnacks are also available online.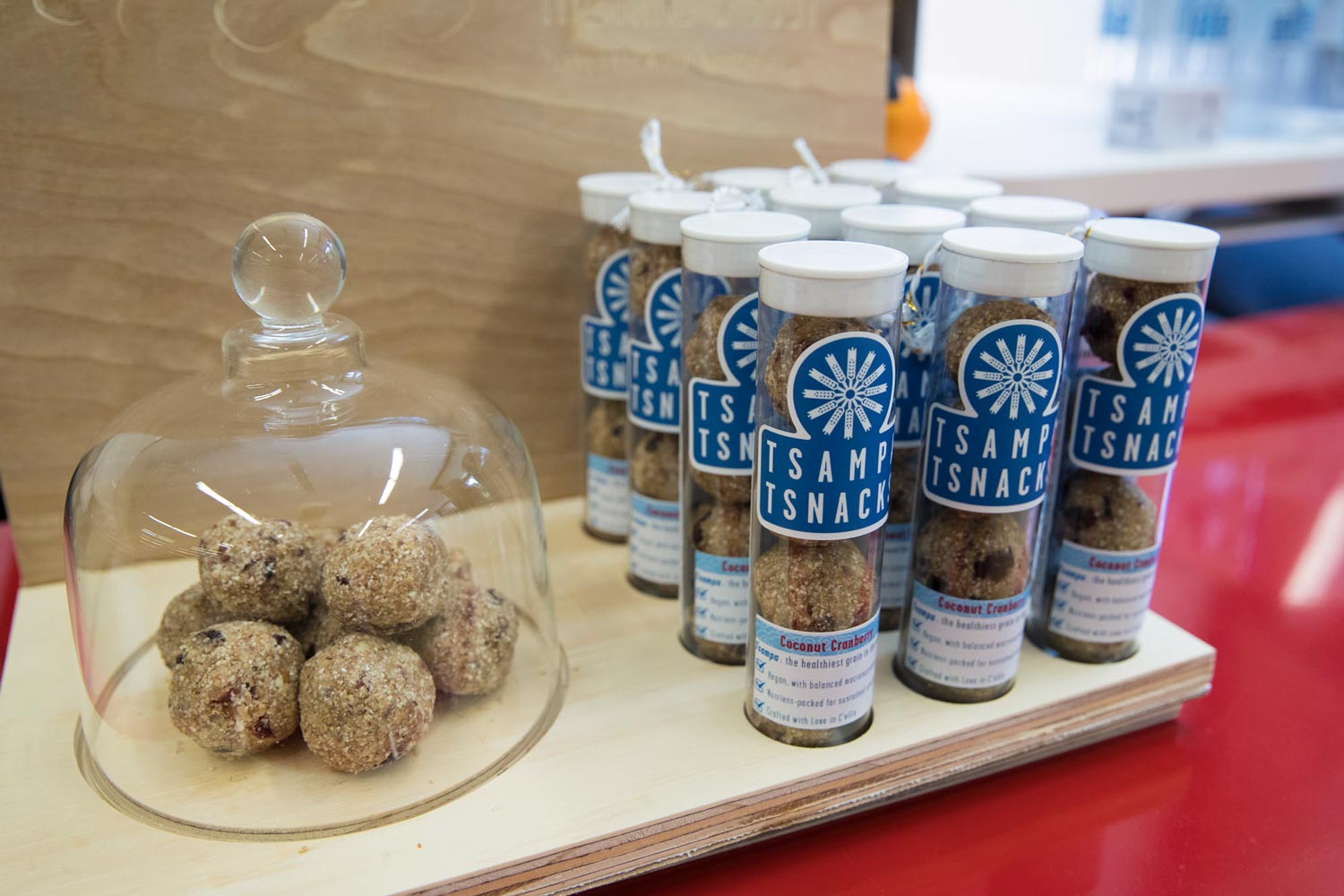 Barshee and Lhungay made their new snack from roasted barley – called "tsampa," a staple of Tibetan cuisine for centuries. (Photo by Dan Addison, University Communications)
Barley has more protein, is higher in fiber and lower in starchy carbohydrates than other whole grains. It's also rich in beneficial antioxidants and omega-3 fats. In addition to whole grain barley, Tsampa Tsnacks contain coconut oil, almonds, dates, cranberries and agave syrup – all healthy and organic ingredients.
Darden students acting as taste-testers have given Tsampa Tsnacks a thumbs-up, with comments like, "Feels healthy, tastes good – can really taste the ingredients" and "Like a granola bar, only lighter." They also did some early consumer testing at the Charlottesville City Market.
Not just care goes into their cooking. The two young men intend for their brand to "promote mindfulness in daily life," they said recently while taking a break from their work space in the i.Lab. Over the summer they've led group mindfulness sessions for their fellow founders in the i.Lab. Mindfulness can also extend to eating, as well as other activities. Lhungay compared it to wine-tasting, for example, where you pay attention with several senses to get a fuller experience.
The pair think now is the right time for their brand because there is more acceptance of and enthusiasm for mindfulness, which need not be tied to religion. It's often promoted in business and medical communities, among other venues. Practicing mindful meditation has been scientifically proven to have moderate benefits on anxiety, pain and depression, Lhungay said. For him personally, when he focused more on meditating through intense retreats, he said it brought him benefits he never expected. He has lost the fear he used to have of spiders and insects. It also reduced his attention-deficit disorder symptoms.
Lhungay noted that he meditated before his Darden interview, an important step in the admission process, and the two of them meditate together before all meetings.
Barshee added, "We want to show with our brand that meditation can be easily incorporated to enrich anyone's life."
In each small-tube package, they include "Your Bite-sized Meditation Guide." Its instruction:
1. Before beginning to eat, take three deep breaths.
2. Observe your Tsnack, taking time to notice the colors and scents you recognize.
3. Chew slowly, bringing awareness to the flavors and textures in your mouth.
4. Notice how you feel after eating mindfully. Congrats, you just meditated!
Article Information
August 6, 2018
/content/uva-alums-new-snack-food-aims-satisfy-and-enlighten-you